NORTH ADAMS — When she had her first child 11 years ago, Melody Fisher needed help breastfeeding.
"I couldn't figure out what was doing wrong," she said. "I was so sore and uncomfortable. I was really at my wits end."
Fisher had just moved from the Boston area to North Adams and didn't know anyone, but heard about Berkshire Nursing Families, a nonprofit that helps with breastfeeding, and she called their support line.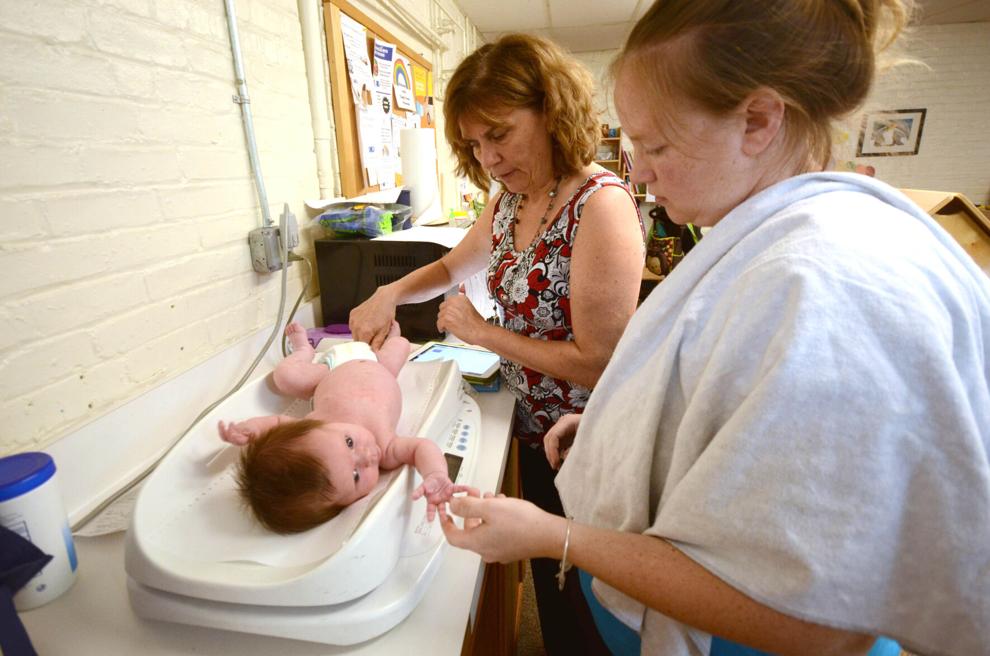 Rosalie Girard, the group's executive director and a lactation consultant, spoke with her. It was a Sunday night, and within an hour, Girard was at Fisher's house and identified the problem. "You are doing such a good job. What a great mom you are," she remembers Girard reassuring her as she cried. "That is what I needed," Fisher said. "I was so afraid I was doing it wrong."
Fisher, who later joined the group's board, is one of more than 10,000 people Berkshire Nursing Families has helped since Girard founded the group in 1998. In 2021 alone, the group worked with 743 families. The group has a feeding and parenting support line, offers lactation consultations, does home visits and runs groups for parents. Services are free.
Now, after more than 20 years at the helm, Girard is retiring at the end of the year.
"I just wanted women and their families to be supported through this very serious experience in their lives, no matter what outcome it was," Girard said, reflecting on why she started the nonprofit. "They deserve to be supported in that process. I think that's what kept me going."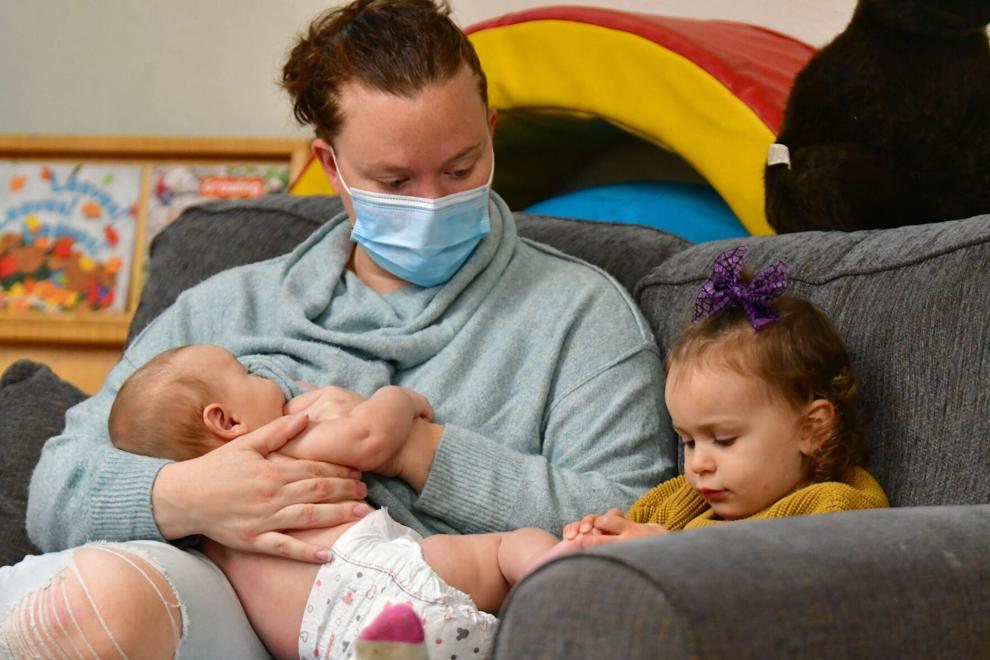 And she loves working with families and babies. "People are at their best when they have a baby. All their best qualities come out. I always feel like it's such a gift to be able to be part of that," she said. "There's so much energy and beauty there."
Though some call her a baby whisperer, working with kids and families was not her original career plan. Girard got a degree in psychology and planned to become a psychologist. Then she had her first child. "She changed my world," Girard said, sitting in her office at the Berkshire Medical Center's North Adams campus.
"I wasn't particularly good with babies," she said. "I learned."
Girard became a lactation counselor and ran a playgroup for Berkshire Nursing Mothers, a support group that started in the '70s. In 1993, Girard became a certified lactation consultant and she started working in private practice with a sliding scale. "That did not work — money was just a barrier," she said. More than half the families referred to her didn't access the services, she said.
"This is an important time," she said. "If you want babies and children to thrive, you need to start when they're born and not wait until they're in preschool to start putting all these services in place."
So in 1998, she officially started Berkshire Nursing Families, and two years later, it filed for nonprofit status. Though Girard started the organization, she had a lot of help over the past two decades, she said. "I have an army behind me — an army of people over the years saying, I can do this. I can help you with this."
The group served the northern Berkshires until 2012 when the it expanded into central and south county. Now, the nonprofit is a team of eight people. Funding comes from grants and donations. An annual trivia fundraiser is an important source of funding. The last one was held in 2020 just before the pandemic, and the group is planning to have its first in years this March.
The support line, the one Fisher used, is a key service the group offers. Some people need one visit, others need 10, Girard said, and once they are stabilized, the group follows up via phone. Girard has the support line open at all hours, and she has been staffing it overnight for 24 years, except for a two-week period when she went to Hawaii and passed the duties to someone else.
She feels like it's important to have a resource to help people when they need it. Lactation issues are often crises, she said. "You're feeding eight to 10 times a day," she said. "If there's a problem, it escalates."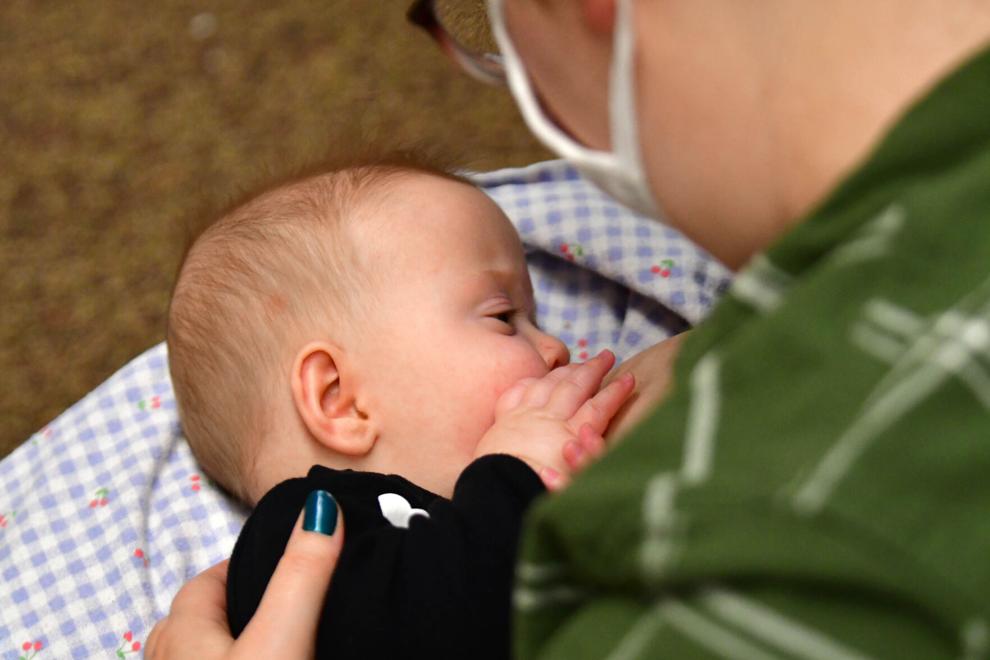 Parents appreciate it. "I think BNF fills a gap in our health care system," Fisher said. "That flexible in-home support just doesn't exist — and certainly not for free."
Michelle Sansky found the support line helpful. "Even as a family physician I didn't get training in breastfeeding," she said. After she had a child, she met with a lactation consultant in the hospital. "But you get home and things change," she said. "A lot of times women will get home and problems will develop even though things were going well in the hospital." BNF came to her house several times to help about a year ago, and checked in with calls and texts. "I wouldn't have been breastfeeding if it weren't for them," said Sansky, of Cheshire, who is now a board member.
The nonprofit also has several groups for family support in different parts of the county. The groups often help parents build relationships. "People say to me all the time, 'I still hang out with the people I met at your playgroup,' because their kids are the same age," Girard said. "They develop these really cool relationships because they went through this really intense experience together. And they get it, they get each other."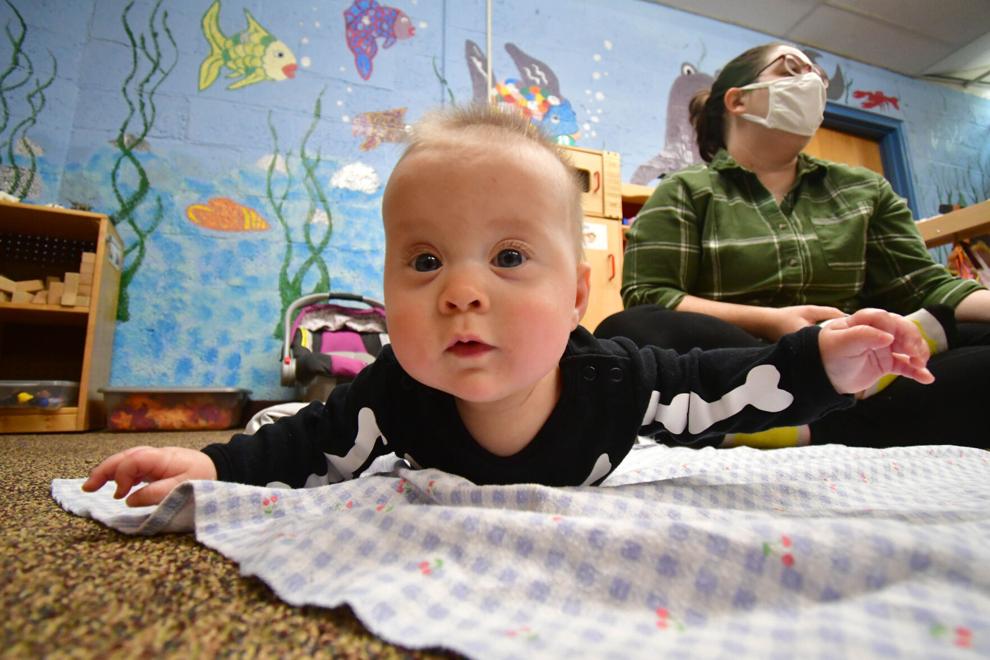 On a recent morning at a nursing baby and toddler support group at the Haskins School in North Adams, Kayla Smith put her baby, Harper, on a scale for a weight check.
Like Sansky and Fisher, Smith found herself stressed and in need of help breastfeeding when she had her first child, Avery, several years ago. Her pediatrician had given her a pamphlet for Berkshire Nursing Families, and when she ran into trouble she called and Girard was over at her house the same night. Soon after, she started going to the weekly playgroup. It can be isolating at times to be home with a new baby. "Being in a room with other moms going through the same thing is really nice," Smith said.
Nearby, Sarah Pikula sat while her 10-month-old played on a toy piano. In the group, she finds non-judgmental support. When she needs to feed her baby, she can do it there, instead of running to her car for a safe place. Pikula also got help from Girard when breastfeeding her first child. "She spent an hour on the phone with me one time trying to trouble shoot," she said.
"It's a welcoming group," Pikula said. "I've never felt alone in my breastfeeding journey."
Photos: Berkshire Nursing Families founder and director Rosalie Girard, "The Baby Whisperer" is retiring
Known by many families as "The Baby Whisperer," Rosalie Girard of Berkshire Nursing families is retiring from being director at the end of the year. She founded the non-profit organization for new mothers which has served families for decades.
To purchase photos click here.