NEW ASHFORD — Diane George has had off-road vehicles pass her at "dangerously high speeds;" playing "chicken" with her while she was driving on her road. But when your town doesn't have a local police force, who do you call?
Without local law enforcement to enforce state laws that ban the use of off-road vehicles on Massachusetts roads, she turned to the Select Board hoping they could help.
The Ingraham Road resident wrote the New Ashford Select Board about the problem in a detailed letter Sept. 7. Her neighbors joined her in asking for town assistance. Jason Jayko, Select Board chair, said illegal use of off-road vehicles are a townwide problem, and that he has felt personally threatened by them as well.
"I almost got hit two times by a four-wheeler," Jayko told The Berkshire Eagle.
In immediate response to George and her neighbors' plea for help, the town erected signs on town roads.
They read: "Posted Offroad Vehicles (ATV/UTV/Dirt Bikes) are Prohibited on all New Ashford Town Roads. To report illegal activity call MSP@413-743-4700 or MASS EVP@800-632-8075."
The signs also contain the line "Violators Will Be Prosecuted."
With a moving target and without a local police force to respond, though, the Select Board decided to take one more step to help address the issue. They've appealed to a higher power: the state.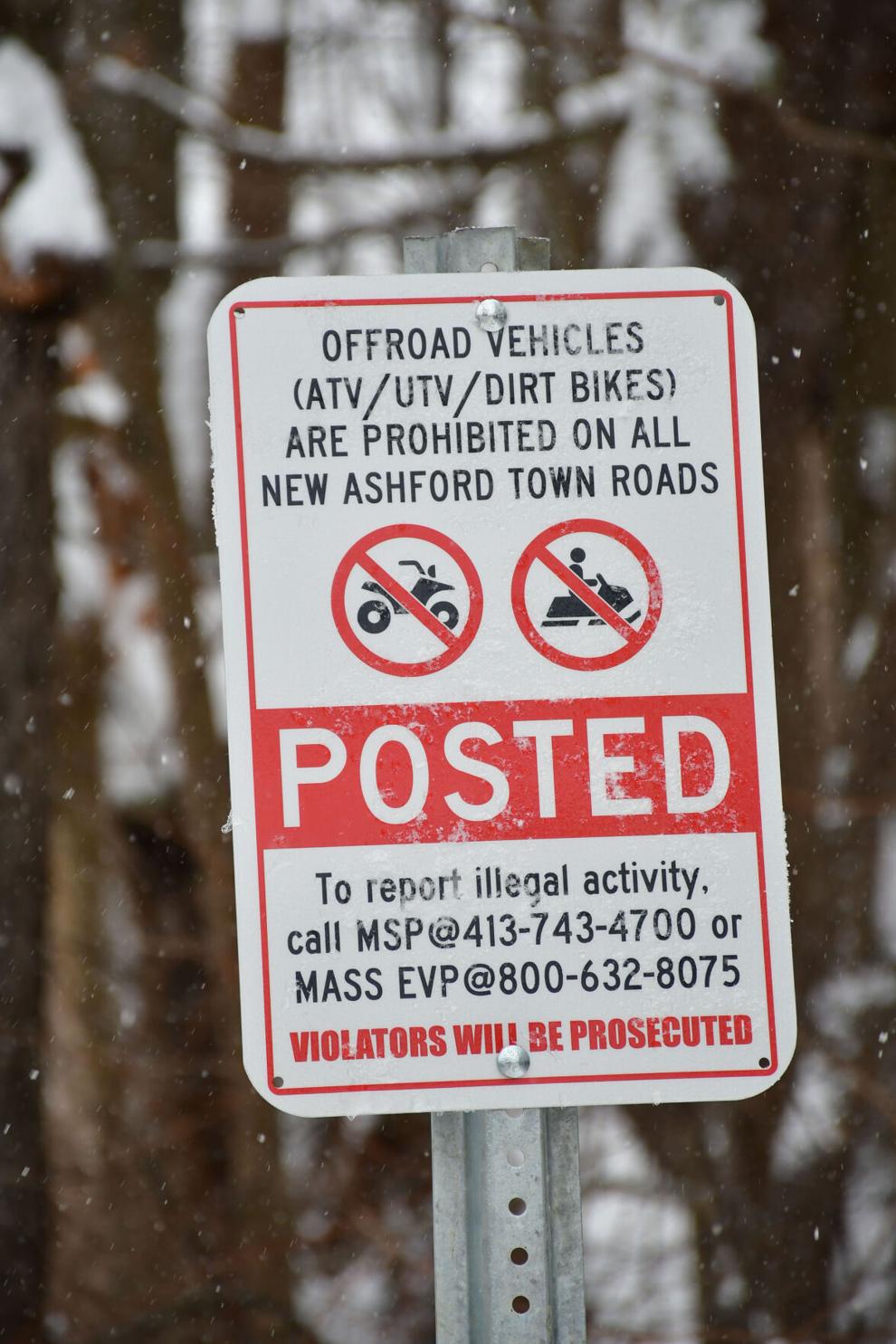 Jayko signed a letter to state Rep. John Barrett III, D-North Adams, appealing for aid.
The town of about 250 residents "does not have the resources to support a private police department," states the Jan. 24 letter. "We are dependent on assistance from local, state, and federal agencies that our taxes support. Locally, the Town is researching ways to legally address concerns voiced by our residents."
Among those ways are sending letters to residents — some of whom are believed to engage in the illegal activity — to educate them about the law.
"We have video (from both Town cameras and personal phones) of several of the offenders which we are hoping will be used in addressing the infractions with the riders," the Select Board's letter states. "Discussions and possible consequences are being had with the Berkshire Snowmobilers club, which groom trails in this area, as owners of recreational vehicles are using these trails to maneuver their way between neighboring towns doing damage to both trails and the environment."
The letter requested assistance from both state and federal authorities, including more frequent drive-bys by Massachusetts State Police.
"I did talk to the selectmen on this, and I think it comes down to working out a strategy as to how it can be dealt with. We have to involve, I think, the Environmental Police, and obviously the State Police to take some action to control the situation," Barrett said. "Because it's no way for people to be living."
State police in Cheshire are aware of the matter.
"We have patrols checking the area daily and are working with the Environmental Police, who have primary jurisdiction of enforcement of off-road vehicles on state property," Lt. Paul Sullivan of the Massachusetts State Police, who works in the Office of Media Relations, wrote in an email.
On behalf of the Massachusetts Environmental Police and the state Division of Conservation Restriction, Danielle Burney, a spokesperson for the Executive Office of Energy and Environmental Affairs responded: "The Massachusetts Environmental Police is committed to working with the Town of New Ashford and the Massachusetts State Police to curtail the illegal use of off-highway vehicle activity while also partnering with the Department of Conservation and Recreation and stakeholders to ensure residents have access to safely recreate in designated areas within Massachusetts' parks system."
Off-road vehicles are legal on designated trails in just three state forests in Berkshire County: Beartown State Forest, October Mountain State Forest and Pittsfield State Forest.
In 2022, there were four accidents with injuries on state DCR properties, including one at October Mountain State Forest and two at Pittsfield State Forest. In addition, off-road vehicles have damaged sensitive ecosystems and wildlife habitats on DCR properties, caused trail degradation by creating ruts and trail erosion, and contributed to noise pollution.
George is worried, about her own safety, about the safety of her neighbors, about the safety of the riders and the safety of her dog. She has been frightened enough to call her husband to pick her up, rather than risk walking her German shepherd on the road.
"As dog owners," she wrote of herself and her neighbors, "we try to do right by our dogs but unforeseen events can occur."
In addition, she wrote, recreational vehicles are doing damage to roads and owners are concerned that flying gravel might break windows of cars or headlights.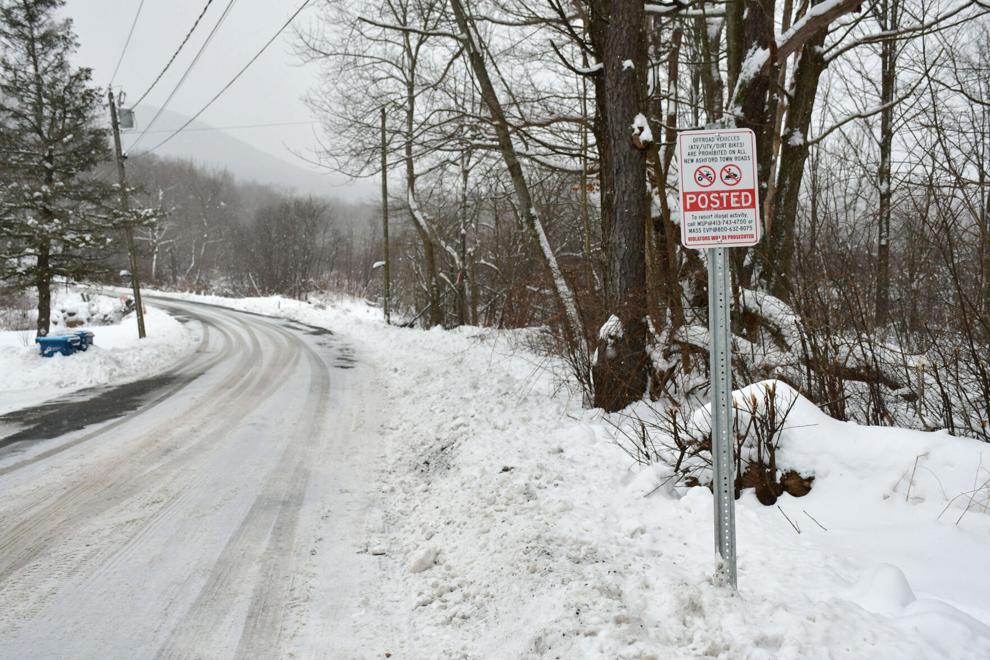 An increased presence by the Massachusetts Environmental Police has helped, George noted, as did Jayko in his letter to state officials, but these efforts often don't result in enforcement because by the time environmental police arrive, the off-road vehicle riders have left the area.
George said the problem worsened markedly about two years ago, but the summer before that, "about 35 vehicles" came down Route 7 and did wheelies on New Ashford's roads.
"Then progressively, not as many in a pack have been going by, but the vehicles are getting bigger, they're getting faster. They're getting more aggressive towards people," she said.
George has noticed stepped-up enforcement by Massachusetts State Police following the letter from the Select Board.
"The person covering this area right now has been extremely vigilant," she said, referring to the Massachusetts Environmental Police. "But unfortunately, they have not been able to catch people, per se. They have stopped a couple people and given them a warning. … There's not enough of them just like every other police agency."