NORTH ADAMS — Less than halfway through Election Day, voter turnout in North Adams already has surpassed turnout in September's preliminary election.
Voters at will elect the first woman mayor in city history, and by 1 p.m., more than 1,400 voters had cast their ballots at St. Elizabeth's Parish Center, city Clerk Cathleen King said.
Mayoral candidates Jennifer Macksey and Lynette Bond advanced from a field of four candidates, all of whom were women, in the September preliminary. Macksey and Bond received 802 and 611 votes, respectively.
Both mayoral candidates, as well as several City Council hopefuls, spent Tuesday morning with supporters holding signs near the entrance to the polling place, which opened at 9 a.m.
Voters cited a number of priorities for their decisions, including economy, education, housing, infrastructure and public safety. Some highlighted particular issues with city fire hydrants and the public safety building's lack of accessibility, as well as deteriorating roads and sidewalks.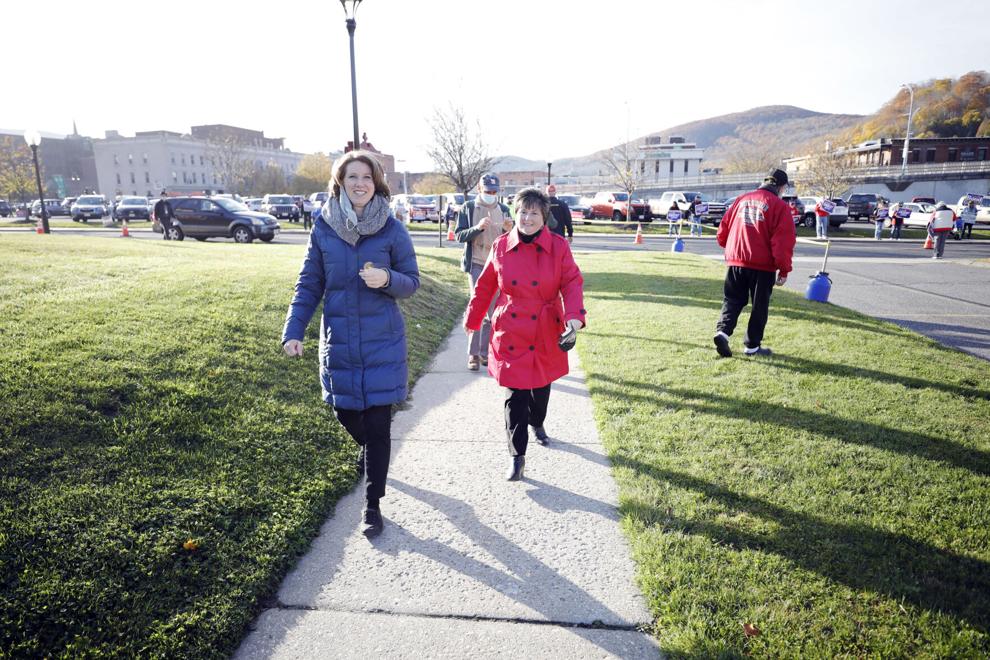 Jeff Vecellio, 31, said his largest concerns were with infrastructure and the potential for job growth in the city. He sided more with Bond on infrastructure but found Macksey to be better suited for handling city finances. In the end, he wanted a leader who is "looking into the future instead of the past," Vecellio said, and he went with Bond.
"It was a close call because there were a lot of similarities between them," said Vecellio, a video production technician who has lived in the city his entire life. "It was maybe like 52-48 for Bond."
For City Council, Vecellio voted to reelect Keith Bona, who he said "has brought stability to the council," and Wayne Wilkinson. He said he chose not to vote for former Marie Harpin because Harpin resigned in August before running for another term.
Bill Caprari, 79, said Macksey's campaign excited him because he sees Macksey as "the first real local in a long time who is a true native of North Adams."
Norbert Miller, 67, voted for Macksey because he "liked her better." For City Council, he voted for "anybody who wasn't already on."
"I don't have many priorities," Miller said, "other than keeping my taxes down."
Outgoing Councilor Jessica Sweeney, 32, said that despite many similarities between the mayoral candidates, she preferred Bond's approach to addressing the root causes of crime and substance use disorder.
"I'm not for increasing police presence in certain neighborhoods," Sweeney said, adding that she felt Bond was committed to increasing community engagement, including over spending of federal COVID-19 relief funds.
After what she said has been "a tough term" on the council, Sweeney said she believes candidates Michael Obasohan and Heidi Shartrand-Newell can provide "a fresh start," praising their "eagerness to talk about equity and social justice and accessibility."
Some voters made their choices based on the direct interactions they had with candidates.
Anthony Montoya, 73, said he voted for the candidates he knew and trusted, including his next door neighbor, Councilor Brian Sapienza. Montoya, who moved to North Adams in June, cast his mayoral ballot for Bond, whom he met at her campaign headquarters on Main Street.
"My daughter introduced me, and Lynette just impressed me a lot," said Montoya, who is retired.
Ryan Senecal, 34, said that before Tuesday he had not voted since 2008, "the first Obama election," but went to the polls because he had worked at the Massachusetts College of Liberal Arts with Bond, who made a lasting impression on him.
"She's as impressive as they come," Senecal said. "That's what it took for me to make it out here."
Bruce Little, 69, and Debra Little, 68, voted for Macksey because "we've known her for forever," Debra Little said, referencing Macksey's previous work in city government
"She's a go-getter, and she'll listen to everybody," said Bruce Little, who added that he feels the current administration has not moved quickly enough on fixing fire hydrants and the public safety building.
Leah Field, 38, said she went to the polls in part to vote Shartrand-Newell, her friend, onto the council. As a mother of five, she said one of her main concerns is that the city does not have a middle school, and she also wants repairs for fire hydrants and the public safety building.
Other voters cited priorities related to their professions.
Molly Rideout, 33, said that as an artist who works at Mass MoCA, she felt it was important to "keep the momentum of the last mayoral administration," praising Mayor Tom Bernard's support for the community arts and antiracism initiatives. Bernard announced in February that he would not run for a third term.
Those concerns informed Rideout's mayoral vote, which was for Bond, and her City Council choices.
"A lot of the members I really appreciated and were very supportive of the arts did not run again," Rideout said, naming Sweeney and City Councilor Ben Lamb. "It just meant needing to do a little more research to see who I agreed with."
Sarah DeFusco, 25, co-owns a city-based clothing brand, and she said she found City Council candidate Ashley Shade to be "really, really insightful" on issues impacting small businesses. DeFusco picked Bond for mayor but said she "wouldn't be disappointed" if either mayoral candidate wins.
"Having a woman in charge is going to be badass," she said.
Polls remain open until 7 p.m. at St. Elizabeth's, located on St. Anthony Drive.