NORTH ADAMS — Could opening a new peer recovery center in the city help reduce opioid deaths?
Wendy Penner, a member of the city's HEALing Communities Study coalition, thinks so. "It seems like a missing piece," she said.
There are several across Western Massachusetts, but not in North Adams.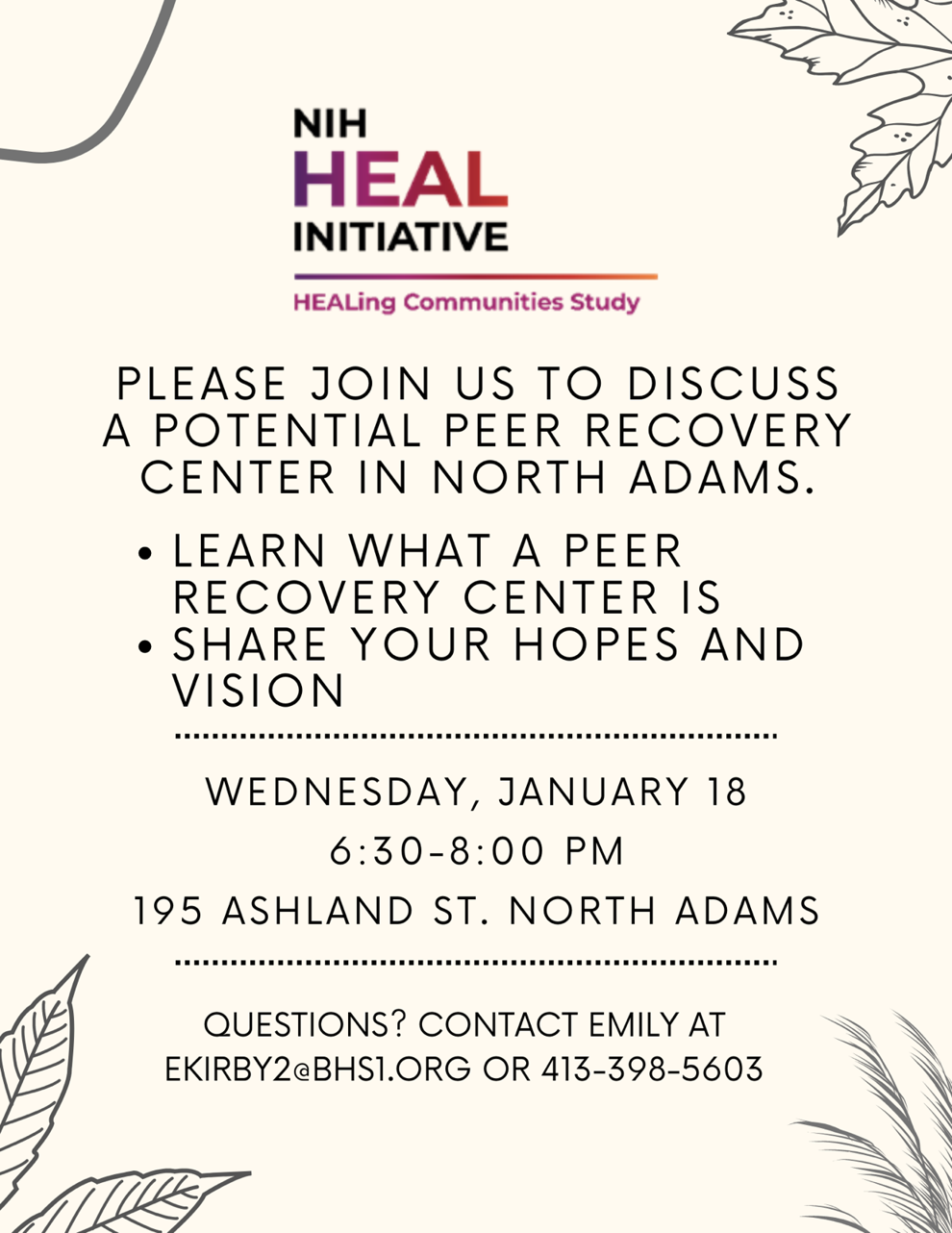 The public can learn more about a possible peer recovery center and weigh in during a meeting 6:30 to 8 p.m. Wednesday at 195 Ashland St. It is open to all, and the coalition is particularly looking for input from those in the recovery community.
Peer recovery centers offer support for people in recovery and anyone affected by addiction, and are run by those in the recovery community, according to the Massachusetts Department of Public Health.
"What is really critically important is there is an understanding that this is meant to be an effort informed by and led by the voices of people in recovery," Penner said.
In 2019, North Adams and Pittsfield were selected to be part of the HEALing Communities Study, a multistate project studying overdose prevention and substance use disorder treatment through the National Institutes of Health.
Countywide, opioid overdose deaths have been rising over the last decade. Nine people died from opioid overdoses in North Adams in 2021, the most recent state data shows.
The North Adams coalition has been meeting since last year to discuss ways to address opioid overdose deaths.
Now, the group has around $300,000 in grant funding for the project to spend by the end of the year, and opening a peer recovery center is an idea the group is considering, Penner said. If the coalition decides to work on a center, it would need to find a host agency to work with and a location for it, ideally centrally located, on a bus line and visible.
"The idea is a lot of recovery happens in church basement or spaces that are hidden," she said. "That's good for some people, but a recovery center is meant to be visible and accessible to all."