NORTH ADAMS — Desks were pushed to the side of the room and yoga mats filled Lisa Tanner's fourth grade classroom at Colegrove Park Elementary School.
"Bring your arms up," Tanner told about 25 students Friday while she stood on her own yoga mat. "Sigh out all the stress of today."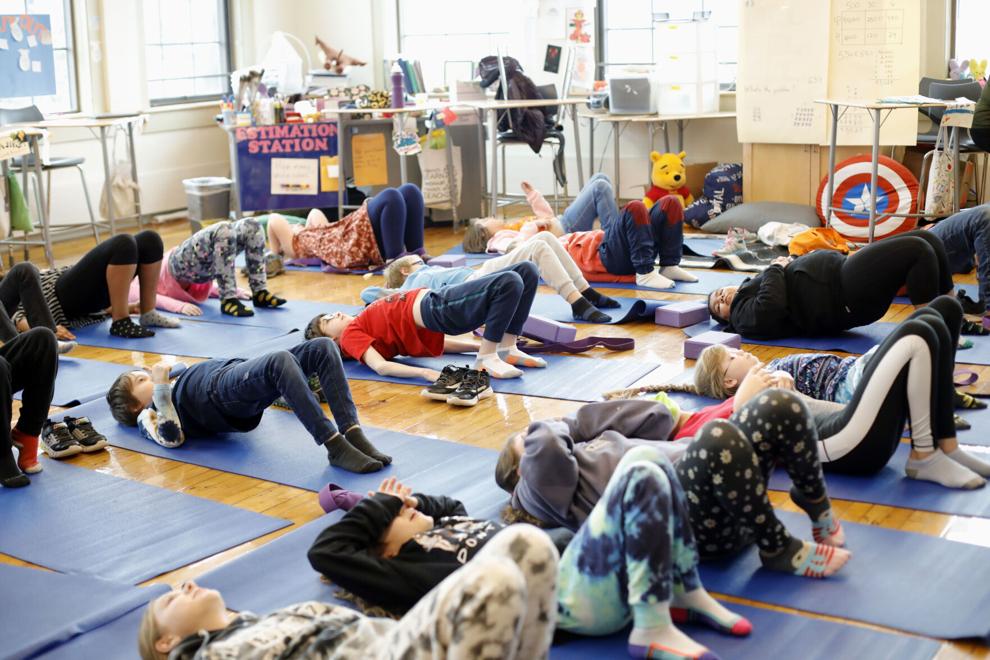 The whole room let out of a collective sigh.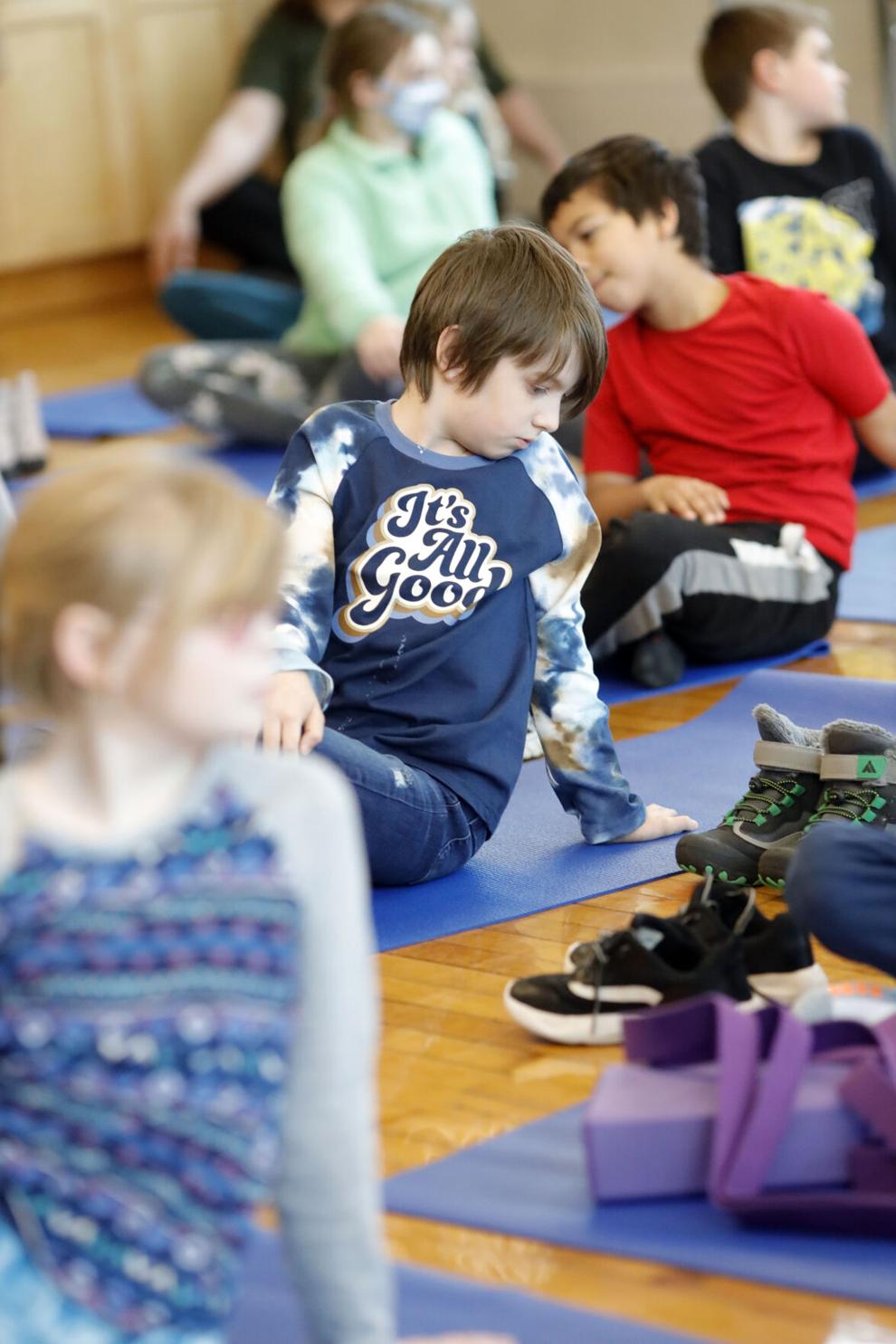 This school year, Tanner has offered yoga on Fridays as part of a new mindful movement program in the district. It's a way to ease stress and anxiety as students are transitioning back to in-person learning after the pandemic shutdown.
"Fourth grade is a huge jump from third grade," Tanner said. "And they were in second grade when the major pandemic hit. And so they missed a lot. And I think it's just a way to help ground them and get them into the groove."
Students felt refreshed after yoga on Friday. "We've got to get out all our energy," Jenna Mongeon, 10, said as she rolled up her yoga mat. She particularly likes the warrior poses. "It makes me feel relaxed."
"It takes out all the stress," Colton Braman, 9, said after yoga. "It's fun to do that after all the tests we had."
Tanner is one of about 10 teachers in the North Adams district who were trained last summer through Breathe for Change. It's a program geared at educators, teaching them about yoga, mindfulness, mediation and social and emotional learning to help them and their students.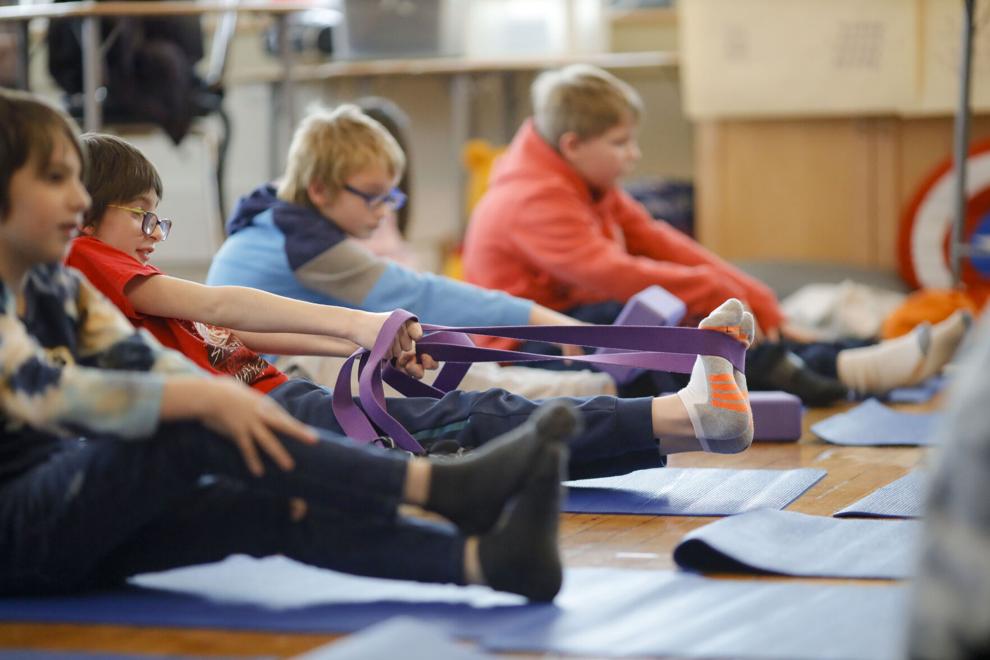 Educators are incorporating that in different ways with students. Some hold weekly yoga practices like Tanner, others have students do short breathing exercises, and a teacher at Drury High School has started doing yoga as an alternative to detention. The program is not just for students — it's also supporting teachers, many of whom felt burnt out from teaching during the pandemic.
"Let's face it," Tanner said, "we're coming off of a pandemic, which really was extraordinarily traumatic for not only the students, but for the staff, for families, for whole communities. And so this is a really great way to bring everyone together."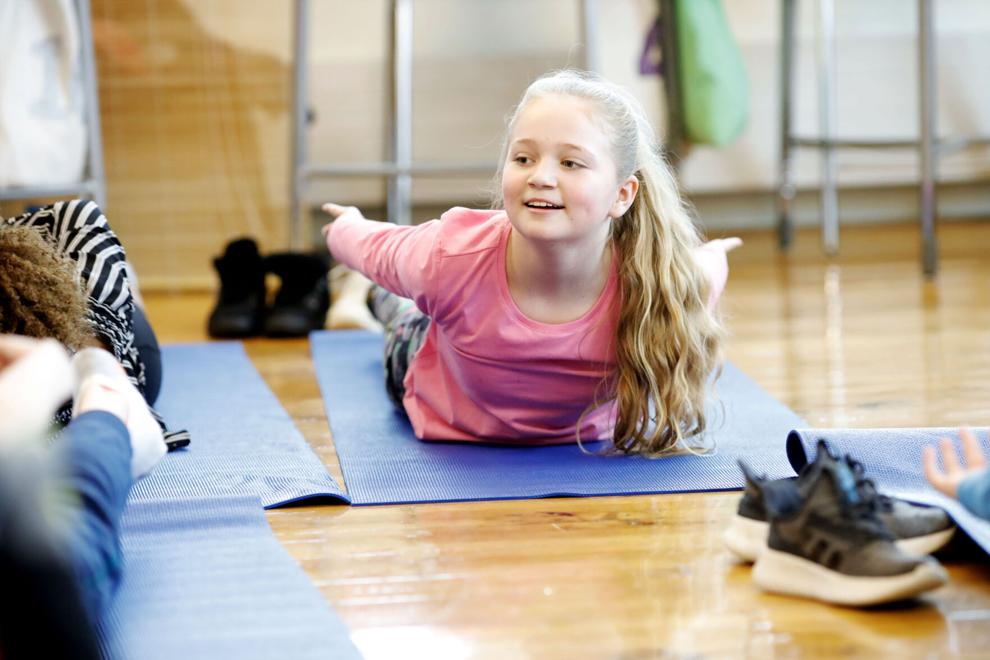 The new initiative started with Superintendent Barbara Malkas. "Quite frankly, this all came out of being desperate to find something that could help my educators and help the kids," she said. "Coming out of the pandemic people were carrying a lot of stress. People were very anxious … The entire world had the rug pulled out under us."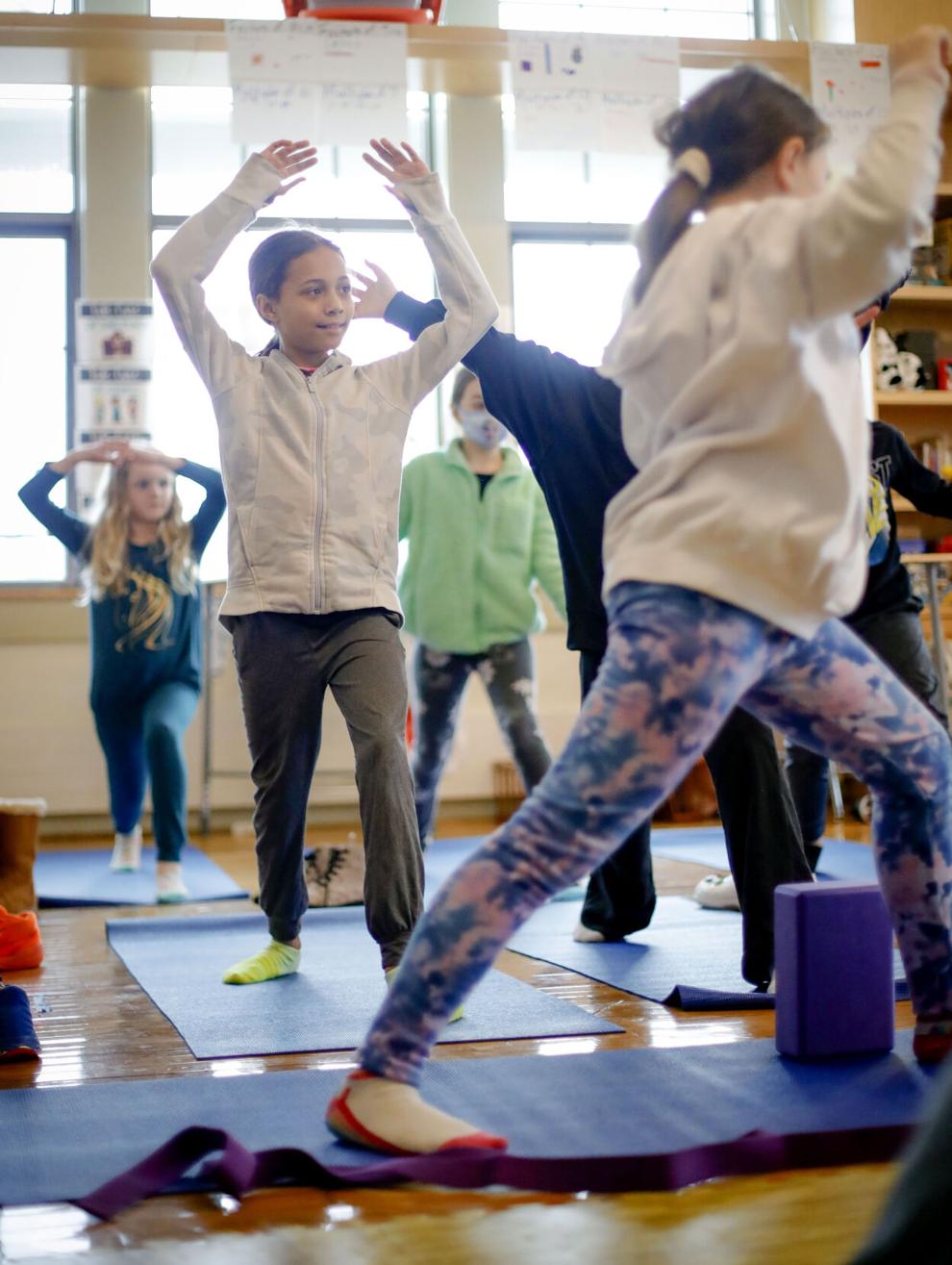 About a third of high school students, for example, said they had poor mental health during the pandemic, Centers for Disease Control and Prevention data from 2021 show.
Educators, too, had a hard time. In Mary Sweeney's 31 years of teaching, she had never seriously doubted her career choice until she was teaching online during the pandemic. "I really considered that I was not made to be a teacher," the Drury Spanish teacher said. "It was so difficult to survive the day."
Malkas was also stressed. "I came out of the pandemic thinking I was fine," she said. "Apparently I was not. I was carrying my own emotional stress. Kids pick up on that — they are good emotional barometers."
She turned to yoga and mindfulness to de-stress. After she got trained through Breathe for Change in 2021, she offered six weeks of after-school yoga classes open to district educators last school year. About a dozen people came regularly to her class, and they told her they wanted to bring it to their own classrooms.
"Once you feel it in your own body you say, 'Oh, I've got to share this,'" Malkas said.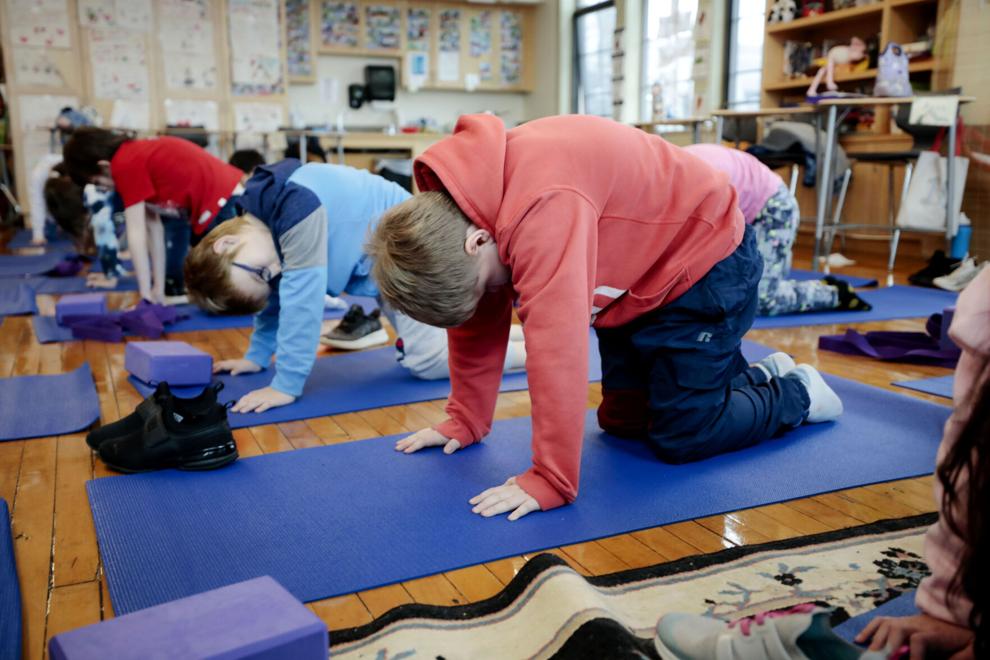 So last summer, about 10 North Adams teachers, including Tanner and Sweeney, did a 200-hour training with Breathe for Change.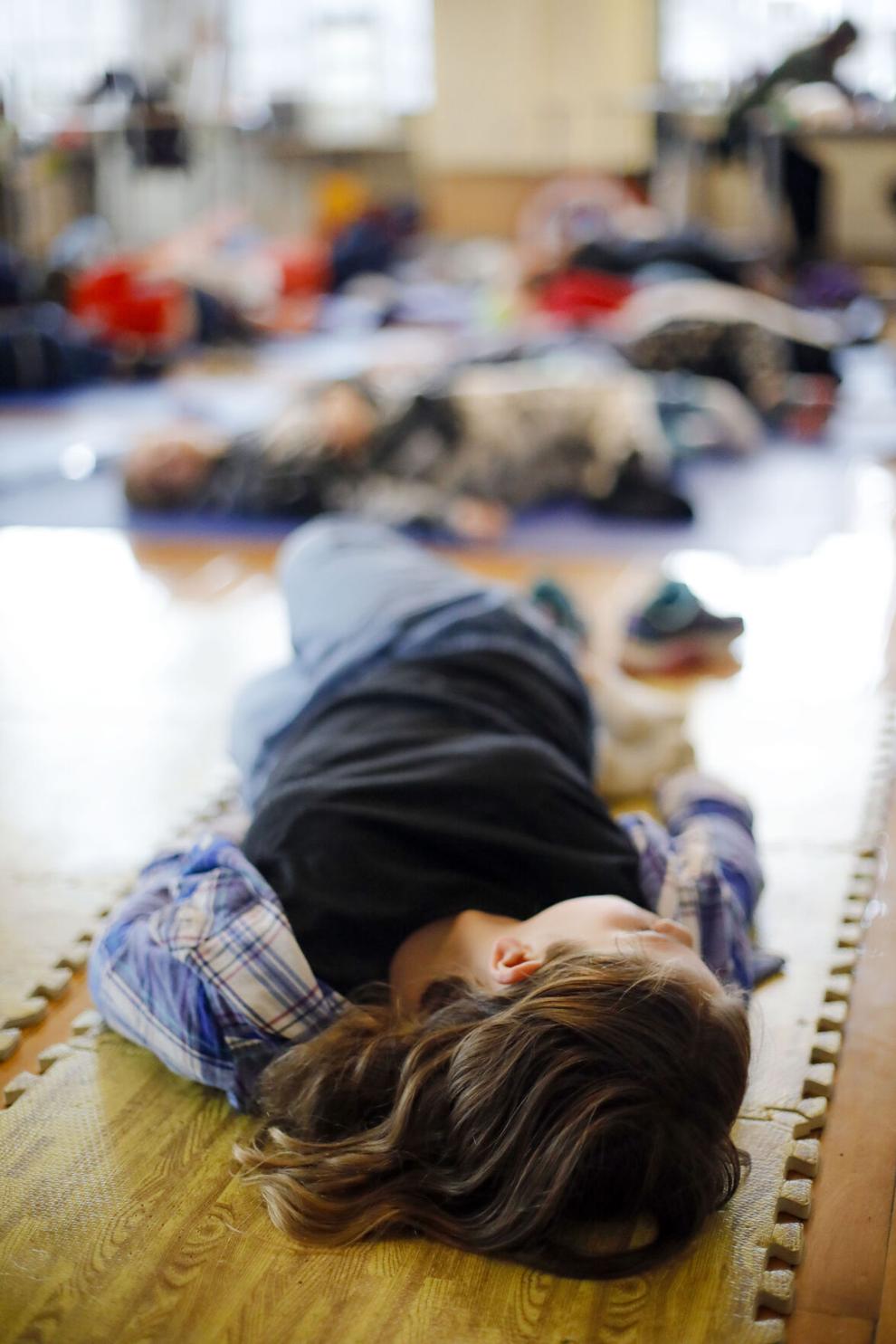 After the training, Judith Fairweather, an English language arts teacher at Drury High School, started offering yoga every Wednesday after school for the Drury community, including those who would otherwise be in detention. Before the class, she goes to an office where students in detention are and asks if they would rather do yoga.
It's far from letting students off the hook, Sweeney said. "It's not that we are giving them a pass, we are giving them tools — to self regulate and know better next time," she said. "If you know better, you do better next time," she added, quoting the late poet Maya Angelou.
In the after-school class, Fairweather offers modifications to poses to make it more inclusive, "driving home the point yoga is for two words: every body," she said. "I am a good example of that. I am not your little 80-pound, perky yoga instructor with a head piece, yet I can be successful at it."
It helps with anxiety, too. "Not all of our kids live the best lives," Fairweather said. "Yoga is a way for them to step out of that for that brief amount of time." And ending in shavasana, a resting pose, can help recharge tired students. "I think sometimes they don't rest at all," she said.
In Sweeney's Spanish classroom, she has students do short breathing exercises. "I feel re-energized," the students say afterward. "This helps me to be here."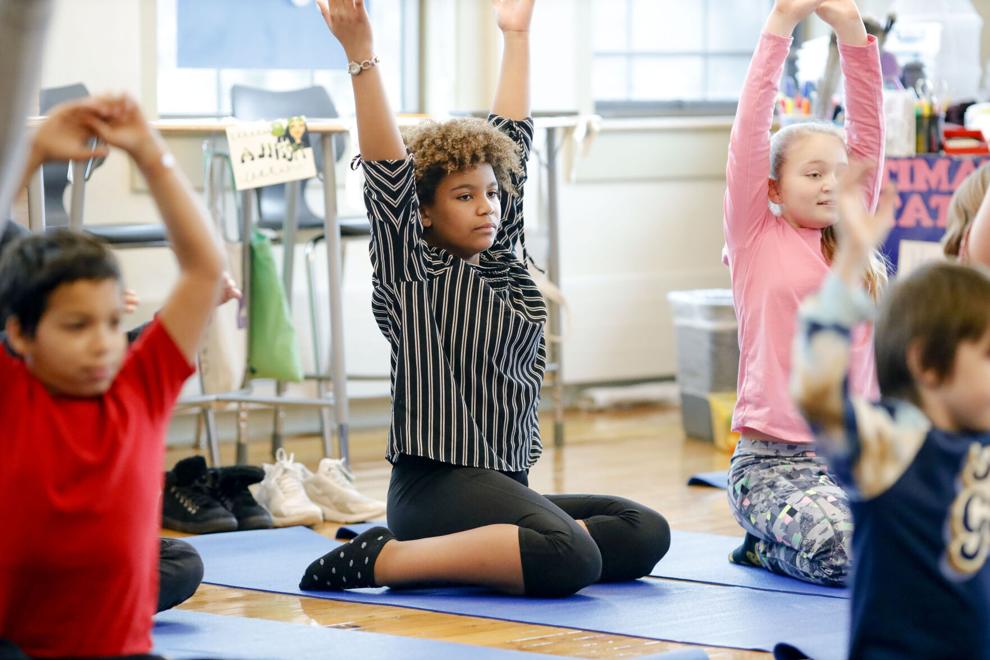 Transitioning back into school in-person amid the pandemic was hard. "The level of stress, you could feel it in the air," Sweeney said. "The program has made it lighter." And even before the pandemic's onset, Sweeney flirted with using mindfulness in the classroom. "We have so many kids that are survivors of traumas or live in trauma," she said. "I am looking for a way to help them be more mindful and present."
One way Tanner has helped students feel present is doing regular check-in, asking students to describe how they feel using weather words — "partly cloudy with low lying fog," students might say.
It's a way for students to say how they feel in a safer way. "It gets them heard," Tanner said, "but they're not embarrassed."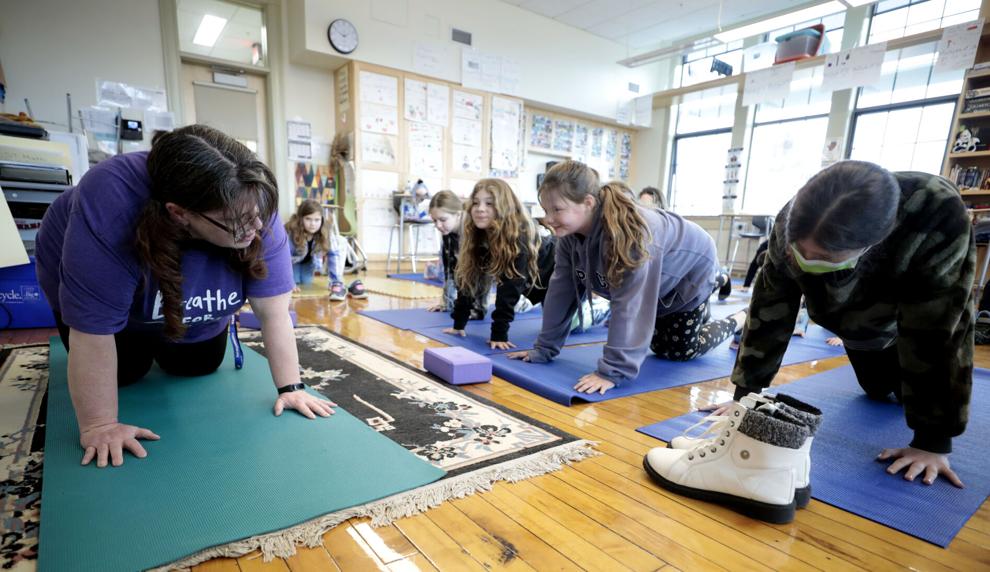 When she started those check-ins after her Breathe for Change training, students wouldn't raise their hands. "No one wanted to be first," she said. "I always went first. And I'd say, two words about myself. And then I'd have to call on kids. And now it's like hands are going up, left and right."
In Tanner's class, one wall is covered in student art projects. "I am..." they all say, and the students wrote words and illustrated their ideas. "I am ... capable, kind, focused, intelligent, and loved," one reads. Those are the students positive affirmations, and the class uses them.
"I want you to be saying that mantra, that positive mantra about yourself," Tanner tells students. "The more you say it, the more you believe it. And we have a lot of kids who struggle with belief that they are smart. They're capable. They can do it."