NORTH ADAMS — On Saturday afternoon, Pam Tworig stood inside Mass MoCA's Building 6 holding a post card that read, "I [HEART] NORTH ADAMS," thinking about how to respond to the prompt.
"I have to sit down and think about it," she said. That's not because she had nothing to say, but more because she had limited space. "I tell everyone I am North Adams' biggest cheerleader."
Since moving to the area in 1979 as a teenager, Tworig, who now lives in Stamford, Vt., has been closely watching changes in North Adams. "It's been amazing to watch and be part of the transformation that's occurring," Tworig, a real estate agent, said, pointing to increasing tourism in the area as an example.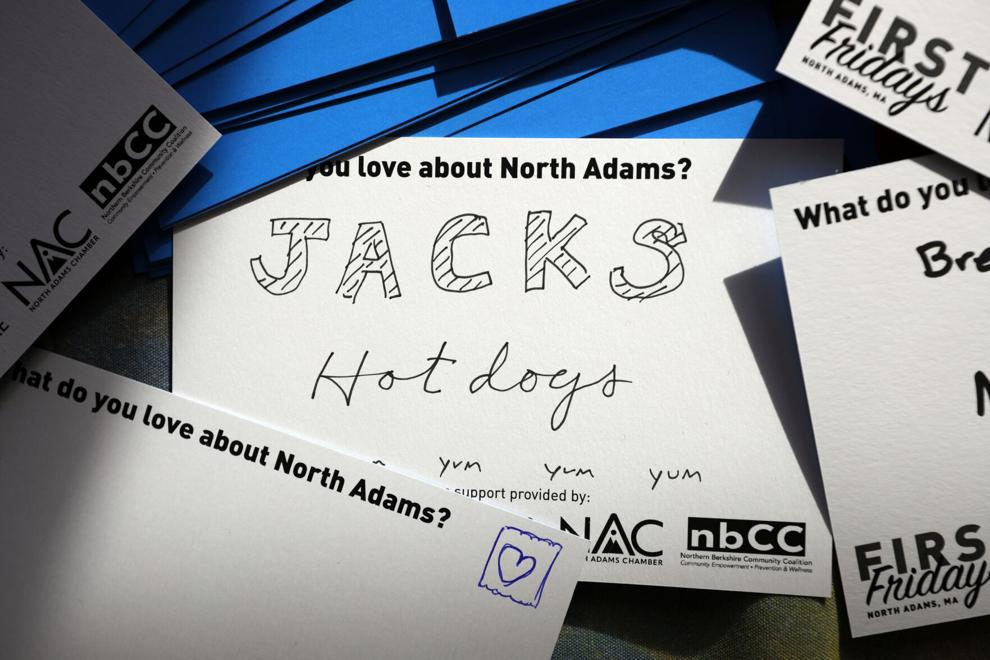 Nearby, Andrew Fitch and Nicholas Rigger sat behind a table covered in bright blue postcards that say "I [heart] NORTH ADAMS" for people to fill out during Mass MoCA's free community day. Fitch and Rigger were kicking off a valentines for North Adams project as part of February's First Friday downtown event. After filling out their cards, people could drop them in a mailbox next to the table. "Tucked in the far corner covered in dust," the mailbox was found in the basement of Massachusetts College of Liberal Arts Gallery 51, said Rigger, assistant director of Arts and Culture at the college. Why exactly the gallery had it, Rigger wasn't sure, but event organizers cleaned it up for the project.
What's to love about North Adams?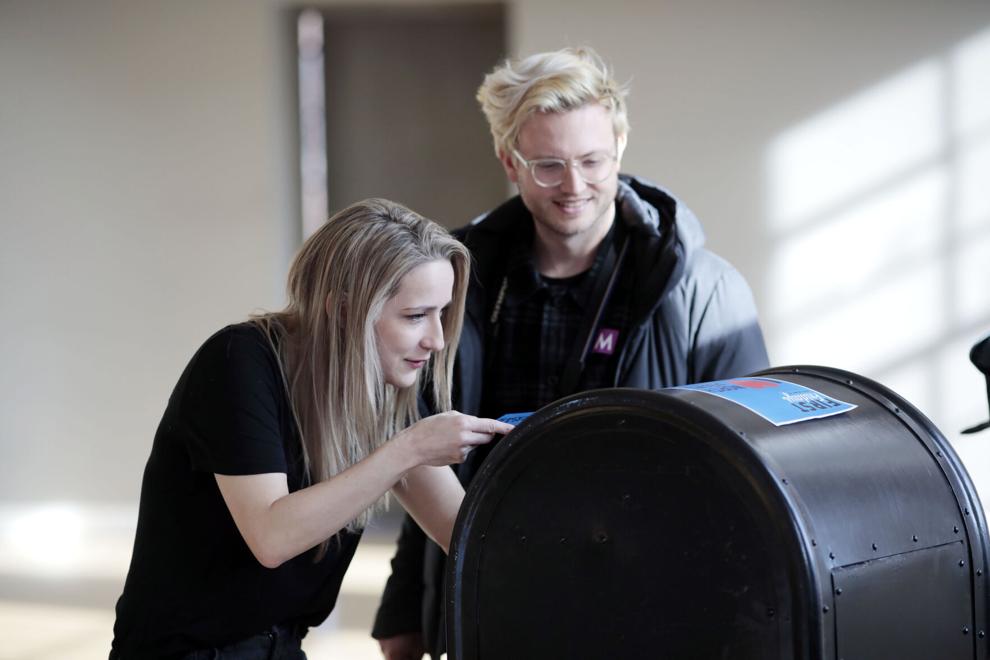 "The gorgeous sunrises and all the friendly people among these gentle mountains," one person wrote on their valentine.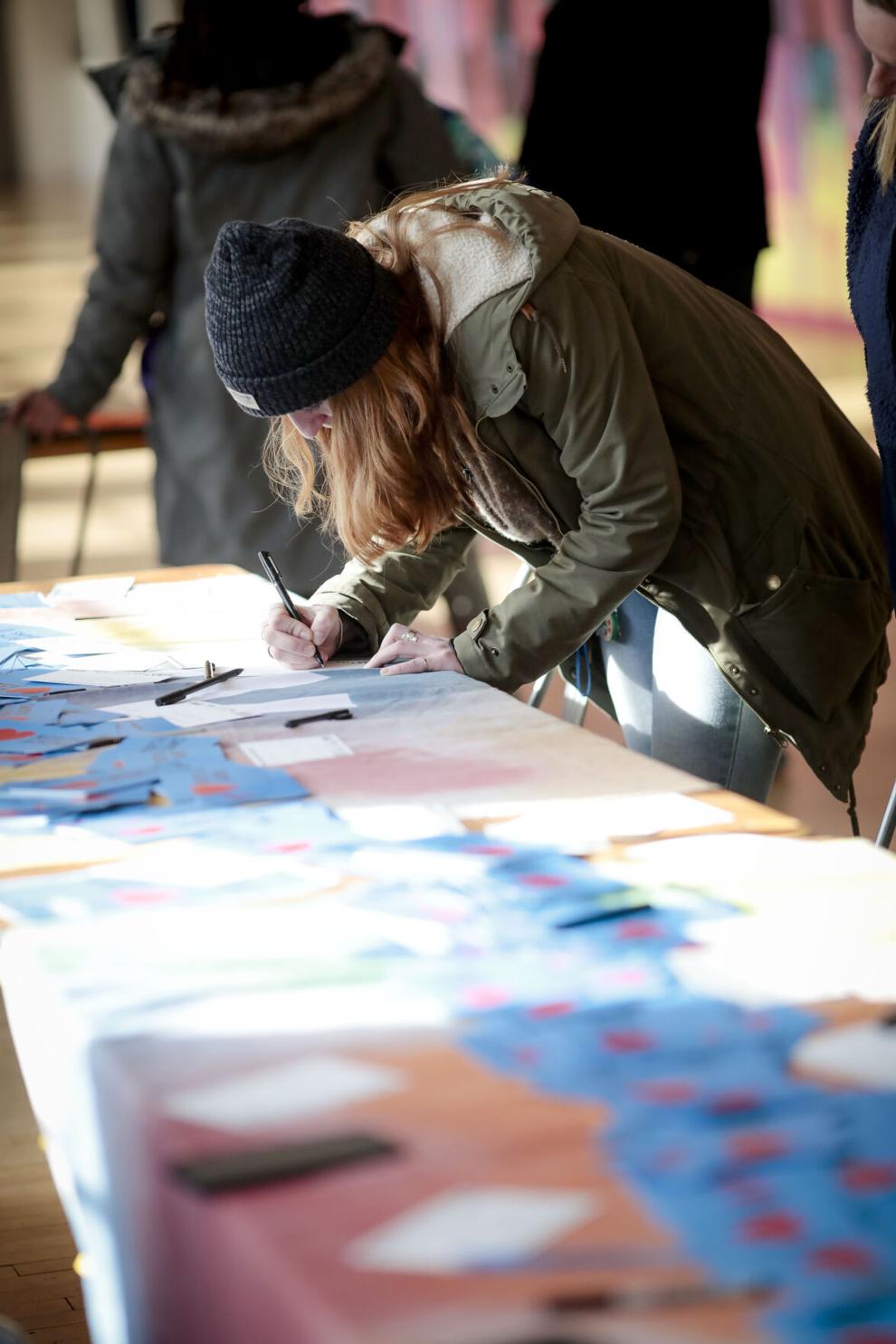 "The beautiful historic houses and mills," one postcard read. "I love the 'small town' feel and [that] everyone works together to help better the area!" someone else wrote.
Nine-year-old Amelie Whitehead filled out a postcard while walking through the museum. "I love coming to Mass MoCA," she said she wrote.
Photos: Valentines for North Adams during Mass MoCA's free day
Visitors write down what they love about North Adams on cards at Mass MoCA. The card station kicks off a valentines for North Adams campaign by First Fridays organizers and will be placed in the windows of downtown business storefronts to drum up positivity and economic activity downtown.
To purchase these photos, click here.
Aretha Whitehead, a Pittsfield resident, wrote about the museum too, and the Roots Teen Center.
Fitch estimated by mid-afternoon that they had collected several hundred postcards. The valentines will be put up on the windows of downtown business in time for February's First Friday event on Feb. 3. The event, themed "I Heart North Adams," features live music at Heart's Pace Tea and Healing Arts Lounge. During First Fridays, downtown business are encouraged to stay open late, until 8 p.m.
Started in 2021, First Fridays is one of the changes Tworig loves. While walking down Main Street Saturday with a friend, she said, "I can't believe the energy and things this group of young people has done in the past year," she said, pointing to First Fridays regular festivities, like a community dinner in the middle of Eagle Street in early September. "These things didn't occur before," she said.