NORTH ADAMS — Hats crocheted from T-shirts, a colorful backpack made from soil bags, and a table full of bandanas and scrunchies, among other things, sat on display at WallaSauce's temporary store space in Greylock Works.
Co-owners Andrew "Kirby" Casteel and Sarah DeFusco have been selling clothing and other handmade, upcycled items for several years online, at events like farmers markets and most-recently, in a temporary space at Greylock Works.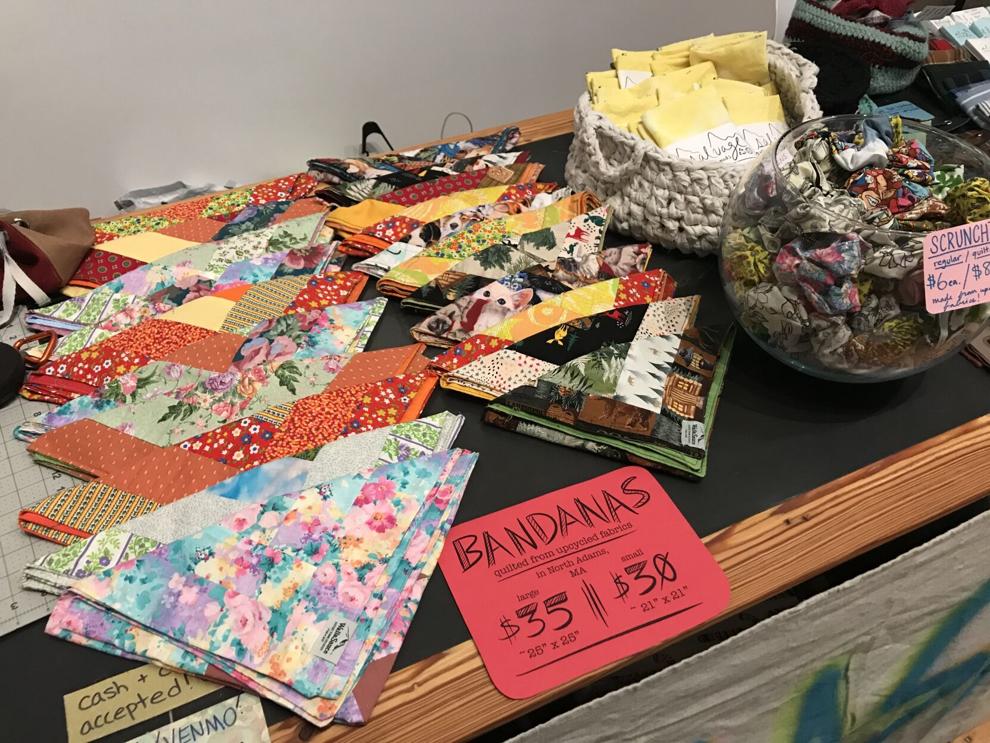 In July, they will be moving into a storefront in downtown North Adams for at least several months with grant support from a summer business pilot program run by 1Berkshire in partnership with ProAdams and the North Adams Chamber of Commerce.
WallaSauce is one of four businesses splitting a total of $30,000 in grant funding to open pop-up shops from July through September in the Northern Berkshires, said Benjamin Lamb, 1Berkshire director of economic development.
"It's a great way to activate our primary corridors when the most pedestrians are here," Lamb said. Pop-up businesses help fill empty storefronts while creating a "critical mass of offerings" in downtowns, he said.
Using money from the Massachusetts Executive Office of Housing and Economic Development, the program is giving funds to two business in Adams — The Adams Incubator and Secret Sun Tanning Salon — and two in North Adams, WallaSauce and a second one which has not yet been announced.
Funds can be used for rent, utilities, or supplies like store signs, but can't go to salaries or merchandise, Lamb said.
Secret Sun Tanning Salon, owned and operated by Jason Nocher, will open at 96 Summer St. and The Adams Incubator, a co-working, retail and small event venue owned by Yina Moore, is at 35 Park St.
WallaSauce plans to open in 77 Main St. in North Adams, and when the grant runs out in the fall, Casteel and DeFusco hope they can continue to operate a storefront downtown.
This summer in the Main Street space, they plan to sell items and teach classes on skills like how to use a sewing machine and how to fix clothing.
Sustainability is key to their business. "Our goal is to give second lives to materials by creating individualized products," as their website explains, "while also challenging what is considered 'trash' in the current state of our disposable society."
At the Greylock Works space, DeFusco worked on a sewing machine making small bags out of what used to be sample leather swatches for furniture and Casteel sewed scraps of fabric together to make a colorful cloth. In opening their downtown storefront, "the goal is to show people how we do things in hopes we can change some minds," DeFusco said.