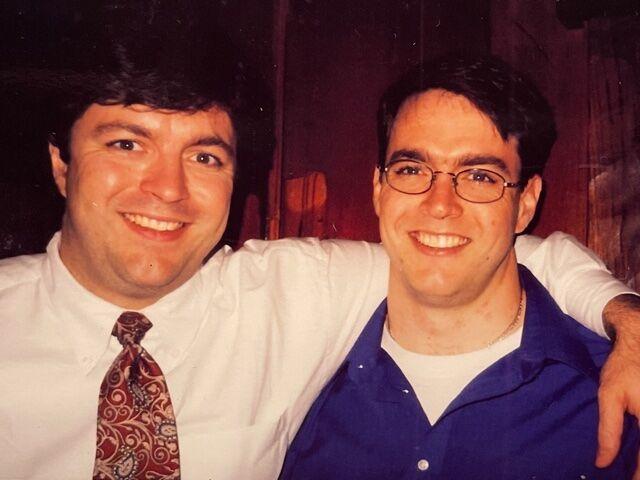 Today, the path of Foster Goodrich's grief, 20 years long, brings him to a kind of clearing. A place of clarity.
When there, he can talk about the last time he saw his big brother, Peter, a week before Sept. 11, 2001. They were back home in Williamstown, young adults helping their parents, Donald and Sally, move from the family's longtime home. Peter was more than four years older. But, the brothers were tight. And then some.
"My soulmate," Goodrich says.
It came time, that weekend, to say farewell.
"We were there to hug and talk and kiss each other goodbye and tell each other we loved each other," Goodrich recalls. "When he was murdered, there was nothing left unsaid in our relationship."
Twenty years ago this week, Foster Goodrich was among the millions watching on live TV when United Airlines Flight 175 hit the south tower at the World Trade Center in New York City at 9:03 a.m. Within the hour, he learned that his brother was on that plane.
The news made Foster Goodrich one among thousands: those who lost a family member in the day's terror attacks. His older brother, Peter Morgan Goodrich, 33, had taken off at 8:14 a.m. from Boston with 65 others aboard Flight 175. He was director of product development for a software company and headed to Los Angeles.
This anniversary is particularly hard for the Goodrich family. After losing Peter, Don and Sally Goodrich began a foundation in his name. In 2004, wanting good to overcome evil, they began to help educate young people in Afghanistan. Through the years, they brought about two dozen high school and college students from that country to the U.S. to study.
In Afghanistan itself, the Peter M. Goodrich Memorial Foundation backed the creation of a school in Logar Province, south of Kabul in the eastern part of Afghanistan, and supported other humanitarian projects.
In a 2004 interview, Sally Goodrich said she wanted the anniversary of the terror attacks to be a time of service, of helping other people. She had been moved by descriptions of such work in a newsletter put out by the group Families of September 11th, which she and her husband helped create.
"This is one idea that all the family groups have united together to support," she said at the time. "We hope what we're doing with the school in Afghanistan will be an ongoing project."
Their work was captured by a documentary filmmaker, Rick Derby, who around the 10th anniversary held a screening in the Berkshires of a version of his chronicle, then called "Axis of Good: A Story From 9/11."
The extended Goodrich family embraced that educational mission. Foster Goodrich and his former wife, Janeen, opened their Bennington, Vt., home to young Muslim women studying in the area through the foundation's programs. Along the way, Foster Goodrich found that he was thinking differently about the world.
"I would not be as aware of global issues," he said. "I would not be as aware of women's issues, despite being progressive."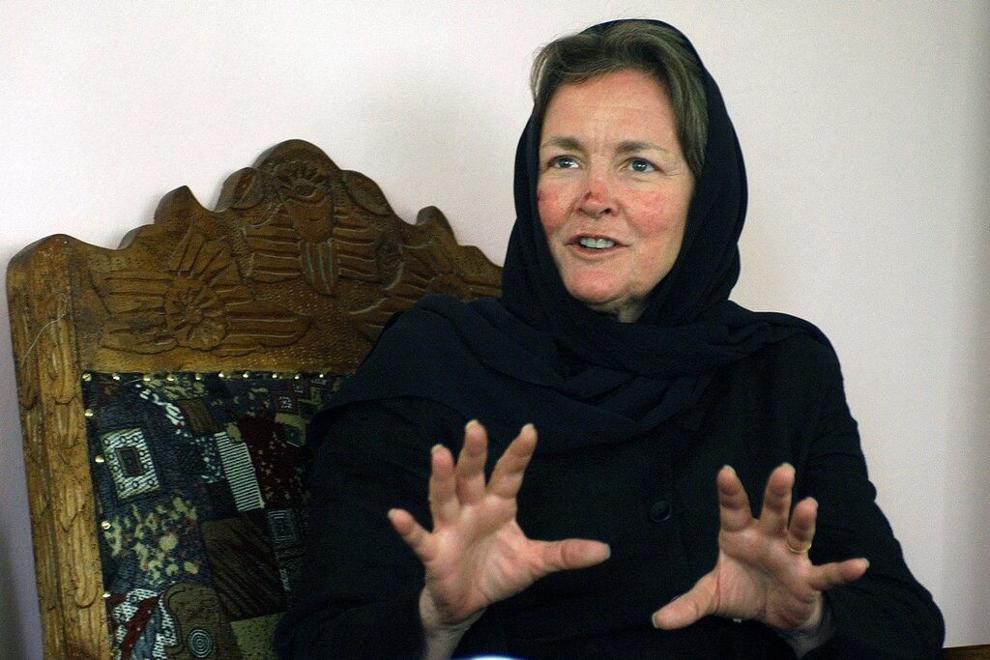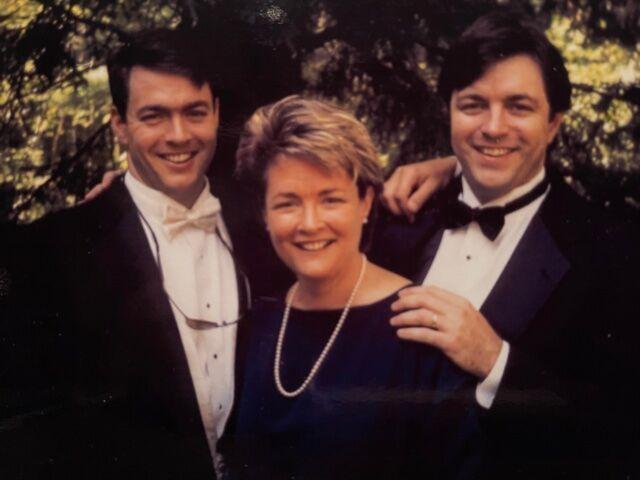 Sally Goodrich's death, of ovarian cancer in December 2010, was reported by The New York Times. The newspaper's story recapped her work in Afghanistan, noting that the foundation had raised about $1 million, built a school for 500 girls and supported the creation of two smaller schools, as well as an orphanage in Wardak Province. Work to educate young people in Afghanistan echoed her own career in the Berkshires. Sally Goodrich served as remedial reading teacher in North Adams and ran a program for at-risk children.
Her husband scattered a portion of her ashes in Afghanistan the summer after she died. Her son Foster had hoped one day to visit that place. Now, with the U.S. withdrawal from the country and the return to power of fundamentalists, he thinks that unlikely.
"It is now in the possession of the Taliban," he said of the school. "It is no longer educating young women."
Foster Goodrich says the Taliban's resurgence, and the frenzied U.S. departure, has been difficult to watch.
"It's emotionally very hard. There's a part of me that believes bad people are bad people and we should have good people fighting them," he said. The idea of seeding democracy in Afghanistan, he thinks, just didn't work. "I do believe it was the right time to leave. I'm not sure we left in the best way. I'll reserve judgment as history unfolds on it."
Peter Goodrich's obituary noted his kindness. "He is remembered for his intellectual curiosity across a wide range of topics, including math, religion and entomology, a love of the Boston Red Sox and most importantly for his kindness to many people. His sense of humor endeared him to all who knew him."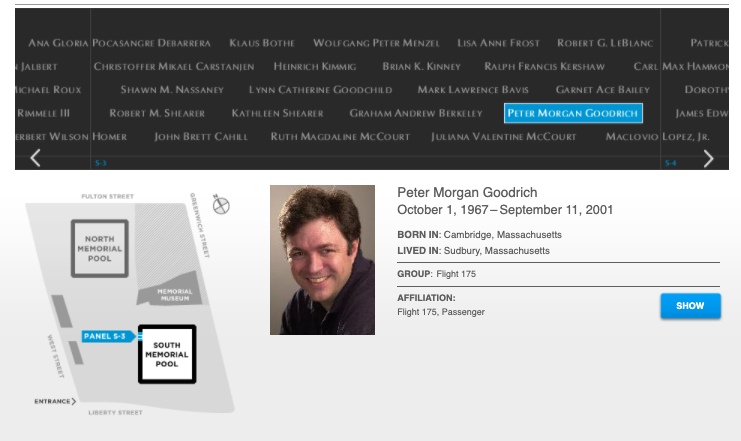 His name is cut into the bronze parapet that surrounds the south pool at the National September 11 Memorial & Museum, at 180 Greenwich St. in New York City. The memorial lists 2,983 names — all those who died in the terror attacks, including first responders and the six people killed in the 1993 bombing at the World Trade Center.
Not long before he died, Peter Goodrich had been reading literature on the world's religions.
When his obituary appeared, a week after the attacks, Goodrich's family spoke for him on the matter of religious tolerance. "He would wish that in this time of turmoil, that we should show respect for all, including those of Arab descent and those of Islamic beliefs," the obituary said.
Foster remembers his brother using markers, while studying these texts, to bring him back to passages he felt showed commonalities in faith.
Peter's memorial service began with a reading from the Quran. A family friend described all the markers that Peter had left in the text, just as in his copy of the Bible, adding, "We have cause to say Peter did read for Christ's sake, to be a peacemaker in our time." The Quran reading, from a section called "The Dinner Table," called for the faithful to be "bearers of witness with justice, and let not hatred of a people incite you not to act equitably …."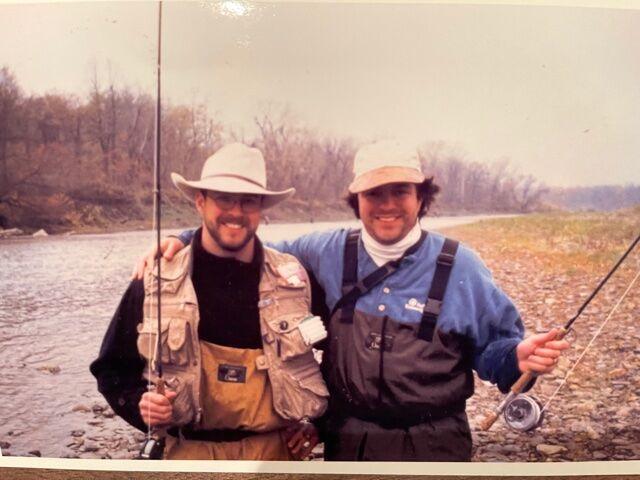 "He had read the Quran and the Old Testament and was trying to identify verses and chapters," Foster said. "He wanted to understand the conflict between the religions. He was right in the middle of that when extremism took his life."
That was enough reason for Foster Goodrich to be angry, early in his grieving. Today, when asked to talk about Peter, he finds his way to the clearing. "My brother was such a solid human being. My brother was the sweetest, kindest person. He was someone who cared tremendously about the human race."
Foster thinks now of how he and Peter connected, despite their nearly five-year age difference. They skied together, and fished. Both had been standout athletes in college. Though Peter had been picked on as a child, he was big and strong by the time he got to Bates College in Maine, where he became a six-time All-American in track and field.
"I'd take him on adventures," Goodrich said.
"Somehow, some way, that bond of brotherhood and friendship became as pure a thing as you can hope for in life," he said. "That's the relationship I had with my brother. To even have had that is amazing."
RELATED CONTENT