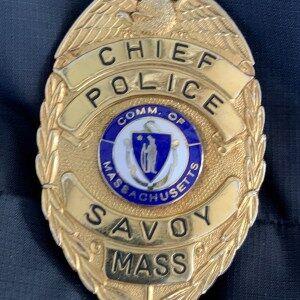 SAVOY — As The Eagle reported in late September, a cannabis entrepreneur seeking opportunities in Savoy left Town Hall one night feeling unwelcome.
Four months later, the aftermath — a continuing tussle over public records and adherence to the Open Meeting Law — has cost Savoy its police chief.
Whether Sean Sheridan was "escorted" out that September night by Police Chief Thomas Barnaby, or simply accompanied out, is debated.
So too is the question of whether Sheridan had been "yelling," as Barnaby put it in a statement that ended up in the office of the Attorney General. Sheridan contends he was engaged in vigorous discussion that Savoy officials decided to end.
That same night, Sheridan filed an Open Meeting Law complaint with the AG's office. In the course of pursuing that remedy, Sheridan, still smarting from his exit from Town Hall on Sept. 28, asked the town a seemingly simple question: How old is its police chief?
Barnaby, who was tapped as chief last January, was born in 1950. That puts him well over the mandatory retirement age set by state law. Towns can seek exemptions from that law, as Barnaby had told Savoy officials he believes had been done.
But it was not — and that forced the hand of the Select Board, which has instead tapped Barnaby, now the former chief, to help it find a new permanent or interim police leader.
"Please be patient as we work through this issue," a notice on the town's website says. "This came to light when a public records request asked his age."
According to the town, Barnaby was told when he was hired that the "home rule" exemption was in place, following a plan to act on it at a previous town meeting. After receiving Sheridan's question about Barnaby's age, the town discovered the chief was not entitled to serve after all.
"This was news to all of us," Russell Clarke, a member of the Select Board, said in an interview Tuesday in Town Hall.
Melanie Glynn, a board member, said the town is moving to find a new chief and has received "interest" among candidates. The chief in Savoy, as in many small towns, works limited hours and handles road details, as well as applications for firearms identification cards and licenses to carry. Major crimes are investigated by the state police.
The chief had held office hours just twice a month for two hours each, Glynn said. She said town counsel has advised that actions Barnaby took as chief in connection with firearms licensing remain valid.
She noted that the state's police reform bill complicates hiring for small communities, as it stipulates expanded levels of training. "It's going to be more difficult," she said of hiring a chief.
Barnaby has told officials that even of the community were to address the missing "home rule" requirement on his age, he is not interested in working to get the town in compliance with the police reform law, which must happen by July, according to board minutes from Jan. 4.
The Open Meeting Law complaint filed by Sheridan remains under review, according to a Jan. 6 email from the AG's office, a copy of which was obtained by The Eagle. The email says that Sheridan's complaint has been assigned to Assistant Attorney General Carrie Benedon.
"We will review your complaint and will contact you in the event that we require additional information," said the email, signed by Erica Warren of the office's Division of Open Government.
"We are at the beginning of whatever investigation the Attorney General chooses to proceed with," Sheridan said Wednesday.
He said he still wants to bring a request before Savoy officials to negotiate a host community agreement for a cannabis business. At the time Sheridan came forward, in August, the town had not specified rules governing how it would evaluate such requests.
On Oct. 5, the same night it responded to Sheridan's Open Meeting Law complaint, the Select Board voted unanimously to adopt a host community agreement policy.
Sheridan, who lives in Hampden County, argues that he is guided by principle. He believes he was treated unfairly at the September board meeting and said he doesn't want to be seen as someone simply out to annoy small town officials.
"They sent the police chief over. I was kind of astounded by that," Sheridan said. "For me, it's about right and wrong, because I was chased out of a public forum. That's what this is about. I was not allowed to speak."
Savoy officials see it differently. In interviews in September, they said Sheridan had been rude and, in their view, inappropriate in his dealings with the community. "Once it was clear we wanted zoning bylaws and town input … Sean collected his documents and left abruptly," minutes from the board's Aug. 24 meeting say.
At the time, they had been dealing with records requests from Sheridan that demanded he be provided not only with the names and addresses of Savoy voters, but with their birthdates, an ask they felt risked exposing residents to identity theft — and fought.
Chief's statement
In his written statement about the Sept. 28 meeting, Barnaby said he was in his basement office in Town Hall when he heard "loud yelling."
"I don't know who he was yelling at or why he was yelling," Barnaby wrote. Glynn went to Barnaby and said the meeting had been adjourned, the chief wrote, "and this person … is still loud. … I walked over … and told him if he didn't lower his voice that he would have to leave."
A reporter for The Eagle observed the scene, but did not hear what Barnaby or Sheridan said to each other. No one had been yelling. Sheridan and the chief could be seen walking together to the front entrance of the building.
Barnaby wrote that Sheridan did not object and asked to speak with him outside.