NORTH ADAMS — The state officially approved a zoning change aimed to increase the density of development in and around downtown.
The Department of Housing and Community Development approved the city's Smart Growth Zoning overlay district and design standards in mid-December, the city's Office of Community Development announced Thursday.
"This is a big win for the City of North Adams," Mayor Tom Bernard said in a statement, "one that will support housing and economic development priorities while providing another tool for downtown revitalization."
The zoning, approved by the City Council in September, creates a special zoning district that encourages more dense residential and mixed-use development.
The district includes two areas — one is around downtown, and the other is in an area between Union and Eagle streets called the "mills subzone." Developers are not required to use Smart Growth Zoning in the designated areas. Instead, it is another zoning option they can use.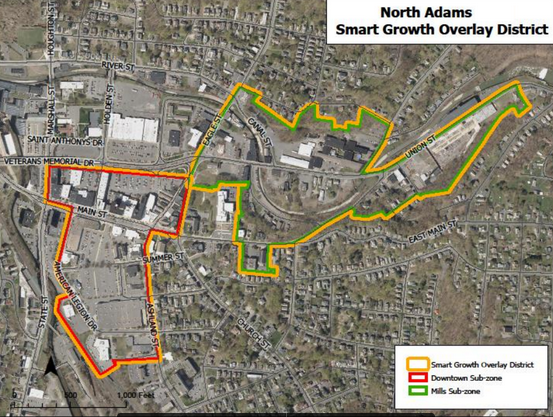 Per the state law that allows the zoning, 20 percent of units must be affordable, meaning they are open to families that earn 80 percent or less of the area median income.
There's also a direct financial benefit for the city. Cities can receive up to $600,000 from the state and an extra $3,000 for each new home built, the state office of Housing and Community Development says on its website.
Before they went to the state for final approval, the Planning Board approved the zoning's design standards, rules to make sure new development blends in with what already exists, in October.