NORTH ADAMS — While tattooing has gained a lot of popularity since it was legalized in Massachusetts in 2000 after being banned for 38 years, how many people can say their tattoo artist is an ordained Tibetan Buddhist monk?
For the next two weeks, tattoo artist Alexis Rosasco will be hosting Tashi Norbu, a fine artist, tattoo artist and monk in her studio, AR Designs Fine Art & Tattoo, on Holden Street.
Emily Coughlin, of Pittsfield, looked peaceful Thursday as Norbu did her sacred tattoo, a design representing her unique Tibetan astrology chart and mantra. In addition to the actual sketching of the tattoo and drawing in her skin, in which Norbu muttered and chanted as he worked, the two participated in a ceremony of Buddhist ritual and prayer.
Coughlin, who is no stranger to tattoos, has a dozen of them, getting her first at age 18.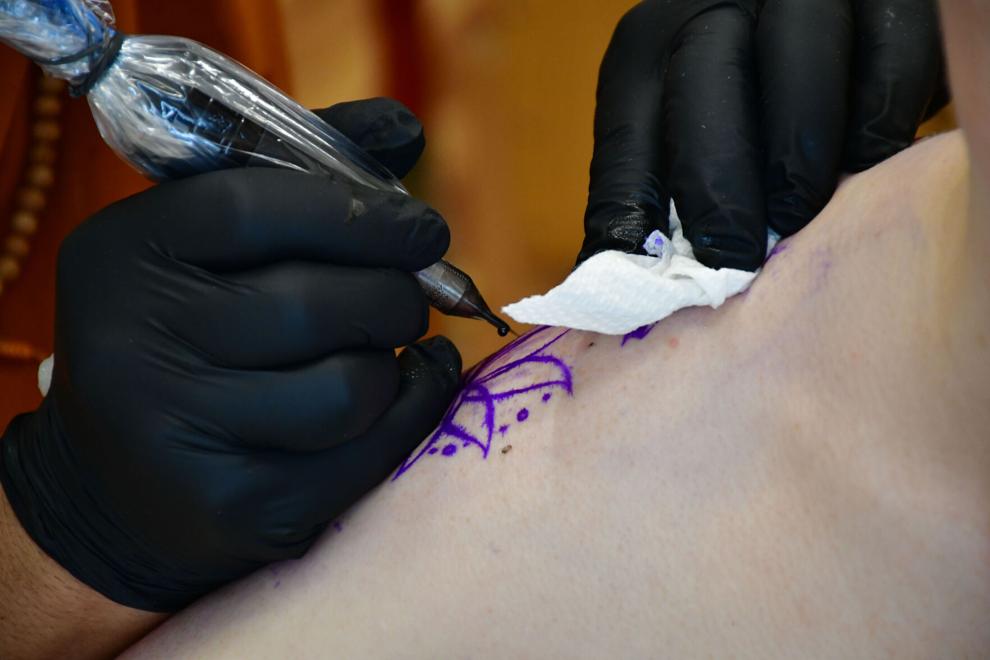 "It definitely feels different," said Coughlin, 31, referring to the "more spiritual nature" of the act of getting a tattoo in this manner.
"It's a once-in-a-lifetime experience," she said.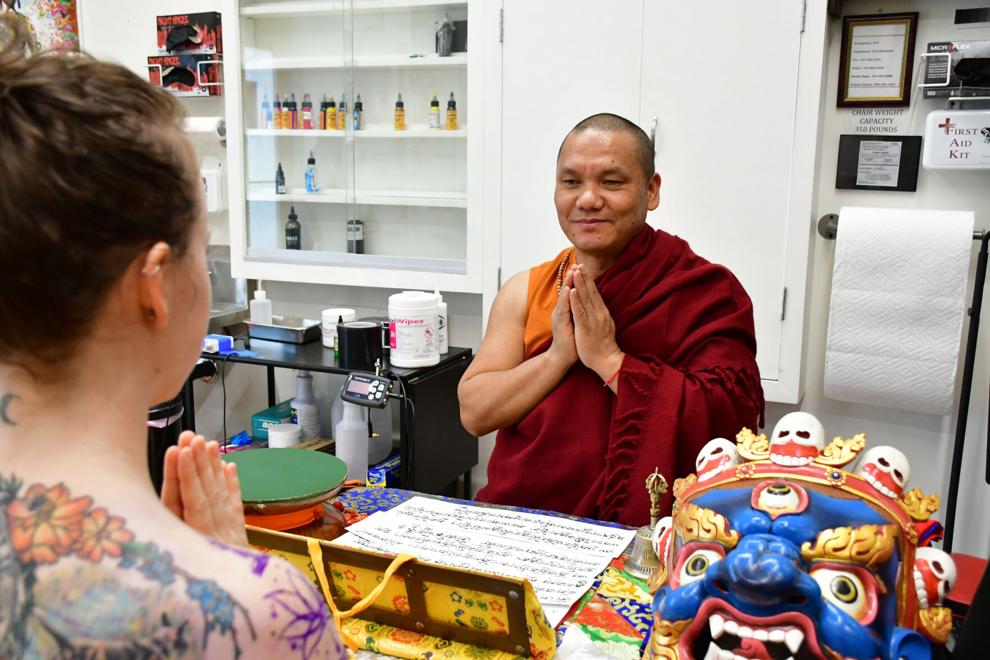 Norbu is an independent contemporary artist who was born in Tibet. He has Belgian citizenship and lives and works in the town of Emmen, Netherlands. He is also the chief executive director at Museum of Contemporary Tibetan Art in Emmen, which he founded in 2017.
His fine artwork is an amalgamation of traditional Eastern and Western Art and has been exhibited in museums and galleries throughout the world. His work is about the existence of peace and harmony in a more sustainable, free world.
Norbu also has work featured in a group exhibit at the Williams College Museum of Art through July 17.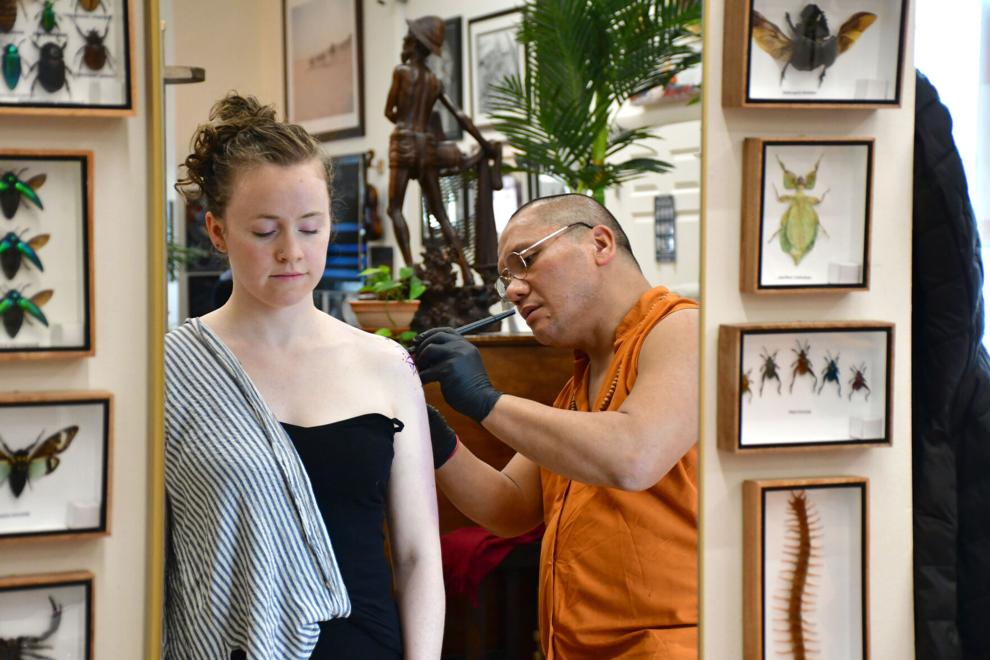 Titled "Across Shared Waters: Contemporary Artists in Dialogue with Tibetan Art from the Jack Shear Collection," the exhibit presents works by contemporary artists of Himalayan heritage alongside traditional Tibetan Buddhist rolled paintings, or thangka, from the Jack Shear Collection.
During an after-hours viewing of the show on April 27, Norbu participated in a tattoo performance to design and apply a tattoo for a member of the community.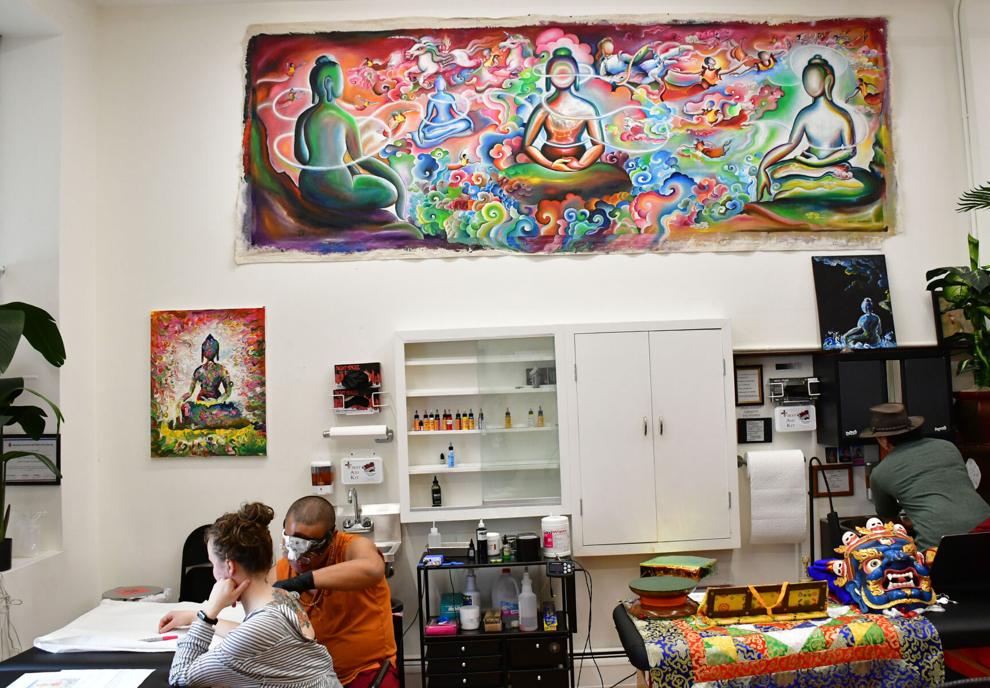 According to Norbu, such performance rituals help people to gain trust in him because for many tattooing is a healing process.
"I feel so lucky I can do this for others," he said.
Rosasco plans on hosting more guest tattooists in her shop. She says her shop offers a compassionate and inclusive environment for her customers. Rosasco will an open house at her studio from 4 to 7 p.m. Saturday. It will feature not only Norbu's work but her own and a live collaborative painting project.