WILLIAMSTOWN — Officials declined Friday to hire either of two finalists for town manager — and will keep looking for a long-term leader.
"To put it bluntly, if we could merge these two candidates into one candidate, we would have found our candidate. They both are very deep in different sides of the job," said Select Board Vice-Chair Hugh Daley. "To me, we owe it to the community, we owe it to ourselves, to go out again. I'm saying this as a person who put 37 hours into this search."
He added, "It's imperative to me that we get someone who can both operate and heal the town."
Other members agreed.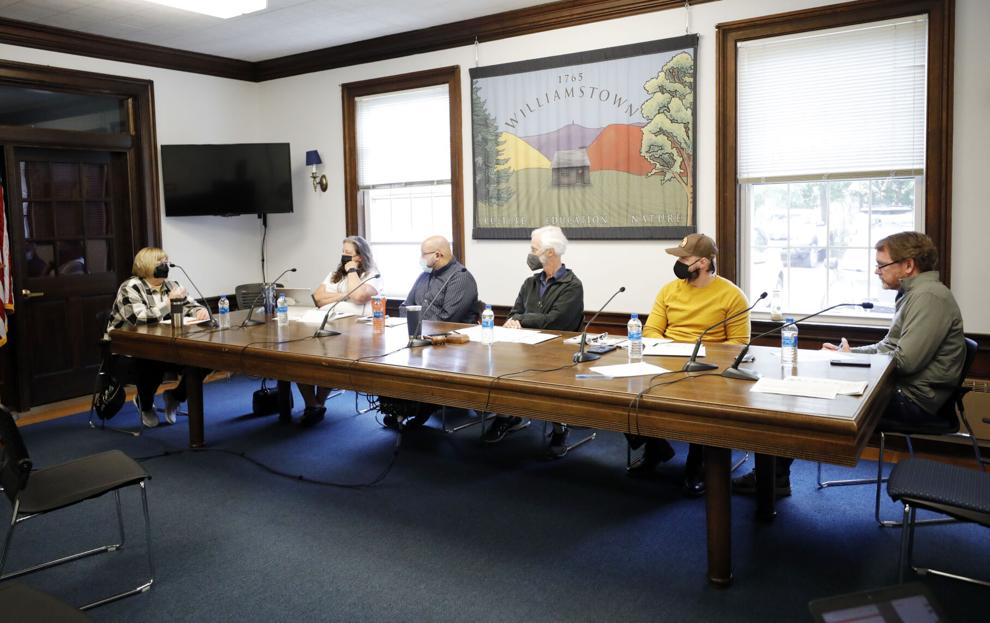 "I don't think you could have said it any better," said Select Board member Jeff Johnson. "We have our candidate, it's just in two people."
The decision came after lengthy interviews Friday morning with both candidates, Richard Downey and Debra J. Jarvis.
Jarvis is a management consultant in Kansas who once served as fire chief in two Chicago-area suburbs.
Downey is village administrator in Kronenwetter, Wis., a village of about 8,000 people in central Wisconsin. He previously was a city administrator in Rock Falls, Ill., and Elkhard, Kan., according to his online profile.
Two finalists to take Williamstown's top administrative post will meet residents Thursday, then sit for Friday interviews with the Select Board.
The board asked candidates about a number of topics including hiring a new police chief, making the town more environmentally sustainable, and putting diversity, equity, and inclusion goals into action.
Downey emphasized his experience in municipal management. "I have a passion for the profession," he said. He's always open to hearing from residents, he said, and buys business cards by the thousands.
He shared success in bringing a Walgreens to his area. "The secret sauce to economic development is being ready," he said.
In Williamstown, hiring a new police chief will be a challenge, Downey said, but it was a reason he was interested in the job.
Jarvis spoke about changing the culture of the police department. "Culture trumps policy and training every time," she said.
Though she has been a fire chief and done municipal consulting, Jarvis has never been a town manager. "I would be concerned if I were you, too, if I had not worked in so many communities and worked with so many local governments," she said. "It's important to know that I look at town manager as an orchestra conductor. You're helping to unify people," she said, which she identified as her strength.
On Thursday, the candidates met with town staff, took a tour, and attended an evening event with residents.
Andrew Hogeland, Select Board chair, thanked the public for their comments. "That feedback for me has been incredibly important," he said.
The previous town manager, Jason Hoch, resigned in February, months after Williamstown Police Sgt. Scott McGowan filed a lawsuit in the U.S. District Court alleging misconduct by former Police Chief Kyle Johnson. That lawsuit was later withdrawn. Months later, on March 1, McGowan was placed on paid administrative leave while allegations made against him by members of the police department are reviewed.
In the board's discussion Friday, Select Board member Jane Patton said she's heard the need to address finances and diversity. "We've got to solve for both. Maybe that unicorn town manager isn't out there so it's up to us, we may need to 'Etch a Sketch' the current structure a little bit leading up to the town manager and make our own unicorn."
The Select Board spoke about hiring an interim town manager. The current interim town manager, Charlie Blanchard, is set to leave the position late next month, Hogeland said.
"This should not be considered a failure," Patton said of the decision not to select one of the finalists. "It's maybe a draw, but this is not a statement on the work that was done, on the quality of people who served on the committee."
A panel of 10 residents worked on a search committee with Patton and Daley. She added, "I think actually this is the hard right choice."
Lee Szymborski, senior vice president of GovHR USA, a consulting group the town hired, recommended starting the search for the town manager in the new year.
"I think by the end of February, early March you'd be at where you are today, interviewing folks," Szymborski said.