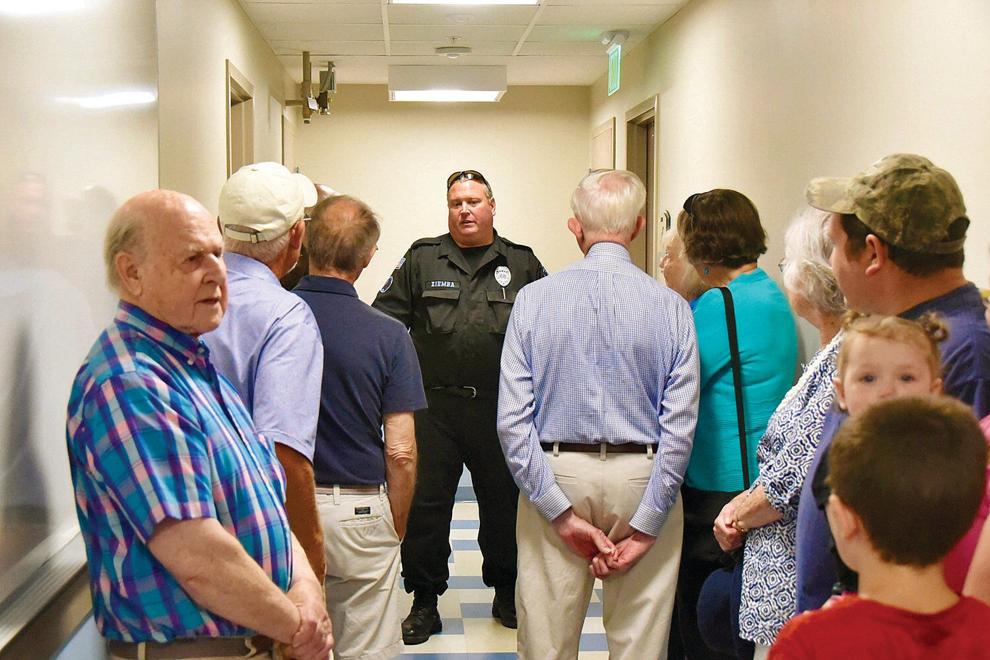 WILLIAMSTOWN — The town is organizing a communitywide meeting, with the help of the U.S. Department of Justice, to discuss the police department's successes and failures — and how to correct what needs fixing.
The meeting comes at the request of interim Police Chief Michael Ziemba, who learned about the DOJ's Strengthening Police and Community Partnerships Program during a Multicultural Bridge meeting last summer. He called the DOJ the next day and put Williamstown in the program, which has already been deployed in many municipalities across the country.
A tentative date of Saturday, March 12 has been set for the morning meeting at Mount Greylock Regional School, although an official date will be announced later, Ziemba said. A website where attendees can register for the meeting will be launched in the next couple of weeks.
Anyone who would like to submit a question to be addressed at the forum can email williamstownspcp@gmail.com.
The Williamstown Police Department has been under a lot of pressure in recent years. Tensions started rising following the 2020 murder of George Floyd by officers in the Minneapolis Police Department. Those tensions were made worse after a former sergeant in the department leveled accusations of sexual and racial harassment at the former police chief.
Then it was revealed that a Williamstown officer once kept a photo of Adolf Hitler in his locker — a display he called a joke.
The seemingly endless parade of allegations against the police department resulted in the resignations of former Police Chief Kyle Johnson and former Town Manager Jason Hoch.
After Johnson's departure in late 2020, Ziemba was appointed acting police chief and subsequently named interim police chief until the search for a permanent leader of the department can be conducted.
Since then, Ziemba has been meeting individually with community members who reached out. These were one-on-one sessions to discuss concerns they have and answer questions about personnel, policy and procedure.
"I think people want that face-to-face time instead of a cookie-cutter email," he said. "A lot of people were looking for assurances and explanations. They want to know they're being listened to."
The community meeting is a further effort in the quest to answer questions and concerns from the community.
Organizing and implementing the community meeting is the task of Williamstown's DOJ Planning Committee, which is made up of eight community members and three representatives of the DOJ.
Committee members are hoping the meeting will be attended by more than 200 people. Those attending will be broken up into smaller groups to answer a set of prepared questions, and would then reconvene as a whole to discuss the results.
"I think it's another step forward in transparency," Ziemba said. "We want to open the door to the community."
Jacob Schutz, principal at Mount Greylock Regional School and member of the committee, said the local schools have always had a good relationship with the police.
"The community is very important to us, so I was happy to join in because it's about the safety of the community," Schutz said.
He said he hopes to see a wide variety of perspectives at the March 12 meeting. Until then, the planning committee will be working on writing the questions that will be asked at the meeting.
Peggy Kern, a Williamstown resident and author of young adult fiction, is also a member of the DOJ Planning Committee.
"I wanted to be on the committee because this will be the first opportunity to sit down together and talk about policing in town since all this started," she said. "We need to grapple with some hard issues, and I hope people who don't usually speak up will feel comfortable enough to speak out at the meeting."
Ultimately, Kern said she want to see improved relationships and improved public safety goals.
Ziemba said the questions should be purposeful and constructive, not looking back, but looking forward to what is needed of the police department. "At the very least, I hope that meeting results in opportunities for better communication," he said.
During the final stage of the community meeting, action items might be derived from the discussion that could be implemented by police and town employees, under the guiding eye of a follow-up committee that would be set up to follow through on the action items, Ziemba noted.
He said that over the past two years, the police department has evolved in many ways to adapt to what they've been hearing in the community. "We have changed who we are," Ziemba said. "We saw that we needed to change, and we did. It all comes down to communication."
He said officer training efforts have increased, and the department will spend the next two years in the process of accreditation, to raise the department's level of professionalism and effectiveness.
Ziemba said he sees these ongoing efforts as a continuation of that learning process.
Meanwhile, Ziemba and other regional officials are working on establishing a Hub Initiative, in which first responder agencies will share information about repeat offenders who may fall into an area better handled by mental health professionals. The challenge there, Ziemba said, is finding professionals that can be on call on nights and weekends, when many of these types of calls for service come in.
"Every community deals with folks who are having these issues with people who need support," Ziemba said.