NORTH ADAMS — On Saturday, a crop of students walked the graduation stage at the Massachusetts College of Liberal Arts, a rite of passage that punctuated a wholly abnormal college experience.
"To have been a student during the last few years during a global pandemic was quite difficult," said MCLA president James F. Birge in his opening remarks. "You persevered, you are courageous, you are strong, you are innovative, thoughtful, caring, you are persistent."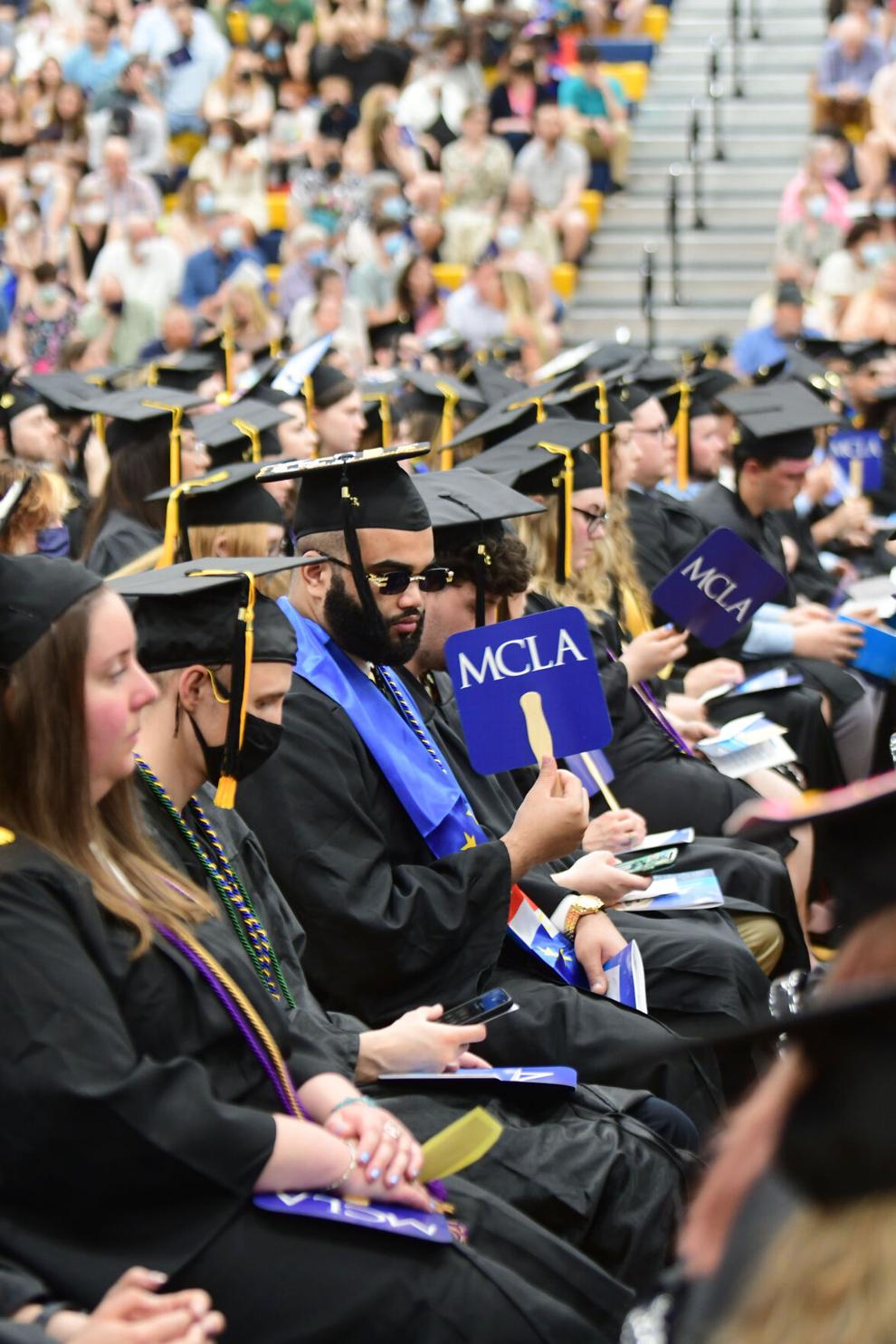 Birge guided a packed auditorium at the Amsler Campus Center Gymnasium through the institution's 123rd commencement exercises, marking the capstone achievement for the Class of 2022.
He presented doctorates to three people; former mayor Thomas Bernard, now the president and CEO of Berkshire United Way in Pittsfield, outgoing MCLA trustee and community member Susan Gold as well as Carlos Santiago, the state's Commissioner of Higher Education, who also delivered the keynote commencement address.
Addressing 335 robed students who graduated from a variety of undergraduate and graduate programs, Santiago drew parallels between the events of today and those of the time when he was a college student, in the early 1970s.
At that time, the nation was in the midst of an unpopular war. Society was polarized. A president, Richard Nixon, participated in illegal activities and the civil rights movement was underway.
Likewise, he said to applause from the audience, the women's movement celebrated the Supreme Court decision in Roe v. Wade, which "ruled that the Constitution of the United States protects a pregnant woman's liberty to choose to have an abortion without excessive government restriction."
Unlike the 1970s, today's war is not "our war," but rather a conflict between an authoritarian country, Russia, and its neighbor, Ukraine, Santiago said.
Also unlike that era decades ago, there was no pandemic that claimed the lives of millions of people across the world.
Focusing his address on the present day, Santiago said the state ranks number one in the nation in terms of post-secondary degree and certificate attainment, but there remains "huge disparities across racial and ethnic lines in Massachusetts," which he said the state is working to address though a 10-year strategic plan aimed at increasing equity in higher education.
Through the strife of old, and of new, Santiago said he remained resolute.
"As I related what I experienced as an undergraduate in 1970 to '73, one thing I didn't tell you is, I was supremely optimistic," he said. "The joy of being young, I thought we were going to change the world. And we did that. We created some messes along the way that a lot of you have now inherited. But as I look out, and as I talk to students, you share the optimism that many of us, we have as students. You share it, and that gives me a real sense of hope."