WEST STOCKBRIDGE
Where have you gone, Floyd Hinkley? And you, too, Elbridge "Ekie" Evans? And you, Jiggs Forrest?
You boys of summer with your brilliant baseball player names, you smacked your white-knuckled fists into worn-leather mitts on a baseball diamond just north of the village here that now is cloaked in red clover, Queen Anne's lace, goldenrod and ghosts.
Where have you gone, Garrett Troy?
Troy, a sheriff, a salesman, a showman, we know the resting place of your mortal remains. After a heart attack in your Albany Road car dealership in 1944, your sizable body — 6 feet tall, 285 imposing pounds — was buried in a cemetery right up the road from this field, the distance of about six Joe "Bingo" Scherben home runs.
Troy was responsible for an intriguing and little-known chapter in Berkshire County's top-heavy contribution to baseball history. For the sake of his love of baseball and his love for promoting his Ford dealership in town, he founded a semipro baseball team whose run extended from 1934 to when his health began to fail in 1941.
Not content to simply compete against local teams such as the Mohawk Beverages of Pittsfield, Rams Market of Lee and Dee's Clothiers of Lenox, Troy managed to match his Garagemen against four major league teams.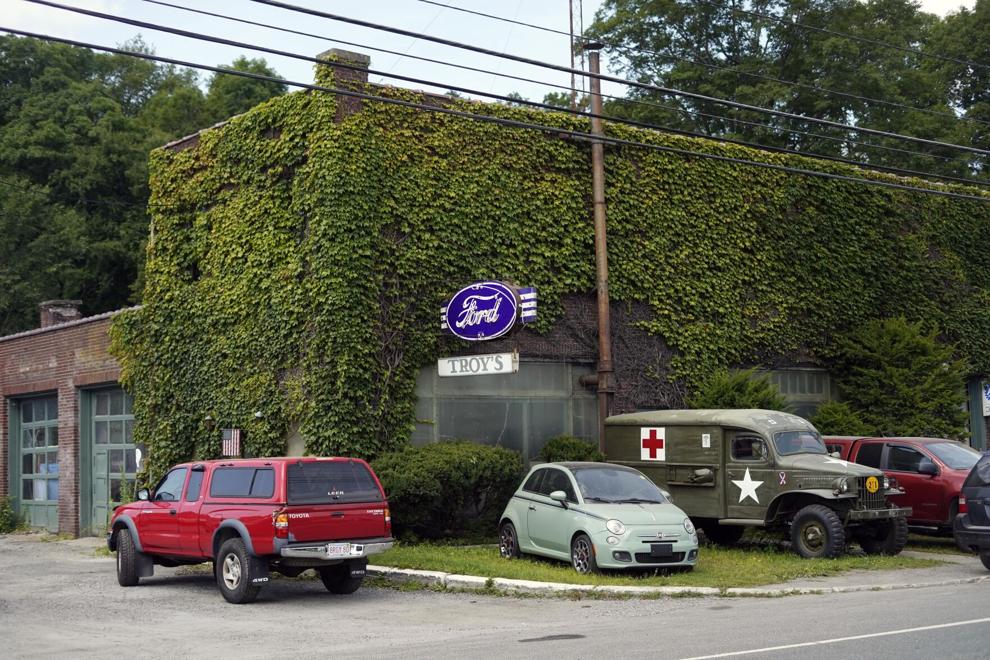 Close your eyes and imagine. The Cincinnati Reds. The Philadelphia Phillies. The Boston Braves. The Philadelphia Athletics. They played in West Stockbridge. Right about. ...
"Here," said Kevin Larkin, a baseball historian and author from Great Barrington, standing on the grounds of what was once Keresey Field.
Last month, Larkin published a 60-page book about the team. In "Big Time Baseball in a Small Berkshire County Town: A History of the Troy's Garage Semi-Pro Baseball Team," he provides a year-by-year chronicle, drawing upon news clips and other sources.
From The Berkshire Eagle, May 11, 1934, a team is born:
The Troy's Garage Team will open the Southern Berkshire League season at Keresey Field, Sunday afternoon at 2:30PM, with a game against the Rising A.C. of Housatonic. Troy's will appear for the first time in their new uniforms which were recently bought.
From The Berkshire Eagle, July 9, 1935, an astounding accomplishment:
Manager Garrett Troy was rewarded for his brave effort in booking the Philadelphia Athletics for an exhibition game with his Troy's Garage team at Keresey Field as over 3,500 fans, 3 times the population of West Stockbridge, attended.
Just to put this into perspective, Cornelius McGillicuddy, better known as the top hat-wearing Hall of Famer Connie Mack, brought his A's to tiny West Stockbridge to play an exhibition game. The Reds would follow later that summer. The Phillies and Braves would come in 1941.
"This was before television and all the money earned through broadcasting," Larkin said, "so, between big-league games, while on their way by train from city to city, some teams would stop in small towns."
If the price was right.
For instance, Troy reportedly had enticed the A's with a $1,400 advance, which he recovered by charging an entrance fee that amounted to 55 cents. He put the A's up at the Wendell Hotel in Pittsfield. He ferried the major leaguers onto his playing field in a dozen of his Ford automobiles. The Great Barrington Band entertained the crowd before the opening pitch.
As for the game itself, despite A's third baseman Pinky Higgins not showing a lot of pep, the A's beat Troy's 9-5.
A disdain for losing
Teams from the Negro Leagues played Troy's team here as well. As did the Michigan-based House of David, an unusual squad of bearded barnstormers known for physical and spiritual discipline. (Some players wore fake beards.)
But, most of what happened at Keresey Field consisted of heated battles for local bragging rights. You know: Troy's Garage Shuts Out Hudson Nine, Score 6-0. That kind of stuff.
Troy, by the way, hated to lose.
Drawing stacks of cash from the till of his auto dealership and repair shop, he'd pay players handsomely. When they made an exceptional play, he'd step out onto the field and hand them cash. When players performed poorly, he'd fire them without fuss. He roved the region in pursuit of fresh arms and swift feet — college players, high school stars, and hidden talent in mill towns and farm fields.
In the meantime, he had a grandstand and bleachers built at Keresey Field. Even before Fenway Park did, he installed electric lights upon poles for night games. He was the local sheriff, the fire chief, the man who drove shiny Fords. And he managed this team, winning more games than he lost.
His players would suit up on game day at his garage and then shower there after the games. Players and fans then would gather for beer at the Square Rigger, the present-day Tap House, to perform an autopsy of each game, inning by inning.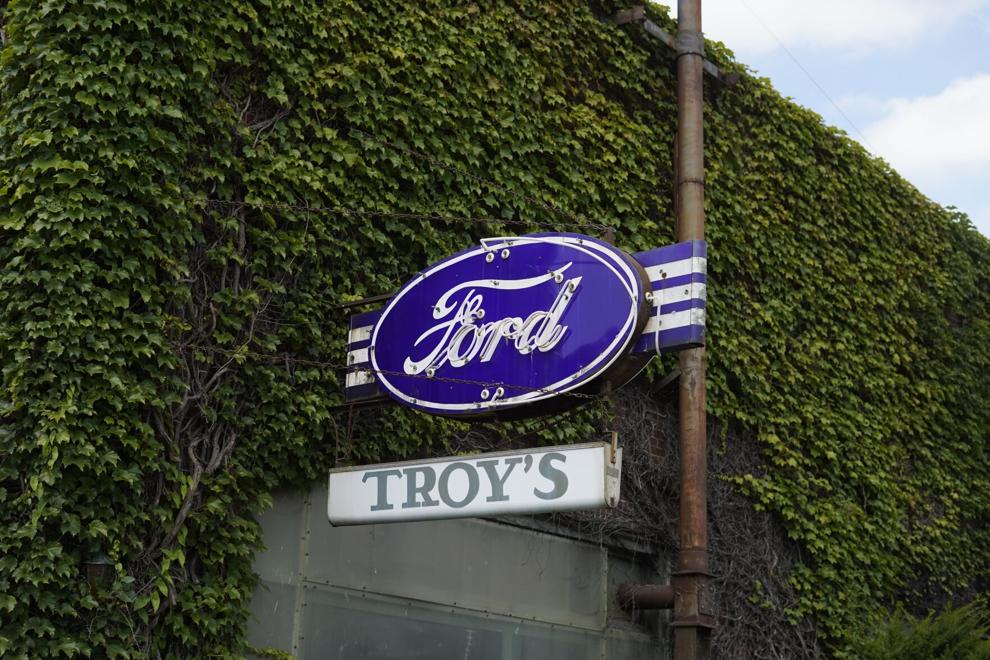 Troy's Garage still is in operation today, minus the Ford dealership. It's run by the D'Aniellos. But, on Route 41, Albany Road, not a single historical marker indicates Keresey Field's existence. The land, about a quarter-mile north of the village, now is owned by the state. Only last week, a sign was placed by the road, marking the field as part of the 290-acre Flat Brook Wildlife Management Area.
The writer and historian Bernard Drew, of Great Barrington, wrote a chapter about the Troy's Garage team in his book "The Night Riley Chase Fell into the Icy Housatonic River." It was Drew who first piqued Larkin's interest to delve deeper, to begin chronicling the Garagemen, season by season.
Larkin also was inspired by another man with a great baseball name: William "Duke" Lahart, a star baseball player in the 1940s for Lenox High School who eventually signed a contract with the Philadelphia A's (an injury quickly ended his professional career).
Oh, and when Lahart was a wee lad, he served as a batboy for Garrett Troy's Garagemen.
"We would talk for hours," said Larkin, a retired Great Barrington cop whose writing credits include co-authoring "Baseball in the Berkshires: A County's Common Bond."
In search of the field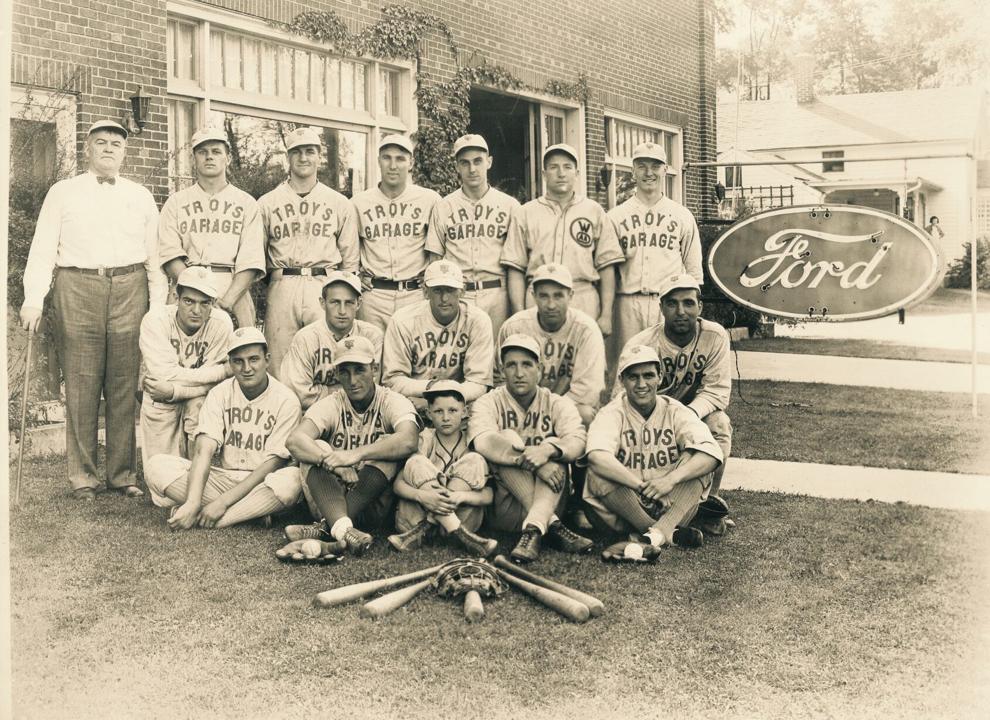 Back in 2012, four years before his death, Lahart was helping his grandson, Bobby Kinne, with a high school project. The assigned task was to find some hidden piece of local history. Lahart knew of one: Keresey Field. Together, he, Bobby and Bobby's father, the attorney Kevin Kinne, went to find it.
"It's somewhere before the cemetery, but on the opposite side of the road," Lahart told them. Just south of the boat launch at Cranberry Pond, Lahart spied the field.
"That's definitely it," he told them.
The Kinnes climbed out of the car and took video of the visit. In the video, Lahart explained how the playing field was arranged, with home plate set back by the tree line on the west side of the property and the first base line running eastward, toward Albany Road. They even found a piece of an old wooden bench.
Larkin, a member of the Society for American Baseball Research, said Troy's team and Keresey Field rank among the great local historical contributions to the national pastime.
Those contributions include the earliest known written legal reference to American baseball, the so-called 1791 Base Ball by-law that prohibited games from being played within 80 yards of Pittsfield's new meetinghouse at 27 East St.
The first college baseball game in the country was played in Pittsfield, in 1859: Williams versus Amherst. Pittsfield's Wahconah Park, built in 1919, is on the National Register of Historic Places. Ulysses Franklin Grant, a Hall of Famer and pioneer of the Negro Leagues, was born in Pittsfield. Hall of Fame pitcher Jack Chesbro was born in North Adams.
Larkin, who hosts a regular radio talk show on WSBS about baseball, said his new book marks a high point in his career as a chronicler of baseball history.
One of his favorite stories from the book involves local pitching legend Elbridge "Ekie" Evans, of Great Barrington.
'It's just so rich, the stories'
In summer 1937, Troy and Evans had a falling-out, leading to Evans' release from the team. Quickly scooped up by Copake, Evans would pitch brilliantly in a 3-2 win over Troy's. Annoyed, Troy offered Evans $40 a game to return to the Garagemen. Evans accepted. Troy never played him for the rest of the season. He simply paid him $40 a game to suit up and sit on the bench.
"It's just so rich, the stories," Larkin said, on the very spot, beyond the outfield, where spectators would watch from atop their cars.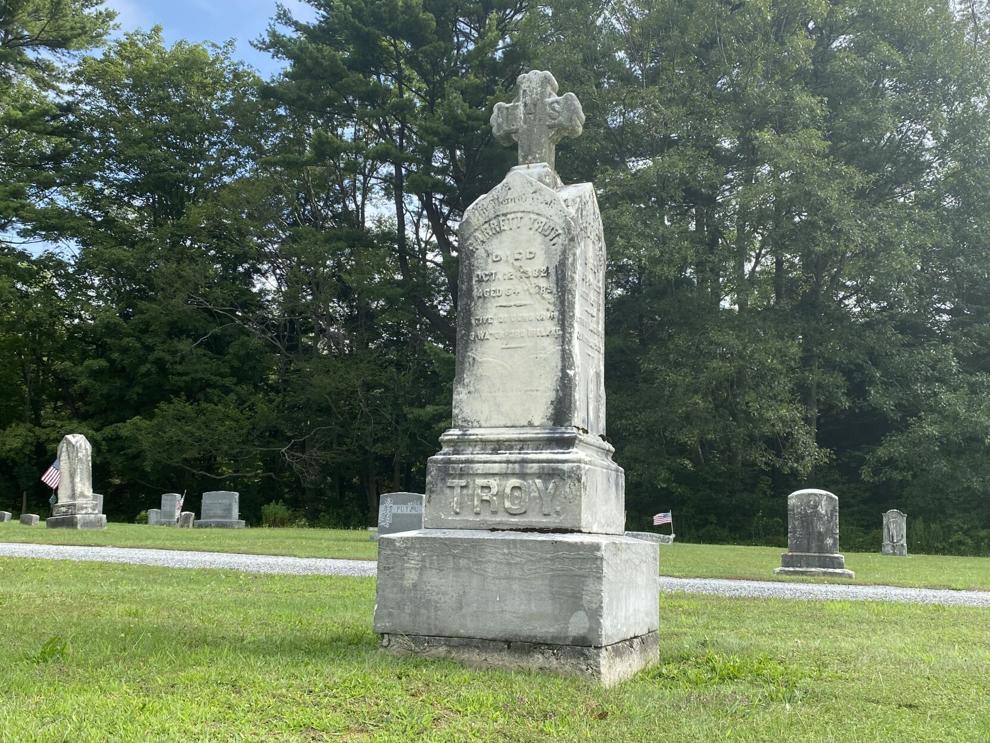 The light poles are gone. The bleachers are gone. The pitcher's mound is gone. Garrett Troy, Ekie Evans, Duke Lahart and the others — they've all gone.
But, for the time being, the Berkshires can turn its lonely eyes to one man still standing: Garrett Troy's handpicked scoreboard keeper (promoted from batboy), John Korte Jr. He's 94 years old now and still lives just a few houses south of the field.
With a ring of the doorbell, his wife, Angelina, answers. Soon, Korte himself steps out into the living room from an afternoon nap that was exceptional.
Asked about those days beginning 86 years ago, Korte first needs to sort through the mental archive of a long lifetime.
Back before all those card games with long-gone friends. Before his retirement as a plumber. Before the death of a son in an auto accident within earshot of this living room. Before his marriage to Angelina. Before a Purple Heart and a Bronze Star were pinned to his uniform. Before that day in France when the soldier beside him stepped on a German mine known as a "Bouncing Betty" and everything went black.
He has to sort back through it all, back to when the streets of West Stockbridge were lined with cheering crowds because Connie Mack himself was in town with a bunch of big leaguers ready to play ball.
Back to those days when Sheriff Garrett Troy would pay this youngest of youngsters in the neighborhood to keep score for all to see on a scoreboard built on stilts along the first base side.
When shown Larkin's book two weeks ago, Korte grabbed hold of it and ran his finger along a team photo on the back cover.
"You know who this is, right?" Korte exclaimed. His finger held steady beneath the bright face of a young man crowned in a ball cap that marked him as good enough to play for Garrett Troy. "That's Bingo Scherben! I'll be god-danged."