GREAT BARRINGTON — When Liliana Ortiz-Bermúdez organized the first Festival Latino of the Berkshires in 1995 she was surprised to see how hard it was to get the community involved.
In fact, most of the volunteers and attendees were not Latinos. The Latino community at that time was too small and too new to the Berkshires to get involved in heritage preservation.
With time, people started realizing they didn't want to leave their culture behind.
"When you leave your country as an immigrant, you come to work. One day you hear a song and remember when you went to the park in your country and there were dances," said Ortiz-Bermúdez "You've lost that and don't even remember the names of the songs you liked. There's only the melancholy."
There's a tendency to see Latinos as a homogenous group, but the reality is that they hail from many different countries and they did not always see the need to work together.
"It took us forever to understand each other, there was a bit of jealousy too," said Ortiz-Bermúdez, who was born in Colombia and has lived half of her life in the Berkshires. "But we finally reached a stage of reciprocal learning."
In the early years when resources were scarce, they made their dresses from their own native flags and it was held in a small park in Lee.
After the humble turnout of the inaugural event, Ortiz-Bermúdez worked hard to increase community engagement. Getting the word out was hard and often tedious work.
"I used to collect names and we sent 700 envelopes daily," she said.
One of Ortiz-Bermúdez's ideas was to enlist local schools for help. Teachers assigned their students homework to visit the festival and write about what they learned there. By forcing children to go, parents had to come along as well. This greatly increased attendance as well as awareness of the event.
On Saturday, the festival celebrated its 27th anniversary from noon to 6 p.m. at Green Park behind Town Hall and at Saint James Place on Main Street. Last year, it celebrated its 25th anniversary in-person; in 2020 it had a virtual-only celebration. The day was filled with both amateur and professional dancers, an exhibition about different Latin American countries, food vendors, information from social services and a gala.
Ortiz-Bermúdez's daughter, Angela, commented on how the festival outgrew Lee and moved to Great Barrington. Now the festival is organized by about 10 year-round Latino volunteers.
"Some of them are newcomers, but in general the community has a different mentality," said Ortiz-Bermúdez. "It's been 25 years, and they are proud of their culture and want to participate. I feel so happy about that."
Ruby Maldonado, one of the volunteers, has been involved for 12 years.
"I'm passionate about my culture. We have a lot of nice things to show and share," she said.
Estrella Cando teaches a group of Latinas, from 6 to 20 years old who danced at the festival. Cando is passionate about dancing, having danced with the local group Latinos Unidos of the Berkshires until she was eight months pregnant. She now teaches the next generation how to perform the Colombian cumbia and Mexican zapateado dances.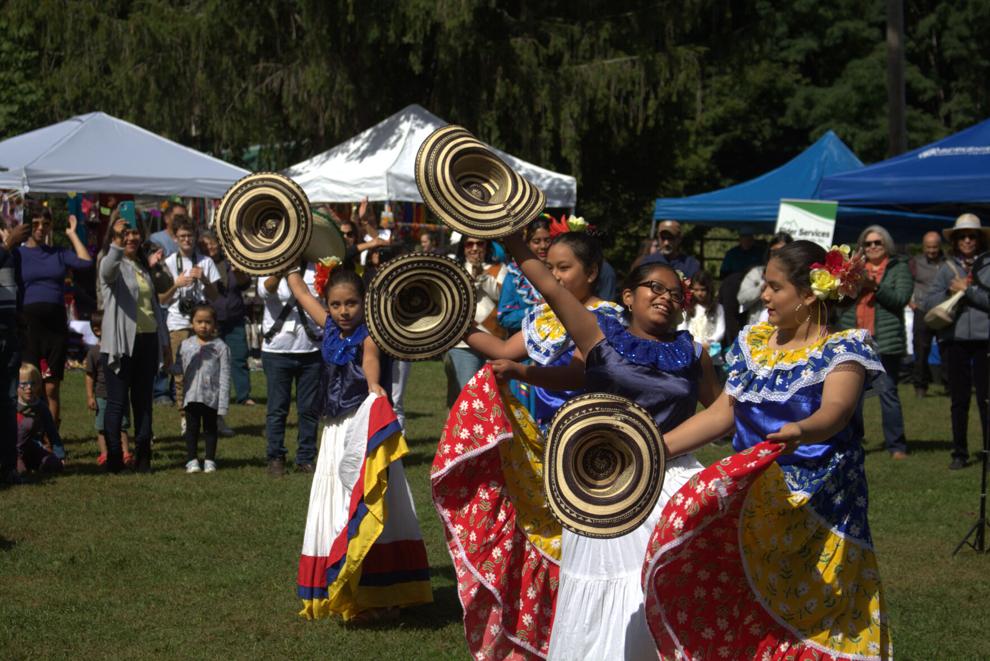 "We teach dances from all countries; I learned them from YouTube," she said. "We go to all the events we're invited to and when an event approaches we practice three times a week. We're inviting more children and youth to join us."
Ortiz-Bermúdez commented on how far the community has come in the years since the first festival.
"New Latino organizations have been born," she said. "We help each other. Those who came with young kids, they've seen their children graduate from universities, have professional jobs and help out newcomers."
The love of the arts present in Berkshire County has inspired her to reach for a new, more ambitious goal.
"I want to open a Center of Latin American Arts, that's going to be our goal now," she said.