WEST STOCKBRIDGE — Unsure of how to resolve a dispute between two popular businesses after an emotional public hearing Monday, the Select Board continued its special permit hearing for The Foundry until Thursday.
The intent was to give board members time to digest testimony and new information about what is now almost entirely a noise problem — and may come down to decibel measurements.
Early indications from the attorney for the owner of Truc Orient Express, who is complaining of excessive noise from Foundry events, suggested they might demand conditions on a special permit.
"We prefer that all performances be inside," said attorney Mitchell Greenwald. "And then, ideally, maybe acoustic. But if there are any situations where amplified music is acceptable ... then the state [noise level] limit, 10 over ambient [noise level] would be something we could talk about."
Decibel levels taken by West Stockbridge police indicate that the "ambient," or normal, level in the surrounding area registered 43, and two events last month consistently measured 70 decibels, with occasional peaks upward of that. The Centers for Disease Control and Prevention says a normal conversation registers 60 decibels, said Jeffrey Scrimo, attorney for The Foundry.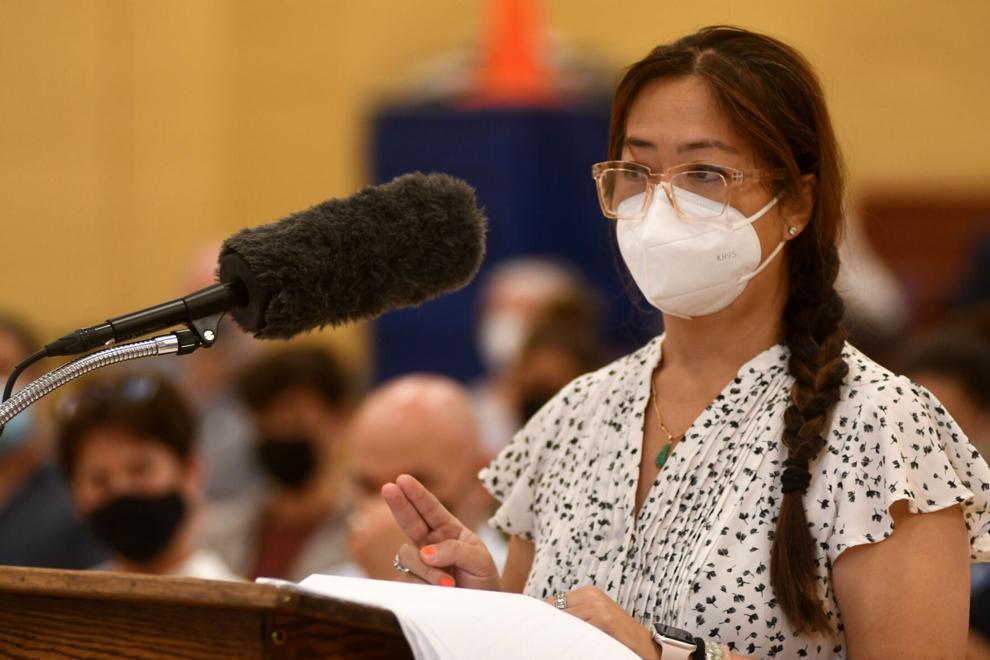 Greenwald said swift action is needed to give Truc Nguyen, his client, relief from weekend music that is disrupting her in what also is her home and has stretched through the summer with no action from the town. He said the legal target for approving a permit is whether the use of a property is "detrimental" to the area.
At least 70 people came to the hearing at Town Hall, and many more joined on Zoom, to weigh in on a dust-up that has gripped the Berkshires and beyond, and to support Amy Brentano, owner and artistic director of The Foundry, a performing arts venue, and Truc Nguyen, who with her family owns Truc Orient Express, a Vietnamese restaurant across the street.
People said both businesses are special and make a deep contribution to life in the Berkshires. Some said Nguyen shouldn't have to measure decibels to prove that her quality of life is affected — years ago the town took action on complaints about a single rooster, for instance. Others said Brentano can't survive the pandemic without the outdoor concerts.
The lawyers discussed decibels. State law is violated with 10 decibels over the ambient level, Greenwald noted.
Both Brentano and Nguyen tearfully said there had been lies and accusations about the other that had spread like poison into the community. Both also said they had always been supportive of the other. Neither wants to harm the other business, both said.
Nguyen said while town officials have not considered her needs by not regulating an abutter, she also understands that change is afoot.
"Perhaps tonight's meeting is also an inevitable part of the growing pains of a small town," she said.
And Brentano said she had never been told that she would need to apply for a special permit. Scrimo, her attorney, said he believes the town has never issued a special permit for any business.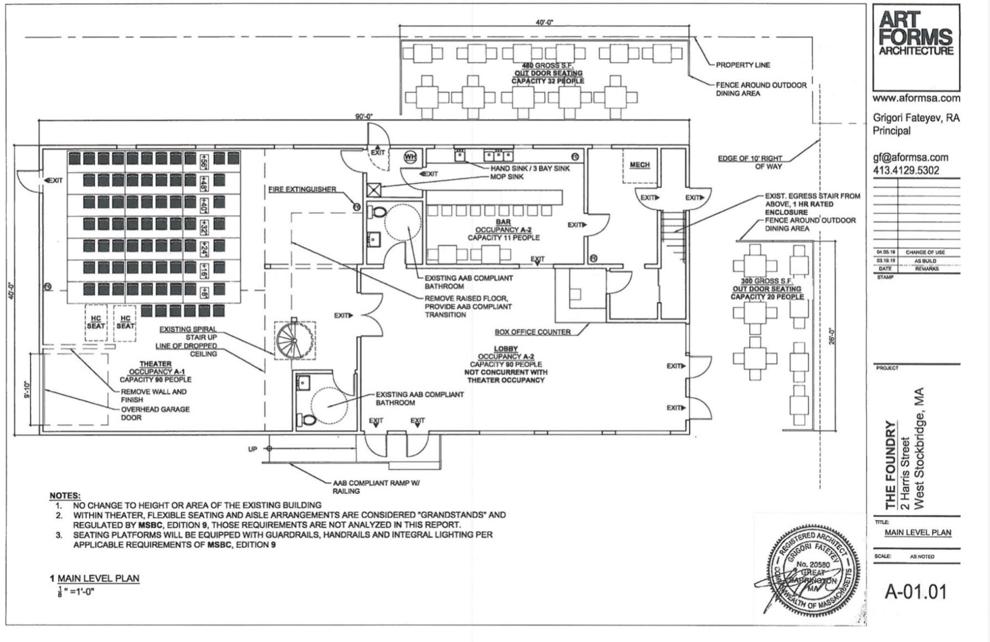 The tenor of testimony, however, shifted. As the end of the hearing neared, residents heaped blame on town officials past and present for the lack of regulatory oversight and planning that led to the debacle and called for collaboration and town support of both businesses.
Maggie Merelle, owner of Foundry abutter Rouge Restaurant, wrote a statement read by her attorney that criticized Brentano for not seeking approvals, and the town for its restrictions on her own business, yet inaction on this one.
"I have abided by the decisions of this Select Board regarding my own capacity to not have live music, and to not be allowed greater access to outdoor dining options on Center Street during a pandemic," Merelle wrote. "I have never seen the town Select Board so egregiously fail to act as it has this past year."
Addressing ongoing concerns that he should not vote on the permit due to a conflict of interest from helping The Foundry when it first opened, Board Chairman Eric Shimelonis said he officially notified the town that he can deliberate fairly. A musician with a sound engineering background, Shimelonis previously has told The Eagle that he was not paid to assist Brentano, and also has helped other businesses in town.
The feud started in May over fears around road access, then quickly sparked into a battle over noise and other problems. Nguyen, who lives at the Truc property and currently only serves takeout, says the disruption to her is emanating from a musical venue and bar that went unvetted by town officials and attorneys.
In May, Brentano said she would hold weekend evening performances outside due to COVID-19, and planned to close or monitor access to Merritt Way, which she owns, though she never did close the road. The road is the only vehicle access to Truc after the town shut the Harris Street bridge to traffic from Main Street in the 1990s, converting it to a footbridge, hemming in Truc. Brentano said at the time that the decision stemmed from safety concerns, since cars would pass between the stage and her audiences.
Nguyen filed a lawsuit against The Foundry and the town last week in state Land Court to ensure road access into the future, but that will likely be resolved since Brentano on Monday offered to give the road to the town, which has maintained it for decades.
While it appeared in June that Nguyen and Brentano had come to a resolution, town officials vowed to fix the street grid problem. That initial complaint turned into the current crisis when The Foundry's popular summer season began to stir and draw audiences. Communications between town officials and attorneys indicate inaction on the permit issue as summer dragged on.
Brentano applied for special permit on July 9 for the property, which includes a 99-person capacity indoor theater and bar, Merritt Way, and the green used by the farmers market and the visitors center booth. The application asks for permission to hold outdoor performances from May through October, Friday through Sunday, and until no later than 9:45 p.m.
In her application, Brentano says The Foundry is a revenue generator for other businesses downtown as well, bringing up to 200 people into town every weekend. She also says the liquor license supports the rest of the business.
As a special permit hearing looms, the celebrities come out in force. Can both West Stockbridge businesses find a way to flourish as neighbors?
Brentano never applied for a permit when she bought the property and opened in 2019, and town officials appeared never to have required one, only entertainment licenses. It was Greenwald who discovered this, since town bylaws require a business operating as commercial amusement to have a special permit.
WEST STOCKBRIDGE — More than two decades ago, the town barred vehicles from a bridge off Main Street that spans the Williams River, converting…