GREAT BARRINGTON — Now, Gloria Escobar has more recognition than that ever-growing stack of "Thank-you" cards from the people she has helped.
Since 2016, Escobar, who said she loves working with numbers almost as much as she loves working with people, has been with Greylock Federal Credit Union as a community development coordinator, helping immigrants, especially those from Latin America, with their finances.
As a bilingual banker, Escobar would already be a godsend for many immigrants, but she does not stop there. She helps them apply for an ITIN number, through which undocumented immigrants pay taxes. She walks them through applying for car and house loans. She refers them to organizations that can help with things she cannot.
Knowing that mobility is often a barrier for immigrants, Escobar rotates among the Pittsfield, Great Barrington and Hudson branches, the latter an hour-long commute. "People are very grateful and overjoyed to be able to fulfill that dream that could not come true in their country," she said.
Until recently, these notes were most of the thanks she received. On a Sunday in April, Gloria Escobar was one of the 50 people and 21 organizations honored as immigrants' supporters in Berkshire County.
The event was the work of Gloria's sister and niece, Martha and Deisy Escobar, who host a bilingual radio program. Martha and Deisy for 15 years have spotlighted the lives of immigrants and the organizations that help them adjust to life in Berkshire County.
Last Sunday, the mother and daughter duo hosted, at Hevreh of Southern Berkshire, their second awards show for the exceptional contributors. Bibiana Pineda, Juan González, Shirley Cruz and Bertha Delgado also worked on organizing the event.
The last time Martha had a similar ceremony was in 2010. After 13 years, there have been plenty of moments of excellence in the advocacy community for the Escobars to recognize.
In the midst of COVID-19 many organizations stepped up and helped immigrants more than ever, and new people emerged as leaders.
Literacy Network of Southern Berkshires, known as Litnet, an organization that pairs English learners with tutors, also was honored. Many in the room, Gloria and Martha Escobar among them, sharpened their language skills through Litnet.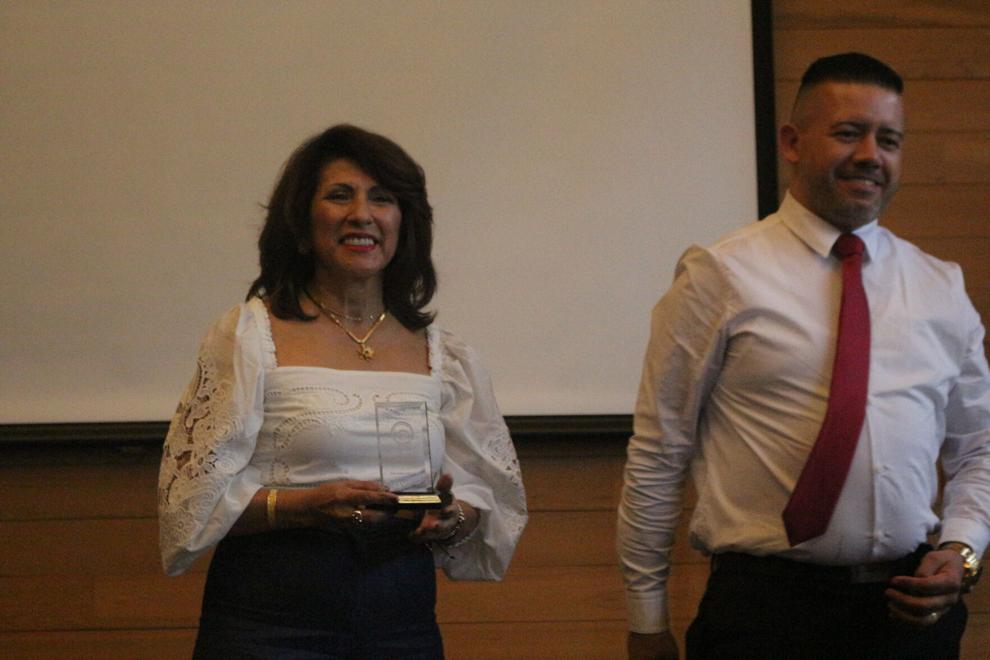 Martha's speech included praise for people who "received us with open arms in this country, giving us a warm welcome and making us feel at home, helping other people to understand that we are human beings."
Deisy Escobar, 17, said that an effort was made to recognize pioneers who are now working in a different capacity, like Eleanore Velez, who paved the way for many immigrants to study at Berkshire Community College, and Michele Lopez, the former director of the Berkshire Immigrant Center.
The atmosphere was celebratory and cautiously optimistic. One notable victory was the passing of the Family and Mobility Act, which will allow undocumented immigrants to have a driver's license. After 20 years of hard work, the Escobars felt it was time to celebrate. State Rep. Tricia Farley-Bouvier, D-Pittsfield, a champion of the bill, was one of the honorees.
Farley-Bouvier said: "I have a great affinity with [Martha and Deisy's show] Mundo Latino. It's great they give the community the information they need and mix it with music. And to see the group behind the Family and Mobility Act together, it's a wonderful celebration."
Looking ahead, Farley-Bouvier said it was key to make sure the law's implementation goes smoothly by getting people educated about it, among other things.
Throughout the award ceremony, a pattern of who won, and why, emerged. More than half of the award winners were once newcomers who had asked for help, and were now giving back to the community.
Deisy closed the ceremony by asking the crowd to look around. She said, "This is the future of the Berkshires, right here."