These blessings are not in disguise. They're right out in the open.
A quiet, no-frills national movement has made its way into the Berkshires, in the form of "blessing boxes," or mini pantries, that typically provide food items, paper products, toiletries and other essentials, all free of charge. The ad hoc initiatives supplement the efforts of the many traditional, local indoor food pantries.
The common code for each: Take what you need, leave what you can.
Unlocked, out in the open and unconstrained by hours of operation, the boxes typically are handmade and weather-tight. Volunteers tend to them, keeping them orderly and stocked. No one asks any questions.
"It's needed," said Elizabeth Marino, who oversees the blessing box installed one year ago outside Mom's Country Cafe at 65 Main St. in South Egremont. "And I love that it's anonymous. That it's, 'If you need it, take it, and if you have something to give, you can give.' There are no bells and whistles. I like that about it — that it's just people doing it out of the kindness of their hearts and taking it because they need it."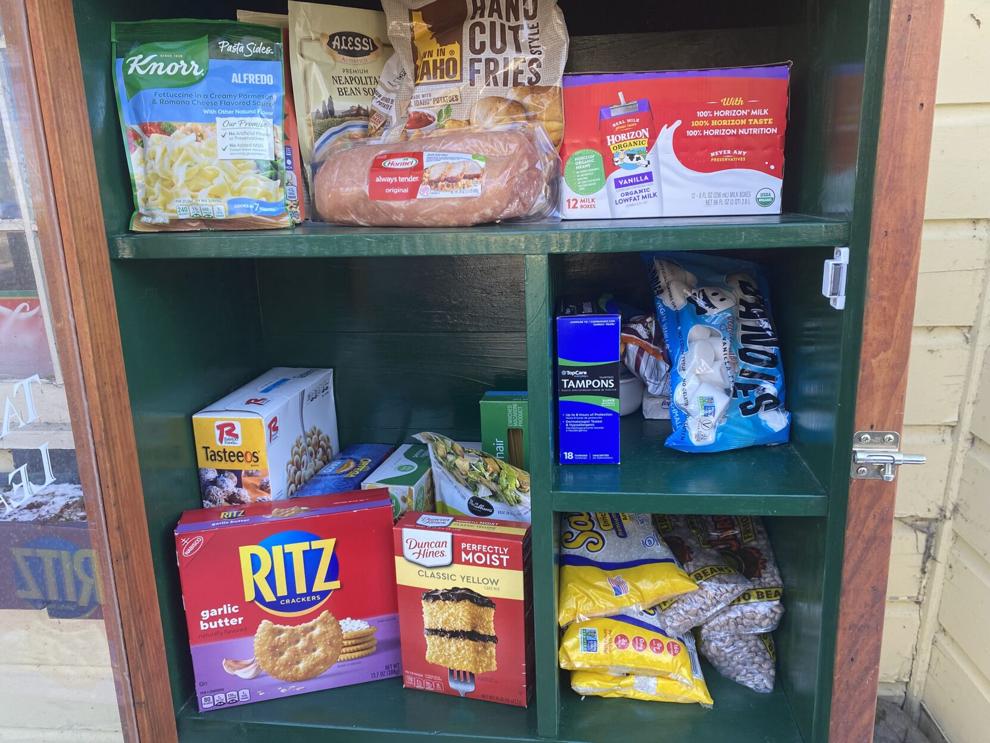 The blessing box in South Egremont is one of at least three that opened in the Berkshires last year. Boxes also opened in Great Barrington and Ashley Falls, a village of Sheffield.
"We know that there is a challenge with hunger in our area. Even in this wealthy area, there's food insecurity," said Angela Moro, an instrumental force behind the Berkshire Blessing Box, which opened last January, beside First Congregational Church in Great Barrington, at 251 Main St. "The Berkshire Blessing Box is a community-driven and supported project that shows compassion, generosity and the caring nature that is deeply rooted in our community to our neighbors who are experiencing food insecurity."
"I was feeling this need and thinking there's got to be something I can do to help people," said Bethany Martin, who oversees the blessing box in Ashley Falls, which opened in March on the grounds of Trinity United Methodist Church, at 1158 Ashley Falls Road. "I don't have money to be able to give people, but this was something I could actually, feasibly deal with, you know?"
The three South County blessing boxes each was spearheaded by volunteers who say they first were inspired by one such box in Hillsdale, N.Y., at the high-traffic intersection of Routes 22 and 23.
The local boxes are part of an unaffiliated national movement. For instance, a group called Little Free Pantry, based in Fayetteville, Ark., promotes the boxes and gives tips on construction, siting and upkeep. That group has documented more than 1,500 boxes across the United States since 2016. But, that number might be a low estimate. For instance, the Hillsdale, South Egremont and Ashley Falls boxes are not yet listed.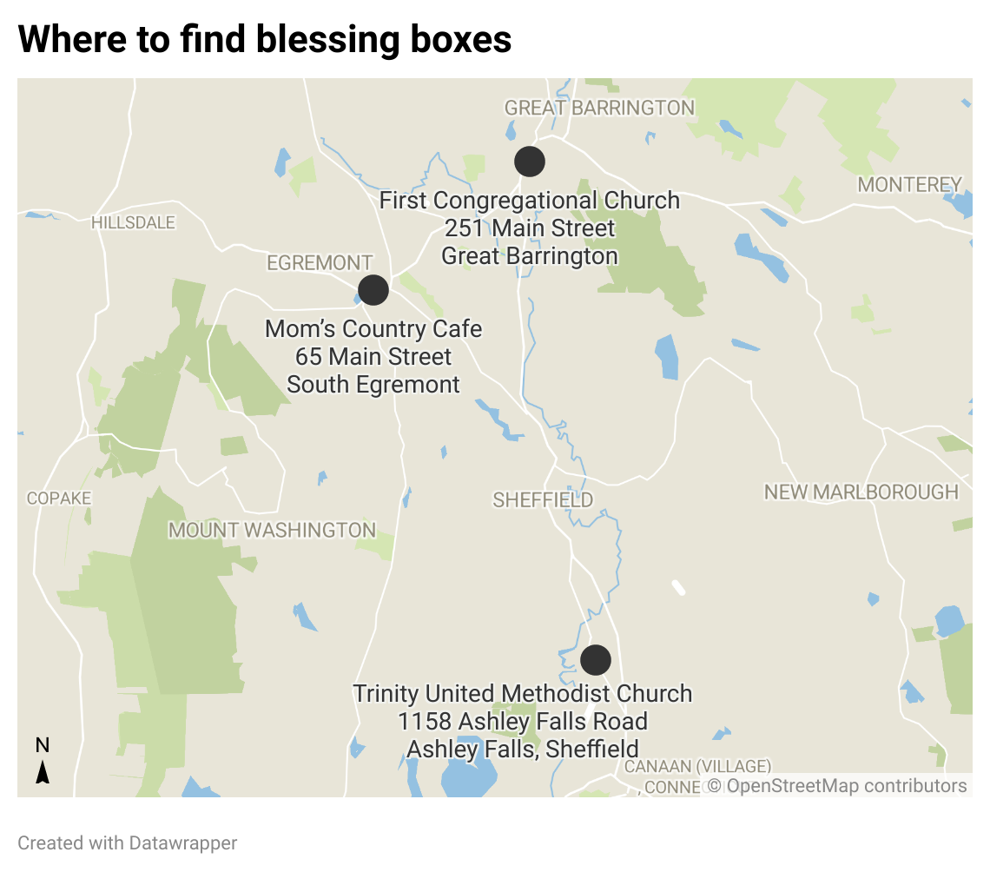 Moro, a nurse, said she was inspired by the blessing box spearheaded in Hillsdale by Rene Gibson.
"I just watched in awe of how their community came together and supported one another," she said.
With the enthusiastic approval from First Congregational Church, Moro set about to have a similar box built for Great Barrington. With a loose set of specs, local carpenter Glen Gallagher built the box free of charge. Like most, it includes see-through windows and a shingled roof. The lumber supplier Herrington's donated materials.
"Especially in today's society, I don't have a lot of hope for humanity, but it's good to see that people still care and they think about other people," Gallagher said. "And it actually hits home for me. I've lived in my car before. I've had nowhere to go and no friends and no one that helped me, nothing to eat. I've actually been there. I know what it feels like to not having anything. So, for the community to reach out and just know that there's something there and it's meaningful, I like to be a part of it."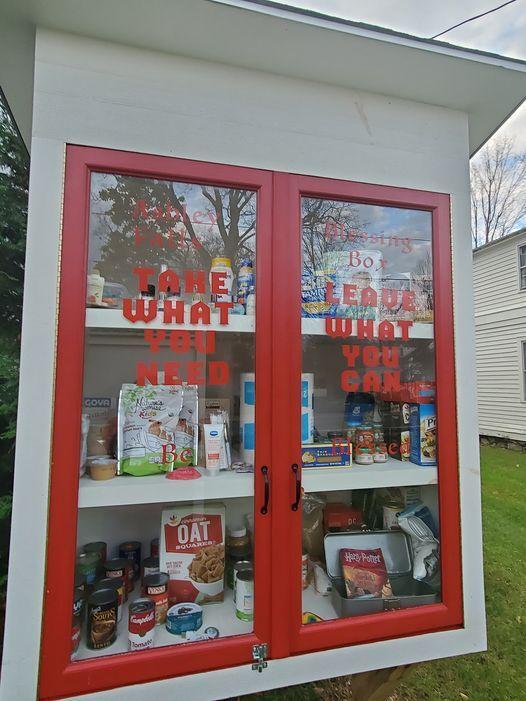 Warren Candee built the South Egremont box. Robert Martin, Bethany's husband, built the box in Ashley Falls.
Most are about the size of a typical dishwasher. The one in Ashley Falls is more like the size of a refrigerator.
The organizers all wish to get the word out about their efforts — to those who need a helping hand, and to those who might consider stopping by and putting items on the shelves.
"We definitely pride ourselves on privacy and anonymity," Moro said. "It is all anonymous, whether it be donations to the box or receiving gifts from the box."
The items most in demand are paper products, such as toilet paper and paper towels, followed by cereals, pasta, breakfast bars, snacks for children, coffee, tea, crackers and cookies, she said.
"When it's cold, we are able to put butter and cheese into the blessing box," Moro said.
Volunteers check in on the Great Barrington box twice a day, she said.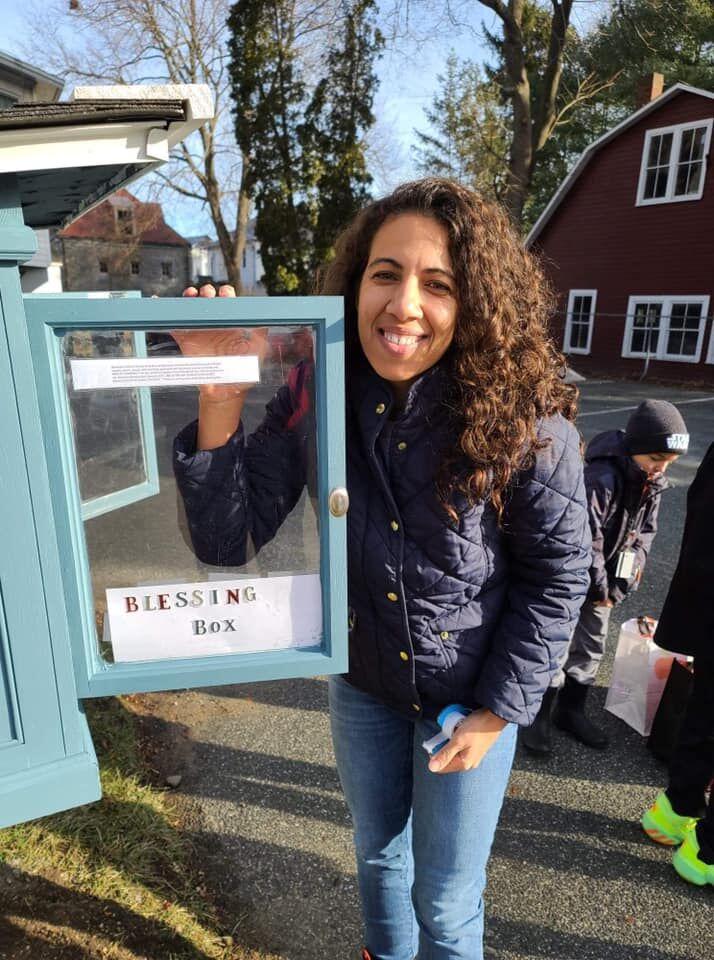 After a year in operation, Moro can draw some conclusions about the blessing box. Macaroni and cheese and dry beans are not popular. Dog and cat food are among the items in high demand, she said.
Bethany Martin, who checks in on the blessing box in Ashley Falls about twice week — "Making it look nice and making sure we're not getting things that are out of date" — has drawn similar conclusions.
"Toiletry and feminine products go, like, pretty much instantly," said Bethany Martin, who works at the preschool at Berkshire School in Sheffield.
Marino, of Ivory Pond Farm in Egremont, checks in on her community's "humble blessing box" in South Egremont on a daily basis.
"Some days, there's nothing to do, other than to move things around, make it look nice," she said. She keeps supplies in her car, such as boxed food items, that she donates to the cause.
Martin, in Ashley Falls, said she is encouraged and saddened that the blessing box gets so much use. If she stops by the blessing box when someone is taking items, she stays at a distance and waits.
"I just kind of let people have their privacy," she said.