It didn't take long for Lindsay Tillou to realize how hard cooking as a new mom would be.
"Anybody with a brand new baby doesn't have a lot of time to do anything," she said. "Especially plan meals."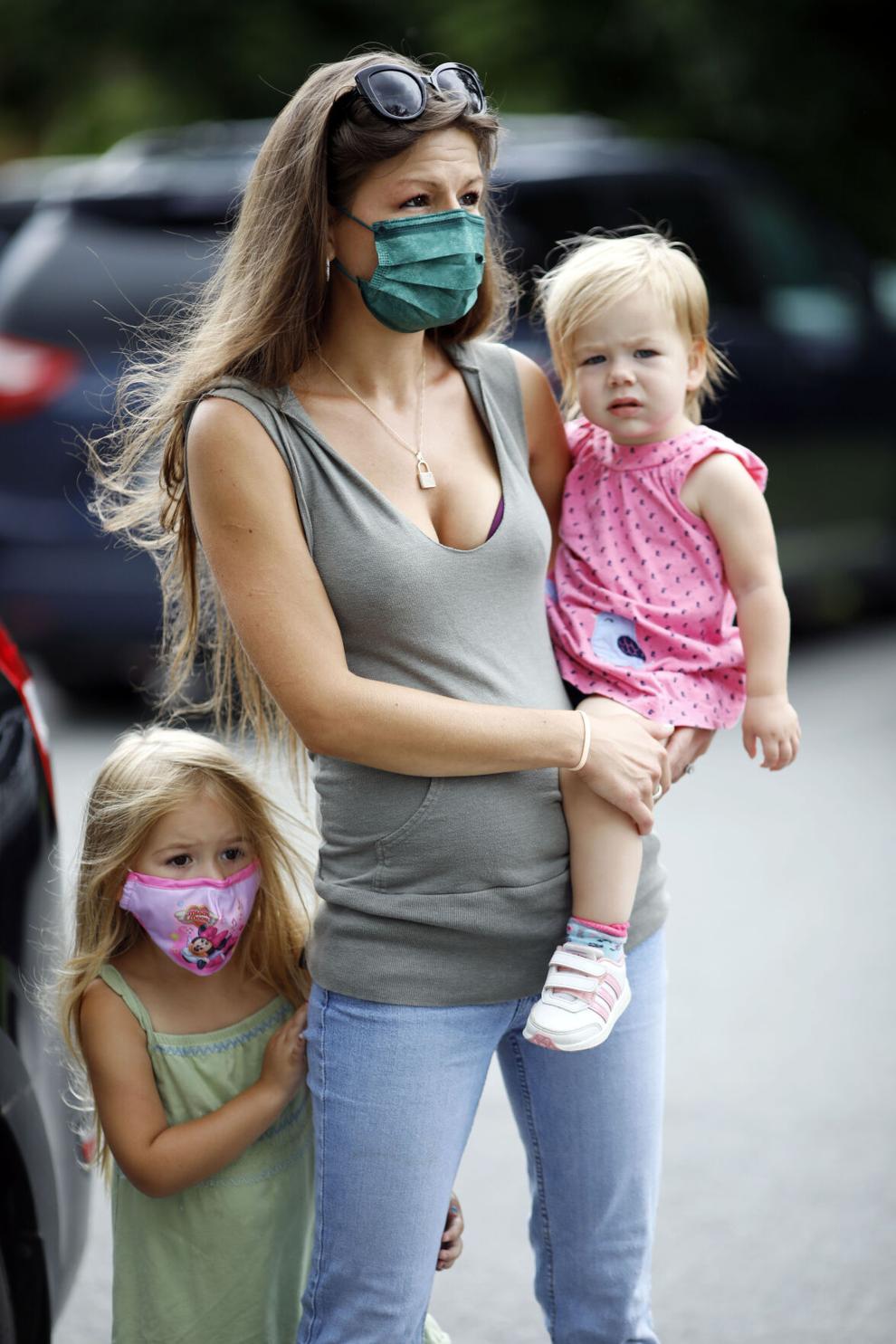 By the time she and her husband moved to the Berkshires and had their second child, Tillou needed help — and the chance to talk to more adults. That's when she found Community Health Programs, where she could put her older daughter in play groups. The staff also signed her up for a pilot program called The Nutrition Club.
"They would come up with a meal for the week," she said. "They'd give me the recipe. They'd give me all the ingredients. So even if I didn't have anything, I knew I could count on for meals; Wednesdays we'd have something to cook together."
Every week she wrangled her daughters to CHP's offices in Great Barrington, gathering with other pregnant women, new moms and diabetes patients — the target demographics for the program — around a folding table packed with blue bags.
In the winter and spring, the bags were filled with groceries from local stores. But once the summer began, green kale leaves spilled out of the bags, tucked beside white turnips, bok choy, and lettuce heads, all from local farm shares.
"All of the local produce, knowing it's from your community, and then being able to do a whole bunch of different things with it," Tillou said. "That was such a huge thing for us."
Now in its second year, CHP's Nutrition Club can serve more than 100 people any given time, working in concert with the organization's other programs to increase access to fresh food for pregnant people, new mothers and people with diabetes.
Unlike food support programs that provide cash and let recipients shop on their own, this effort focuses on education, says Ashli Minor, lead nutritionist and program coordinator for CHP. Give participants everything they need to make a meal, including the recipe, and they'll come out of the experience prepared to repeat the process on their own — that's how she and her staff see it. Minor's goal is to create sustainable change in people's diets.
"This food is beautiful," said Minor. "The program is educational. And it's really blown up."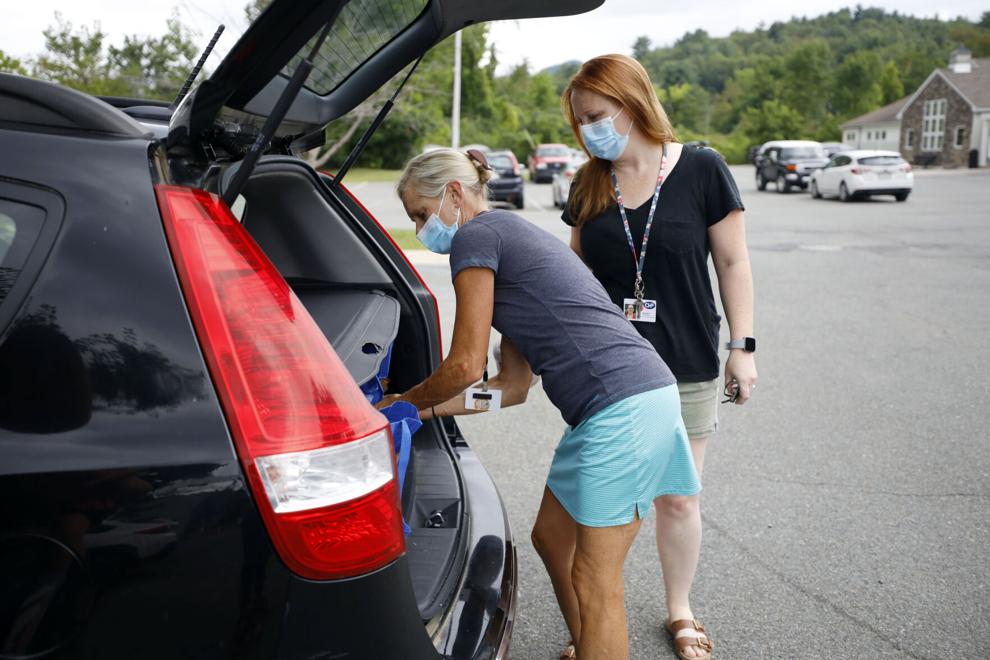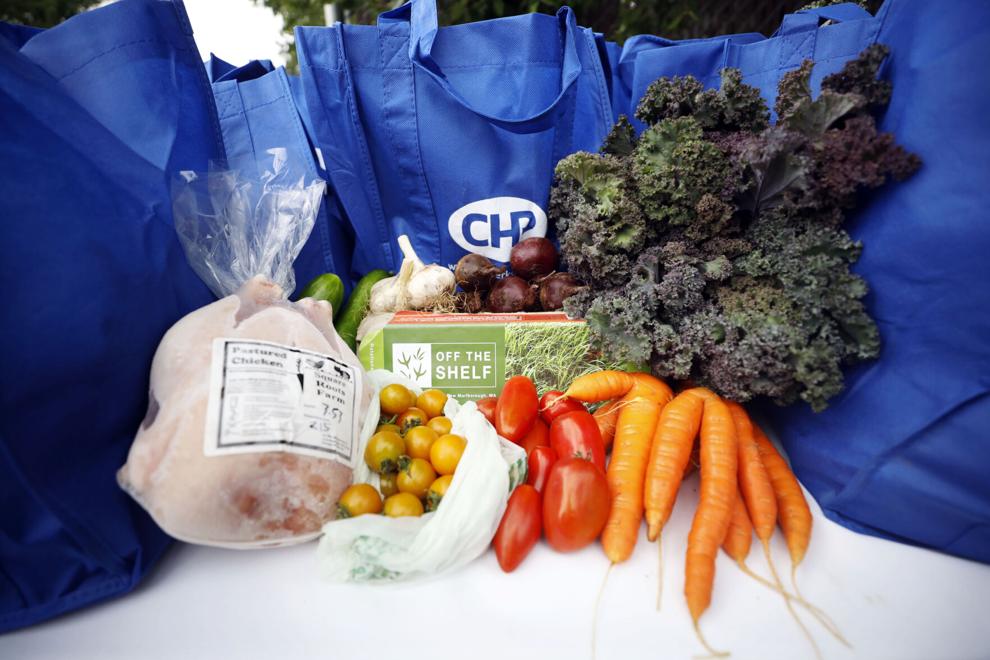 Minor says program funding, which comes from MassHealth, more than doubled for its second year. That gives hope to participants, organizers and farmers that the program could continue indefinitely, and even serve as a model to reduce food insecurity in other parts of the country.
The Nutrition club also marks a concerted effort by CHP to expand its local, fresh food offerings — and create a cycle of assistance that benefits both participants and farmers alike.
Nutrition and education
To secure the funding, CHP pitched the pilot program to Berkshire Fallon Health Collaborative, the organization that manages care for many MassHealth patients in the Berkshires. The collaborative gave the stamp of approval, and the program kicked off in January 2020, to the tune of nearly $150,000 in state funding for its first year.
In order to be eligible, recipients have to be collaborative members and food insecure, which the USDA defines as lacking "consistent access to enough food for an active, healthy life."
According to Feeding America, about 10 percent Berkshire County residents were food insecure as of 2019, above the statewide rate of 8 percent. That adds up to more than 12,000 residents.
Then participants have to fall into one of three buckets: They must be pregnant, have recently given birth, or have diabetes, with an A1C score — a common blood test — above 7.
As of 2016, Berkshire County's age-adjusted mortality rate for diabetes was well above the state average, according to Centers for Disease Control and Prevention data — 18.7 per 100,000 residents, compared to a rate of 14.9 across Massachusetts.
"We targeted the pregnant women and postpartum because we work in the same building with WIC [Nutrition Program for Women, Infants, and Children], so it's such a simple feeder system," Minor said. "With the [participants with diabetes], it was a demographic we were sure that MassHealth would buy into, because diabetes is so rampant."
Program organizers ensure that the food quantities are just small enough that they don't conflict with other assistance programs, such as WIC. In the summer, that means each bag contains about half of a Community Supported Agriculture (CSA) share, plus add-ons like eggs, chicken and formula gift cards for moms who are not breastfeeding.
Most people get the food delivered to them, but a consistent group show up on Wednesday afternoons to pick up their bags in person. Many participants have a preexisting relationship with CHP, which means the weekly food drop-off or pickup can be a chance to talk about other health issues too. Minor recently spoke to a pregnant woman about how to alleviate her nausea during their check-in.
"It's not just throwing food at people," she said. "It's really talking about it, being involved. We know every member personally, on some level, and we have weekly engagement with them, so it's a very personalized program."
In addition to food, participants get weekly recipes, usually paired to match the contents of the bag, but sometimes intended to accessorize the meal, like a cilantro lime avocado dressing. Other weekly videos, posted to the organization's social media by CHP nutritionist Hannah Paterson, are just informative.
"Today we are going to learn about an ancient fruit called the pomegranate," starts one video, which also teaches viewers how to open the fruit. Another details how to store produce.
For Tillou, the recipes were just as valuable as the food itself. Before the program, she says, she leaned heavily on takeout, or easy-to-prepare meals.
"Now I cook every meal," she said. "I've become more creative. We can give the kids what we might disguise as, 'This isn't really vegetables.' "
She started the program during the pandemic and says it kept her afloat, especially when she was supposed to limit her trips to the grocery store. It also gave the family something to look forward to.
The biggest hit in their home? Cauliflower stir-fry.
"That one blew my mind," she said. "I thought, 'How am I going to make cauliflower do anything?' But that was really good."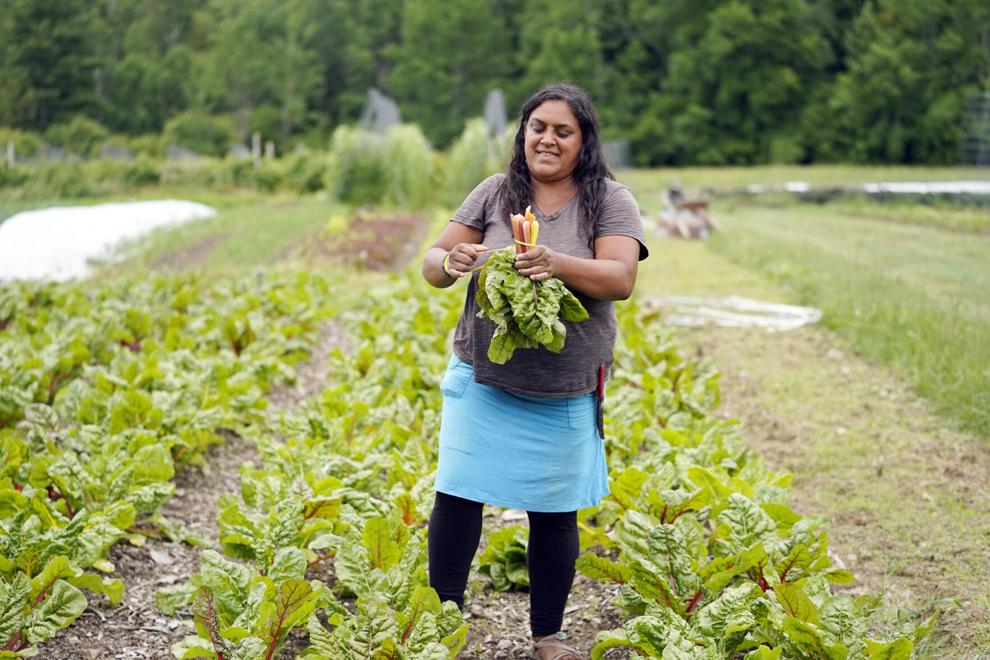 'Closed loop systems'
During the summer months, The Nutrition Club brings in shares from seven farms across the Berkshires, including Many Forks in Clarksburg, Colfax in Alford, Off the Shelf in New Marlborough, Full Well in Adams, Square Roots in Lanesborough and Brattle in Pittsfield.
Its largest supplier for the program is Woven Roots in Tyringham. CHP buys about 50 shares each year, around a quarter of the farm's total shares, says co-founder and farmer Jen Salinetti.
For years, Woven Roots has been working with Berkshire Grown to provide food shares for marginalized community members. So when Berkshire Grown plugged CHP's new initiative to Salinetti, she jumped at the opportunity.
"One of the pieces that was so compelling for me is that there was an integrated educational component," she said. "For people not just to have access to the food itself, but to understand and learn how to use it. I was so move by the fact that CHP was recognizing that as a necessary and integral part of the program."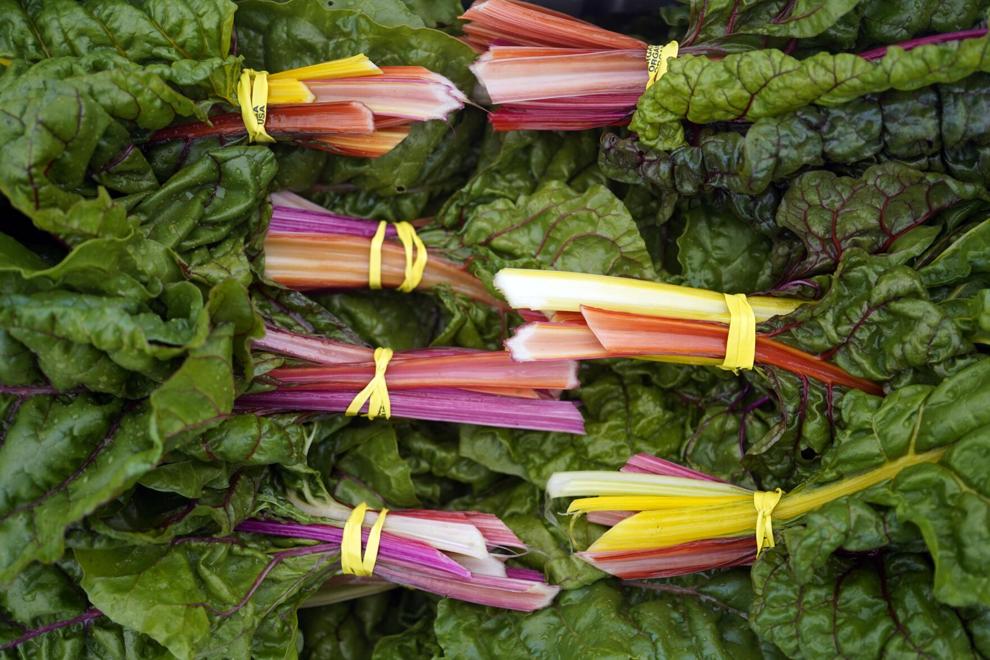 From her perspective, this program is a model that should be scaled up — especially because it keeps the state's money circulating locally, not siphoned off to major grocery chains.
"We're creating closed loop systems," Salinetti said. "So the state is creating pathways of empowerment, for individuals and community members, to recognize what the needs are and to fulfill them."
She pointed out that, in times of need, farmers often get asked to bear the brunt of donating food. That's not sustainable, at a time when it's already challenging to make a living as a small farmer. This program offers a better alternative, one that she hopes other programs replicate.
"This system is the state providing a way, not just to help people in need, but to secure jobs," she said. "It's helping maintain a working economy within the farming community as well. That's really important."
'More fresh food'
On the third Wednesday of August, as Nutrition Club participants stopped by in a light drizzle to pick up bags of food outside, Mary Feuer, assistant director of family services, was busy inside. She was preparing for a separate program, CHP's monthly "mini mobile" food bank, which gives out bags full of rice, eggs, yogurt, peanut butter and a medley of vegetables, which that week included including peppers, carrots, potatoes.
CHP currently distributes around 3,000 bags of food each month through its various programs, including WIC and the Nutrition Club, according to Feuer.
In recent years, that amount has shot up, and the bags have begun to include more fresh food, and more produce from local farms. The shift was sparked a few years go, Feuer said, when CHP started buying subsidized, local eggs through Berkshire Grown.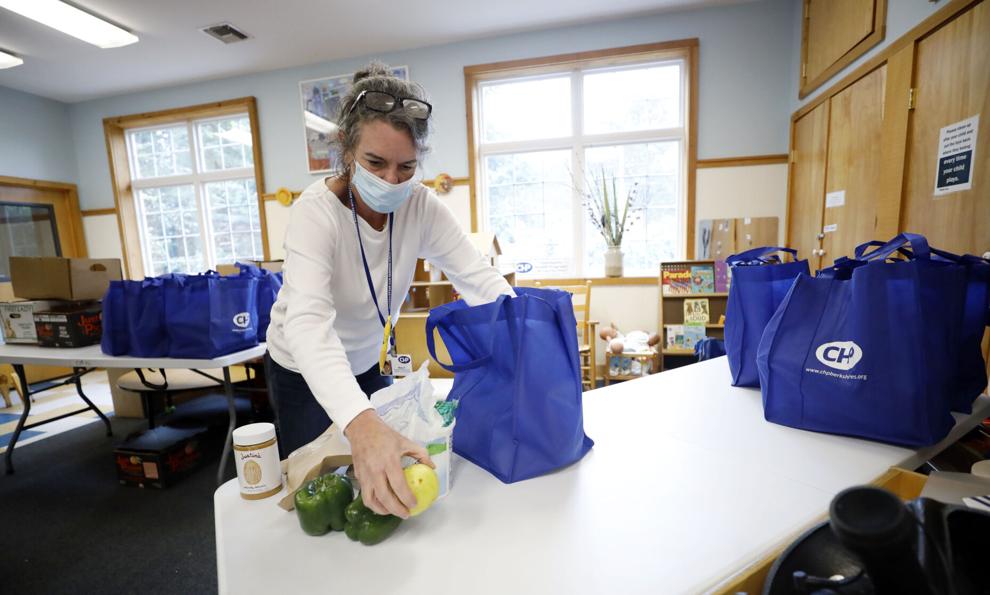 "We just realized we needed to put more fresh food in these baskets," she said. "You can get shelf stable foods anywhere."
In recent years, Feuer said, Berkshire Grown has started to broker more deals for CHP, providing food through Guido's Fresh Marketplace as well as local farmers. Subsidized rates mean that sometimes food can even be cheaper direct from the farm than purchased at a supermarket.
As CHP plans for the future, Feuer says the organization may start buying winter shares, which typically cost more than summer shares, to bring in local produce for more of the year. In an ideal world, she would love to get CHP families to the farms themselves, so kids can see where their food comes from.
But, as she organized stacks of food and diapers, Feuer said she also hopes for larger societal changes, the kind that would give everyone in the community access to good food — and make even the most successful CHP programs obsolete.
"I wish we weren't doing this, to be perfectly honest," she said. "I wish there were enough affordable, fresh food for everybody."