Berkshire communities spent Monday removing downed trees and clearing many roads of dirt and debris after monsoon-like rain and gusty winds pounded an already waterlogged county on Sunday night.
One of the hardest hit municipalities was Becket, which unofficially recorded up to 4 inches of rain in one hour, according to town officials. Town Administrator William Caldwell said the torrential downpours partially or completely washed out sections of several dirt roads, including Leonhardt Road. Caldwell said the washout stranded residents of four to five homes who couldn't back out their driveways.
"You would have not been able to drive the road [Sunday] night as the underground culverts were exposed," he said.
Caldwell noted the town highway crew spent all of Monday rebuilding the damaged section of road to make it passable for homeowners and police, fire and ambulance vehicles. He added it is too early to determine what it will cost to make permanent repairs.
In Lenox, a repair project on Edgewood Drive, which traverses Sargent Brook at the north end of Lenox, was nearly wiped out by the rain, said Chief Administrative Officer Christopher Ketchen. "It's a substantial setback," he added.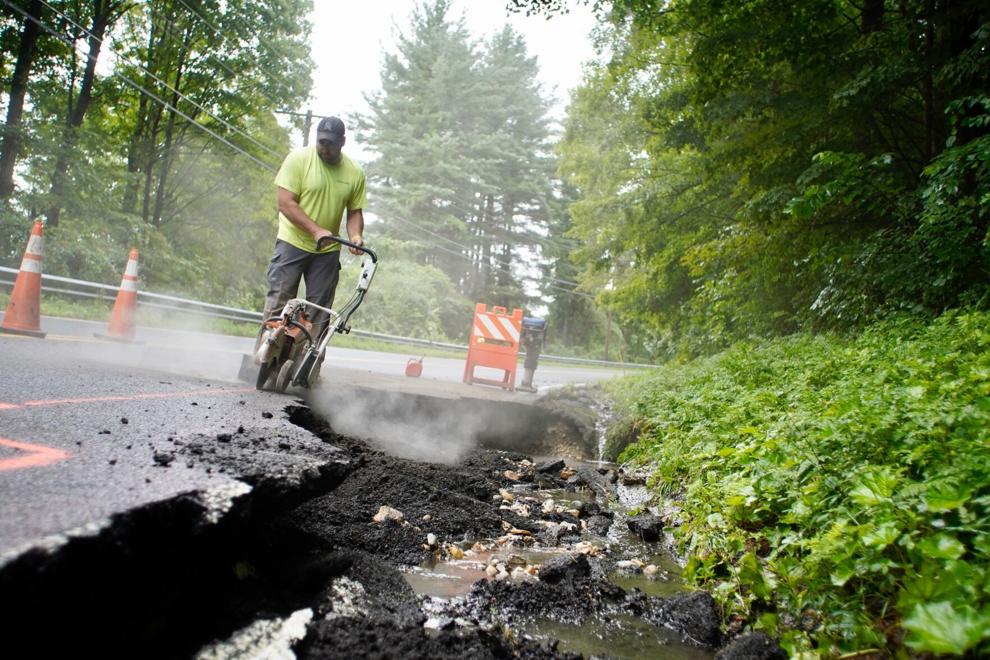 Costs of restarting the project are being assessed, he added. Residents of a half-dozen homes on the dead-end street can only use a pedestrian walkway for the next day or two until a temporary bridge is set up to accommodate vehicle access to the compact neighborhood.
Segments of East Street and roadways in portions of low-lying Lenox Dale were also hit hard by the torrential downpour that began shortly before 6 p.m. Sunday.
Based on reports of massive flooding, all available professional and volunteer firefighters were called in Sunday evening by the Lenox Fire Department.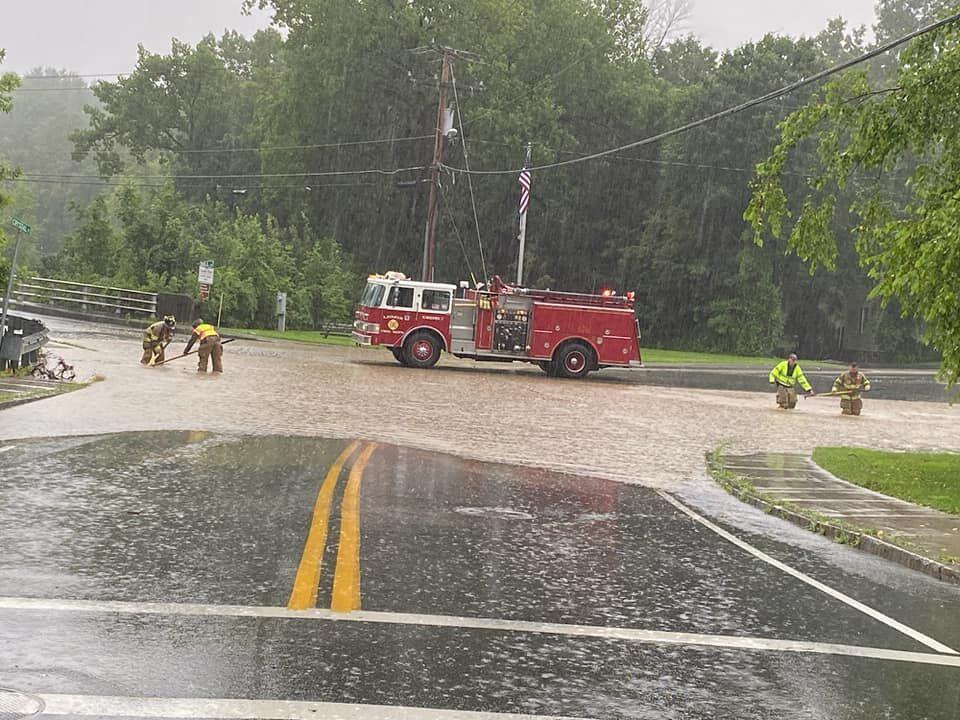 Two longtime residents of the Lenox Dale village, Selectman Edward Lane and Police Officer William Colvin, who's also a deputy fire chief, described the impact of the storm as the worst they had seen.
Nearly 3 inches of rain swamped the town during the three-hour downpour, according to unofficial tallies from weather observers. Parts of Richmond, Stockbridge, Lee, Great Barrington and Otis also were hit hard, with multiple road closings at the height of the storm.
A portion of Swamp Road in Richmond was closed by flooding shortly after 6 p.m. Sunday.
In Lee, the staff at the town's wastewater treatment facility reported 2.5 inches of rain during a 40-minute period on Sunday night, according to Lee DPW Superintendent Al Zerbato.
Zerbato said the intense rainstorm Sunday night caused trouble from the two major links between Lee and Tyringham. A mudslide on Tyringham Road at the Meadow Street intersection closed that thoroughfare from dusk through the overnight.
"There was a lot of dirt that completely covered the road with 4 to 5 inches of silt," he said. "My staff was out there until 3 a.m."
Zerbato said there were also problems on Forest Street, which leads to Goose Pond in Tyringham, but that has since been cleared.
Great Barrington DPW Superintendent Sean Van Deusen said his workers were dealing with several downed trees; one on South Street that brought down wires and covered the railroad tracks. The main flooding on Sunday night was on Route 23 east of Ski Butternut where the Appalachian Trail crosses the state highway.
"We're still dealing with damage from storms the past three weeks and we have a lot of catch basins that have been overwhelmed by rain and some have been undermined and probably need to be rebuilt," Van Deusen said.
In North Adams, roads are not flooded as of midday Monday, Police Chief Jason Wood said. There were no road closures or major flooding in Williamstown either, according to interim Police Chief Michael Ziemba. But last week was the worst flooding the town had seen all year, Ziemba said in an email.
"Green River Road was closed as the water came up over the southernmost bridge, which hasn't happened since the Spruces flood on Main Street several years ago," Ziemba wrote. "At least one homeowner had some damage done by the river on Hopper Road."
Pittsfield city officials reported all roads were open by 9 a m. on Monday except Dan Casey Memorial Drive causeway, which remains closed until Tuesday.
The Sunday night storms that hit parts of the county, with some additional light to moderate rainfall Monday morning, capped one of the wettest three-week periods in recent county history.
Average rainfall for the month of July is 4.25 inches. Anywhere from 10 to 12 inches have been measured in parts of the Berkshires since June 30, according to reports compiled by the National Weather Service in Albany, N.Y., and by Paul Caiano, the longtime NewsChannel 13 and WAMC Northeast Public Radio meteorologist who also consults for Tanglewood.
The records for July at the government's automated observation station at Pittsfield Municipal Airport include 11.7 inches in 2009 and 9.3 inches in 2014. Based on the month to date, this is the second-wettest July on record in Pittsfield, based on unofficial reports. The airport weather station apparently was hit by lightning during a severe thunderstorm Saturday evening and data recovery efforts remain a work-in-progress.
Drought over
The U.S. Drought Monitor restored Berkshire County to normal six weeks ago. Last week, because of rainfall in June and this month, Massachusetts Energy and Environmental Affairs Secretary Kathleen Theoharides declared normal conditions had returned to the Berkshires and the rest of the state except for Cape Cod, which remains in a mild drought.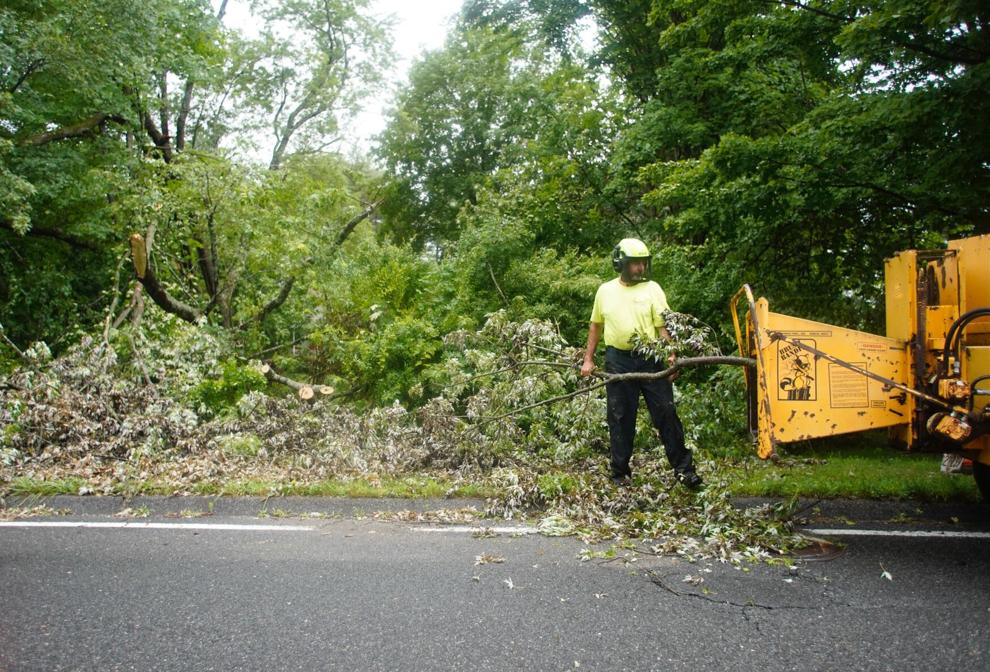 Staff writer Greta Jochem contributed to this report.