LEE — Volunteer gardeners have found a novel way to provide fresh produce to the needy.
At the inaugural Lee Downtown Community Garden behind St. Mary's Church on Academy Street, volunteers have planted a large variety of veggies such as tomatoes, winter squash, peppers, eggplant, bush beans, lettuce and kale. And the garden uses hay bales as vessels for the raised beds.
Project manager Katherine Miller says the dozen or so volunteers help water the plants daily, tend to the plants and help with general upkeep of the 50-foot-by-27-foot agricultural space enclosed by a split-rail fence covered in hard metal mesh.
Several businesses and individuals have donated or provided at-cost materials to get the garden growing, including the seeds and seedlings, Miller said.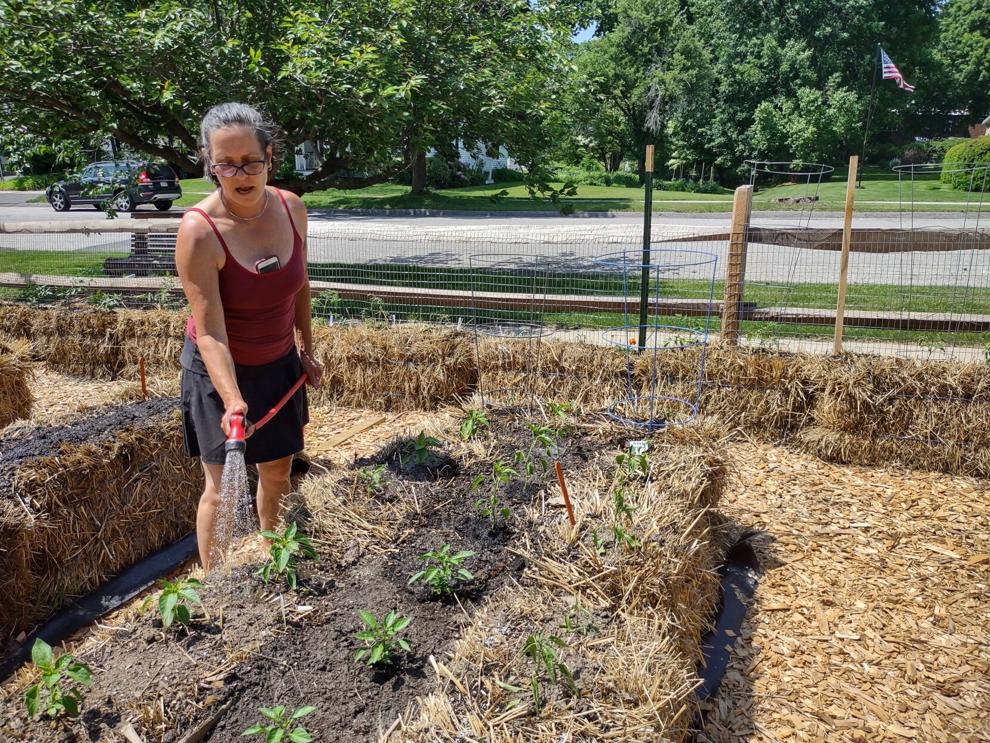 "I love seeing a piece of sterile lawn turned into space that's productive and people can enjoy," she told County Fare while watering the garden on a Saturday afternoon.
Miller says the produce will be given to the Lee Food Pantry for distribution to those dealing with food insecurity.
The Rev. Brian McGrath, pastor of St. Mary's, is an avid grower, as he and students at St. Mary's School have a traditional plant-in-the-ground garden at the Orchard Street school. While a small portion of the community garden has plants rooted in ground beds, it's the hay bale method that he finds most fascinating.
"This is all an experiment to me, although growing in hay bales has been done," he said. "I'm trusting a new way of gardening, and so far, so good."
Why raised beds of hay bales?
"The bales will hold the water, and they drain well, too," Miller said.
She added that the hay will begin to compost, organically breaking down, providing nutrition to the plants.
McGrath also believes working the earth, or in this case, hay bales, is uplifting spiritually.
"[Gardening] is not only educational, it's spiritual, because people like to get dirt under their fingernails," he said.
And gardening is good for the soil, as well as the soul.
"We take so much out of the Earth, what about putting back into the Earth," McGrath added.