GREAT BARRINGTON — Emma Farrington had never seen the earth recede as she soared above it.
Not until the pandemic, when she decided she wanted her world to get bigger. Farrington didn't know it yet, but she wanted to rise above the hill behind her house, the one that always seemed so big and "blocked out the sun my whole life."
Farrington, who had never flown on any kind of a plane, realized she wanted to fly one herself. That was before she even had a driver's license — she was just 16. Now 18, things have changed since that first flight in September 2020, when Pittsfield-born Farrington was a high school senior being homeschooled by her mother.
The birthday gift
Her life is now built around flying, she said on a recent morning, after hopping down from the wing of the Piper Cherokee 140 she just landed by herself. Clad in Ray-Ban Aviator sunglasses and a baggy sweatshirt, she headed toward the airport office. A man fueling up his plane asked if it's her first solo.
Nope. It's her fourth.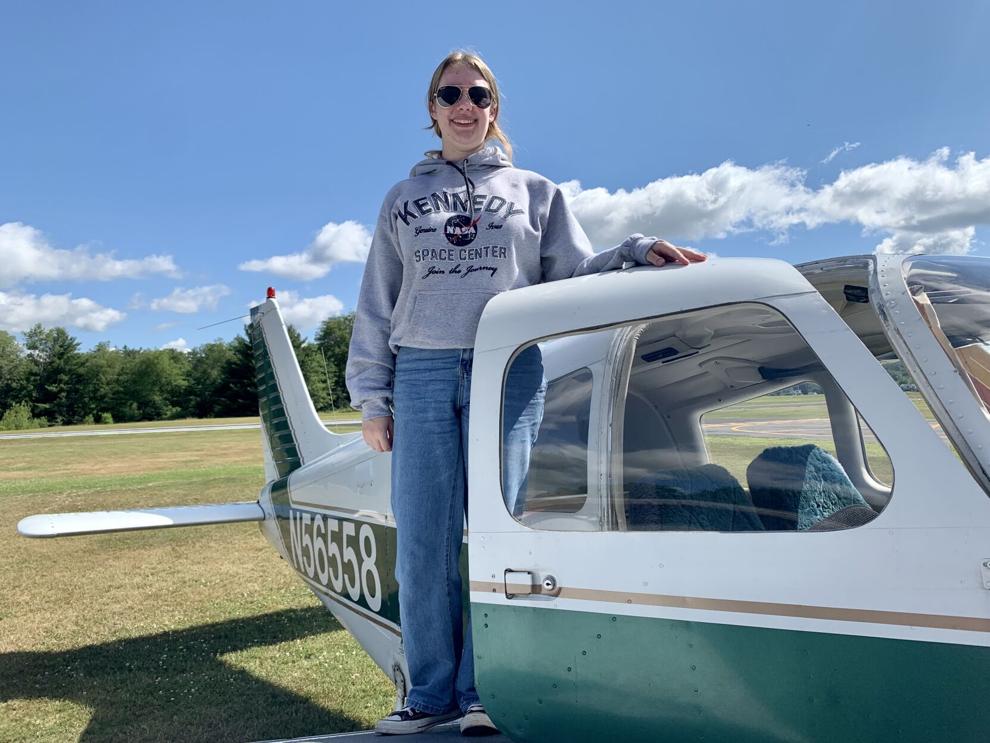 Farrington recalls her first time aloft, a birthday present from her father. That big hill behind her house suddenly looked small.
"For my intro flight, we did fly down to Becket to try and see my house, and it was crazy that I was able to see where I live from the air," she said, as a propeller cranked up nearby at the Walter J. Koladza Airport where she trains once a week at the Berkshire Aviation Enterprises flight school.
When she's not flying, she studies for flying, works and saves money for more flying. Is she obsessed? "Definitely."
Farrington wants to be a professional pilot. Not on the super big jets, but the smaller, private ones. She lives at home with her family — she's one of four siblings — and saves up from her job at a chocolate shop in Stockbridge for lessons that are $220 each. It's about to start getting more expensive. Right now she can only afford one lesson a week. Sometimes she'll spring for two.
Scholarships are helping. Farrington is one of eight young students who recently received one from the airport, funded by donations from pilots and the community for students planning on aviation careers. She also got scholarships from two flight organizations — The Aero Club and The Ninety-Nines Inc., an international aviation club for women.
'No more obstacles'
Farrington is one of a growing number of young people, and women in particular, learning to fly at the airport, said her teacher, Peggy Loeffler, senior flight instructor and an FAA designated flight examiner.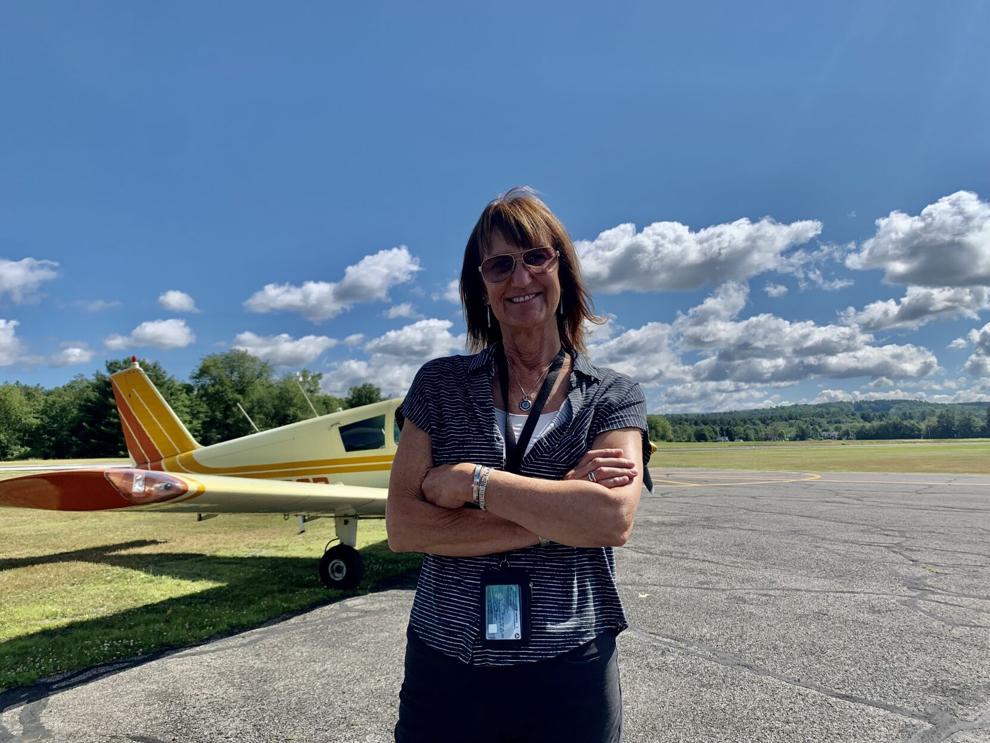 Some will go on to fly for commercial airlines. The flight school has graduated "dozens" over the years who have gone on to aviation careers with airlines that include American, Jet Blue and Delta, said airport manager and flight instructor Joe Solan. Many of these were Loeffler's students.
Solan, 23, and another instructor will soon leave for a flight program, likely with American. His father is retired American pilot Rick Solan, the airport's owner. The airport's founder, "Walt" Koladza, was a test pilot during World War II.
Loeffler said around 30 percent of the airport's more than 30 current students are women. In the U.S., women comprise 7 percent of all pilots, according to FAA data from 2020. She likes that this little rural airport is bringing more women on board.
The passion was sparked in Loeffler as a child, flying with her pilot father. Years later, after becoming a mother, she realized she missed it. She looked in the Yellow Pages for area flight schools, and after her youngest child got on the school bus for the first time, she headed to Great Barrington for lessons.
Loeffler, 68, has taught here for 18 years.
Aviation hasn't always been so woman-friendly. Airlines didn't start hiring women as pilots until the early 1970s, she noted. The first one had to design her own uniform.
"There are no longer the obstacles there were when I was Emma's age," she said. "I didn't have many role models and there weren't very many women at the airports when I was with my dad."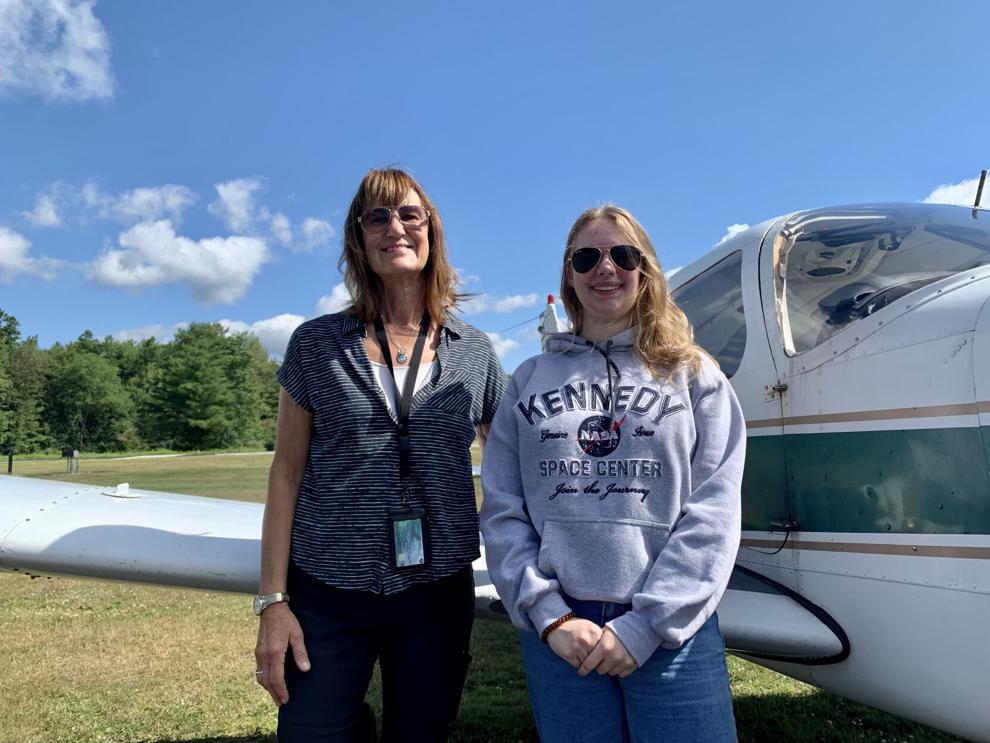 She loves teaching everyone. But she's extra happy when there's a woman in the plane, knowing how few female pilots there are.
Loeffler spearheaded a permanent exhibit that opened in March at the New England Air Museum in Windsor Locks, Conn., honoring female aviators. She's also active in women's aviation organizations like The Ninety-Nines.
She says Farrington has what it takes for an aviation career. Her hurdles will be time and money, she said. There's a lot to master.
The hardest thing for Farrington is making decisions "without doubting myself or checking with Peggy." But she does, again and again. She's found her confidence spreading to other areas of her life. Now she's finding her courage for the next phase — flying solo to airports outside the Berkshires.
"I'm sure once I get there I'll be ready," she said.