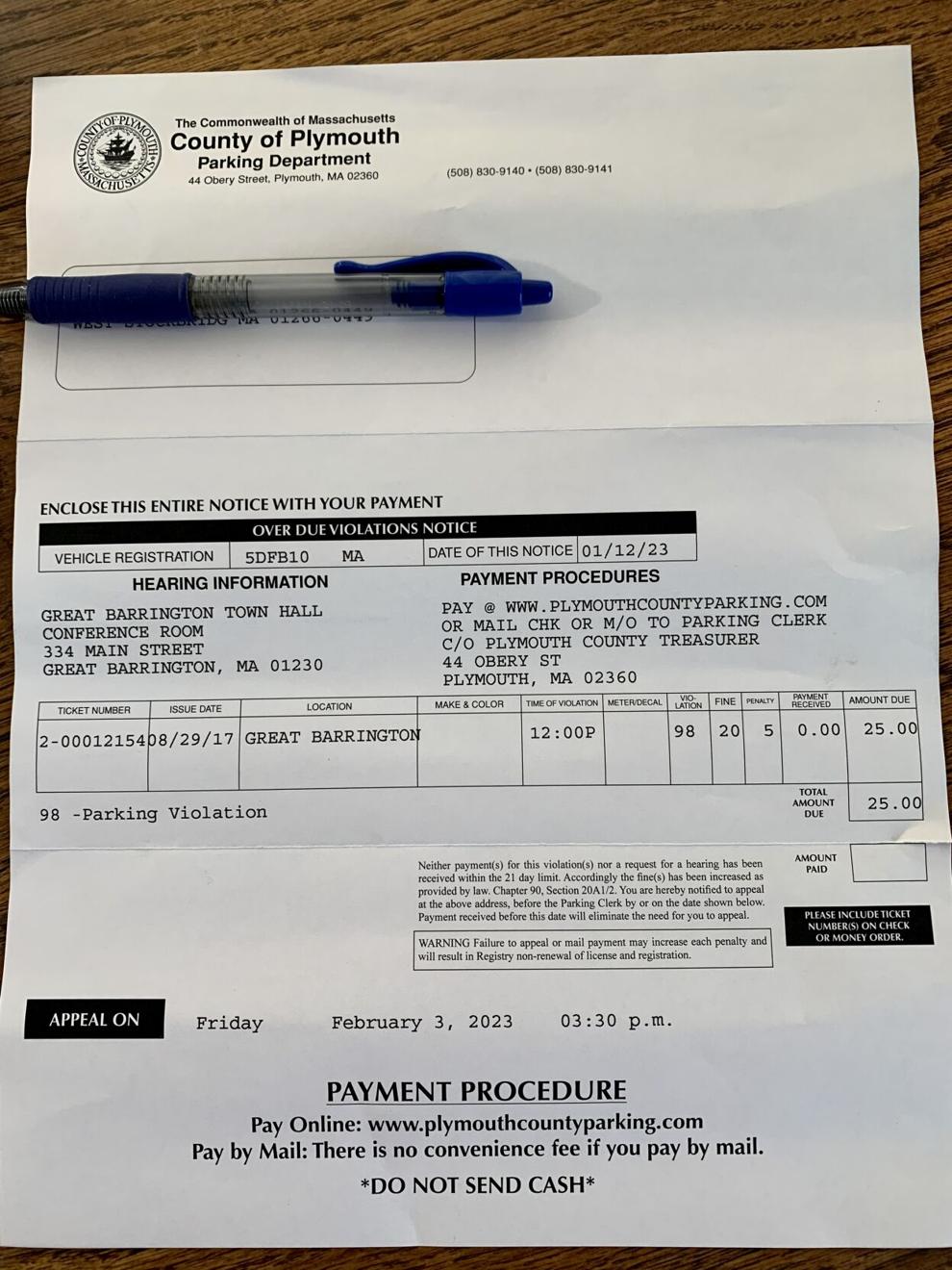 GREAT BARRINGTON — Two things caused people to look askance at parking ticket notices in the mail last week.
The first is that the bills were coming from the County of Plymouth, even though the violations happened in Great Barrington. The second is that some were old — many dating back to 2017 and 2018.
A kerfuffle ensued on social media and neighborhood chats. It might be a scam. Why Plymouth? Why six years later?
And so on.
Turns out the collection notices are legit. The town got backlogged over the years amid "staffing shortages and turnover in the treasurer's office," said Town Manager Mark Pruhenski, who addressed this at Monday's Select Board meeting after receiving calls, complaints and questions about it.
"This is not a scam," he said. Due to staffing gaps, "no one has been managing this aspect of our parking program."
And town officials, he noted, have discussed this publicly. Not once — but three times.
The town is one of 39 municipalities in the state — three are in the Berkshires — partnering with the County of Plymouth Parking Department to help "clean up this process and make it more efficient." West Stockbridge, Tyringham and Lee also use Plymouth's services.
The town is already seeing results, according to Jeffrey Welch, County of Plymouth's assistant treasurer.
Welch said that since the 900 collection notices went out on Great Barrington's behalf around Jan. 14, Plymouth has received about $4,000 in overdue tickets.
This includes payments from "two of the biggest habitual offenders," Welch said.
"One with 24 tickets paid them all the other day," he said. The other paid 21.
"This is getting results for the taxpayers of Great Barrington," Welch said.
If all the tickets get paid, that's $24,000 to the town, he said. "There are quite a few repeat and habitual offenders."
It turns out the backlog on parking tickets at Town Hall stretches back 10 years, according to Welch.
Welch said Plymouth began offering the service in 1982, when the state made municipalities take over the role of district courts in handling parking violations. He said what Plymouth does is an efficient alternative to hiring "private vendors."
"We don't have the profit motivation," he said. "We're doing it as a community service."
It's certainly taken a weight off Police Chief Paul Storti.
"They have proprietary software to make it more efficient," Storti said.
No longer does the police department have to run paperwork to Town Hall. Parking tickets go straight to Plymouth electronically.
"At no cost to the town," Storti said.
Nothing is free. Storti explained that the violator pays for the service ,with an administrative fee of $2 per ticket.
If you don't deal with your ticket in a timely way, you could end up paying as much as $3.10 in fees – to cover the cost of envelopes and stamps to alert the Registry of Motor Vehicles to your missteps.
'Forgiveness' option
Some are no doubt trying to recall where it was they parked illegally six years ago. Pruhenski said the town is offering payment forgiveness for those with violations older than two years.
"We'll just say we'll be reasonable in our approach," he said. "We ask that you pay for it, but if you don't intend to pay for it, and we don't ever receive payment. the reality is that we will not be marking you at the Registry of Motor Vehicles."
But more recent offenders must pay up or appeal, he said. Not doing this means the town will notify the registry, preventing you from registering a car or renewing a driver's license until the fines are cleared.
"We hope that it does not get to that point," Pruhenski said.