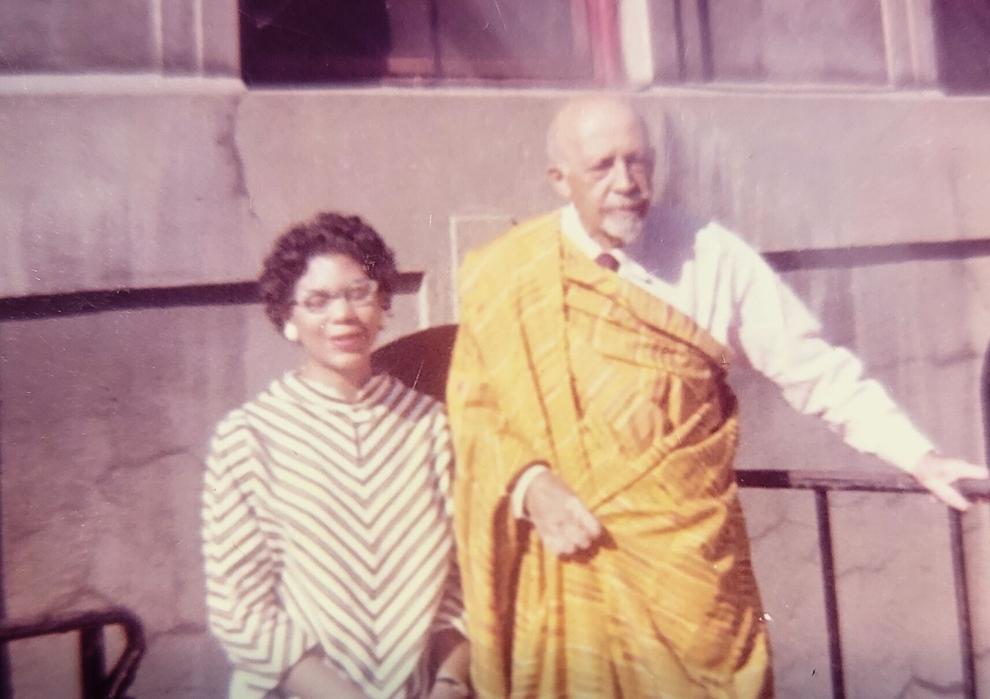 GREAT BARRINGTON — With dignitaries, spiritual leaders, racial justice advocates and townspeople gathered, a plaque and tombstone will be unveiled later this month at the Mahaiwe Cemetery, where the mortal remains of W.E.B. Du Bois' granddaughter eventually will be laid to rest.
This is one of several events planned over a six-day span in the hometown of Du Bois (1868-1963), the internationally known author, intellectual, civil rights icon and founding member of the NAACP.
"I'm extremely honored and excited to welcome people to the Berkshires who really care about Du Bois' work, who really see how he changed the game for all of us," said Gwendolyn VanSant, the CEO and founding director of Multicultural Bridge, the Lee-based grassroots organization dedicated to advancing equity and justice.
The six days, beginning Friday, Feb. 18, will include talks, performances and webinars and will all cap off on Wednesday, Feb. 23, which the town has declared the fifth annual Dr. W.E.B. Du Bois Day. February 23 is the anniversary of Du Bois' 1868 birth.
Among the visitors will be Jeffrey Peck, of Houston, Du Bois' great grandson. He frequently visits Great Barrington to attend events hosted by the town's W.E.B. Du Bois Legacy Committee. This year, Peck will arrive with a sense of celebration, but also with a heavy heart.
His mother, Yolande Du Bois Irvin, the only grandchild of the famous civil rights leader and scholar, died in November, in Fort Collins, Colo. She was 89. She was a popular speaker and a faculty member of Xavier University of Louisiana, in the psychology department.
In recent years, as Great Barrington began to embrace the legacy of its native son, Yolande Du Bois Irvin requested that, upon her death, her body first be used for medical research, then cremated and interred at the Mahaiwe Cemetery. The internment will occur at a later date.
W.E.B. Du Bois buried his 2-year-old son, Burghardt, in that same cemetery, in 1899, bringing his son's body up from Atlanta. He buried his first wife, Nina, there in 1950. He returned to Great Barrington one last time, in 1961, at age 93, to bury his only daughter, the mother of Yolande Nina Du Bois Irvin.
"She told great stories," Peck said of his mother, "and her history concerning her grandfather is just like out of a storybook because she traveled with him, and she stayed in palaces, and she witnessed the treatment that he received when he went abroad, and so she thought about it and talked about it quite a bit."
The memorial service, on Feb. 19, will begin at the First Congregational Church, at 11 a.m. Bishop James Dixon, of the Houston branch of the NAACP, will officiate. Reflections will be given by Martin Luther King III, Rep. Sheila Jackson Lee (D-Texas), Great Barrington officials, and the educator Melanie Edwards, among others.
The service will move to the cemetery at 2:30 p.m.
"There's a beautiful plaque and tombstone that will be placed there," said VanSant, who is organizing the service at the request of the family. "It's important that we really honor another member of Dr. Du Bois' family back home to Great Barrington. That, to me, is the most meaningful work that I can imagine."
The events will kick off Feb. 18, with a visit by Peck to Du Bois Middle School, where he'll speak to students. That evening, at 7 p.m., Multicultural Bridge and Shakespeare & Company will produce the Charles Smith play "Knock Me a Kiss," for which Yolande Nina Du Bois Irvin, herself, served as an advisor. The play is a fictional account of the 1928 marriage of W.E.B. Du Bois' daughter, Yolande, to the poet Countee Cullen.
"She was very proud of that production, and that's why we're doing it — in their honor," said VanSant.
Admission is free. Tickets are available at Shakespeare.org.
Monday through Wednesday is billed as the Fifth Annual Du Bois Legacy Festival. It will include daily pre-recorded talks and performances produced in collaboration with the Mahaiwe Performing Arts Center and accessed online each day at 5:30 p.m. The keynote address will be given by Dr. George T. French Jr., president of Clark Atlanta University. Check with mahaiwe.org for updated information.
Multicultural Bridge is organizing the events in conjunction with the town, the Du Bois Center at Great Barrington, Community of Faith Church, Shakespeare & Company, NAACP-Berkshires, the Mahaiwe and the First Congregational Church.