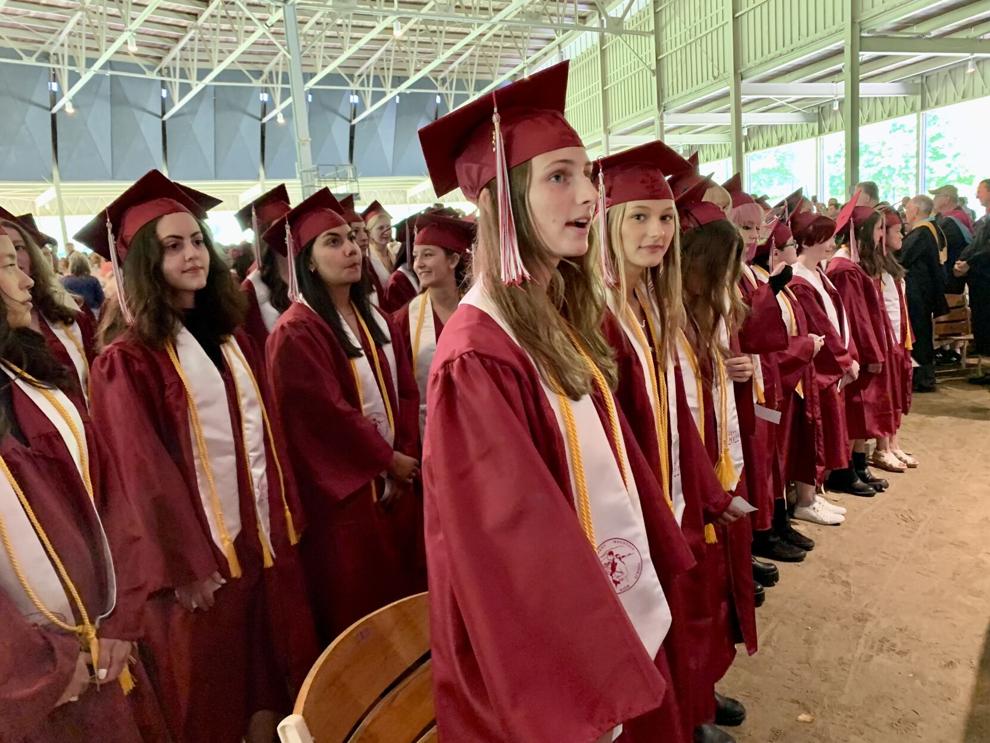 GREAT BARRINGTON — Voters in eight South County towns will decide this spring whether to merge Monument Mountain and Mount Everett regional high schools as well as create a single school district.
The fate of it all might hinge on their future property tax bills. How much each town and its taxpayers should pay is being hammered out.
Some think every town should pay the same rate, no matter how many students attend the schools. That's how most of the U.S. does it. Others aren't so sure. They worry that taxpayers who face increased costs will balk at such a plan — and kill the merger.
A panel of 23 representatives from all the towns has worked for more than two years analyzing aspects of consolidating the two high schools. The change would affect students in grades 9 through 12. All would attend Monument Mountain. Other schools in the districts would remain as is.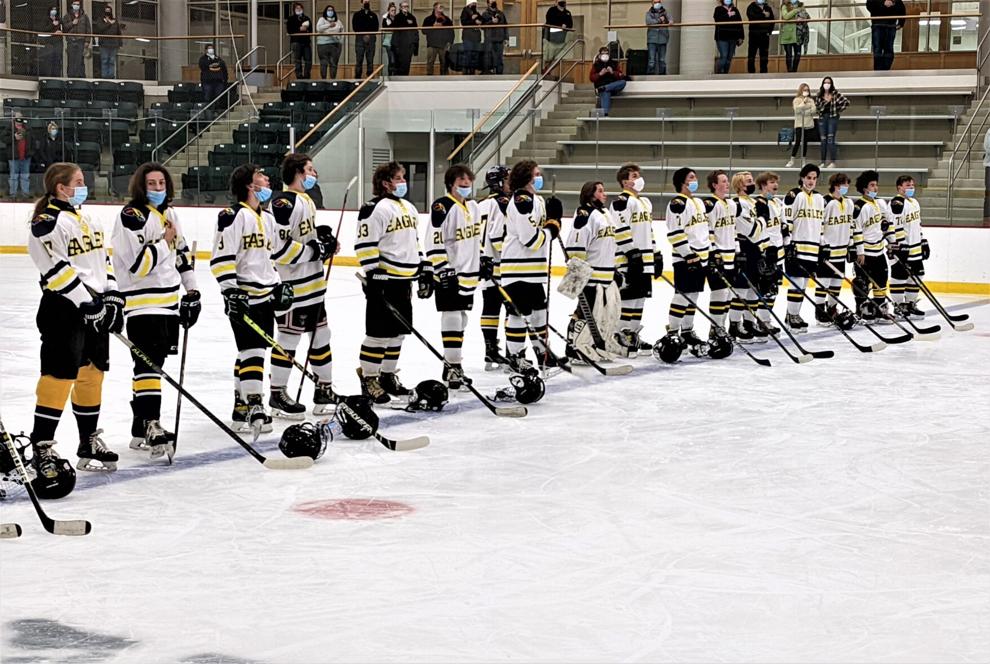 The cost question
The 8-Town Regional School Planning Board is deep into an investigation of how much each town should pay.
The board's finance subcommittee was to meet again Friday morning to discuss the nitty gritty of mandated state funding formulas.
The board has already studied student transportation logistics and costs. It has looked at how education might look with students attending a newly remodeled or rebuilt high school at Monument Mountain.
Last month the board received a $125,000 state grant. The state wants districts to explore regionalization and other steps that can save money and improve education.
The board will hold a community information meeting Jan. 21. By the end of February, it will likely cast a vote on a new regional agreement, then send that issue to voters to decide at town meetings this spring.
All eight towns must say yes for the consolidation to move forward.
It is critical that residents understand what is happening, said Jake Eberwein, a longtime educator and consultant who is the board's project manager.
"This is probably one of the biggest projects that the southern part of Berkshire County will be considering for a long time," Eberwein said. "And it's got significant implications for kids in those communities."
He pointed to a wealth of research and other resources on the panel's website, as well as an informational video. The work comes as rural school district budgets continue to climb and the number of students – and revenue – is falling.
The coming overhaul of a deteriorating Monument Mountain High School in Great Barrington is figuring in. The school, part of the Berkshire Regional School District, is now eligible for state funding for a new school. Officials are devising plans, but won't know how big a new school should be until voters decide on the merger.
District officials are hopeful about a merger. They're preparing either way. "We're exploring the implications of both a three-town high school and an eight-town high school," said Superintendent Peter Dillon.
Who pays what
What taxpayers from different towns will pay for the schools is considered a sticking point. Supporters of the merger say they don't want perceived economic unfairness among the towns to sour the deal — something that's been a sore spot in the past and killed previous attempts at renovating Monument.
One Great Barrington resident is vocal about phasing in a unified rate for all eight towns over 10 years.
Chip Elitzer worries that residents of the larger towns, Great Barrington and Sheffield will shoot down the merger. The towns shoulder the bulk of the tax burden because they have the most students. A single rate would be easier for residents to digest, Elitzer said. Current assessments are based on formulas that factor in a community's income, real estate values and student numbers. Elitzer views that as "almost incomprehensible."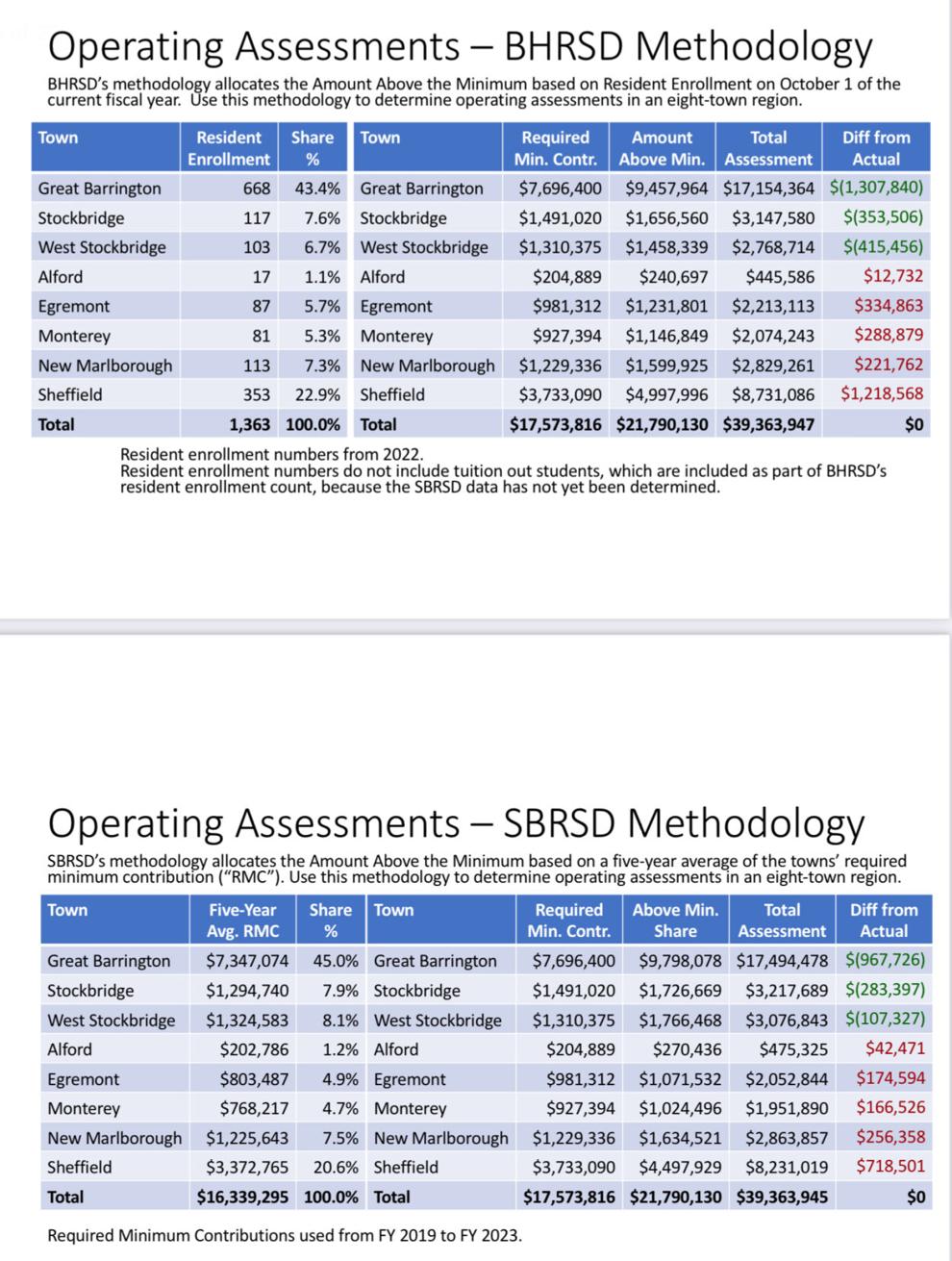 "It's sort of like Druid priests using very arcane knowledge and sort of handing it down to the masses," he said. "That's not a good way politically to win hearts and minds."
"It's a magic black box, which is why this is so complicated," said Nadine Hawver, a Sheffield Select Board member who chairs the eight-town finance subcommittee.
In the Southern Berkshire Regional District, of which Sheffield is the largest town, assessments to towns are made based on a five-year rolling average of the portion the state says the town has to pay. This prevents the "spikes and valleys" created by Berkshire Hills' assessments using student counts, since enrollments can shift dramatically.
"That makes it very difficult for towns to budget," Hawver said, adding that a hybrid method might be the way forward.
Hawver said the subcommittee is working hard to make the assessment method "palatable." Like Elitzer, she wants to balance the costs among towns over time.
With eight of them, it might be hard to agree on everything. "No matter what we do, somebody's not going to be happy," Hawver said.