GREAT BARRINGTON — With noise as a central complaint by some residents who live in the neighborhoods that surround the Walter J. Koladza Airport, The Eagle took some sound measurements in outside areas around the airfield and two nearby neighborhoods.
We wanted to get a general sense of the sound these small piston-engine airplanes make.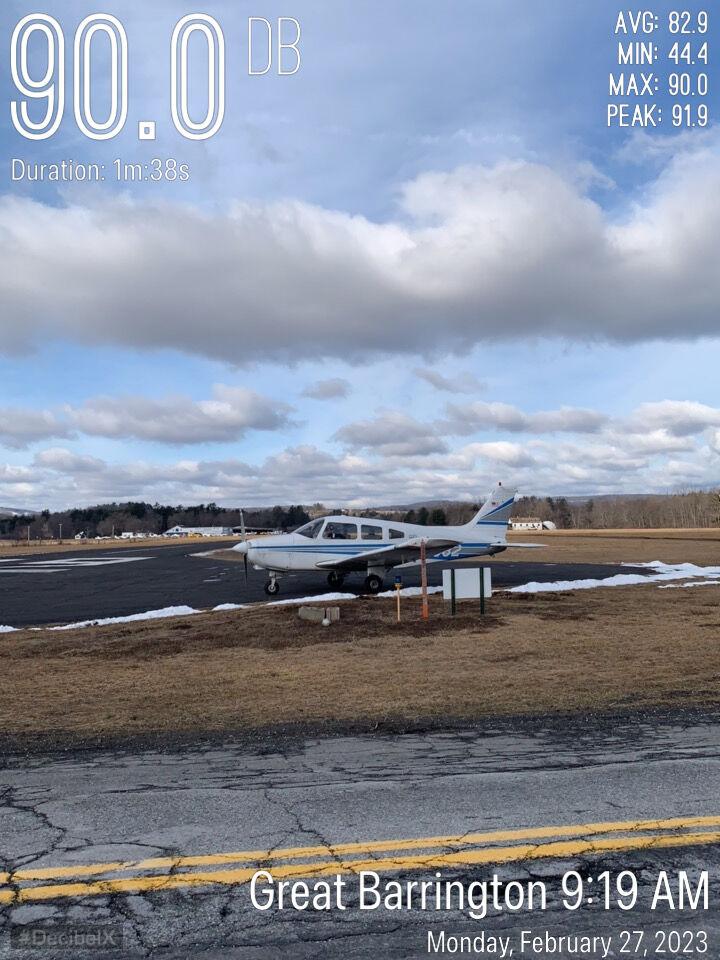 We also took sound readings of cars and trucks on Route 71 while standing in the airport parking lot and in the absence of background airplane noise.
We found comparable decibel readings between vehicles and planes, except during brief moments shortly after takeoff. It was not surprising that the highest sound levels registered while pilots were revving the engine before takeoff in a safety check known as a "run-up."
This analysis does not account for myriad factors including location, altitude and speed of the planes, whether one is inside of their house or out.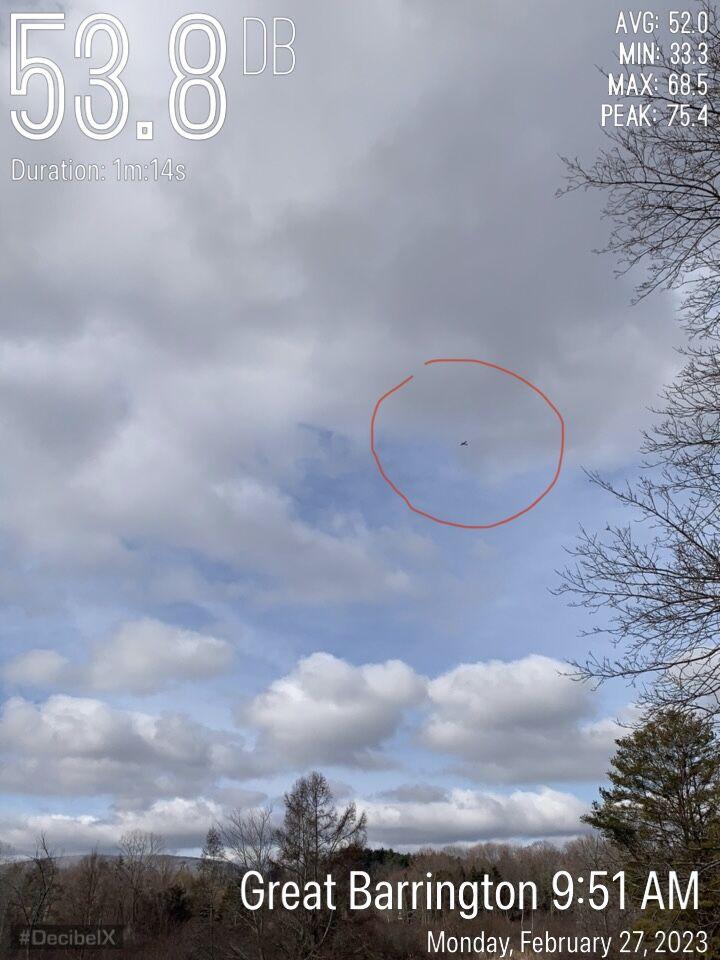 A decibel — abbreviated dB — is defined by Oxford Languages as "a unit used to measure the intensity of a sound or the power level of an electrical signal by comparing it with a given level on a logarithmic scale."
Noise and other concerns are driving a campaign by some residents against the nearly 100-year-old airport. Some have mounted a legal battle in state Land Court that threatens its operations based on the fact that its preexisting zoning status does not comply with town bylaws.
Meanwhile, the airport's owners have filed for a special permit to fix this status, and that process is ongoing.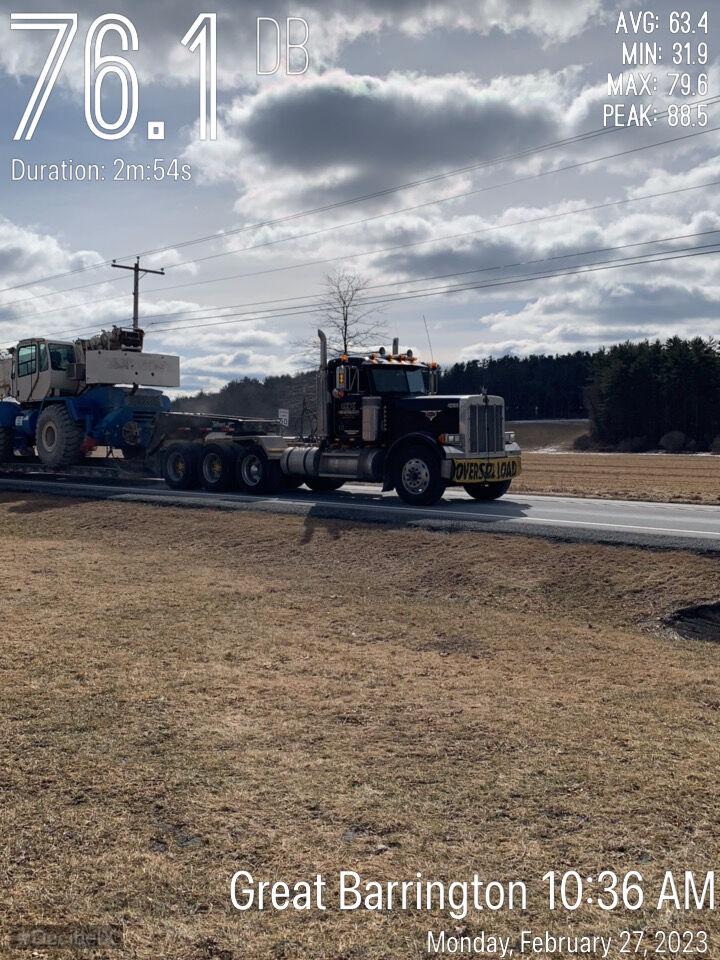 Sound and noise is also a matter of perception. Some residents said they love the sound of the planes. Others say lawn mowers and leaf blowers are more annoying, partly because their noise persists for a longer period.
Regardless, the airport tells pilots to keep noise to a minimum.
"We are located in an area that is zoned residential/agricultural and, although many of the homes were built long after the airport was established, we are trying to be sensitive to our neighbors' concerns about noise," says its website. "We ask that you review and use our good neighbor/noise management procedures when you come and go from the airport."
Those include operating "your aircraft safely, but always be aware of the noise being generated in the airport neighborhood."
And, "Keep run-ups sufficient and safe, but as short as possible," the site says.
The airport's opponents claim there are some pilots who are not abiding by these rules.
The Eagle used a Decibel X: dB Sound Level Meter iPhone app with its camera, which stamps the decibel reading at the moment the photo is snapped. It also includes the range as well as the date, time and location. The meter captures noise levels through a microphone and registers the sound/air pressure.
We chose Monday morning because the mostly clear and calm skies presented an opportunity for pilots and flight school students. Here are a few findings:
• Outside noise directly across Seekonk Cross Road near the east end of the runway registered briefly at 90.0 dB and peaked at 91.9 when a plane engine was revving during its "run-up" test;
• Standing outside on Baldwin Hill Road, about 1.35 miles southwest in Egremont, we found levels ranging from 40.4 dB to 57 dB as a plane flew within sight but not directly overhead;
• Standing in a field — off Pumpkin Hollow Road — that is approximately 1,700 feet from the west end of the runway, the levels briefly registered at a high of 77.7 dB;
• We also looked at vehicle traffic next to the airport on Route 71. A commercial truck measured at 76.1 dB as it approached. One car registered at 70.8 dB.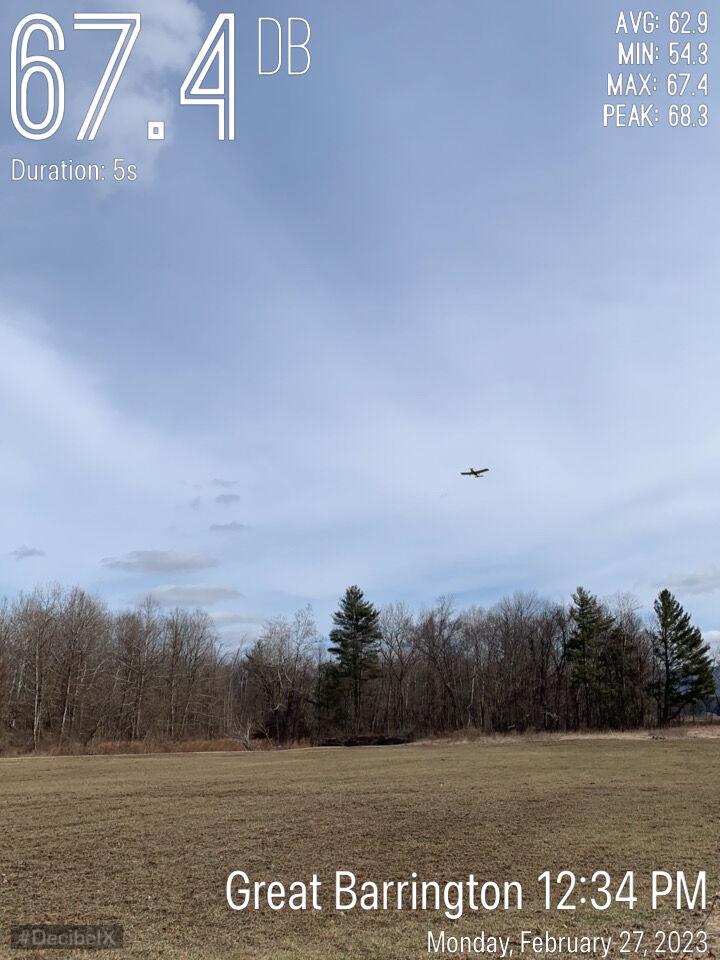 We do not pretend to have exact calibrations of distance and altitude of the planes. We know that takeoffs are generally louder than landings.
Other sounds and ambient noise that might have factored into these airplane sound readings at the different locations include distant traffic, a river, and a variety of noises coming from nearby households and fields. It might include some movement or possibly breathing by the reporter, as well. Some of this may have skewed some of the decibel averages.
But the decibel meter readings are in general alignment with a chart from Purdue University. It says a propeller plane flyover at 1,000 feet is typically 88 dB; a diesel truck at 40 mph and 50 feet away is 84 dB. It also says a food blender is 88 dB and both a garbage disposal and dishwasher are 89 dB.
A 2021 nationwide survey by the Federal Aviation Administration examined the annoyance factor of people who live near certain selected airports that have 100 or more flights per day.
It resulted in new data of the range of decibel levels from aircraft that annoys people. Though fewer people are affected by airplane noise than in the past, more are annoyed by it, according to the agency.
The FAA for decades has studied the effects of airplane noise, including for non-commercial flying. The agency recognizes that it's a nuanced problem.
"What may help explain this growing distaste for aircraft noise are changes in a range of factors including survey methodology, how aircraft operate, population distribution, how people live and work, and societal response to noise," wrote Tom Hoffmann, managing editor of the the FAA's magazine, "Safety Briefing," about the 2021 study.