GREAT BARRINGTON — This town's only laundromat will close Tuesday. It's not yet clear if another will take its place.
Karen Faul, the owner of Clean All Over Laundromat, said her landlord, Big Y Foods, is pulling what she called "a power grab." She said she has learned that Big Y's intentions are to open a laundromat in the space she has rented for the past 13 or 14 years, in the shopping plaza on South Main Street, across from the former fairgrounds.
"Everybody wants to know, 'Karen, what happened?'" said Faul, of Sheffield. "There's nothing illegal about it. There's nothing I can really do about it."
The Eagle reached out Thursday to Big Y at the company's Springfield headquarters and did not hear back. It's not clear what the company's plans are for the space.
Faul said she was notified by Big Y in June that the company would not be renewing her lease.
"I was shocked," she said. "I've never had an issue with them about anything. I wrote a few letters and said, 'Would you please reconsider?'"
She said she was told by a representative of Big Y that the company had other plans for the space.
Faul said she had spent months trying to relocate her laundromat north of downtown, in the Barrington Plaza on Stockbridge Road. But, she said putting in a new laundromat would have been too expensive for her and that she had encountered logistical problems involving gas hookup.
"And by this time, I knew I wouldn't be the only laundromat in town," Faul said. "I would have to compete with Big Y, and they would be bigger than myself. I would be in a new location. And, you know, people are creatures of habit. It's especially true in the laundromat business."
She said Big Y notified her that the company didn't want to buy her machinery or her business.
"So, basically, they were saying, you know, 'We're not going to pay you anything for having developed this business.'"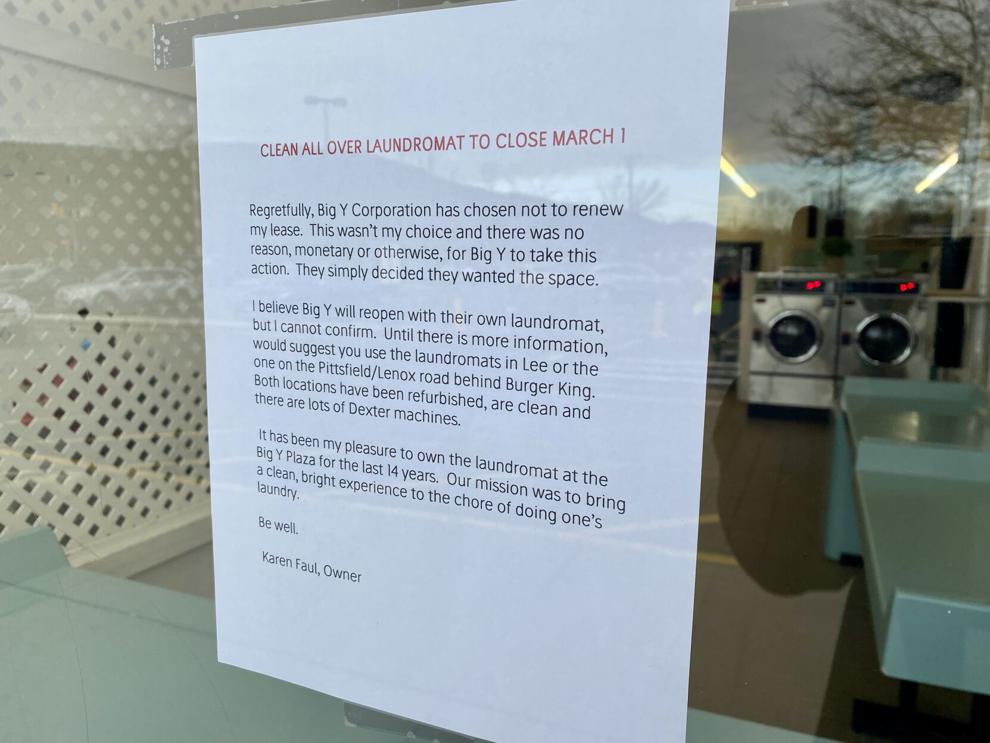 Faul, who is 80 years old and also works in sales for a supplier business for fine hotels, said income from her laundromat was part of her retirement plan.
"It's known to be clean," she said of her laundromat. "People come from 20 miles away because we're known as the cleanest laundromat in the Berkshires."
Customers only learned about the closing in recent days. Faul hung notices on her door and windows.
Steven Coe, of Great Barrington, said he is not pleased with how any of this has gone down.
"It's our only place to go and do our laundry," he said. "Big Y absolutely has every right to do this, but they didn't let the community know, didn't let anybody know this is what's going on or even what's going on."