GREAT BARRINGTON — In just a couple of summers, people will have a better place to park, and a safer trek to the Lake Mansfield beach with their armloads of supplies and passels of excited children.
They also will enjoy a newly overhauled recreation area that is more beautiful, and that protects the delicate ecosystem of this treasured recreation area. People will continue to be able to bike, stroll, fish and play on the road around the eastern side of the lake, but with engineering and new plantings that will fix drainage problems and excessive stormwater runoff.
After a decade of work, study and struggle, the Lake Mansfield Improvement Task Force has begun drafting design plans for one of South County's most popular beaches. Task force members, town officials and engineers presented the plans Monday, now about 50 percent complete, via Zoom.
Construction is estimated to start in spring or summer 2023, depending on funding and permits. The town will seek grant money for the project, estimated at about $1.78 million.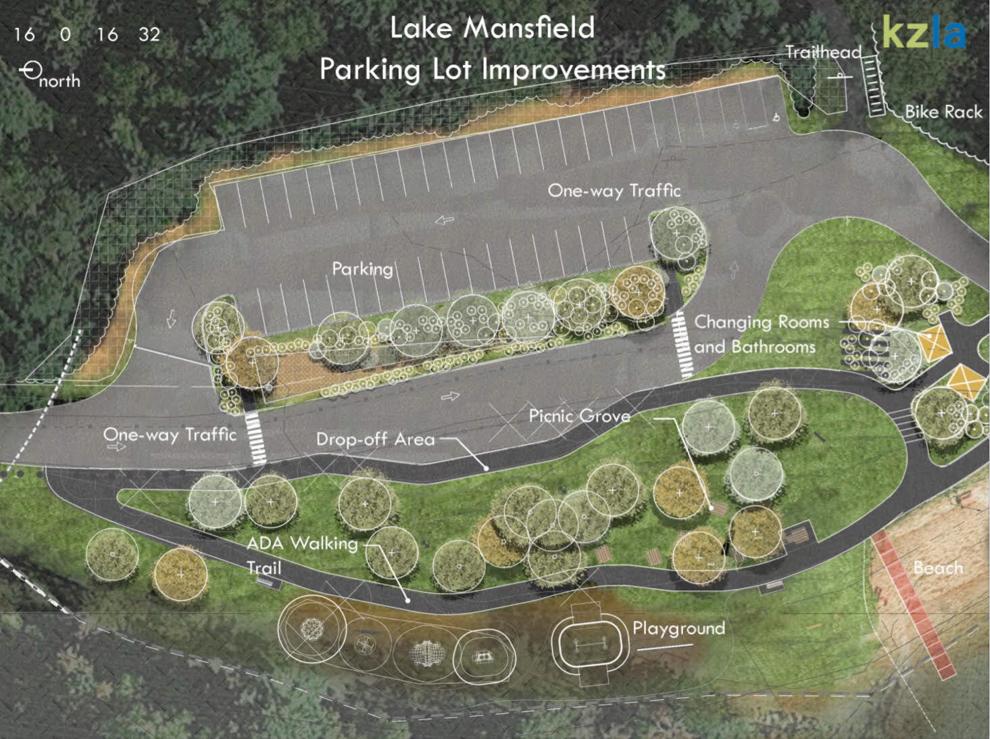 The plans likely will need to be tweaked as the project goes through permitting, said Danielle Desilets, senior landscaper for Kyle Zick Landscape Architecture.
The new parking area near the beach will feature a one-way traffic pattern and reorganized lot for more efficiency. It will have a bike rack near the trailhead to the wooded walking trails to the east, and a landscaped island with two connectors to the beach — one of those will be handicapped-accessible. The beach area will be improved with a drop-off lane, changing rooms and bathrooms, a picnic grove, a new playground and a walking trail nearby.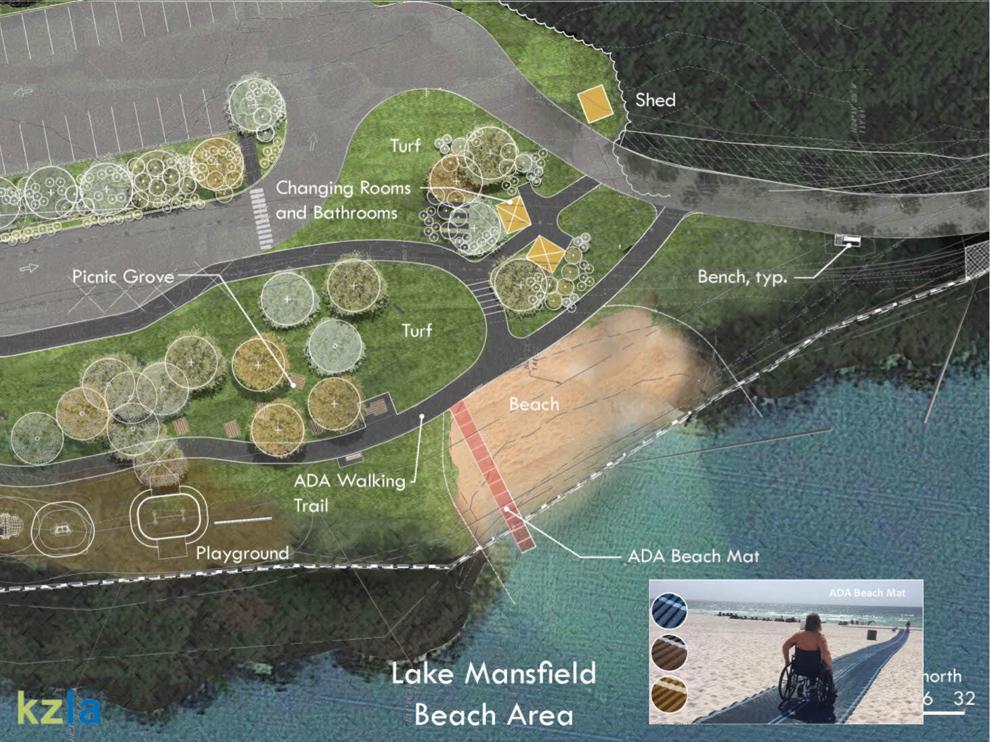 Town Planner Christopher Rembold said the town still has to make a number of decisions, including what materials to use for the path surface, and about private property rights of way.
The town has struggled for years to maintain the narrow, two-lane road that long has been crumbling into the lake. It always was a popular place to walk and fish, and for drivers looking for a shortcut to the south side of town.
Ultimately, it became too expensive and complicated to overhaul the road, given the sensitivity of the ecosystem and the extensive permitting required. Voters in 2020 decided to close the road to vehicles, except in emergencies, despite some resistance to losing the shortcut.
But, the town made the case that the road had to frequently be repaved because of drainage problems that continued to tear it apart, and that this was a Band-Aid solution while the road and lake continued to suffer.
Rembold reminded everyone of the problem that got them here.
"Despite the really great thick coat of asphalt now, if drainage and stormwater isn't dealt with, we'll be back in this spot," he said.