LEE — Several hundred people joined in the celebration of the town's 1777 incorporation, an annual tradition that has drawn locals and folks from around the region for years.
Starting Friday and ending Sunday, for three days of Founders Weekend — organized by the Lee Chamber of Commerce — a wide range of activities, food and games keep the attendees busy and entertained. But many may not realize that the fun-filled weekend plays a major role in funding charities in town and regionwide.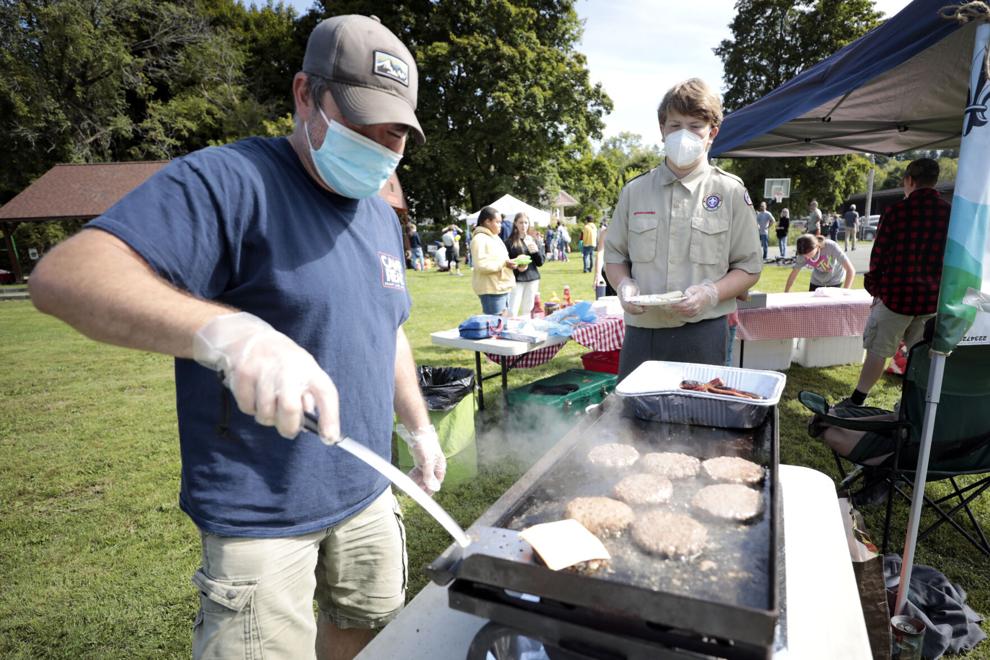 Once the colorful Founders Day Parade has passed by on Saturday, crowds began to meander up and down the streets of downtown Lee browsing through the stores and tables set up on sidewalks and in Church Park.
One popular nonprofit booth on Saturday was the Lee Historical Society booth.
Photos: Lee Founders Weekend returns after a three-year hiatus
Lee held its annual Founders Hometown Parade, part of the town's Founders Weekend which returned after a three year hiatus. Saturday, September 17, 2022.
To purchase these photos and more, click here.
According to society member Caroline Young, they don't raise a whole lot of money, but they do raise awareness about the society and local history.
"We don't really raise much, maybe a couple hundred dollars," she said. But for them, the exposure is why they participate. Young said that many people stop by to say "hi" to their old friends, former teachers and others who congregate there to catch up.
They raise money through the sale of books focusing on the history of Lee, locally-written cook books, prints of photos from the town's past and coffee mugs that display some of those historic photos on the side.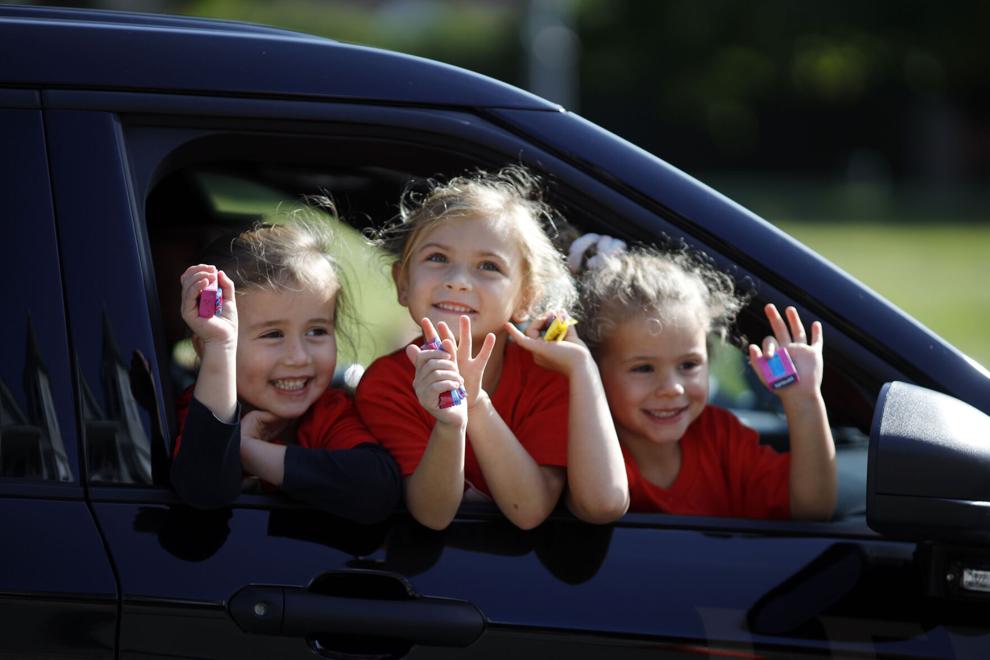 Young said the Historical Society members pay dues, which are used to fund the club's activities.
Most of the nonprofits seem to approach Founder's Weekend the same way, using member dues to fund the club, and Founders Weekend fundraising goes to external charity efforts.
The Sons and Daughters of Italy operated a food tent, selling Italian grinders, cookies and hot dogs, with about a dozen volunteers prepping, cooking and selling the food to long lines of hungry fairgoers. They normally sell out of food by about 1:30p.m., and typically sell about 255 grinders.
Ellen Scolforo Whittaker, president of the Sons & Daughters of Italy Lee Lodge #1620, said the member's annual dues pay the bills, and fundraising goes to charitable groups and pay dues to the regional and national organizations. She said there are roughly 70 members.
Last year, $1,500 raised went to two scholarships paid to local graduates to help pay for college. They hope to be able to do the same this year.
"We do our best to help in our way," Young said. "And this is a big thing for us to put on."
Across the street, the booster club for the Lee Middle/High School Lady Wildcats soccer program was set up selling raffle tickets to win $20 in lottery tickets — 6 for $5. They also sold bottles of water for $1 each.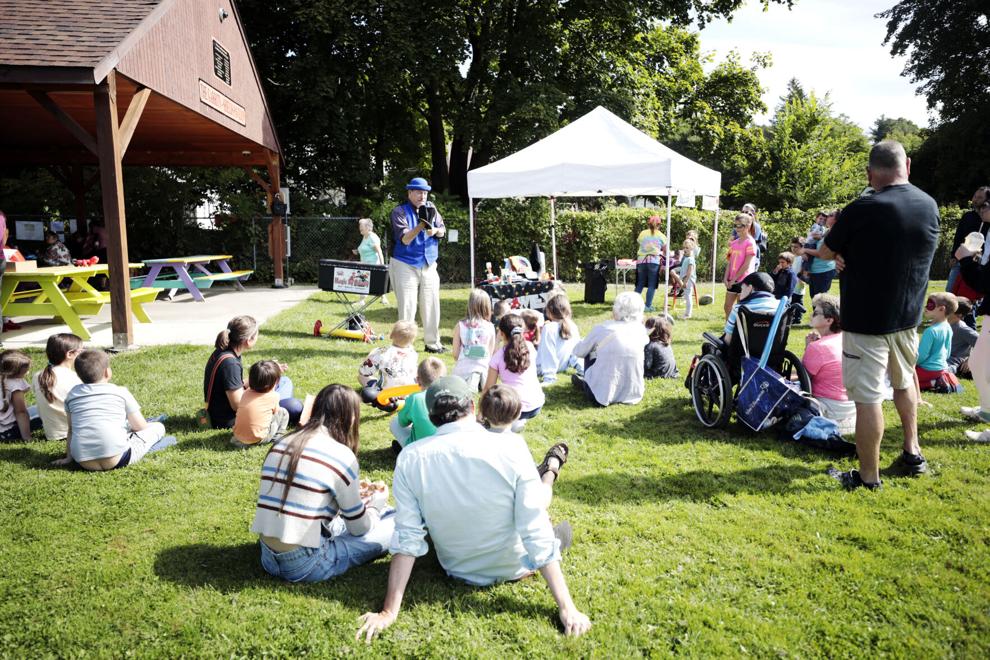 Treasurer Jeanine Salvatore said the group raised $250 Friday night and almost $200 on Saturday. The funding will go towards paying for players' uniforms, warmup gear and the senior banquet.
"It keeps the team in good shape," Salvatore said. "The booster club, the community and the families keep the team very well supplied."
Just down the sidewalk from there, the Knights of Columbus were also busy selling raffle tickets to win a $300 pack of lottery tickets, $10 per ticket.
Club trustee Ed Forfa said the money will pay for scholarships to high school graduates that are going to a Catholic college.
"Last year we raised $1,500, and issued two scholarships for $750 each," he said. "We're hoping for the same this year, although it has been a little slower than last year, so far."
One event that was missed by many this year was the duck race, in which rubber ducks are launched into the river and whoever picks the winner gets a prize.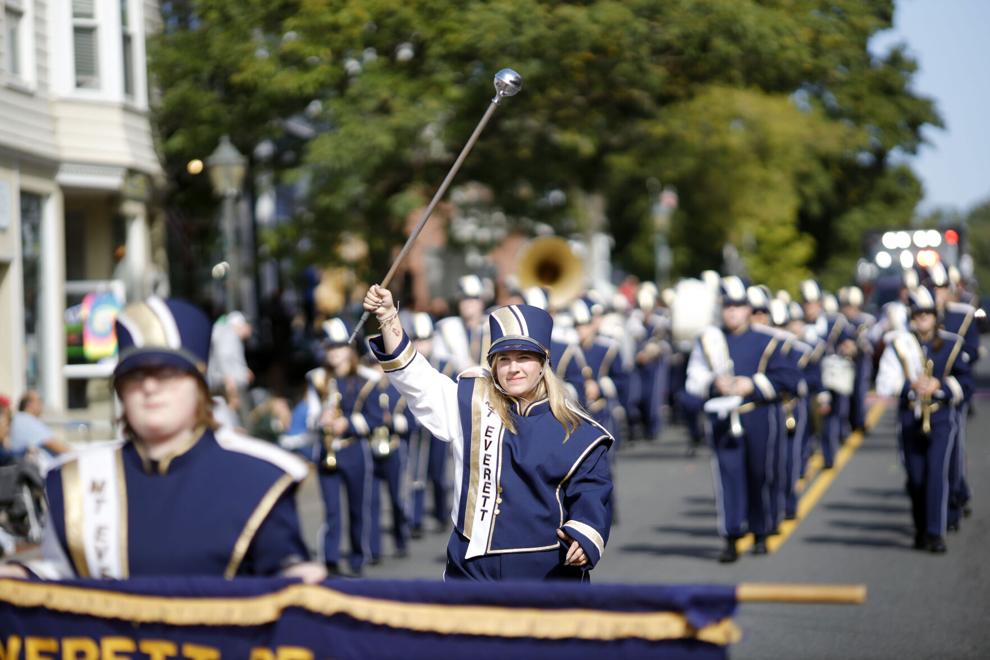 According to Tom Swift, treasurer of the Lee Lions Club, the money raised with the duck race goes to the Massachusetts Lions Club Eye Research Fund.
"We couldn't make it happen this year because most of our key people happened to be out of town this weekend," Swift said. "But we hope to be back next year."