LEE — Saul and St. Paul, they are one in the same, right? Newland Archer: a weakling or victim? What price would Sethe have to pay to have the words "Dearly Beloved" inscribed on her daughter's tombstone?
Maggie Curtin, of Tyringham, mulls over such matters these days because, well, she can.
This is the same Maggie Curtin who managed to graduate from the former Williams High School in Stockbridge in 1963 using the one and only skill she had perfected.
"I learned to cheat," she said.
She couldn't read. Throughout her school years, she had a name for her dilemma: She called it "stupidity."
Only years later — many, many years later — would the educator Zoe Dalheim, of Lee, provide Curtin with an accurate term: "dyslexia," a disorder that involves difficulty in learning to read or interpret words, letters and other symbols. Dyslexia has no bearing on general intelligence.
"Trust me, Maggie is extremely bright," said Dalheim, who co-founded what is now called Literacy Network of South Berkshire, a Lee-based nonprofit that provides free, one-on-one tutoring sessions for adults.
This year, LitNet is celebrating its 30th anniversary. One of its first student-tutor pairings was Curtin and Andrew Pincus, of Lenox. They continue their reading adventure to this day in a weekly book group, now joined by Dalheim.
Nowadays, educators have an understanding of dyslexia, how to detect it and how to accommodate for it. But, in Curtin's day, that was not the case. As a child, she had memorized how to spell her name. She had memorized certain words. She knew the ABCs, but she didn't know how to pronounce each letter.
She kept this all to herself. No one knew. Not her three siblings, not her parents. Only years later would it come out that her father, too, a machinist, had undiagnosed dyslexia, as did her grandfather. Dyslexia, considered a neurobiological condition, can be passed down from a parent.
And so, what was school like?
"Hell," said Curtin. Whenever it came time for her class to choose teams for spelling bees, she was always the last one picked and the first one to have to take a seat. Whenever each student had to take a turn to read aloud, she would have to decline. Her teachers thought she was just being troublesome.
She recalls how, in high school, the staff would post in each classroom an ineligibility list of students whose grades were too poor for participation in extracurricular activities. Her name was always on it.
'I thought my life was over'
Her self-esteem? "Zero," she said. But, they let her graduate. And upon graduation, she went straight to the paper factory, to Sheaffer Eaton, in Pittsfield. "And I took my mother with me so she could help me fill out the application," Curtin recalled.
She got the job. Eventually, she met a man and they married. They would not have children. Curtin, still in the dark about dyslexia, had feared bringing a child into the world who might suffer like she did.
But, that factory job she had, she loved it. She worked on a machine. Switches, levers, buttons, the daily routine — these were things she understood and that would not draw attention to the secret she kept. But, then, out of the blue, after working at Sheaffer Eaton for 25 years, the company closed its doors.
"I thought my life was over," she said.
In fact, it had just begun. With the unemployment agency trying to persuade her to take secretarial jobs, she finally said it: "I can't read."
This is when she met Dalheim, a specialist whose life mission at the Adult Learning Center in Pittsfield was to figure out why certain struggling adults were walking away from educational opportunities. Typically, as was the case with Curtin, it was to avoid shame and humiliation from an undiagnosed learning disability.
Dalheim had Curtin take an IQ test.
"Her IQ was very high, higher than mine," Dalheim recalled. But, still, Dalheim determined that Curtin's reading skills were at a seventh grade level, and they were only that high because Curtin had managed to memorize words through sight memory. She had little ability to correlate sounds with letters. She recognized, for instance, the word "hot," but if you were to take the "t" away, those two remaining letters might as well have been hieroglyphics.
For two years beginning in 1989, one hour a day, Dalheim and her colleague Peg Smith worked with Curtin, teaching her the sounds of vowels and consonants.
"The day I had the breakthrough that I was going to be able to read, I cried for a long time," Curtin said. "The pain of all those years needed to be released."
Enter Andy. In 1991, Dalheim and Smith started LitNet. At the time, Pincus, a writer whose specialty is classical music (he writes for The Eagle, among other publications), had lost a lot of work after the recession of the late 1980s.
"As I was thrashing around for something to do, LitNet came into being," he explained. "Since work was slow in coming back and I had made my living with words, I decided to give back by helping someone else with words." He volunteered. Dalheim had just the person for him.
He and Curtin hit it off soon enough.
At first, Pincus chose books based on a combination of simplicity and quality. That included "Hiroshima" and "The Bridge of San Luis Rey." It was slow going in the early years. Certain words would trip Curtin up, such as "though," "through" and "thought."
Back then and continuing to this day, each week they meet having read a couple of dozen or more pages on their own. Pincus has Curtin write a synopsis for each week's reading and has her read the synopsis aloud. And so begins the discussion.
"I cannot put into words the love and respect I have for Andy — all the time he has donated to me to better my life," Curtin said.
Pincus eventually would encourage Curtin to apply for a job at the Country Curtains warehouse in Lee. She did, and happily worked there until her retirement.
A morphing relationship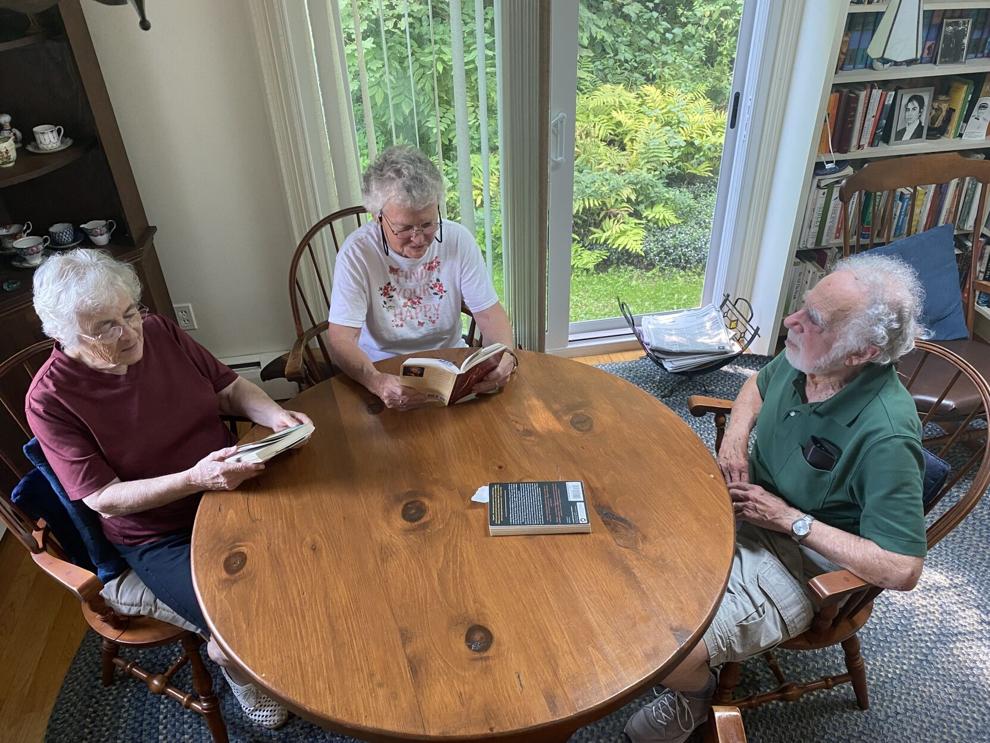 Their relationship has morphed from tutor-student to one of fellow readers — a book group. They've read about 50 books in all over the span of 30 years. In recent years, Dalheim joined the book group. She now hosts it at her house.
"Maggie often picks up on things that I don't catch," Pincus said.
They've read "Anna Karenina." They continue to question the motivations of Newland Archer in "The Age of Innocence." Somewhere along the line, Pincus popped the big question: Do you want to read the Bible? It was a lifelong dream of hers. Yes, the two spent 2 1/2 years reading the Bible cover to cover.
"I've listened to people tell me what the Bible says," said Curtin, "and now I can say what the Bible says."
Other favorite books? "The Shipping News."
"I tell people, you got to just get through the first 100 pages," Curtin said. "You have to make sure they're on their way to Canada."
"Beloved."
"The love of a mother, what she goes through —" Curtin said, awestruck over the horror endured by the former slave, Sethe. They're reading it again now, this time with Dalheim.
"The Reader."
Curtin realized before Pincus did that the main character, Hanna Schmitz, suffered from a disability that explained everything: Hanna was illiterate.
"It was obvious," Curtin said.