MONTEREY — The election recall papers landed on Rep. William "Smitty" Pignatelli's desk Thursday, their first stop on a long trip through the Legislature to make a law that some residents think would solve problems at Town Hall.
They want to use the provision to oust Select Board member John Weingold, a law-and-order stickler, a lawyer who spars with other officials out of frustration and leaves meetings in a huff over Open Meeting Law breaches.
He says he wants tight adherence to state laws that govern Town Hall procedure and that keep its business in the public light, rather than "behind the scenes." He says the problems long predate his arrival on the board last year.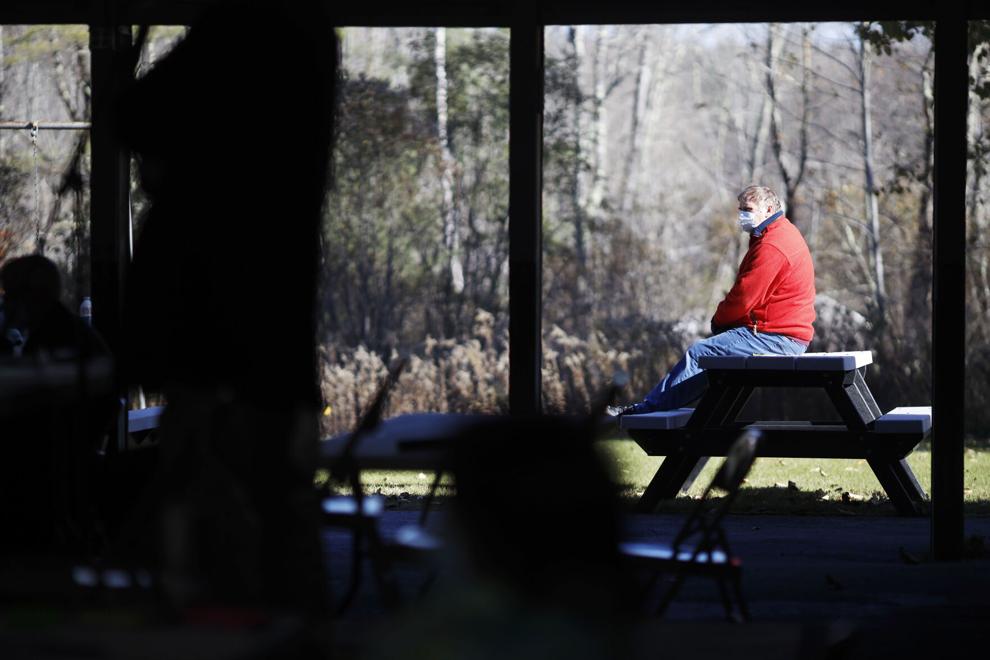 They say Weingold is petulant, essentially is throwing tantrums and leaves meetings when he doesn't get his way. They say he is part of a cabal trying to get rid of Town Administrator Melissa Noe. They say he is not doing his job.
Now, Weingold is boycotting the board until its chairman resigns. In a statement issued Wednesday to Chairman Steven Weisz and member Justin Makuc, Weingold said he won't attend board meetings unless Weisz steps away. Weingold says his reasoning is, in part, because Weisz and Noe are controlling the meetings and their topics, "and the executive functioning of SB and its deliberations have been destroyed."
This latest salvo in an ongoing battle at Town Hall follows turmoil that includes a growing number of complaints lodged by town officials and staff against each other. The allegations range from hostile workplace to intimidation to false accusations.
Residents have factionalized, with each side launching smear campaigns against certain employees and each other, in an atmosphere where public records requests are weaponized, according to documents obtained by The Eagle. The volume of requests recently grew so unwieldy and politicized that the board last week appointed a second records access officer in addition to Noe.
Now, as Pignatelli sets Monterey's election recall law in motion, some residents still question the purity of the petition used to bring it to a successful vote at a special town meeting two weeks ago. These are questions that neither Pignatelli, nor state elections officials, can answer.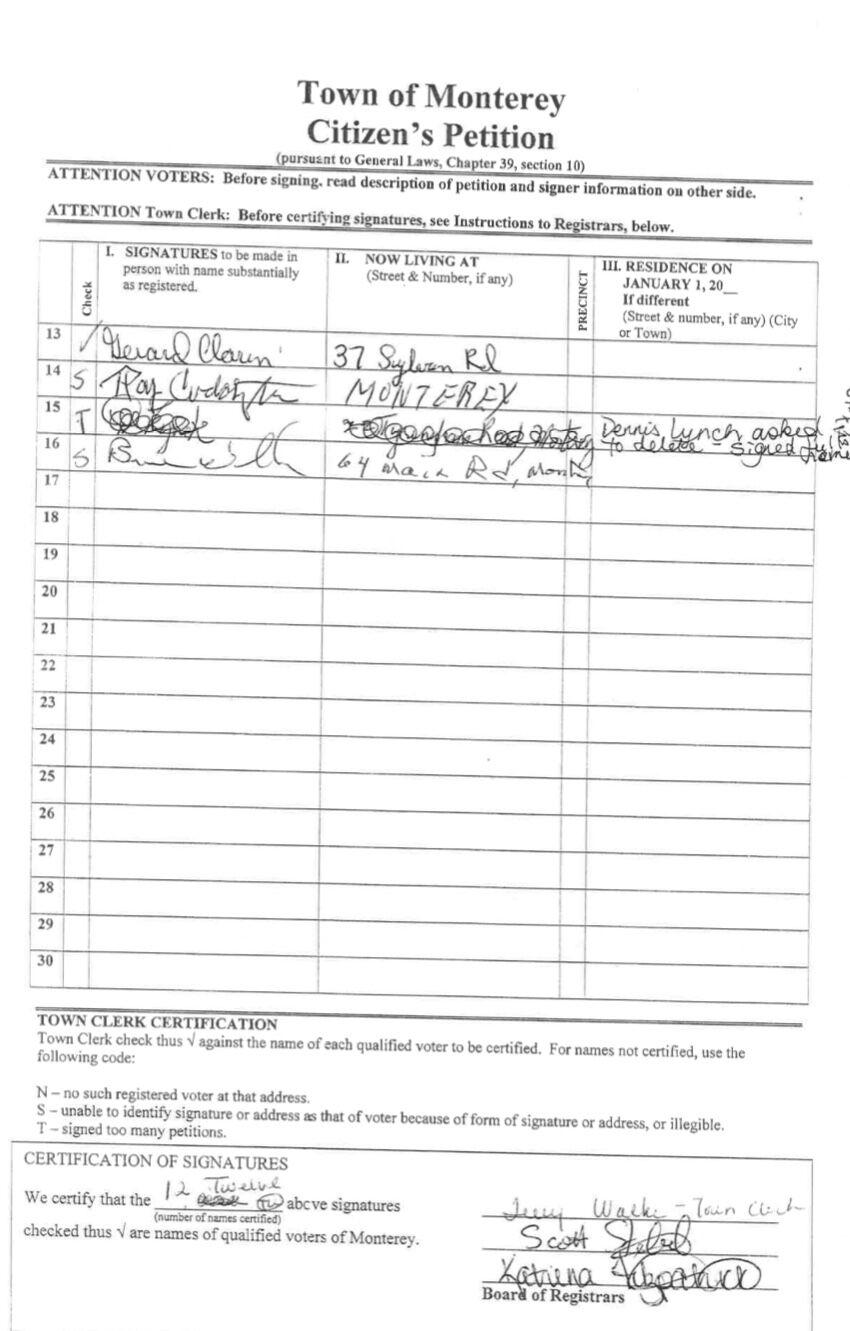 Only the Berkshire District Attorney's Office, or possibly the state Attorney General's Office, can decide whether the scratching out of a name and the printing of another constitutes criminal defacement, said Pignatelli and a spokesperson for the Elections Division in the Secretary of State's Office. And in this case, the DA's office told Town Clerk Terry Walker that this is a matter for Monterey Police. The DA's office does not investigate misdemeanors, said Andrew McKeever, the office's director of communications, it only prosecutes them.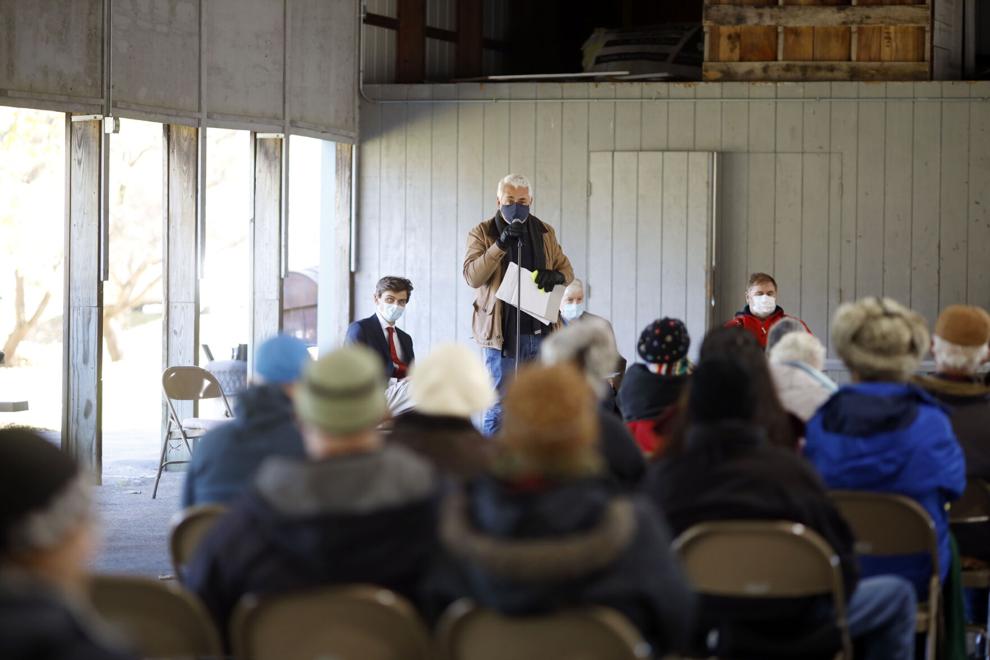 And if police determine that the petition was defaced illegally, then it likely would make the town meeting vote "null and void," Pignatelli said. The provision has to be reviewed by counsel for the House of Representatives before lawmakers weigh in, he noted.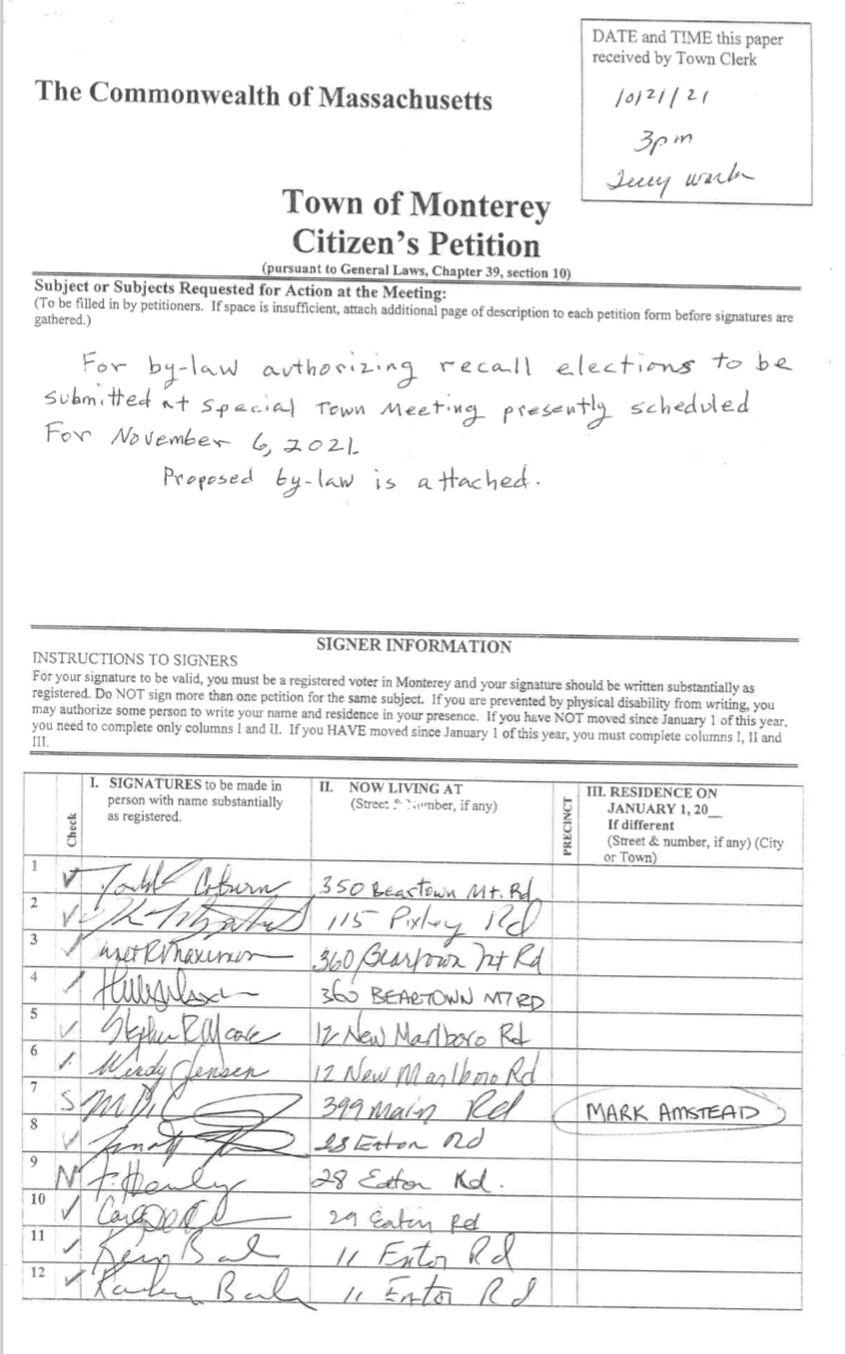 Whatever happens, Pignatelli said that creating this special act of the Legislature can take awhile.
"It's one of 7,000 bills that were filed," he said, adding that Otis has an election recall bill pending in the Legislature that arrived there several months ago.
Clashes continue
It was a July 21 incident after a board meeting that set off a flood of grievances. Countercomplaints of false accusations also flowed in, and all of it freshly has illuminated more than a decade of boiling tensions at Town Hall.
The number of complaints and issues for a soon-to-be-hired investigator, after the first one quit last week, has reached 20.
Amid all of this came 83 certified signatures on a petition this month for an election recall provision. This would allow an attempt to oust Weingold, and also give residents the ability to fire an official in the future.
The legitimacy of the recall petition quickly came into question. Resident Ellen Coburn — with her husband, former Select Board Chairman Don Coburn, she led the recall initiative — admitted to scribbling out the name of someone she said had signed twice. Noe said she herself had printed a name next to the signature on the petition to make it legible.
Walker reported this to the general counsel at the state Elections Division, who said defacement can be a criminal offense, and that the matter had to go to law enforcement.
Weisz said he has not been made aware that the defacement concerns are legitimate, after a state elections official told Walker that it could constitute criminal interference with a petition. But, the rancor continues. Weingold's boycott added a new, and unusual, layer, he added.
"Given the fact that Mr. Weingold has refused to sign payment warrants and contract and town meeting warrants, I don't know if anyone is going to know the difference between a work stoppage and what he's currently doing," Weisz said. "If he's so unhappy, then he should just resign."
Weingold suggested that Weisz resign, and noted the reason he sometimes refuses to participate.
"I don't sign the [payment] warrants because I don't believe some of the payments and contracts are legal," he said. He said town workers and contractors always get paid.
He also objects to this town business not being conducted in public.
"We're paying the bills of the town — this isn't a private company paying bills," he said.
Weisz and Weingold did agree on one thing — that toxicity and division in Monterey mirror the current political and social climate across the U.S.
It's not the first time residents pushed a Monterey board member to step down. In 2019, residents circulated a petition for Don Coburn's resignation. The absence of an election recall law prevented his ouster.
Coburn told The Eagle it was then that he researched what it would take for the town to get a recall law on the books.
"I drafted the first [bylaw attempt] three years ago," he said. "There was resistance to it. It started out not to do with [Weingold] at all."