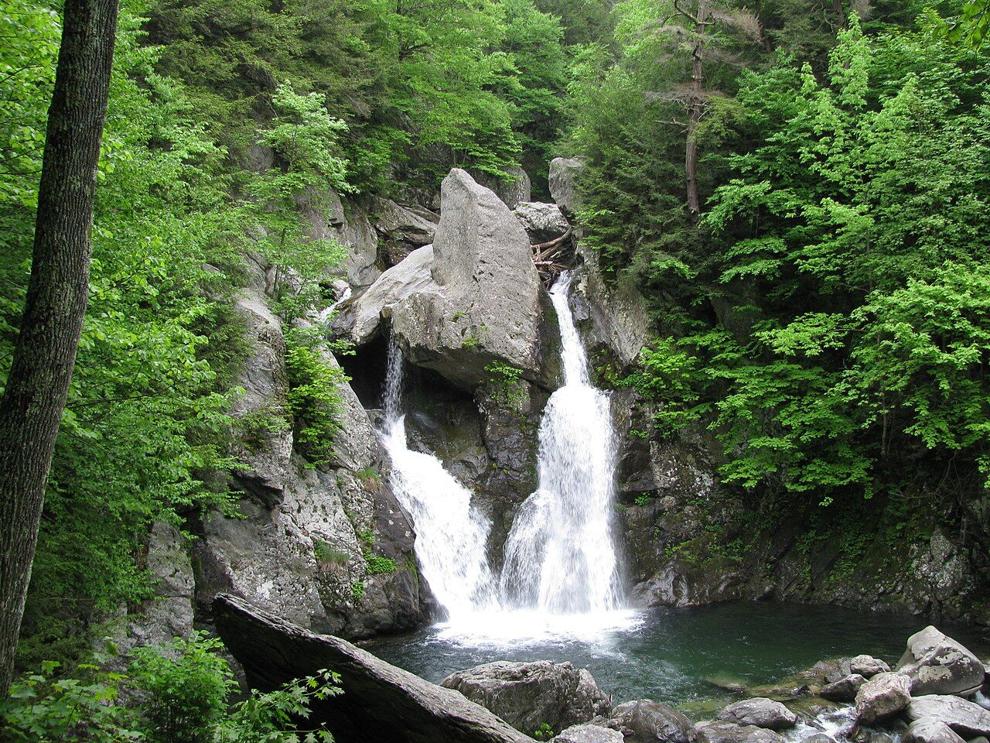 MOUNT WASHINGTON — Would-be swimmers near the state's largest waterfall can no longer ignore the signs or the cops.
Barriers now block the access point that for decades made it possible to swim at Bash Bish Falls, which straddles the Massachusetts and New York state border. The hiking trails are open, though.
Officials from the state Department of Conservation and Recreation, which manages the park, installed the barriers to stop the lawless, all-too-common, beloved and long-forbidden summer ritual of locals and visitors alike — one that had also grown unruly at the start of the pandemic as people flocked to the site for relief.
The authorities finally had to act.
"It was always a dangerous place," said Brian Tobin, the town's Select Board chair and acting police chief. "People ignored all the signage that said 'no swimming.' With the pandemic, the traffic got a lot worse. People were using it as a swimming hole, and that just wasn't a good idea."
In an attempt to control the volume of people and keep them from parking on the road — also forbidden — the state has also built a new parking lot with limited spaces, Tobin said. People also can park at the New York state side's Taconic State Park.
Tobin says he understands how disappointing it is to those who yearn to swim here.
"Yes, it's a shame, but at the same time it was absolutely necessary," he said. "People always slip and fall. We don't have the resources to police it and keep people out [of the water]."
The falls, amid the parks gorges and ravine forest, are one of the highlights of the 424-acre Bash Bish Falls State Park. Its pools have held a romantic sway over South County residents for generations.
For some, it's proved deadly.
In August 2018 a man died after slipping and falling into the water on a Friday evening. It took rescuers two days to locate his body. Apart from a multitude of injuries over the years, earlier Eagle reports indicate that his death was the first of the century. Three deaths in the 1960s prompted the state to patrol the park and prohibit swimming.
Then came a pandemic whose initial lockdowns drove more people into nature. Crowds went into the water, alarming authorities. People reported litter and vandalism.
The state still wants people to enjoy the park, but safely, and respectfully.
"Bash Bish State Park is a unique beautiful geological wonder of Massachusetts, and we encourage people to responsibly visit," said Adam Morris, the DCR's Field Operations Team Leader for the agency's Beartown Complex in the Southern Berkshires. "It's now a scenic viewing area where people can come look at the wonderful resource that we're protecting."
Morris encourages visitors to "know before you go" by checking the DCR's website, and reading about the park.