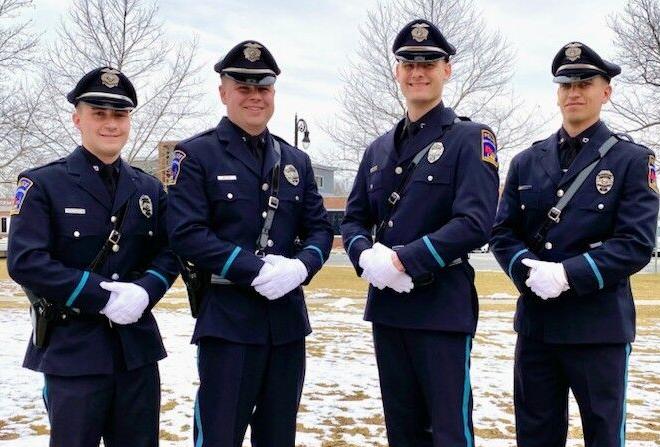 LEE — The police department is welcoming four newly minted officers, bringing the force to one less than capacity.
According to Lee Police Chief Craig DeSantis, the new graduates of the rigorous five-month Western Massachusetts MPTC 65th ROC Police Academy training regimen are moving into their on-the-job training for another 14 months, or 240 hours.
DeSantis said the department has had a shortage of officers for couple of years, starting when officers around the nation were departing. DeSantis is seeking a fully trained officer; if not, he said, the department will find a candidate and send him or her through the training program.
"That (staff shortage) was difficult to absorb, but our current staff are highly dedicated individuals, and they all stepped up top do what had to be done, but it was not sustainable," DeSantis said. "So we're very happy to have our new officers on board."
On Friday, the day of graduation, the Lee Police Department, staff members and friends of the graduates celebrated their achievements. The new officers are Kenneth R. Retzel, William Zeininger, Matthew Tietgens and Michael Kahn. They were sworn in as officers of the department in a ceremony on Monday.
In Memorial Hall, the Lee Police Department outgrew its space years ago, its chief says. Meantime, the three buildings the fire department uses are old and have structural problems. Residents may soon be asked to invest in a new building housing both departments.
All range in age from their early to late 20s, DeSantis said. Retzel is a native of Lee, a Lee High graduate and lives in Lanesborough. Zeininger is also a native of Lee and still lives there. Tietgens is a Lee High graduate who was raised and lives in Lenox. Kahn was raised in Pennsylvania and lives in Lee.
The new officers boost the number of patrol officers to nine. There are also three sergeants, one administrative assistant and Chief DeSantis.
"This means we're better able to serve the town's needs and do a better job of keeping everyone safe," DeSantis said.