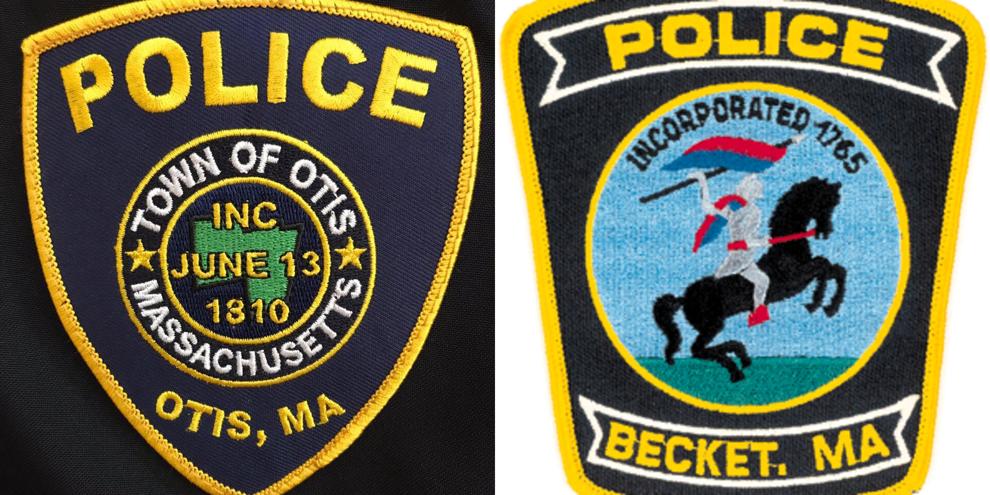 OTIS — Officials in Otis and Becket soon might decide to ask a single chief to run their separate police departments, easing a financial burden on both and putting a spirit of neighborliness into action.
After losing its full-time police chief last year, Otis began looking for a replacement. At the same time, officials in the towns began considering whether Becket's chief, Kristopher G. McDonough, could guide public safety oversight in both communities, allowing him to earn more in an expanded role while reducing personnel costs to the individual towns.
Otis officials are scheduled to review a draft agreement Tuesday. Brandi Page, the Otis town administrator, said the idea of sharing a chief is gaining support locally. She expects a decision within weeks.
"There's been a very positive response to the sharing, just with our Select Board beginning to talk to people about it," Page said Monday. "It's a win-win."
William Caldwell, the Becket town administrator, said sharing McDonough with Otis would trim salary costs in his community as well as benefit its neighbor to the south, on the southeast side of Berkshire County.
"We're trying to help a neighbor out," Caldwell said. "I think it was both sides thinking it might potentially work."
The draft agreement calls for McDonough to continue to officially work for Becket. Half the salary for the new shared post, which is to be determined, would be covered by Otis in monthly payments though an "intermunicipal" agreement allowed by state law. In the 2020 calendar year, McDonough was paid $78,382, according to Becket's annual report.
The chief's time would be split equally, though the agreement states that duties arising from police responses might, at times, affect that balance.
McDonough would be empowered to oversee the current Otis Police force, which includes two full-time members, including Daniel Hamill, its former chief, and four part-time officers, according to Page.
The agreement says sharing a chief benefits towns that "are desirous of making the most efficient use of their respective town resources, while at the same time providing sound and effective policing services to its residents."
Caldwell said Becket officials will take up consideration of the agreement again if it moves forward in Otis. The Otis Select Board is scheduled to interview McDonough at 10 a.m. Thursday in the Town Hall conference room.
McDonough became chief in Becket about eight years ago, rising from a patrol officer, Caldwell said, and has served the town for about 13 years. He holds a required state certification.
​​"He is qualified to do everything he needs to do," Caldwell said.
Unlike the Hampden County towns of Chester and Blandford, which merged their police personnel into one unit, Otis and Becket would continue to operate distinct departments.
Hamill, the former full-time Otis chief, temporarily is serving as acting chief, Page said. She said Hamill elected to reduce his involvement.
"He wants to stay with the department, but wanted to step back and not be in the role as chief," she said.
Page said she believes that the sharing agreement might help both towns retain McDonough as a chief, by broadening his duties geographically and paying him more.
"I think it's a chance to stay competitive," she said. "You can have an experienced professional in place."
Of the two towns, Becket is slightly larger in population (1,931 for Becket in the 2020 census; 1,634 for Otis) and in square miles (47.8 for Becket; 38 for Otis).
Page said Otis received "a few" applications for the job it posted in November. She said she advised the applicants that the search is on hold while the town explores the shared-chief option.
Fine print in the draft agreement calls for Otis to share equally in the cost of repairing and maintaining the Becket cruiser McDonough uses, unless it is clear that the vehicle's age is to blame. If the plan is adopted, Otis would supply McDonough with all the police equipment he uses in that town and, for legal liability, would be considered an Otis employee when serving in that town.
The chief alternately would charge the towns when refueling the Becket cruiser, the draft agreement says.
The Otis Select Board will discuss the draft in the meeting that starts at 6:30 p.m. Tuesday in the Otis Town Hall Conference Room. A link to attend the meeting via Zoom is available on the town's website.