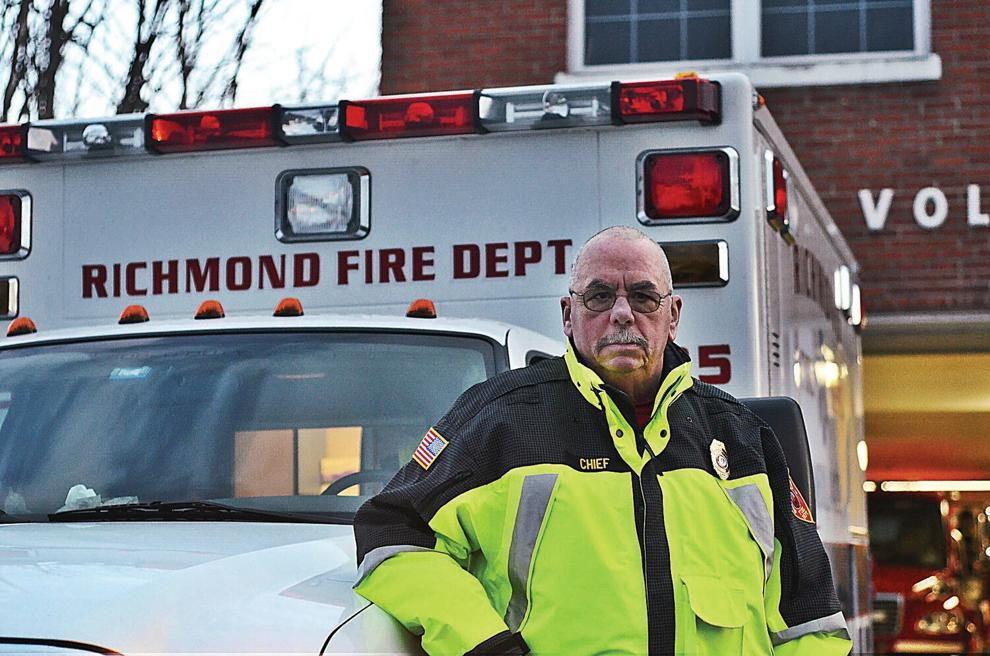 They already share a fire department and chief.
Now, responding to a national shortage of volunteer EMTs, Richmond and West Stockbridge are weighing a partnership by adding two full-time professional firefighter/EMTs.
The goal: To improve emergency response times for their combined single ambulance service and fire department.
At a joint Select Board meeting this week, a proposal to use potential three-year "Safer" grant money from the Federal Emergency Management Agency for the EMT partnership won enthusiastic support from board chairmen and members.
The backstory
In March 2020, after the departure of West Stockbridge Fire Chief Peter Skorput, the two towns agreed to share Richmond Fire Chief Steven Traver for a one-year trial.
At the May 2021 annual town meeting, Richmond voters approved extending the retirement age for Traver, who had turned 65. Two months later, both towns extended the shared-services venture for an additional two years.
"Chief Traver has been transformative over the past year," West Stockbridge Board Chairman Eric Shimelonis said in July 2021. "The changes have been manifold with amazing saves, maintenance and training. We'd wholeheartedly like to keep this arrangement going."
Richmond Selectman Roger Manzolini concurred, telling the West Stockbridge members: "We're pleased to hear you're very satisfied, as we are."
What's at stake
At Tuesday's select boards meeting, Richmond Town Administrator Danielle Fillio pointed to the countywide shortage of volunteers able to respond to ambulance calls, noting that, at times, response times to emergencies can approach or exceed an hour.
She said that startup costs are minimal because Richmond already has the self-funded ambulance service vehicle at its fire station, so all that is needed to start a formal shared service is to staff it.
The additional cost for two full-time EMT members would be $132,503, including salaries and benefits, most likely grant-funded by FEMA for three years, said Richmond volunteer firefighter and EMS Director Austin White, a full-time firefighter in Lee. If awarded, the towns would have to fund the positions themselves for an additional three-year period.
The major cause of the volunteer EMT shortage is the high turnover rate, White explained. "It's not a field that everybody is willing to go into, let alone stay a long time," he said, citing working conditions and increased costs to obtain and maintain the required certification.
The current eight volunteers have day jobs elsewhere, so it is difficult to obtain their services during daytime hours, requiring mutual aid responses into Richmond and West Stockbridge from multiple ambulance services — County Ambulance, Action Ambulance, Lanesborough, Lee, Great Barrington, Lenox and even from Chatham in Columbia County in New York.
"We're pulling in ambulances from everywhere," White said. While the National Fire Protection Association recommends an eight-minute response time, the typical wait time in the two towns is at least 20 to 30 minutes.
Two current Richmond volunteer firefighters are about a month away from completing their EMT training, he noted, so they would be on deck for the potential full-time staff positions from 8 a.m. to 4 p.m. weekdays. At other times, the ambulance, which is fee-funded, and firefighting response would be handled by Traver and volunteers.
What's next?
"It's a win," West Stockbridge Select Board Chairman Eric Shimelonis said, "if this is the seed that's going to lead us into a more professional future. As a starter, this is fantastic. Relying on volunteers is precarious." And Richmond Select Board Chairman Neal Pilson called it "a very worthwhile project for both towns."
The FEMA money looks very likely, according to White. He noted that the grant request has made it to the third round of the application procedure.
"We're looking really good for the Safer grant," he declared.
"From what I'm told, we're the poster child in the state for regionalizing and districting," White told the select boards. "Everybody's looking at us right now."
Awards are expected to be announced starting May 30. The money would arrive no later than Sept. 30.
If by some chance the grant doesn't come through, the two towns would split the $132,000 annual cost to hire the two firefighter/EMTs.
Fillio, the Richmond town administrator, said she was "pretty comfortable" with any increase in the town budget needed in case the partnership isn't grant-funded. She also noted that the fully staffed ambulance service could provide mutual aid to nearby communities, which would yield income fees to the town.
Shimelonis called the partnership proposal "the best of all worlds" for West Stockbridge, since "essentially, an ambulance has fallen out of the sky that we get to use. This is what the consultants we've engaged have prescribed for us." His board colleagues, Kathleen Keresey and Roger Kavanagh, agreed.
After formal approvals by each select board, a draft agreement would be prepared by the town counsels for the two communities.