SANDISFIELD — A woman here who owned a mountain coveted for decades by climbers far and wide never quite had the resolve to shoo them away. So, when the opportunity recently presented itself, she sold it to them.
How significant is this?
"This is huge," said Jeff Squire, of the Western Massachusetts Climbers' Coalition, based in South Hadley.
"I've been eyeing it, like, forever," said Christopher Beauchamp, a climber from New Haven, Conn.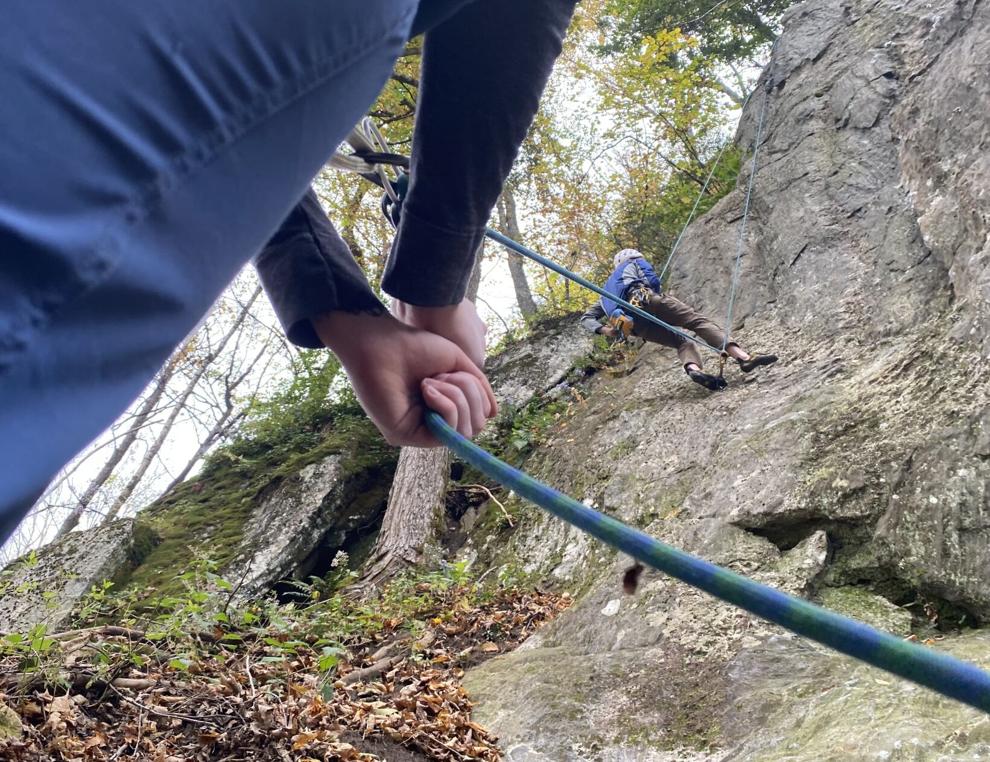 "In the scope of the climbing world," said Russ Allen, a climber from Great Barrington, "buying a property like this is somewhat similar to finding a gold mine."
Attention climbers: For a suggested donation of $5, have at it. After two years of preparation, Hanging Mountain opened to the public Oct. 2. (Hikers and bird-watchers, you, too, are welcome.)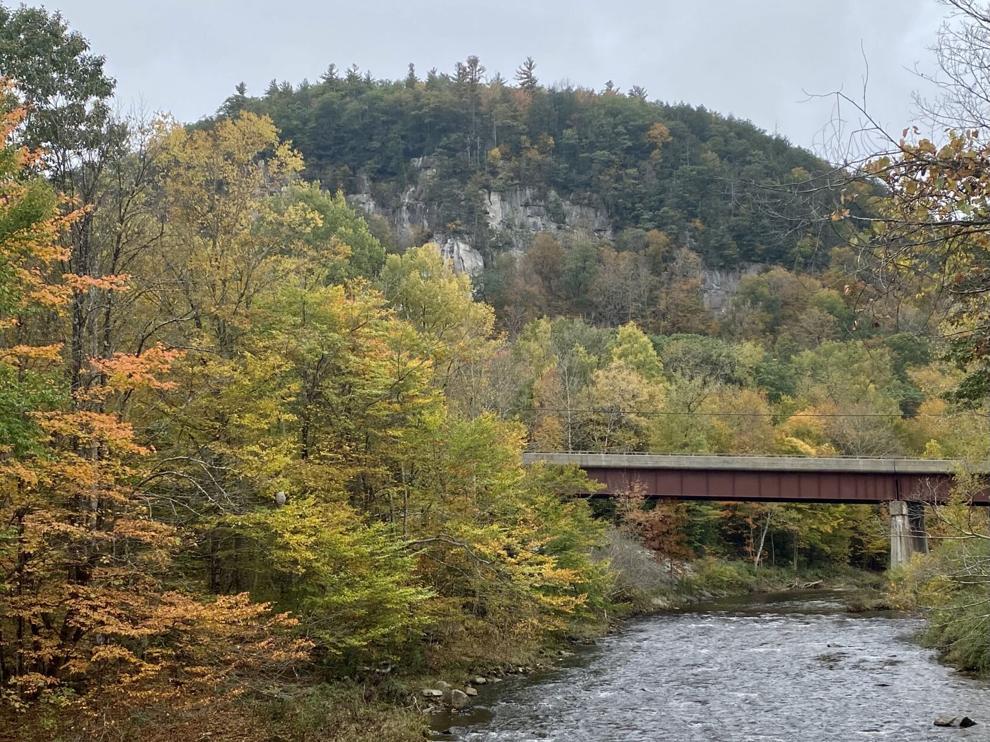 Located just off Route 8 along the Farmington River, 3 miles from the Connecticut border, the 14-acre site has as its centerpiece a striking, 1,000-foot-long series of southeast-facing cliffs — 10 distinct crags in total — ranging in height from about 60 feet to 240 feet.
The climbers' coalition purchased the property from Dana Ehninger for $101,500 in November 2019. Funding also came from two other climbing advocacy groups, the Ragged Mountain Foundation, of Southington, Conn., and the Access Fund, of Boulder, Colo.
Since the purchase, volunteers have carved out an unpaved parking area in the woods. They've blazed a half-mile walking trail system, including boardwalks to protect vegetation from foot traffic. They've built an extensive series of stone steps leading to staging areas from which climbers can begin their ascent.
They've also created dozens of climbing routes, each one mapped and named. For instance: Copious Stone, Trouble Weighs a Ton, Transcendentalism, Fever Dreams, Benign Masochism, Cloud Nine, Pet the Rabbits, It Takes an Ankle, Ghost Buddy Heights, Green New Deal and She Persists.
Sections of the mountain that are unstable remain roped off.
More trails and climbing routes are in the works, all within the parameters of a host of permitting authorities. Nearly all of the property has been designated by MassWildlife's Natural Heritage & Endangered Species Program as containing "priority habitat," meaning that several rare species have been identified there.
The volunteers also have built two kiosks at the trail entrance and have posted maps, rules and a statement in all-capital letters that climbing is dangerous and that visitors assume their own risk.
The official address of Hanging Mountain is 43 S. Main Street (Route 8). The entrance resembles a private drive, marked only by a street number on a small blue sign anchored to a stone post. Still, as inconspicuous as it appears, word is out. Climbers have been coming from throughout the region, Squire said.
"Accessing cliffs to climb in the Northeast has always been tenuous," he said, "because most often the land is on private property, and climbing has always sort of happened under the radar and was 'hush-hush' and has remained that way."
For instance, access to the popular Farley Ledges, in the Franklin County town of Erving, never has been a sure thing for mountain climbers. The private landowners have closed off access numerous times when they felt that it was being overrun or misused. The climbers' coalition merely owns a parking lot near that site, but none of the climbing rock.
Hanging Mountain, therefore, is unique in Western Massachusetts. Now owned and maintained by climbers, it might be the biggest find in Northeast climbing in decades.
'This sort of thing just doesn't happen'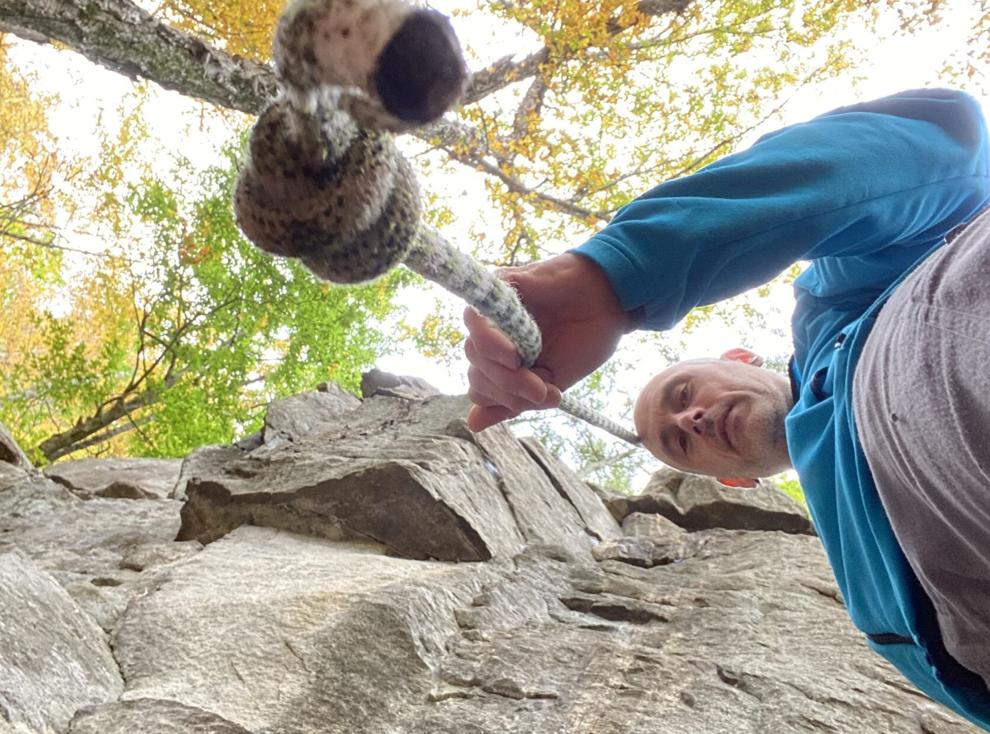 "This sort of thing just doesn't happen, especially in the Northeast," said Beauchamp, who has helped prepare Hanging Mountain for public use. "For one thing, there just isn't that much rock in this part of the world, or it's kind of rinky-dink."
Allen said the closest comparable sites for Berkshire climbers are the Gunks (short for Shawangunks) and the Adirondacks, both in New York, and the collection of crags along Rattlesnake Mountain near Rumney, N.H.
Hanging Mountain, jointly managed by the climbers' coalition and the Ragged Mountain Foundation, is made up of granite, granitic gneiss and large pockets of metamorphic rock known as friable schist. The routes created are geared to traditional climbers (those who prefer setting chocks and other safety devices into the rock as they climb, and removing the gear as they descend) and sports climbers (who clip into pre-installed bolts).
Despite the fact Hanging Mountain never officially was opened to the public, the land had not been posted to keep away trespassers. Climbers have had their way with it for decades, albeit in small numbers. The Gilson family, which owned the cliffs through the 1990s, was said to have given climbers permission when asked.
Beauchamp admitted that he has been climbing it for the past 10 years. Squire, too, has been climbing it through the years. They have found rope anchors embedded in the rock that appear to date to the 1970s.
When Ehninger purchased the property 20 years ago, the sale included 23 acres, a house and the dramatic cliffs a few hundred yards out her back door. She said she was advised by her insurance company not to permit climbing. Because of the geography of the site and the way sound travels there, she occasionally would hear climbers. Most of her efforts to keep them away were halfhearted, she said.
Ehninger, an artist and retired schoolteacher, has retained 9 acres and the house after the sale. She said she has been impressed with the work done at the site and the volunteers doing the work.
"Have you met them?" she asked. "These guys are great."
The volunteers of Hanging Mountain hosted a grand opening celebration Saturday, at the American Legion just up the road.
The money Ehninger made on the sale has been a big plus, yes. It's too soon to tell the extent to which her backyard becomes a climbing mecca and if her new neighbors will detract from her property value.
But, she noted that she soon will turn 60 and has thought about her legacy. She figured that helping to ensure that a beautiful place remains open to the public would be good on the eternal resume.
"And I still have the best view ever," she said.