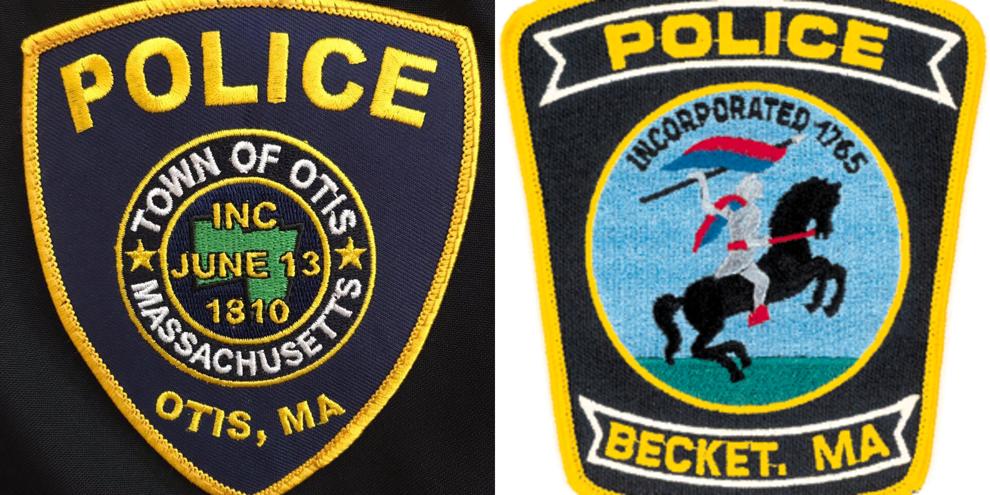 OTIS — The "whereas" in a draft agreement, it turns out, was persuasive.
"WHEREAS, Becket and Otis are desirous of making the most efficient use of their respective town resources, while at the same time providing sound and effective policing services to its residents ..."
On Monday, Becket's police chief, Kristopher G. McDonough, started work at the helm of the Otis Police Department, after officials in both towns agreed to jointly pay for an expanded position.
At the outset, McDonough will work Wednesdays and Fridays in Otis and Tuesdays and Thursdays in Becket — and split his time between the two on Mondays. The agreement that both towns signed in February allows for flexibility, given the unpredictable nature of police work.
"He's going to get a feeling for what works best," said Brandi Page, the Otis town administrator. "It's going to take awhile for it to shake out."
McDonough has been chief in Becket since 2012 and began work there as a patrol officer in 2008.
McDonough said Monday he plans to range out and meet Otis residents and officials in his first weeks and get to know members of the town force. He said he entered the profession wanting to help people.
"I'm big on community policing — and big on my officers working with the community," he said in a phone interview Monday. "At the end of the day, that's who we serve and why we're here."
The chief, a Lee native and current resident, is 43 and has worked in law enforcement since 2001. He said he'll have an open-door policy, adding, "I'm very easy and open to talk to."
In a January interview, William Caldwell, Becket's town administrator, said the idea of sharing a chief with the town to the south appealed financially, and was for the common good.
"We're trying to help a neighbor out," Caldwell said at the time. "I think it was both sides thinking it might potentially work."
Under the agreement, McDonough will earn $97,500 a year, plus benefits, and will report to Page and Caldwell. In the 2020 calendar year, McDonough was paid $78,382, according to Becket's annual report.
He remains an employee of Becket, with Otis paying Becket to cover 2.5 days of work by McDonough each week, as well as half the maintenance and repair costs for a cruiser owned by Becket that the chief will drive.
The agreement took effect this week and runs through the end of this fiscal year. Both towns must say by May 15 whether they want to renew the agreement, and for how long.
In Otis, McDonough will oversee a force that includes two full-time members, including Daniel Hamill, the town's former police chief, and four part-time officers, according to Page. Hamill decided to step away from managing the department, she said.
Becket is slightly larger in population (1,931 for Becket in the 2020 census; 1,634 for Otis) and in square miles (47.8 for Becket; 38 for Otis).
McDonough said he believes Otis and Becket have similar needs, in terms of policing.
Otis is a somewhat wealthier town, according to one measure used by the state Department of Revenue's Division of Local Services. The "equalized valuation per capita" of property in Otis was $428,278 in 2020, compared with $325,373 in Becket.
That figure divides the value of property in a community by the number of residents.
The DOR says that in 2019, Becket had per capita income of $29,001 a year, compared with $35,22 in Otis.