GREAT BARRINGTON — The Tax Collector's Office kept mailing out notices saying tax payments were overdue for an abandoned property at 111 West Ave. — and to please pay up.
Cue the sound of crickets.
Those tax bills — sent to Stonegate Condominium Trust at PO Box 1090 — were returned to sender. The total damage for back taxes for this account at Town Hall? It's $197,775.60 — and growing.
Like the weeds that have climbed the porch and block the sun.
A Stonegate trustee closed that post office box, some time in the last five years, after remaining trustees of the 1980s timeshare property resigned and walked away in 2017. So did the manager.
Only the owners, possibly hundreds of them, are left.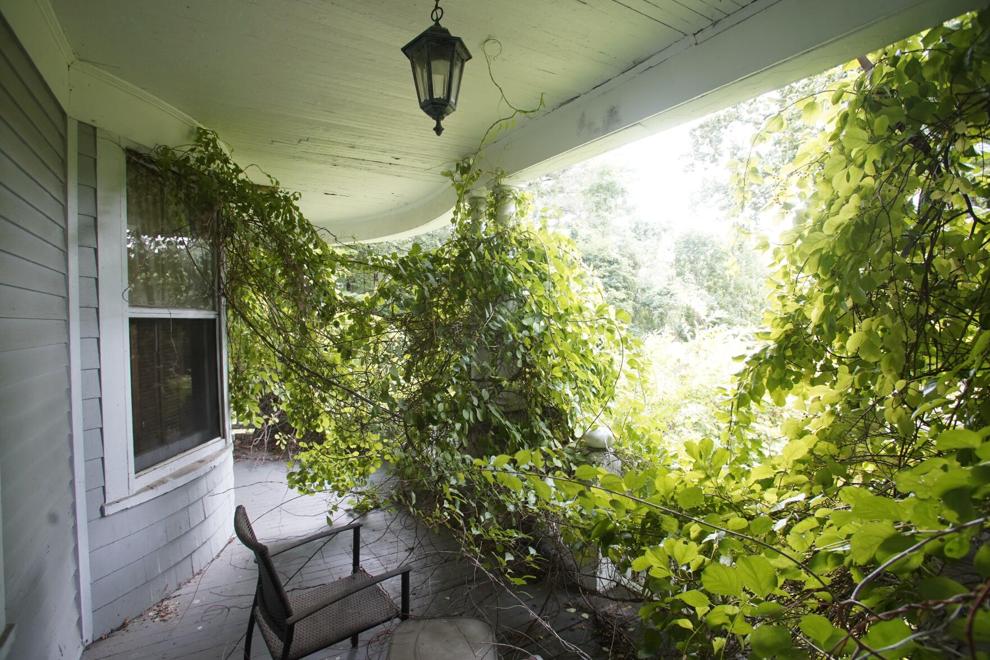 The mansion's history is as tangled as the vines. The math helps explain why.
In a timeshare property, an owner buys the right to use a particular unit for a set amount of time. If all eight units were sold in weekly intervals, the property could have had 416 owners.
But the developer of Stonegate apparently sold 49 percent more intervals than that, with a deed for each one recorded at the Southern Berkshire Registry.
The sheer volume of the ownership has bogged down the town's quest to take title to the property, though it hasn't given up.
One former share owner and former president of the Board of Trustees explained how it came to be. The developer sold new shares before clearing existing ones.
"He would sell on Saturday and Sunday and run to the register's office on Monday," said Alan Harwick, of Whitehouse Station, N.J. That developer, Robert Hatch, did not return messages seeking comment about this.
"He had more than one owner for a share and so it greatly inflated the number of people participating in it, and it just became an economically insurmountable effort to try to untangle everything because of the tax titles."
The town's case in state Land Court went inactive in 2020 due to the title mess.
The town has hired two title examiners to sort it out. The first one quit after realizing what they'd gotten themselves into.
The second title examiner has just wrapped up. He's found 620 titles with matching timeshare owners.
A timeshare is typically a vacation home in which more than one owner agrees to use it for a specified time during the year. In this case, the owners are scattered throughout a handful of states. At some point, everyone just stopped paying assessments for taxes and maintenance. It is unclear whether there was an official and legal vote in June 2017 — as one trustee who feared personal liability wrote in his resignation letter — to stop maintaining the entire timeshare property.
That year, a steady stream of quitclaim deeds rolled in, as owners released their shares. It is unclear how many owners paid the trust to jump from what they saw as a sinking ship — but many did.
The trustees and agents walked away. The master deed indemnified them from being held financially responsible. They recorded official resignations with the Registry of Deeds — just in case.
The entire operation released its responsibility — and dropped it squarely on Town Hall.
It's been costing the town money, labor and state Land Court fees. Those fees are about to increase as the case gets reactivated after a stall.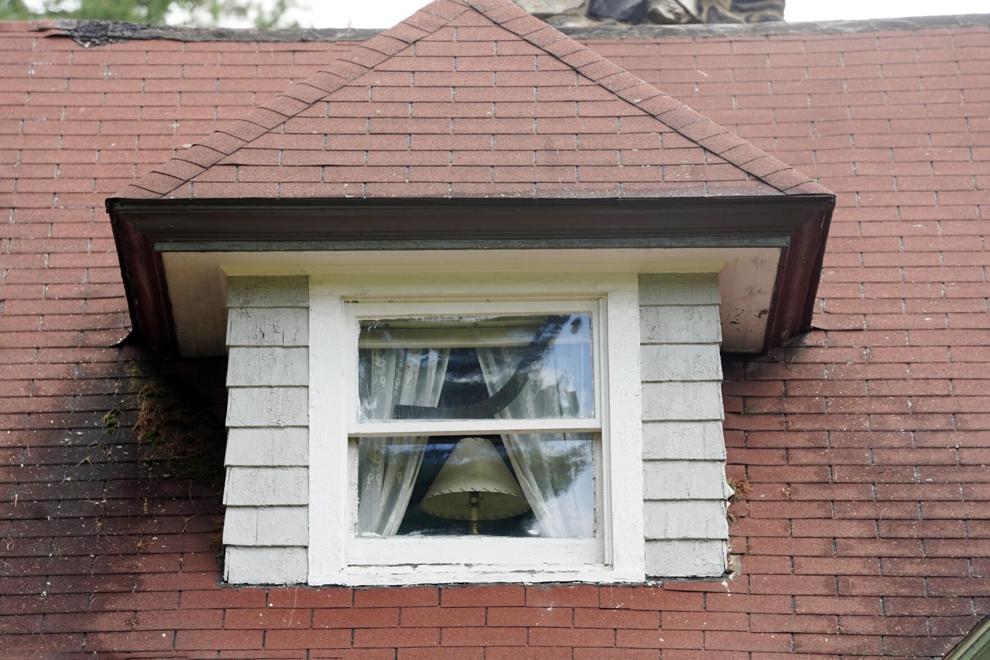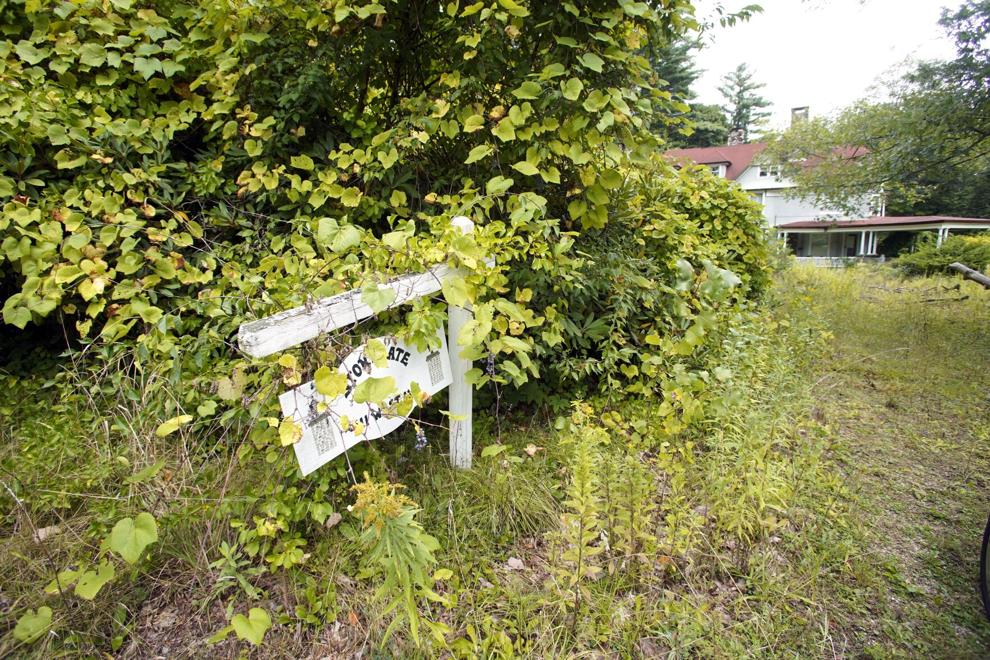 "It's gotten really confusing," said town Tax Collector Alicia Dulin, who took the job a year ago.
The overdue taxes have snowballed since 2008, when the owners stopped making payments on the individual units, Dulin said.
The town grouped them together in 2016, the same year the property went into what's known as "tax title" – the name for the stage before the town takes ownership, in which the town places a lien on the property.
Two separate land parcels that are part of these back taxes are each valued at $20,000. Those back taxes date to 1991, Dulin said.
If all the taxes aren't paid, Stonegate goes into foreclosure, the town takes ownership, and then keeps it or sells it at public auction. The property is valued by the town at $788,100.
"I don't think that anybody at this point is going to come forward and pay it off," Dulin said.
Early troubles
A review of the recorded documents with the register reveals Stonegate's problems date farther back.
In 2003, the trustees said they didn't have enough to cover expenses and taxes, according to correspondence and newsletters obtained by the paper. Their reasons for this problem over time were a dwindling owner base and owners who stopped paying assessments.
The trust took at 49 owners to small claims court in Great Barrington between 2005 and 2013, according to court records.
In 2004, the trust was already a year behind in property tax payments. The trustees mostly blamed Hatch. They wrote in a report to owners that Hatch had left the trust with an approximately $30,000 unpaid tax bill.
"The constant arrearage is the consequence of several key factors: a large unpaid tax bill left to Stonegate by the developer when management was transferred to the owners in 1992," said the report of Stonegate's 2003 annual meeting.
Due to this, "Members present agreed that the trustees should actively and aggressively market rental of open weeks," the report said. Trustees also said they would start imposing a "special assessment" of $200 twice per year.
Federal liens were placed on the property for unpaid 2006 through 2011 taxes.
Even earlier troubles
By 1988, Hatch, the Stonegate developer, had sold 300 weeks of time at all eight units — at around $7,000 a week — according to Eagle archives. Hatch said there were about 105 timeshare intervals remaining.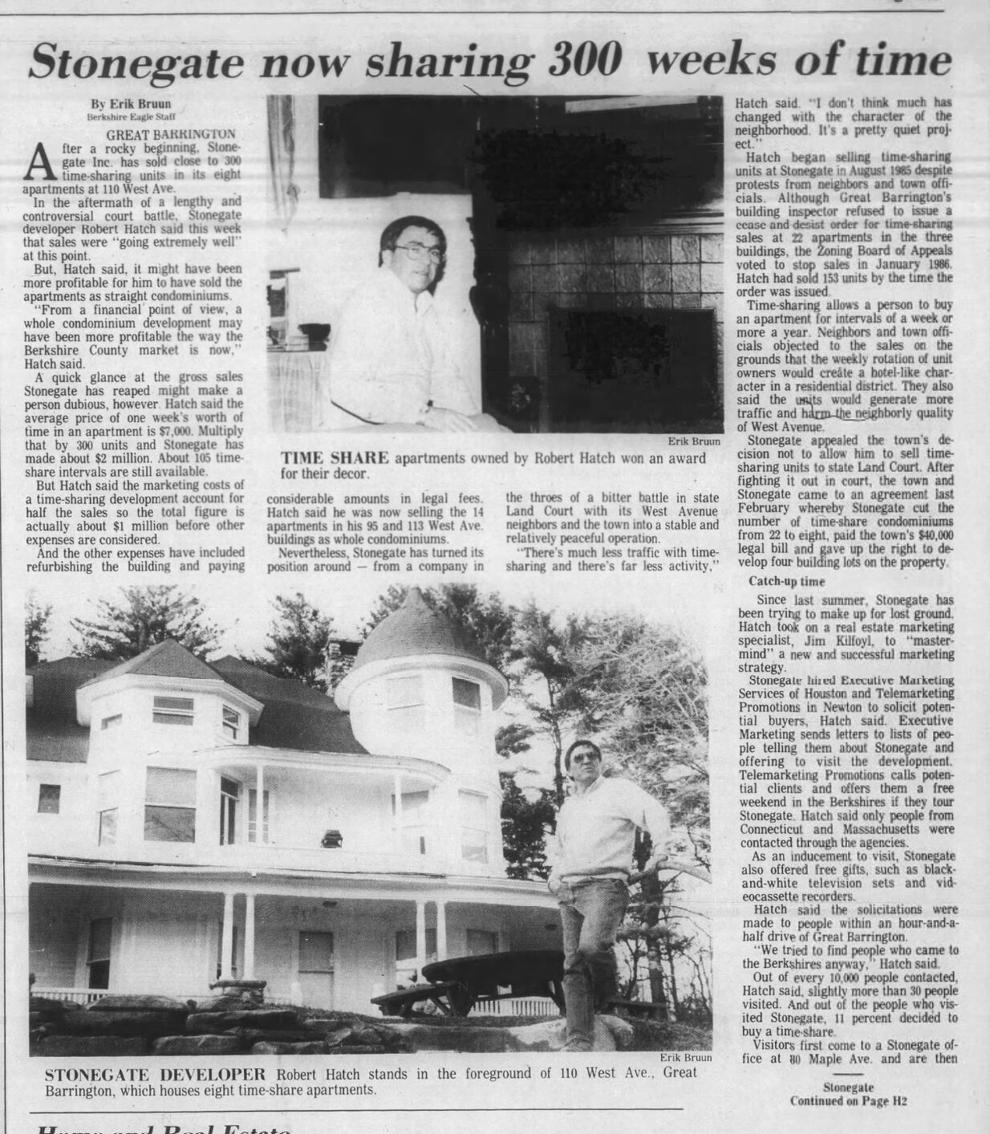 That news came after a long battle with the town, as well as unhappy neighbors worried about a constant stream of people to the property. While it sits on a busy road just around the corner from Fairview Hospital and a number of doctors' offices, it is a mostly residential neighborhood.
That fight with the town happened when the company's portfolio included a 12-unit building on one side and a carriage house on the other; it had planned more development there. Stonegate no longer owns those buildings.
The town in 1986 froze timeshare sales at the 111 West Ave. mansion; Hatch appealed the ruling in Land Court, leading to an agreement with the town that he could sell more timeshares, but wouldn't be able to further develop the property. He also had to pay the town's legal fees.
Out from under litigation, Hatch hired a marketing company to help sell more weeks.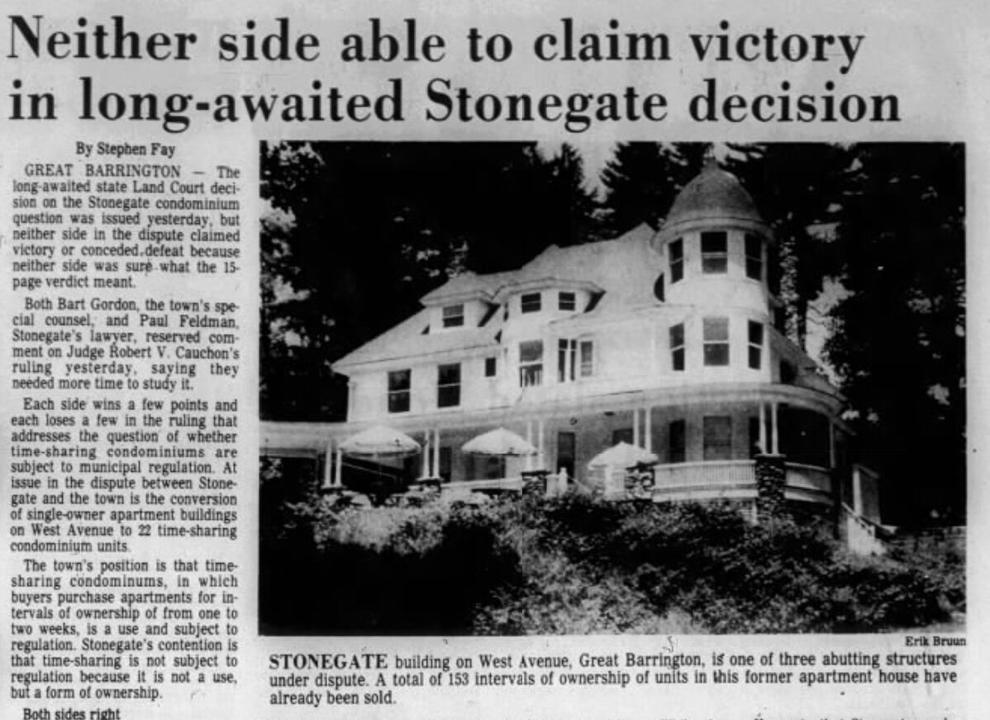 Hatch, of West Stockbridge, did not respond to messages asking for comment about why so many deeds were recorded.
Michael Shepard was Hatch's attorney at the time, as well as a former trustee. He said the original timeshare documents were drawn up in 1985 by a Boston lawyer.
Shepard is still listed as Stonegate Inc.'s agent on the state's corporate filing. In 2019 he recorded his resignation as a trustee with the register, and said he had tried to resign twice previously but that those efforts had never been recorded.
He said he's had nothing to do with Stonegate in 30 years, and doesn't want to talk about it.
"My involvement was marginal," Shepard said. "I'd really rather have nothing to do with this because I had nothing to do with this."
Shepard said he didn't know the building is in disrepair and is sorry to hear it.
'Never seen anything like this'
There are so many timeshare owners the town hopes to advertise the notices of foreclosure in various publications, rather than mail notices to each owner at great trouble and expense.
Iris Leahy is a Holyoke-based tax title attorney hired by the town to work with the title examiner and reactivate the case in Land Court. Leahy said the town has spent a "substantial amount" of money on this. Her own bill is about $6,000 so far — and climbing.
"I've never seen anything like this," Leahy said.
She gets calls from some of the timeshare owners, asking where the case stands.
"They just really want the town to foreclose on it even though they feel like they've been wronged," she said.
A group of owners six years ago tried to take legal action against Stonegate's trustees and manager, but dropped it due to the expense, according to Leahy and correspondence obtained by The Eagle.
These papers show that the group questioned the handling of owners' maintenance fees and payments intended for property taxes. Some even contacted local and state police, the Berkshire District Attorney's Office and the state Office of the Attorney General. One owner contacted the former town manager, Jennifer Tabakin, to describe the situation and express concerns.
The trustees and manager blamed the back taxes and maintenance problems on owners who had stopped paying. In 2011, trustees complained to the owners of steep increases over the previous seven years in utilities, taxes, insurance, maintenance and other costs.
'Never heard of anything like this'
Michelle Laramee-Jenny, the current Register of Deeds, speaking to what happened decades ago, said the registry wouldn't necessarily spot the over-recording of deeds.
"It goes by units, so we would not know if it's a double recording for different units," she said. "There's nothing that would show they were overselling."
Also, she said that during the 1980s condo craze, there was "tons of recording" and so a lot of things might have slipped through the cracks.
But in this case, Laramee-Jenny, who has worked at the registry for 14 years, is amazed by the sheer volume of recordings and the notion of overselling timeshare weeks.
"I've never heard of anything like this," she said.
'Hello — there's a problem here'
Thomas Casey and his wife were at the Hebron Harvest Fair in Connecticut when they chatted with Hatch's representatives selling timeshares in the Berkshires.
It was 1985, when Casey, living in Colchester, Conn., and working in finance, had what he now calls "grandiose ideas" about spending a week in Great Barrington every summer. His wife was wary. She thought the salesmen were too "slick."
The Caseys, now retired in Weeki Wachee, Fla., never spent a night at Stonegate. They bought unit 1101 for week "25" which falls sometime in June. They paid $7,875.
But a different week appeared on their tax bill from the town. They didn't know this until they received the first one.
"I said, 'Hello, there's a problem here,'" Casey said, noting that what he thought initially was a typo persisted.
He complained to the tax collector. He complained to Stonegate. He says he always got "the runaround" whenever he'd bring it up.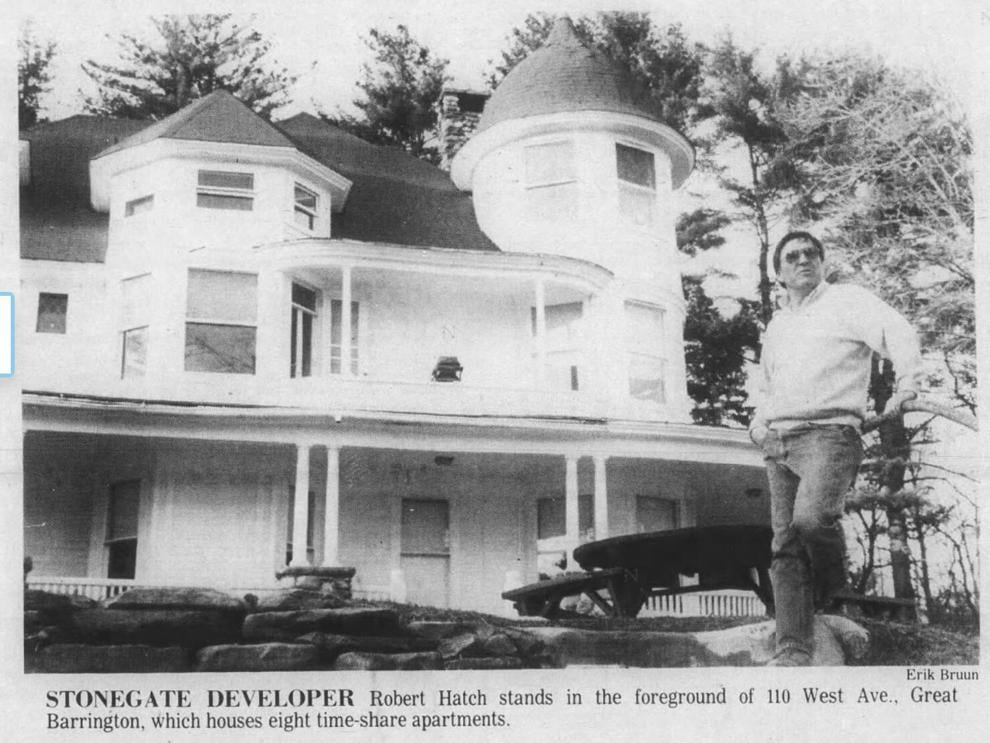 He later realized that the week of time in the unit he thought he was buying had already been sold.
Casey went to district court. He filed a complaint against Hatch and Stonegate in 1990 asking for an attachment of $5,000 in property. In 1991, the court approved an attachment of $37,500. In 1993, he won a $36,683.38 judgment against the developer.
He never got the money. His irritation resurfaced for reasons he can't recall. In 2003 he sued Hatch in Berkshire Superior Court. He says he's a little fuzzy on the details, but recalls he had run up against the statute of limitations — and his own financial limits. A former prison chaplain, and deacon in the Catholic church, Casey said he was tired of paying a lawyer. The case moved too slow.
Casey's attorney asked to dismiss the case, court records show, and Casey says Hatch gave him a small sum — maybe $1,000 — that Casey put towards attorney's fees.
Soon after Casey bought in to Stonegate, his wife always reminded him of her initial take. "She would never say 'I told you so,' but I'd get that look," he says of his wife. "You'd think I would have learned."