SHEFFIELD — Needless to say, a lot can happen on a limo ride between Roswell, N.M., and Dallas.
One such trek on the July Fourth weekend has led to yet one more entertainer's name being added to the park in Sheffield that memorializes an alleged encounter with UFOs.
The driver of the limo was Thom Reed, witness to unidentified flying objects in Sheffield in 1969. In the passenger seat sat his friend and entertainment business manager, Josh Knight, of Dallas.
Knight had hitched a ride with Reed back home after an annual UFO conference in Roswell, where Reed spoke. The two had eight hours of talking ahead of them. Plans were hatched, one of which appears fully fledged: Tyrone Vaughan, nephew of acclaimed blues and rock performer Stevie Ray Vaughan, is sponsoring a bench and a plaque to be placed at the Thom Reed Memorial UFO Monument Park.
The park is located on the east side of the covered bridge off Route 7, on a small piece of land that Reed says he leases from the Aragi family, owners of Pine Island Farm.
Vaughan's inclusion is the latest high-profile recognition of the park, which also has received sponsorship by "Unsolved Mysteries"; the Travel Channel's "Mission Declassified; Mike Bara of the History Channel's "Ancient Aliens"; Marc D'Antonio of "NASA's Unexplained Files"; and others.
Also, a Louisiana man has paid for an all-weather telescope, which Reed says soon will be installed on the site, on a fixed pedestal. The telescope is being donated in memory of the physicist and UFO researcher Stanton Friedman, who twice presented testimony to the United Nations on the existence of UFOs and extraterrestrial life.
In addition, Knight says he is talking with a daughter of the late guitarist B.B. King about memorializing her father at the park.
In a conference call this week — Knight at home in Dallas, and Reed waiting for his limo to be serviced at a Discount Tire in Shreveport, La. — they explained how the Vaughan connection came about.
Knight represents the guitarist and performer Tyrone Vaughan, whose uncle widely is considered one of the greatest guitarists of all time. That long limo ride led to a phone call in which Reed and Vaughan were introduced.
They found they had several things in common, not the least of which both had loved ones who died too young. Vaughan lost his famous uncle in a helicopter crash in 1990. Stevie Ray Vaughan was 35. Reed's father died in 2006, at age 54. Reed and Tyrone Vaughan also share more than a passing interest in UFOs.
The two agreed to install a shared memorial plaque that will pay tribute to Stevie Ray Vaughan and to Reed's father, Dr. Howard Reed, who was an attorney and town selectmen in Canaan, Conn.
"We thought, 'Why not have a memorial bench or plaque to memorialize those we've loved and lost,' " said Reed, who lives in Tennessee. "What an honor it is to have the family of Stevie Ray Vaughan sponsor a plaque in the Thom Reed Memorial UFO Monument Park in Sheffield, Massachusetts."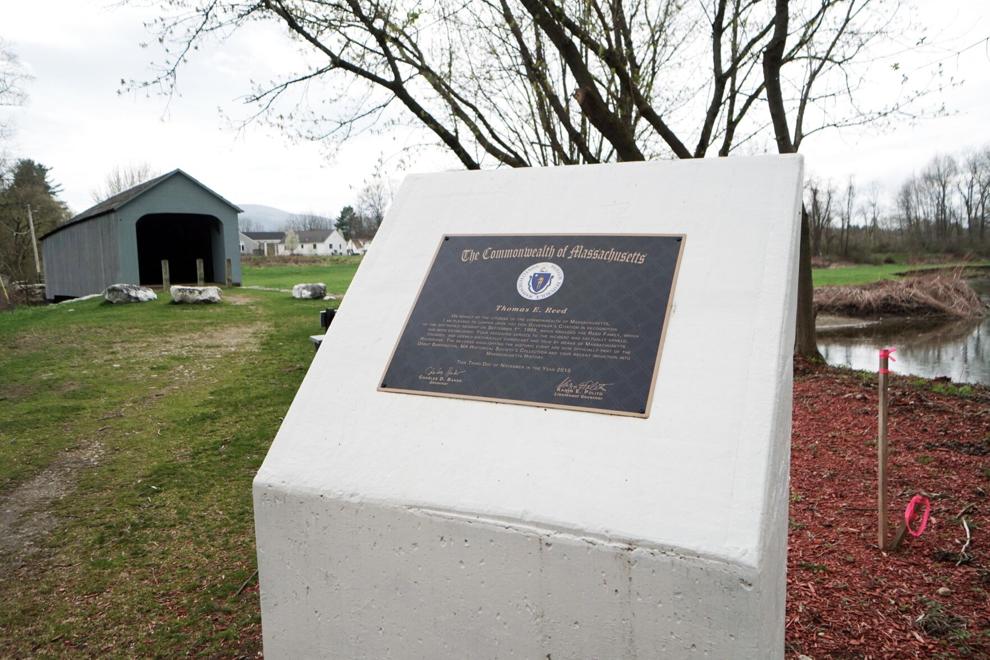 Reed says the memorial and bench might be unveiled Sept. 1, on the 52nd anniversary of his family's encounter with bright lights and a saucer-shaped object in the sky. The strange happenings, experienced that night by many South County residents, were reported at the time by WSBS radio in Great Barrington.
In 2015, the Great Barrington Historical Society deemed the events "historically significant and true" and inducted the case into its collection.
Currently, the park includes benches and a large-scale reproduction of a 2015 citation issued by Gov. Charlie Baker recognizing Reed's "dedicated service" to the incident being "factually upheld, founded and deemed historically significant and true by Massachusetts historians." The sign was donated by Beth Weigand, spokeswoman of the International UFO Museum and Research Center in Roswell.
When asked if the park is a moneymaking venture, Reed said this week, "No, it costs me money. Every penny from the sponsor goes into the park." He said he hires a maintenance crew to cut the lawn twice a month, at $100 per cut.
"I pay for that," said Reed, who founded Miami Models South Beach and worked as a television/film casting agent. "Look, I'm pretty well off. I have a half-million-dollar house, a Maserati and a limousine. I don't care about three or four hundred dollars. I'm just trying to do something nice for the community, a community where I grew up and a community where something historical happened there."
His relationship with town officials took a sour turn in 2019, when the town removed a 5,000-pound concrete monument placed near the covered bridge in 2015 to commemorate the Reed family's encounter. The town says the monument was on the town's right-of-way easement.
That monument, which was funded by witnesses to the event and other community members, has not returned to the site, and there's a reason for that.
"No one, despite efforts of the town, has stepped forward to claim that monument, so, it is still in our possession," Rene Wood, chair of the Sheffield Board of Selectmen, said this week.
For Reed, the attention the park has generated — from film crews, tourists and even a June wedding — has served as validation and acceptance of events that no one can explain.
Reed, who attended Searles Middle School and Monument Mountain High School in Great Barrington, was 9 years old in 1969 when the life-altering events unfolded.
He said he was traveling in a car with his mother, grandmother and brother. They were returning home to Great Barrington from his mother's Sheffield diner, The Village Green. At the time, the covered bridge still was open to automobile traffic, and they decided to use it as a shortcut home. That's when they "saw something," a ball of light "like a cue ball ... about four times the size of a Volkswagen Beetle, and it just hovered there over the water on the Great Barrington side of the bridge," Reed said.
They then noticed a second ball of light and then a third object, the shape of a turtle shell and at least 100 yards long, that hovered over a nearby cornfield, Reed said. The air pressure had changed, Reed said, and the car was filled with light.
What was it all?
"We have no idea," Reed said. "I do know that it was off-world. … We encountered something real. It was right there in front of us."
The next day, the Reed family learned that others in the area also had witnessed strange lights in the sky and had similar experiences. Still, he said, his family was "treated terribly back then over this incident — terribly, to the point where we eventually had to sell the diner and move."
Since that time, serious discussions about UFOs no longer are taboo.
In 2017, The New York Times broke the story of a secret Defense Department program that investigated reports of unidentified aerial phenomena. The program was revived last summer. On June 25, the Office of the Director of National Intelligence released a long-awaited document titled "Preliminary Assessment: Unidentified Aerial Phenomena," which gives no explanation for nearly all of the 143 reports of unidentified aerial phenomena investigated by the Pentagon since 2004. The assessment does not rule out extraterrestrial origins.
Reed says that while these public acknowledgements are a good step forward, "we're never going to hear the truth. We're just going to get that drippy faucet."
He added: "I'm just glad to take this as far as I have, and I'm glad to pave the way for others who need to be taken more seriously."