GREAT BARRINGTON — The morning of Sept. 11, 2001, was not a wake-up call for Mike Jaffe. His wake-up call rang the day before.
He was at work, on the 96th floor of the World Trade Center's north tower, when he took a break and phoned his wife, Sabrina, to share what he had in mind.
"Guess what?" he asked, excitedly.
"What?" she said.
"We're going to have breakfast tomorrow," he said.
"Oh, OK," she said. "Sounds nice."
To have breakfast with his wife and their young daughter would mean missing his normal 7:20 a.m. train from Westport, Conn. He would be late for work at a job that was consuming him.
On a typical day, he was on the train by the time his daughter awoke in the morning. He was on the train when Sabrina was putting their daughter to bed in the evenings.
Jaffe was in no position to make big life changes. He needed the job. But, he could make a little change. He could skip the 7:20 a.m. train, stay home an extra 20 minutes and have breakfast with his family.
The next morning, Sept. 11, he nearly chickened out. He was dressed, ready for the 7:20 a.m. train when Sabrina looked at him, surprised. "Oh," she said, "you're ready to go."
"I was standing at my crossroads," Jaffe explained in an interview with The Eagle.
Pulled by competing priorities, he heard one voice in his head telling him: "What are you doing? Having breakfast with your family is a good idea, but it's not going to change anything. Just don't be late." Another voice was telling him: "The whole point is to make the small change, to be what you stand for, to align with your values, to do what you said you were going to do."
But, then, he saw daughter Olivia, a little loaf of 1-year-old wonder. The mental tug of war ended, he said, "I let go of the rope."
They had breakfast, the three of them. It was a blast. He got on the later train, beaming, like he had reclaimed a part of himself.
"It was the best I felt in months," Jaffe said. "I had taken control back in my life, and it was just a small shift, and it made all the difference."
That breakfast saved his life.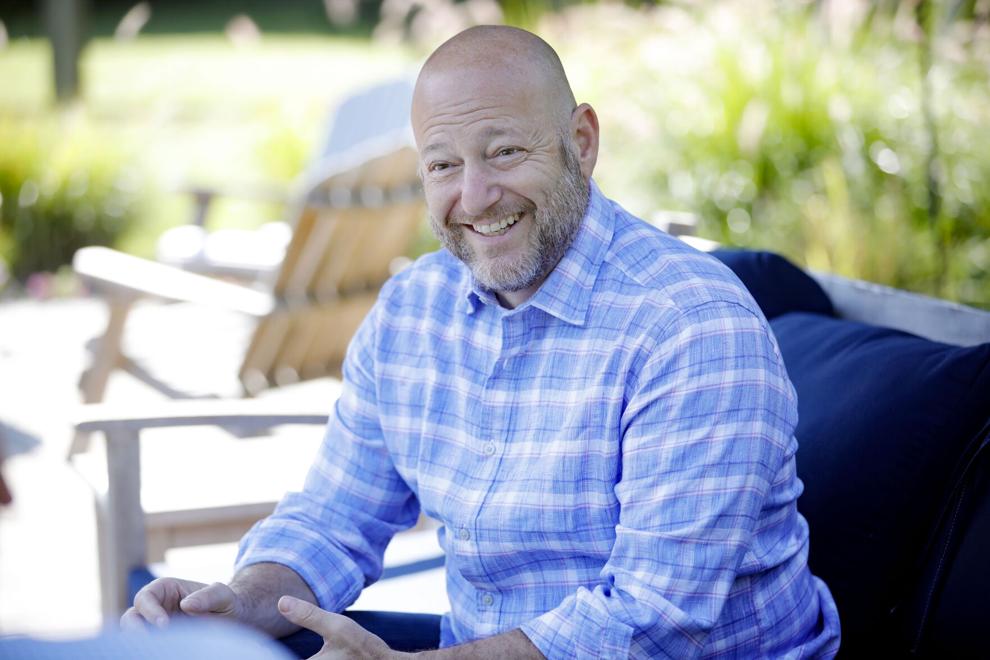 A staggering loss
Jaffe usually was at his desk by 8:46 a.m. On Sept. 11, that was the hour and minute that hijackers associated with the Islamic extremist group al-Qaida flew an American Airlines Boeing 767 into the north tower, striking the 110-story skyscraper like a missile. Upon impact, the plane cut a gash from the 93rd floor to the 99th floor, office space occupied by the insurance company Marsh & McLennan, where Jaffe worked.
Hundreds of people instantly were killed, including 358 of his colleagues. Hundreds more were trapped in the floors above. They would not make it out alive.
Jaffe was still on the subway, heading downtown, when a voice came over the loudspeaker, informing passengers that something was amiss. Because of "police activity," the train would be unable to stop at Fulton Street, where Jaffe normally would have disembarked. Instead, he got out at Wall Street.
As he climbed the steps to the street, the noise grew increasingly loud. This still was the early moments of what eventually would be a coordinated terrorist attack on the United States.
He learned there had been a "plane crash." When Jaffe finally had a view of the twin towers, he saw the hole in the north tower and started counting down the floors from the top, until it became apparent his floor had been hit.
His first reaction was to get into the tower to help. But, there was so much confusion and chaos, and he wasn't aware a second Boeing 767 had struck — the south tower, this time. As he was trying to figure out what to do, he heard the chatter that this was a terrorist attack: not one plane, but two.
The sound of sirens became deafening. Jaffe knew he had to get out of the way and let the emergency responders do their jobs. He also knew he needed to call Sabrina to tell her he was OK, but he realized he had left his flip phone at home.
He made his way to Grand Central Terminal to try to get home, but the building soon was evacuated. Back out on the street, he found a pay phone and called a friend of his, Mike, who worked in midtown. He told his friend to call Sabrina and his parents to let them know he was OK.
He eventually met up with Mike at his office, which had a view south to lower Manhattan. Jaffe recalled looking out the office window, toward the twin towers. "Oh, my God, they were gone, just gone," he said.
That 'beautiful view'
He had begun working at the World Trade Center only a few months before. He recalled that when his boss first took him to the 96th floor, he told Jaffe, "It's a beautiful view, and you're going to be working your butt off."
He was right. During hectic work days, Jaffe had to remind himself to look up from his computer screen. From that height, he could see the Statue of Liberty. He could see his native Long Island. The sunsets were glorious.
And now, it was rubble.
With lower Manhattan covered in smoke, Jaffe eventually made it home that day. He spent the next two weeks not leaving the house.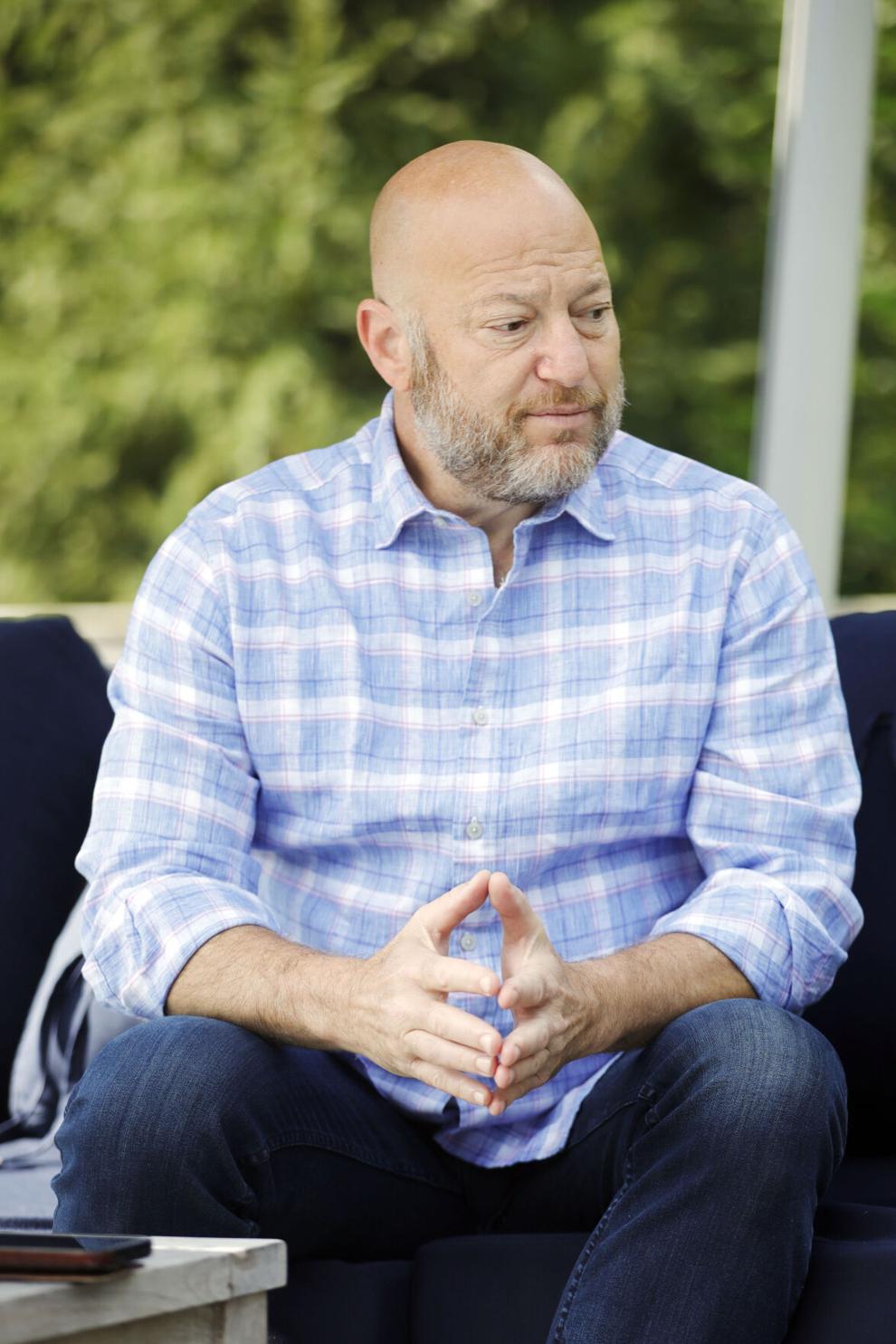 People eventually would suggest that his life was spared because of divine intervention, that he had been protected by angels. He found such thinking to be illogical, to the point of offensive.
"I was no more special, no different than anybody else who worked there," Jaffe said. "I can't reconcile that."
After two weeks at home, he returned to the city to help Marsh & McLennan — it has since changed its name to Marsh McLennan with the company's efforts to assist the families of those still designated "missing." That included steering them toward counselors and to those who were collecting personal items that would help in matching DNA with that of victims.
"It was very emotional, and I was really afraid that everyone was going to be resentful that I lived and their loved one didn't," Jaffe recalled. "It was totally the opposite."
What those families wanted most from Jaffe and others was a description of their loved ones' workspaces in relation to the plane's impact. They wanted to know that their loved ones didn't suffer.
"I just needed to reassure them that, in the mercy of things, it was immediate," Jaffe said.
Jaffe stayed with Marsh & McLennan long enough for him to realize that his wake-up call Sept. 10, 2001, might serve as a key for helping others. He became a life coach.
He and Sabrina moved to Great Barrington 11 years ago with their daughter, Olivia, and son, Sam. They since have founded SAVIA Leadership, a business and personal consulting firm that stresses what Jaffe calls "the human side of leadership." He since has written a book, "Wake Up! Your Life is Calling!"
On this 20th anniversary of the terrorist attacks, Jaffe insists that his story is a simple one. Twenty years ago, he knew he was in no position to make any major life changes. But, he knew he needed to focus on what was good in his life.
He made a small change. He had breakfast with his loved ones. On a day that seemed like any other day, he decided in a small way to align his life with his values.
On Sept. 11 this year, at a time when the nation and the world endure problems that Jaffe considers exponentially more complicated than those of 20 years ago, he and Sabrina will allow themselves a little break. They will "leave Dodge," as he put it, to attend a blues concert.
"We're going to celebrate life a little bit," he said, "and really acknowledge and be grateful for what we have. Life is a gift, and every day counts."