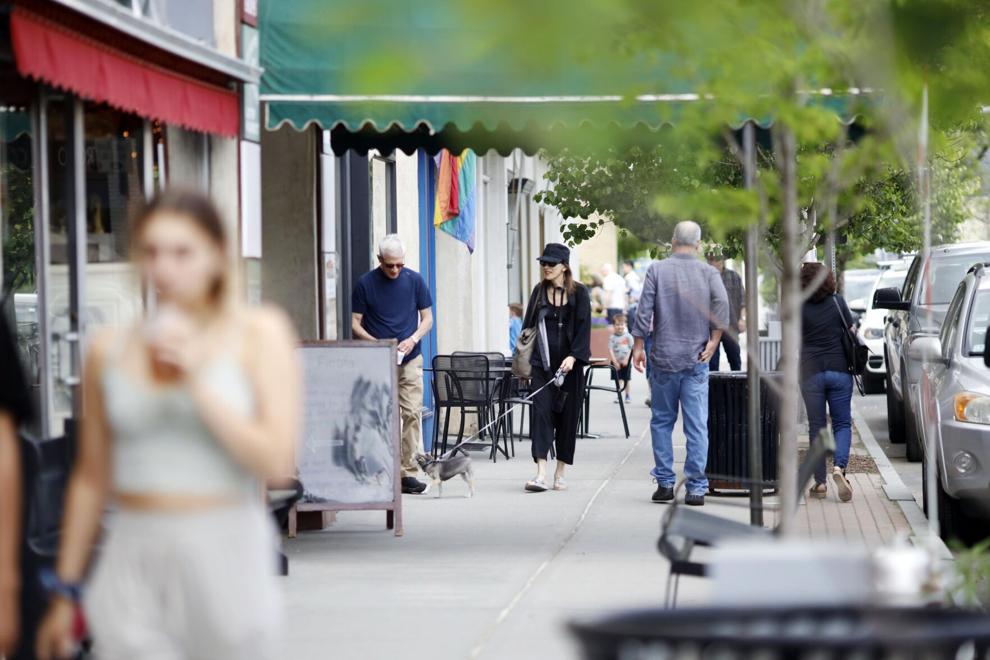 GREAT BARRINGTON — An uptick in COVID-19 cases has prompted the Board of Health to issue an advisory that "strongly recommends" that people wear masks indoors when out in public, regardless of their vaccination status.
At the board's regular meeting Thursday, Health Agent Rebecca Jurczyk also said there were other issues besides the coronavirus that have kept her busy — five cases of several types of rare tick-borne illnesses, and infections from two separate food-borne pathogens, among others. Jurczyk is continuing to investigate some of these, in concert with the state Department of Public Health.
A spike in COVID cases this month, and fears about delta variant breakthrough infections, are driving the mask advisory. The board also is following new guidance from the Centers for Disease Control and Prevention that, given the variant, even vaccinated people should wear masks indoors in geographic areas with substantial or high transmission.
Berkshire County's transmission rates have hit the CDC's "substantial" mark, according to the agency's Data Tracker as of Thursday. The situation is similar statewide, with 12 out of 14 counties in Massachusetts registering substantial or high transmission. Approximately 70 percent of Berkshire residents have received at least one dose of vaccine, mirroring the trend statewide.
As of Friday, Berkshire Medical Center is caring for nine patients, none of whom are in critical care units, and officials there are seeing milder illness, even more so in those who are vaccinated. About half of those patients are from North Adams Commons Nursing & Rehabilitation Center, where an outbreak affecting nearly 60 people is underway.
Data for Great Barrington — it includes Alford for statistical purposes — shows that the town has the highest full-vaccination rate in South County, according to the state Department of Public Health, as of Aug. 3. Per capita, more than 94 percent of residents from age 30 to older than 75 are vaccinated fully. The lowest rate is among 16- to 19-year-olds, at 60 percent, followed by those 20 to 29, at 71 percent.
Jurczyk told the board that, during the first four days of August, the town saw 10 cases — after seeing only 14 for all of July. Given that Great Barrington is a hub and popular with tourists, Jurczyk asked the board if it wanted to recommend mask-wearing.
Board member Ruby Chang, a pediatrician, said she would have preferred a mandate, given how crowded the town has been, and because of what she has seen at work.
"I'm just in shock, because I saw three cases today in my office ... and two of the teenagers never even thought of getting a vaccine; it was not on their radar," she said, noting that one works in a local restaurant.
Board Chairman Michael Lanoue said that the board can't issue mandates without an emergency order.
After the board discussed the advisory, The NEWSletter's Eileen Mooney asked board members if they all had had their shots. After a pause, board member Peter Stanton said, "I'm not sure we should answer that question," then added that this health information is private, that he encourages vaccination and that assumes the board also does.
Lanoue agreed with the privacy concern. No one else spoke.
Other threats
Jurczyk said there still are other threats. In July, the Health Department had confirmed two cases of anaplasmosis, a tick-borne bacteria that causes fever, muscle aches and other symptoms; and confirmed three cases of babesiosis, a parasitic disease that can cause severe illness.
Both are rare and spread by infected deer ticks.
In late June, the town saw one case of cryptosporidiosis, a highly contagious intestinal infection that is spread through contact with feces. The DPH had contacted the town to trace the origin of this and the tick-borne infections.
Jurczyk also worked to trace a case of vibriosis — it's a bacteria found in coastal waters — to raw oysters; and she confirmed two cases of cyclosporiasis, also caused by eating contaminated food, and she is working with a food establishment in town to determine what the patrons had eaten.