NEW MARLBOROUGH — An important thing to know is that Jennifer Herman-Feldman is super psyched to discuss the subcompact automobile that she turned into a decorative planter.
When she had her German-made Smart car plopped down about 16 months ago at its present position at the entrance to 815 Hartsville New Marlboro Road, townspeople and frequent passersby wondered if a wreck had occurred, if everyone was OK. Calls came in. Notes were left.
Everyone's fine! And, no, she'll decline the kind offers — plural — to haul it away free of charge, but thanks!
No, Feldman has a vision. It might take 10 years to reach its fulfillment, but it also took something like 22 years to build the Taj Mahal, so, let's be patient.
Another important thing to know is, the car has sentimental value, even though Feldman's vision includes it eventually becoming wrenched and shattered by a beech tree.
Yes, she had a beech tree planted within its hollowed-out frame, in the vicinity of where the emergency brake handle once was. (Wait, "vicinity?" Smart car? Everything in a Smart car is in the vicinity of everything else in a Smart car. The left headlight, for instance, is in the vicinity of the right taillight, right? Anyway ...)
What's the deal with this subcompact automobile that's now a decorative planter on the side of the road in New Marlborough?
This story gets good. And it won't take 10 years to tell it.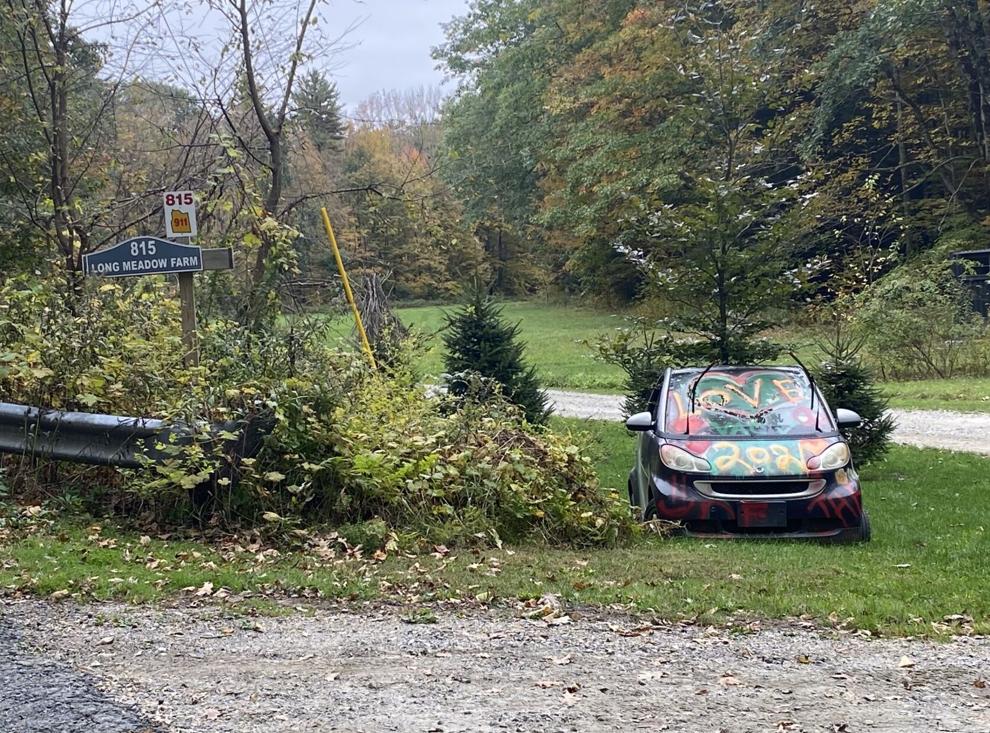 Feldman bought the car for $4,000 in 2010 from her parents. She was married at the time to Bruce Herman. They were raising their three sons in the New York City borough of Brooklyn and needed a second car for weekend schlepping.
Turns out, the car was one of the last things they bought together. Bruce died of pancreatic cancer in 2012, at the age of 54.
After his death, Feldman wasn't ready to part with the car, so, she put it in storage in New York. She soon longed for it, took it out from storage and drove it everywhere. Then, two years ago, the car died.
Her mechanic broke the news. "I can't fix it," she recalled him saying. "It's just — there's nothing more to be done to save this thing. Sorry. Let it go."
"It was, like, euthanized," she said.
By this time, she had remarried. David Feldman, a world-renowned orthopedic surgeon who practices in Florida and New York, had become the proud husband of Jennifer Herman, the owner of both an engineering firm in New York City and a broken-down Smart car.
David Feldman, who has owned this New Marlborough home for about 10 years, defers all automobile-decorative planter-related questions to his wife, which only makes sense. She had named the car "Flower." She had told friends that someday it would be a flowerpot, a funny thing to say, a lovely thing to imagine and kind of a pain in the butt to pull off.
Need it be said that it always — always! — pays to know an artisan welder?
She had the car gutted in New York and hauled on a flatbed to New Marlborough. Not that turning a German-made car into a planter required the skills of someone who speaks German, but Jennifer Feldman turned to a guy who speaks German: Mario de Ris, of Great Barrington, a maestro welder and builder.
"He understood the dream and the mission. He was on board," Jennifer Feldman said.
Specifically, de Ris built a metal frame within the empty car body to stabilize it. Then, about a year ago, Jennifer Feldman had the beech tree planted within it.
"The tree is meant to be colorful and sturdy and grow big, and the car will kind of break. It's going to fall off the tree and disintegrate, and that is exactly what I want," Feldman said. "I've been told it will take 10 years for the tree to grow big enough, but I'm not an arborist."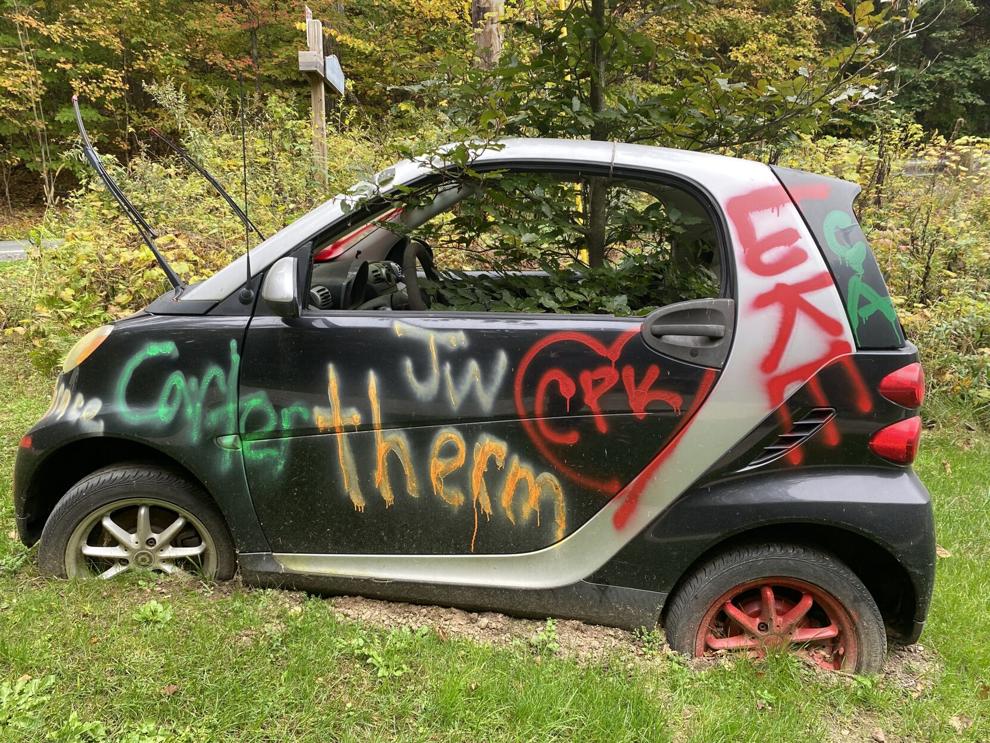 The Feldmans have a combined family, lots of kids, and they all get along, and they all enjoyed the day that Jennifer Herman-Feldman handed out the cans of spray paint to add the decorative elements to this planter.
They kept the street-facing message clear and concise: On the windshield, "LOVE" within a heart, and on the hood, "2021."
Around the sides, they signed their names or initials.
And they finished it all off with a red "B" — "B" for Bruce Herman. It's on the back bumper, in the vicinity of that heart on the front windshield.