By Amanda Burke, The Berkshire Eagle ​ ​ ​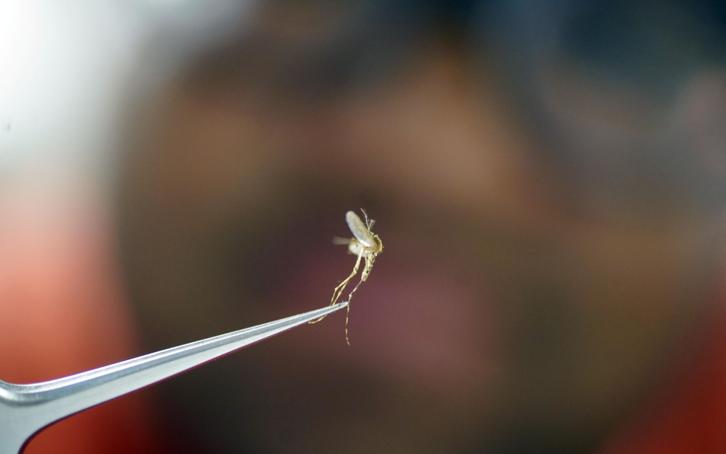 On Monday, the Board of Health will receive a presentation from Chris Horton, superintendent of the Berkshire County Mosquito Control Project, about his pest control plan, which requires approval from the board.
Eagle file photo
PITTSFIELD — While school leaders look toward hiring and budgeting, health officials will take up two issues that have been generating community concern.
Last week, the School Committee finalized its interview schedule for four superintendent hopefuls, putting current Interim Superintendent Joe Curtis in the spotlight first. Curtis' interview will kick off the 5 p.m. meeting on Monday, followed by Interim Bozrah, Conn., Superintendent Portia Bonner. Wayland Public Schools Superintendent Arthur Unobskey's interview will start Tuesday's meeting at the same time, with the final interview of Marisa Mendonsa, principal of Mohawk Trail Regional High School, capping the evening's events.
Catch the interviews live online and on PCTV's Education Television, channel 1302, before the committee makes its final hiring decision Wednesday. The vote will come after a budget hearing on the district administration's proposed $67.3 million spending plan for next fiscal year, which would expand early childhood programming alongside a historic tranche of federal funding to help the district contain the fallout of the pandemic on student learning and wellbeing.
One day before a council-set deadline, the Board of Health meets via Zoom at 6 p.m. Monday when it's set to provide an update on the probe requested by the City Council about the controversial cell tower off South Street, prompted by a petition by ward Councilors Chris Connell and Patrick Kavey in response to neighborhood complaints of health issues they believe are associated with the Verizon tower.
The Board of Health will also hear a presentation from Chris Horton, superintendent of the Berkshire County Mosquito Control Project, who will outline his pest control plan, which requires approval from the board.
Some of the project's spraying measures are drawing opposition from residents who say they're concerned with the chemical sprays, as well as a petition from Ward 7 Councilor Anthony Maffuccio calling on the board to pull out of the control project.
And on the economic development front, the Community Development Board's proposed downtown rezoning will be given a public hearing by the City Council at its 6 p.m. meeting Tuesday. Proponents say passage of the "Downtown Creative District" would encourage mixed-use development focused on the arts and housing.
The roster of would-be candidates for City Council has grown, with several more residents pulling papers to run over the past week. Candidates have until mid-July to return signatures for certification before they can be placed on the ballot. Kevin Sherman, the former City Council president now running in Ward 3, was the only candidate for any race whose signatures had been certified and papers returned, confirming his spot on the ballot, as of Friday, according to City Clerk Michele Benjamin.
Councilor Yuki Cohen pulled papers to run for a second term as at-large councilor, joining the three other sitting at-large councilors who obtained nomination papers for the election this fall.
Charles Kronick took out nomination papers to run in Ward 2, where Nicholas Russo also pulled papers to succeed outgoing Councilor Kevin Morandi. James "Jim" Conant and Andrew Wrinn pulled papers to run in Ward 4, joining Courtney Gilardi as potential candidates to assume the seat held by Councilor Chris Connell, who has also announced plans to step away from the council. And Ed Carmel has become the first person to pull papers to run in Ward 6.
City Clerk Benjamin says she took out nomination papers to run for another term as steward of the office that handles municipal documentation, licensing, elections and more.
Heads up
Berkshire Housing Development Corporation is helping residents access new federal assistance for rent and mortgage payments. Head to its website at https://berkshirehousing.com for more information.
Berkshire Housing Development Corporation is helping resident access new federal assistance for rent and mortgage payments.
COURTESY OF THE STATE OF MASSACHUSETTS
Pittsfield Public School students, families and employees are invited to an information session at 6 p.m. Tuesday about Historically Black Colleges and Universities, when Akilah Edgerton and Alexis Harrison will discuss the ins and outs of touring and applying to HBCUs, seeking scholarships and financial support, and more. To register, click here.