By Francesca Paris, The Berkshire Eagle​ ​ ​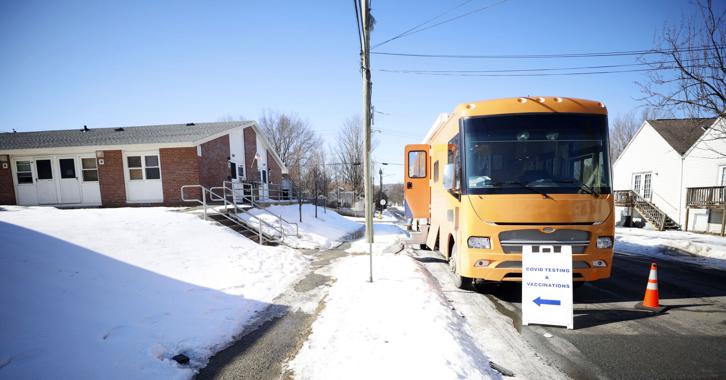 In a partnership with Elder Services, CHP's Mobile Health Unit members visited senior housing locations in Pittsfield this week, to offer residents testing, vaccines, boosters and flu shots. Those locations included Francis Plaza.
STEPHANIE ZOLLSHAN — THE BERKSHIRE EAGLE
The omicron wave came and went in a flurry — assuming, of course, that it is actually, nearly gone.
As of Friday, cases have fallen down to a rolling average of 92 confirmed positives per day. Earlier in the coronavirus pandemic, that number would have been shocking. But, it is tiny compared with the highs above 350 in mid-January.
Just before Christmas, delta was circulating rapidly in the Berkshires. That means cases already were high, though they had more or less plateaued around 70 to 80 per day.
So, assume that it takes us until the end of next week to get back into the 70 to 80 new-cases-per-day range. (That's just a guess — there is no way for your Checkup author to predict the future on this.)
If that is, in fact, the correct timeline, then the entire omicron wave will have risen and fallen in a total of 52 days.
Compare that with last winter's surge, which took more than 120 days in total. Cases began to push up in November 2020 and did not return to baseline until March 2021.
So, it was quick. But, not painless. The county has suffered significant losses since the omicron wave began. A total of 48 people have died since Christmas — more than 10 percent of the entire death toll from the virus.
The virus itself has changed. Even though we broke case records with this surge, hospitalizations never reached the peaks of last winter, and deaths, too, stayed lower. That means our collective immunity, from vaccines and previous infections, is keeping many people alive.
Meanwhile, life is changing. Local districts will soon get to choose whether they want to require masks. Vaccines might be near for smaller children. And while better weather is not quite around the corner, it's certainly closer now than it was before the omicron surge.
Still: There were 11 patients in the hospital as of the last update from Berkshire Health Systems. The fatality rate is undoubtedly falling, but more people will continue to die from this virus, adding to the losses that have touched hundreds of families and thousands of people in the Berkshires.
Whether we are done with the virus or not, the virus certainly is not done with us yet.
KEY STATS: Berkshire County saw seven new COVID-19 deaths during the past week. To date, the county has 388 reported deaths. The confirmed case count rose by 642 over the past week, to 21,820.
The seven-day rolling average of new cases in the county was 92 cases per day as of Friday.
STATE PICTURE: The state Department of Public Health said 367 new confirmed deaths were reported during the past week, pushing the statewide total to 22,122. During the past week, confirmed cases rose by 16,421, to 1,518,669.
VACCINATIONS: According to the state's latest report, 73 percent of Berkshire County residents are vaccinated fully.
COMMUNITY DATA: Here are this week's figures from the DPH on confirmed coronavirus cases by city and town. The first number is the total number of cases during the pandemic. The second is the number of new cases during the past 14 days. These data are accurate as of Feb. 5.
Adams: 1,452; 163
Alford: 25; fewer than 5
Becket: 221; 16
Cheshire: 539; 59
Clarksburg: 280; 30
Dalton: 1,099; 103
Egremont: 70; fewer than 5
Florida: 96; 6
Great Barrington: 1,146; 71
Hancock: 42; fewer than 5
Hinsdale: 308; 21
Lanesborough: 438; 43
Lee: 956; 61
Lenox: 653; 45
Monterey: 62; 6
Mount Washington: 12; 0
New Ashford: 23; fewer than 5
New Marlborough: 109; 8
North Adams: 2,365; 224
Otis: 200; 13
Peru: 73; fewer than 5
Pittsfield: 9,092; 724
Richmond: 125; 8
Sandisfield: 143; 11
Savoy: 95; 7
Sheffield: 394; 25
Stockbridge: 167; 12
Tyringham: 27; fewer than 5
Washington: 42; fewer than 5
West Stockbridge: 120; 5
Williamstown: 1,179; 262
Windsor: 120; 5
WIDER WORLD OF COVID: Global cases top 407 million, with almost 5.8 million deaths, according to Johns Hopkins University. The U.S. has seen at least 77.5 million cases and more than 917,000 deaths.
Across the world, more than 10.1 billion vaccine doses have been administered, Johns Hopkins reports. More than 542 million of those have been administered in the U.S.
HOSPITAL CHECK: Berkshire Health Systems reported caring for 11 COVID-19 patients as of its last update.
COVID-19 VACCINES: You can get vaccinated at many local pharmacies, in addition to the following locations:
• Pittsfield COVID-19 Testing Center at 505 East St. is open daily from 8:30 a.m. to 4 p.m.
• The North Adams COVID-19 Testing Center at 98 Church St. is open Monday, Wednesday and Friday from 8:30 a.m. to 4 p.m.
• Fairview Hospital at 29 Lewis Ave. in Great Barrington is open Saturdays from 9 a.m. to 2 p.m.
Appointments are required at all locations. Call 855-262-5465 or visit berkshirepatientportal.com.
Community Health Programs posts the schedule for its mobile vaccination van at chpberkshires.org/mobile. Vaccines are available with no appointment necessary. For information call 413-429-2946.
TESTING: You can get COVID-19 tests at the three Berkshire Health Systems locations. To schedule a test, call the toll-free hotline, 855-262-5465, from 8 a.m. to 4:30 p.m. daily.
Locations are: Pittsfield, 505 East St., St Luke's Square, adjacent to BHS Urgent Care Center; North Adams, 98 Church St., next to the city library; Great Barrington: 475 Main St.
JOIN US: Quality local journalism, like you find in The Checkup, needs your support. When you and your family subscribe to us, that's the fuel we need to keep reporting the essential news you want. Join us. Help us build our community. We are offering a 30-day free trial to readers of The Checkup.