By Lindsey Hollenbaugh, The Berkshire Eagle​ ​ ​
If you open my fridge on any given weekday, you will almost always find a dozen hard-boiled eggs and at least one (if not two) cartoons of uncooked eggs.
If you read this newsletter regularly, you know I love a kitchen workhorse — and for our family with a growing 5-year-old who needs new Batman underwear faster than I can order it on Amazon because he keeps growing out of them, eggs are one of my favorite flexible ingredients.
Now that David is back to in-person preschool (do you hear that? It's the sound of silence in my house ...) I'm back on the pack-a-lunch-two-snacks-a-day beat and I need to get some kind of breakfast in him 15 minutes after he wakes up in the morning. Hard-boiled eggs to the rescue! I use my trusty Instant Pot for this and enjoy the 6-6-6 method: cook your eggs in 1 cup of water for 6 minutes on high pressure, let it naturally release for another 6 minutes, then release the valve and plunge the eggs in ice-cold water for 6 minutes. They come out perfectly every time.
Hard-boiled eggs are also thrown into my salad at lunch (it makes me feel like I'm eating at the deli salad bar again — remember salad bars, back when we didn't think anything of breathing on each other? And sometimes, I'll throw together a small batch of deviled eggs, or egg salad to make lunch somehow more exciting.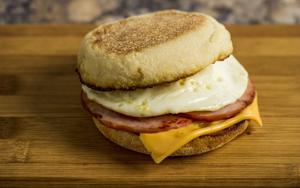 Photo provided by Metro Creative Connection
If left on his own, my husband will happily grab three packages of Little Debbie snacks as he's running to work in the morning and call that breakfast. Usually, I can swat them out of his hand and instead replace those empty carbs with an egg-and-cheese sandwich. I pan-fry one egg just on the done side of over easy, top with a slice of deli ham and American cheese and put between buttered English muffin slices. I then quickly wrap it with foil while it's still hot. By the time he gets to work, it's still warm and the cheese is melty and the egg is just a tiny bit runny — it's the closest thing I've found to those egg sandwiches I used to get from my corner deli when I lived in Manhattan. The moisture from the heat of the foil makes it the right kind of soggy.
On Sundays, I'll also scramble a few extra eggs and set them aside for Monday morning breakfast burritos: slightly warm a tortilla in the microwave under a damp paper towel for 10 seconds; fill tortilla with scrambled eggs, any leftover veggies you have in the fridge and a little salsa; wrap the burrito tightly and then wrap it in wax paper. To reheat, microwave the burrito in the wax paper for 10 to 15 seconds. Works like a charm.