The 1971 NET television docudrama "The Trail of Tears" featured singing legend Johnny Cash. Cash stayed at Eastover Resort in Lenox during filming of winter scenes there and at Brodie Mountain in New Ashford.
The movie depicted the arduous journey of Cherokee from Georgia to Oklahoma in 1838 — so gold prospecting could take place on their ancestral land. The Indian Removal Act of 1830 also affected Muscogee, Seminole, Chickasaw, Creek and Choctaw nations.
Simultaneous with the filming, seniors at Taconic High School in Pittsfield were assembling a yearbook called "Manitou 1970." Two art students visited Cash at Eastover to describe the project. One, Donna (Archambault) Drew, of Great Barrington, remembers how impressive and gracious Cash was: "He was very tall, and had huge hands. He was so comfortable to converse with. We spoke for maybe 20 minutes."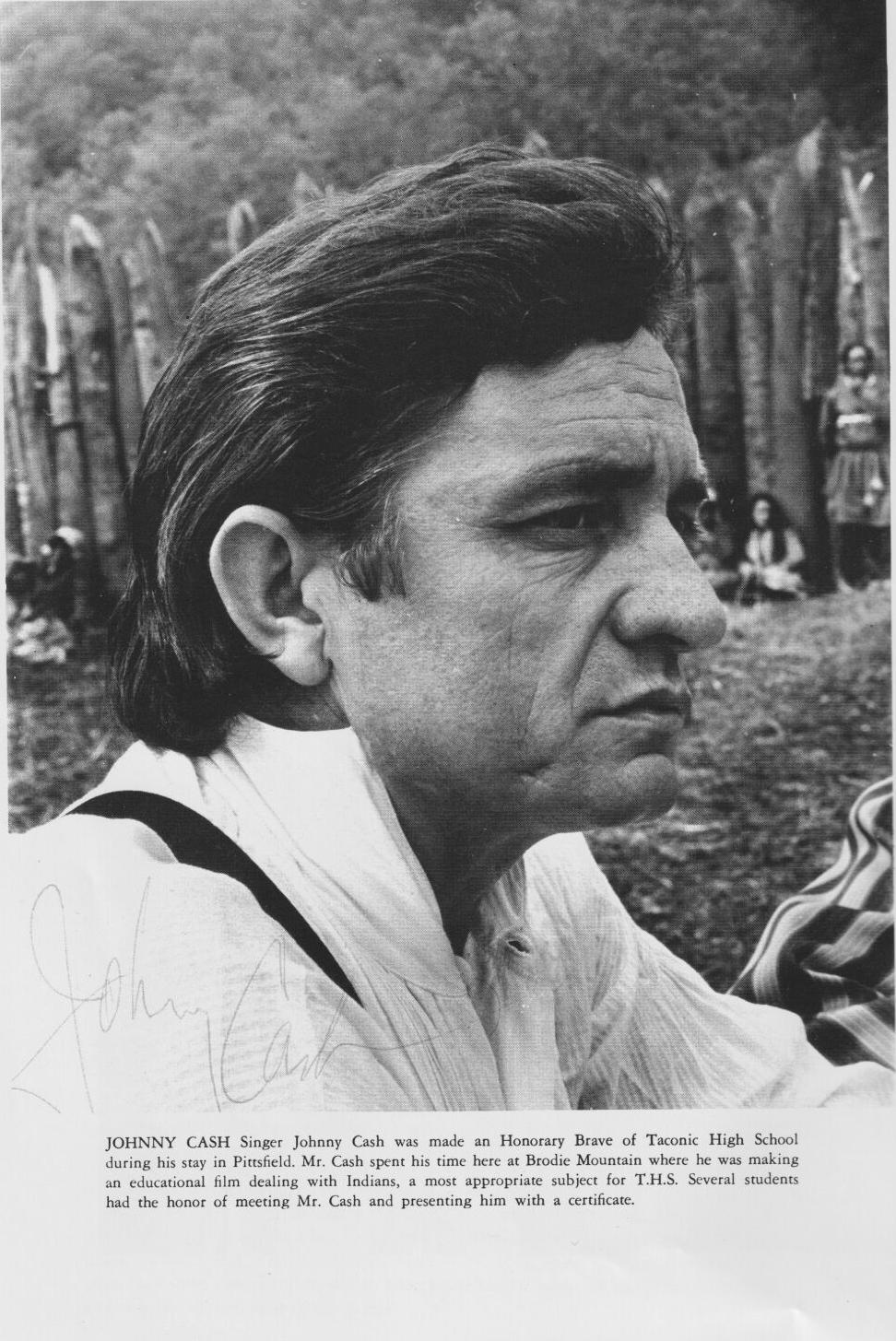 The yearbook, the first for the then-new school, included a full-page photo of Cash and made him an Honorary Brave of Taconic High School.
At the time he made the film, Cash claimed one of his grandmothers was quarter-Cherokee. His genealogical research obliged him to recant the claim in the 1990s; he was of fully Scots descent.
Berkshire connection
Berkshire County has a close association with the Trail of Tears. Windsor-born Daniel Sabin Buttrick (1798-1851) was ordained in Hartford in 1817 and became an American Board of Commissioners for Foreign Missions delegate to the Cherokee in Georgia. When his congregants were uprooted to Oklahoma in 1838, he and his wife, Elizabeth Proctor, a mission teacher, went with them.
In 1839, Buttrick established a station near Beatty's Prairie and called it Mt. Zion. Over the years, his health began to fail. His wife died in 1847. He went to Dwight Mission, where he died June 8, 1851. The preacher wrote "Antiquities of the Cherokee Indians" to challenge the Cherokee removal. The manuscript was published posthumously in 1884.
Buttrick also kept a journal beginning with Maj. Gen. Winfield Scott's troops assembling thousands of Cherokees at a military fort: "Thus in two or three days about 8,000 people, many of whom were in good circumstances, and some rich, were rendered homeless, houseless and penniless, and exposed to all the ills of captivity. In driving them, a platoon of soldiers walked before and behind, and a file of soldiers on each side, armed with all the common appalling instruments of death; while the soldiers, it is said would often use the same language as if driving hots, and goad them forward with their bayonets."
The march began. Buttrick wrote one day: "It is disturbing to reflect on the situation of the nation. One detachment stopped at the Ohio River, two at the Mississippi, one four miles this side, one 16 miles this side, one 18 miles, and one 13 miles behind us. In all these detachments, comprising about 8,000 souls, there is now a vast amount of sickness, and many deaths. Six have died within a short time in Maj. Browns company, and in this detachment of Mr. Taylors there are more or less afflicted with sickness in almost every tent; and yet all are houseless & homeless in a strange land, and in a cold region, exposed to weather almost unknown in their native country. But they are prisoners. True their own chiefs have directly hold of their hands, yet the U. States officers hold the chiefs with an iron grasp … ."
On the last day of 1838, he wrote: "The year past has also been a year of spiritual darkness. We have had but few happy seasons, and as far myself. I have by no means been faithful to my trust. I have wanted faith & love & zeal. A great part of the time my heart has been grieved to hear the awful profaneness, and see the scenes of wickedness which have been brought before us."
Buttrick spoke with many of the Cherokee. "Big Pheasant relates the history of the creation, received from his grandmother and handed down from the old men before they had any knowledge from the whites. Beings from above came down and created the world, and everything connected with it. Then they called a council and created the man, and gave him life. The man then fell into a sleep, and the Lord took a rib from his side and made a woman, and gave her to the man. God instructed them about marriage, and told them to multiply. This woman was the mother of all living people, i.e., of all nations. God directed them, also, not to use vulgar language nor tell a lie, as these would be very wicked."
Shield Eater told him: "The seven clans are seven families, each from its own original stock, and therefore too nearly related to admit intermarriages. The names of these seven clans are as follows: 1. Ani-wa-ya, or Wolf clan; 2. Ani-ko-ta-ke-wi, or Blind Savannah clan; 3. Ani-wo-ti, or Paint clan; 4. Ani-qui-lo-hi, or Longhair clan; 5. Ani-tsis-qua, or Bird clan; 6. Ani-ka-wi, or Deer clan; 7. Ani-stasti, or Holly clan."
Buttrick's friend the Rev. Worcester Willy observed: "The time for obtaining information on the subjects to which the notes relate, and kindred ones, among the Cherokees, if not already gone, is rapidly passing."