In December 1763, Charles Goodrich and Stephen Crofut, on behalf of the newly incorporated town of Pittsfield, invited Thomas Allen, of Northampton, among others, to preach as a probationer. Young Allen preached and was warmly received.
On Feb. 7, 1764, eight men gathered in the house of Crofut, who took on the role of deacon, and signed a confession of faith and a covenant. The covenant was to complete the work of building a new and larger meetinghouse: The Church of Christ, Pittsfield.
To help in the selection of a pastor and the design of the church, the Pittsfield men invited preachers from other Berkshire towns: the Rev. Samuel Hopkins, of Great Barrington, whom Harriet Beecher Stowe immortalized in The Minister's Wooing; Dr. Stephen West, of Stockbridge, a man of great note in his day; and the eminent Rev. Ebenezer Martin, of Becket. During the next meeting March 5, they determined to call Allen to the pastorate.
Allen was a 20-year-old theological student at Harvard. Allen's grandfather, Joseph Allen, was a deacon and close friend of the Rev. Jonathan Edwards, who was considered the greatest theologian of his day. Allen was one of 10 children, only six of whom lived to adulthood. The family was not wealthy, but an uncle provided the funds for Allen to attend Harvard.
Allen received the invitation and responded with the following letter:
"To the People of Pittsfield: Dear Brethren, Your invitation of me to settle among you in the gospel ministry I have received by your committee chosen for that purpose; I apprehend I have duly considered the same. In answer to this, your invitation, I would say, that having sought divine direction, taken the advice of the judicious, and duly consulted my own judgment, I cannot but think it my duty to accept; and, accordingly, do now declare my cordial acceptance of the same. I take this opportunity to testify my grateful sense of your respect, shown in that good agreement and harmony that subsisted among you in the choice of one less than the least of all saints, to preach among you the unsearchable riches of Christ."
Allen was a sincerely religious man, but he was not unworldly. Whatever were the unsearchable riches of Christ, Allen was also interested in the attainable riches of this world. His letter ended:
"Nothing doubting but that, at your next meeting, you will freely grant forty or fifty cords of wood annually, or as much as you shall think sufficient, and some addition to my settlement, either by grant in work, or whatever, out of generosity, by subscription or whatever way you please, I now stand ready to be introduced to the work whereunto I am called, as soon as a convenient opportunity shall present itself. These from your affectionate friend, Thomas Allen"
On April 18, 1764, Allen was installed as the first minister at Pittsfield. Well-educated, young and fiery, the Rev. Allen took possession of the minister's lot. He also had an "old gig" (horse and wagon) to drive around his four-square-mile parish.
He was an early supporter of the American Revolution praying to "The God of Armies that he would teach their hands to war and their fingers to fight."
He fought at Bennington, and it is believed Allen was the first to fire a shot at that battle. He was the post chaplain at Ticonderoga and White Plains. He earned the title "the fighting parson."
After the war, Allen headed a group that governed the county during the time that the Massachusetts Constitution was being written (1775-80). As he settled back into the pulpit, Allen was just as fiery. A strict Jeffersonian democrat, Allen's views and sermons were sufficiently radical to break the Congregational Church in two — the other faction seeking a more conservative minister.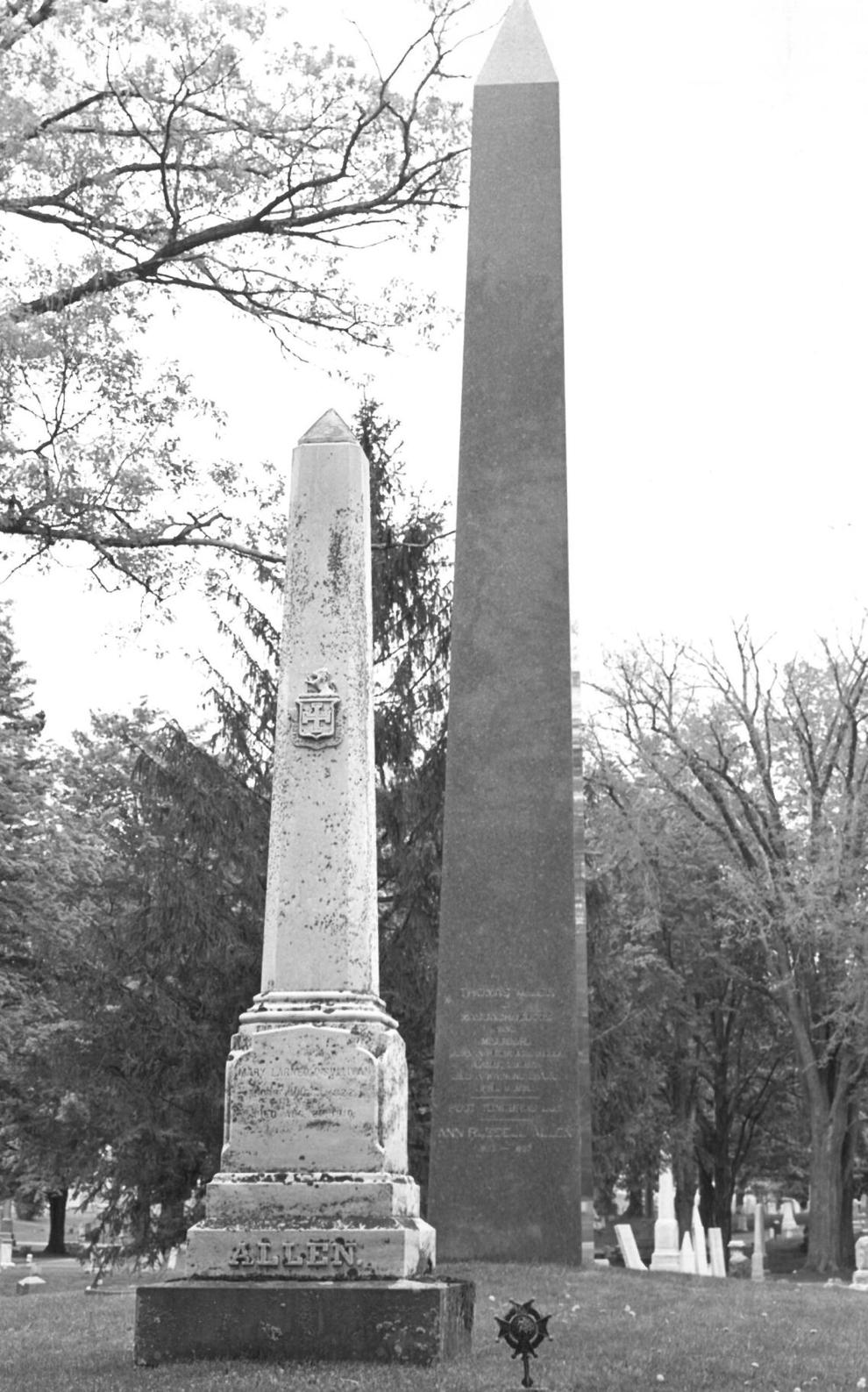 Just as he was a gun-toting chaplain to the troops, Allen was also a practical minister seeking to adequately support his wife, Elizabeth, and their 12 children. When he died in 1810, the inventory of his possessions shows that he succeeded. He had an estate of $8,900 (approximately $250,000 today). About $7,800 was in land and buildings including a house, barn and corn house on 60 acres plus a "triangle of land" on North Street and a 55-acre meadow (probably) to feed his six pigs, six hogs, 61 sheep, two calves, a steer and a horse. The will did not reflect his entire land holdings. It read: "My sons Thomas, Jonathan, George, Samuel and William have already been given — paid in land-dollars ... their fair share of the division of the estate."
Allen possessed household items that indicated his relative wealth and social standing such as 14 dining plates and serving platters. He owned silver objects including teaspoons, cups, creamer, teapot and tankard. Other indications of a prominent family were candelabra, a feather bed, a gold pocket watch and an extensive library.
The first minister of Pittsfield was young — a fighting man, a revolutionary and a leader. He was a man of God and a man of the world, anxious to escape the poverty of his youth and able to preach equality, equity and comity. Foundation stories show how a community was knit together. Among the individual strands are the characteristics of community's culture, its beliefs and aspirations.