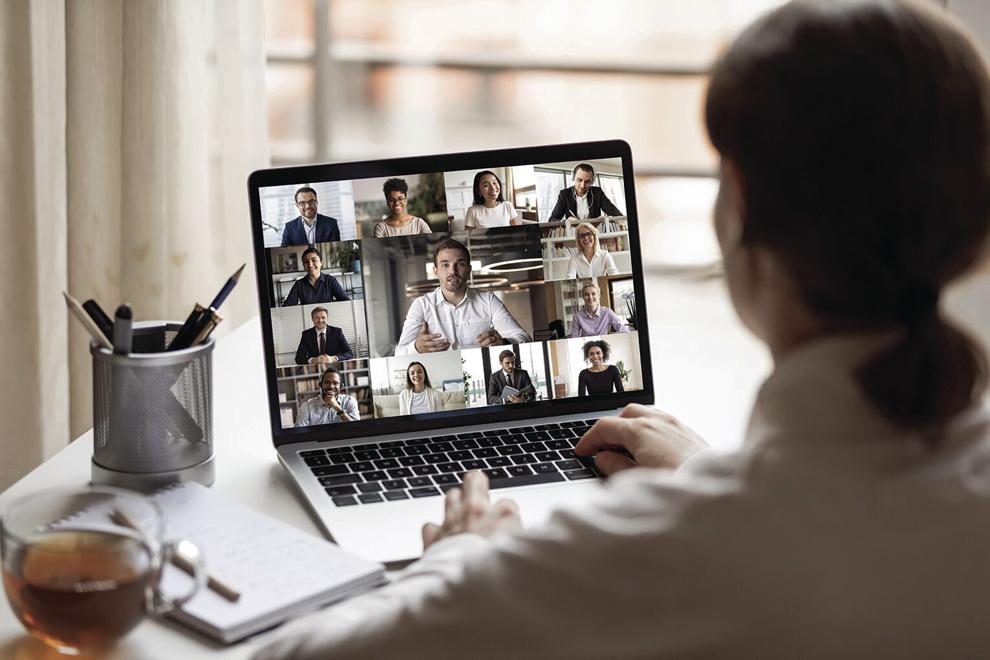 New Year's Day isn't my favorite holiday. It feels like it marks the end rather than the start of something. There's a bittersweet, anticlimactic quality after the buildup to Christmas. Then again, I'm thinking of new years of old. Pandemics, I've discovered, have a way of scrambling expectations. It's a blessing just to be reasonably healthy and alive.
Also, COVID has changed the way we work. These days it's often from the socially distanced safety of home, at least those of us lucky enough to have jobs that allow us to do so. There are many benefits to a flexible work life. One of them is being able to work in your pajamas, from bed if you choose. I often do.
I was never a firm believer in going to the office. One of the few normal jobs I had — by normal I mean with a salary, benefits and a cubicle rather than working freelance from my apartment — was for the Wall Street Journal. I assumed that in exchange for steady employment I was expected to meet certain criteria. One of them was dutifully showing up for work every day.
But after a few weeks I realized that routine was completely counterproductive. I was allegedly being paid to report stories, a new one every day, but the stories weren't in the office. They were out in the world beyond the sealed windows of the Sixth Avenue climate-controlled skyscraper where the newspaper was located.
So within a month or two I established a new routine: I'd wake up, score a glass of orange juice and cup of coffee, return to bed and pound out a column. By the time 9 a.m. rolled around, when I'd normally be boarding the subway for work, I'd nearly finished the story. That left the entire afternoon to report the next day's piece with time to spare for breakfast, lunch and a run in Central Park.
Not everybody has the luxury of that kind of job. But one of the things the pandemic has taught us is that office life is overrated and perhaps inessential. I'm not suggesting that there isn't something to be said for socializing at the water cooler or the occasional in person meeting, though my experience with meetings isn't especially impressive. They seem more performative than productive.
Admittedly, my experience is limited and idiosyncratic. It's quite possible that J.P Morgan Chase or Goldman Sachs executives would lose their money making, private jet flying, St. Bart's super yacht hopping mojo if they weren't engaged in continuous lively in person contact. But there's also an argument for a healthier work-life balance. What's that saying? On their deathbed, nobody ever said, "I wish I'd spent more time at the office."
America's productivity has always been a point of national pride. But I read recently that the reason we're more productive isn't because we're smarter or more virtuous but simply because we work longer hours. Europeans would be just as productive, and in some cases they're even more so (see Luxembourg, yes Luxembourg!) but they prefer not to work themselves to the bone. While we're slaving away behind our desks they're taking four-week summer vacations and enjoying maternity and paternity leave. The pandemic, for all its risks, has vividly shown that there are rational alternatives to the eight-hour, five-day workweek.
It's probably too soon to know whether we're on the cusp of a brand new era in our relationship to our careers or just temporarily avoiding returning to the old one. But it's hard to believe that having experienced the felicity of flexible jobs without the economy crashing completely we'll be returning to the grind of a daily commute without a fight.
The Great Resignation is an American phenomenon. We're not seeing it in Europe because their policies were aimed at keeping workers on the payroll rather than laying them off and printing stimulus checks. And now American workers are voting with their feet in a tight labor market because they can. Loyalty is a two-way street. One of the hallmarks of a good company will be that it manages to retain its workforce. If you patronize a business where you interact with the same employees year after year that suggests the organization is probably doing something right.
To the Wall Street Journal's credit they didn't care where I worked as long as I met my deadlines and kept readers engaged. I'd visit the office and sit behind my desk approximately one hour a week just to prove to my bosses that I hadn't gone completely rogue. When I speak to a customer service representative for some multinational corporation over the phone these days and our conversation is briefly interrupted by the sound of a dog barking in the background or a child with a homework question I'm not annoyed. That might just be the sound of a new, more enlightened era.
So maybe this will be a happy new year after all. One where the average worker has just as much incentive to strive and succeed and find as much satisfaction in his or her job as the company's CEO does. And one where the incentives, not only those measured in dollars and cents, are nearly as rich.