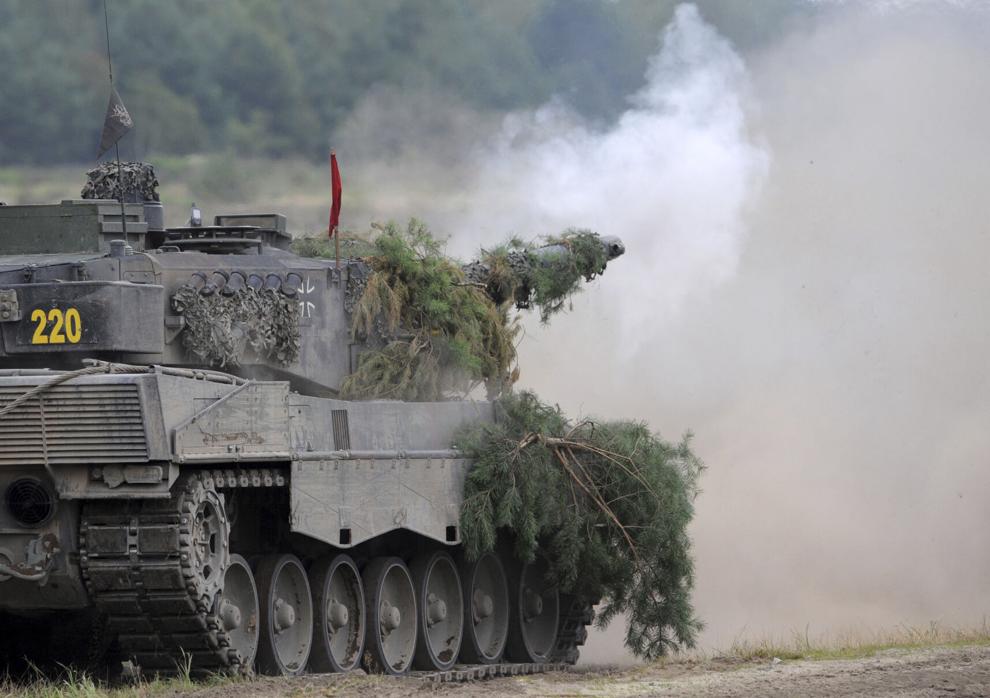 Against a background chant of "unleash the leopards," NATO nations are showering on Ukraine a cornucopia of armor: hundreds of tanks from Germany, Britain, France, Poland and the U.S. along with hundreds of fighting vehicles from Canada, Germany and the U.S.
Moving on steel treads and rubber tires, these lethal machines are not defensive weapons. The question is: What will this offensive target?
If you take Ukrainian officials at their word, Russia this summer could face Crimean War II. Ukraine threatens to retake the Crimean peninsula, undoing a signature achievement of Russian President Vladimir Putin's 23-year rule.
By May, much of the new western armor is to be in place. Ukraine's notoriously muddy steppes will be dry. Tanks and armored personnel carriers will be able to leave the asphalt and roam the countryside.
"Crimea will be returned in a combined way: both by force and diplomacy," Kyrylo Budanov, director of Ukraine's military intelligence agency, predicted to Liga.net last month, before the promises of aid tumbled out of Western capitals. "Our units will go there with weapons in their hands."
When the reporter asked Budanov for a summer vacation recommendation, he responded: "I will recommend Crimea. This is the pearl of Ukraine, which has been waiting for Ukrainian tourists for a long time."
Last week, he told The Washington Post: "We must do everything to ensure that Crimea returns home by summer. ... Crimea will be returned to us. I'll tell you more: It all started in Crimea in 2014, and it will all end there."
Ukrainian President Volodymyr Zelenskyy, in one of his nightly fireside chats, told the nation that the return of Crimea after nine years of Russian control "will mean the restoration of true peace." He added: "The Russian potential for aggression will be completely destroyed when the Ukrainian flag will be back in its rightful place — in the cities and villages of Crimea."
Jutting into the Black Sea, the Crimean peninsula is a strategic piece of real estate fought over since the start of recorded time. Control has shifted from Greeks to Romans to Mongols to Genoans to Turks. In 1783, Grigory Potemkin wrested control of Crimea for Catherine the Great. In 1954, Soviet Premier Nikita Khruschev transferred control from Russia to Ukraine. After Crimeans voted to go along with the rest of Ukraine in declaring independence from the Soviet Union in 1991, Russia retained basing rights for its Black Sea fleet in Crimea's deep water harbor in Sevastopol.
Crimea allows Russia to control shipping through Ukraine's two seas: the Black Sea and the Sea of Azov. About 90 percent of Ukraine's grain and metal exports leave by ship.
After Russia annexed Crimea in 2014, Russia squeezed shipping through the Azov, partly by building a low road and rail bridge from Russia's mainland to the peninsula. On Feb. 24, when Russia launched its full bore attack on Ukraine, units poured north from Crimea, seizing much of Kherson and Zaporizhzhia regions. Today, some military analysts speculate that Russia's garrisons on Crimea are undermanned because so many troops shifted north.
The Biden administration has not publicly encouraged Ukraine to attack Crimea. Washington's line is that Russian soldiers should be pushed back to the Feb. 24 lines of control — an area that does not include Crimea.
But prominent American conservatives are speaking out in favor of Ukraine retaking Crimea. They argue control would be key for Ukraine's postwar security.
"Ukrainians know that as long as Russia retains Crimea they are more vulnerable to future attacks than before Russia seized it. And while Russia has it, Ukraine cannot rebuild its economy," retired U.S. Army Lt. Gen. Ben Hodges, formerly the Army's top commander in Europe, writes in this week's Economist. "Because Crimea is decisive, and because it is becoming clearer that Ukrainian forces can liberate Crimea, Ukraine must not negotiate now. Russia would never agree to trade Crimea away."
Michael Allen, a special assistant to President George W. Bush's National Security Council, writes this week in Foreign Policy: "If the United States is serious about securing long-term peace in the region, it should support Ukraine in its effort to regain Crimea."
Retired U.S. Army general and former NATO supreme allied commander of Europe Wes Clark told the Atlantic Council roundtable: "Can Ukraine regain control of Crimea? Absolutely yes."
Battling for Washington's policy support at that same Atlantic Council roundtable, Ukrainian former defense minister Andriy Zagorodnyuk has argued forcefully for Ukraine reasserting control of Crimea. "We believe that a military solution is possible, Russian forces will be exhausted," he said. "Putin needs to lose. Ukraine needs to win, and that includes Crimea. There can be no half measures."
Writing in Foreign Affairs, Zagorodnyuk wrote: "Russia has turned Crimea into a large military base, which it used to launch its sweeping invasion." In the essay titled "The Case for Taking Crimea," he wrote: "Ukraine cannot be safe or rebuild its economy until Crimea is out of Russian hands, and so Kyiv will not stop fighting until it regains the province. ... Unless Ukraine is completely liberated, Russia will use any remaining footholds in the country to launch the next invasion once Moscow has rearmed."
Some analysts worry Putin could go nuclear if faced with the loss of Crimea. The 2014 annexation was wildly popular inside Russia, sending Putin's approval ratings to the highest levels since he took office in 2000. In response to Ukrainian promises to retake the peninsula, Yuri Gempel, a Crimean parliamentarian, told RIA Novosti: "The Kyiv fascist regime and its plans are doomed. Their statements are nothing more than aggressive crazy chatter."
But during the first year of the war, Ukraine has repeatedly crossed Putin's "red lines" on Crimea. First, Ukrainian missiles sank the Moskva, the flagship of Russia's Black Sea Fleet. After the fleet retreated to Sevastopol harbor, Ukrainian maritime drones and missiles attacked the fleet and nearby air bases and ammunition dumps. Then, on the day after Putin's 70th birthday, a truck bomb severely damaged the Crimean bridge. Only four years earlier, Putin had personally inaugurated the $3.7 billion structure.
History does not give much comfort to the Kremlin. The first Crimean War, from 1853 to 1856, ended in defeat for Russia at the hands of a British-French-Turkish alliance. "The image many Russians had built up of their country — the biggest, richest and most powerful in the world — had suddenly been shattered. Russia's backwardness had been exposed," Orlando Figes wrote in his 2010 history, "Crimea: The Last Crusade." The Crimean disaster had exposed the shortcomings of every institution in Russia — not just the corruption and incompetence of the military command."
On the positive side, the shock pushed Czar Alexander II to undertake reforms. In 1861, he freed the serfs. In 1867, after a delay caused by the U.S. Civil War, he sold his failing American colony, Alaska, to the United States.